Whether you are traveling with children, seeking small-production wines or simply looking to soak in the beautiful landscapes, there is much to do in Chianti. Here are eight things we suggest everyone visiting Chianti should know.
CHIANTI IS A VAST REGION
The term 'Chianti' is generally used to describe the delightfully hilly region between Florence and Siena. However, Chianti is not a geographic place, but reference to an Italian DOCG wine produced in the provinces of Arezzo, Florence, Pisa, Pistoia, Prato and Siena in Tuscany. It is comprised of many small towns and villages within approximately 65 square miles, including Castellina, Radda, Gaiole, and Greve.
SAMPLE CHIANTI'S FAMOUS WINE
The region is characterised by many vineyards, orchards and olive grove. This region is most often associated with the dry, ruby-red table wines, Chianti and Chianti Classico. The wine must be produced in the Chianti region and made from at least 80% Sangiovese grapes. Of lesser fame but still worthy of mention are several regional white wines, including Galestro, Vernaccia Riserva and Vernaccia di San Gimignano, as well as the very popular dessert wine, Vin Santo.
LEARN THE LEGEND OF THE BLACK ROOSTER
The Black Rooster has symbolised the Chianti Classico zone since the early 13th century. Although no one seems to know for sure how or why this evolved, a lovely local legend explains it as a result of a medieval rivalry between the city-states of Florence and Siena. According to legend, Florence and Siena were constantly at war as they tried to establish the boundary between them. Eventually, both regions agreed to resolve the issue through a contest involving a horse and rider from each community. Each rider would take off from his city at the moment a rooster crowed to announce the start of the day. They would ride toward each other, and the place where they met would be defined as the boundary. Siena chose a white rooster that had been well cared for and very well fed. Florence chose a black rooster which was rather scrawny, not well-fed and extremely hungry. On the morning of the contest, the black rooster crowed long before the sun rose, allowing the Florentine rider a huge head start. The two riders actually encountered each other in the town of Fonterutoli, which is only 10 miles outside of Siena. Thus, the boundary was established, and as a result, virtually all of the Chianti Classico zone falls under Florentine rule.
USE THE VIA CHIANTGIANA TO GET AROUND
The Via Chiantgiana is a main road that travels north-south through Chianti, running right through the towns of Castellina, Panzano, and Greve. Don't limit yourselves to this route, however, as it offers only a taste of what Chianti is all about. To truly experience this region, we suggest you allow yourselves a good chunk of time to enjoy spontaneous detours. Wineries are signposted throughout the region and wherever you see a sign-post marked 'vendita diretta' be sure to explore. That means a farmer or winemaker who 'sells direct'. Might be eggs and cheese in addition to wine. You won't know unless you follow the winding road.
VISIT GAIOLE
Gaiole is a sweet little town is situated at the crossroads between the upper Arno valley and the Chianti district. It has a full complement of services, including a supermarket and internet cafe. If you're traveling with children, Gaiole is a great place for wandering as the piazza is free of cars. Purchase an inexpensive plastic tricycle and let the children zoom around the piazza while you enjoy watching them from the sidelines as you sip a cappuccino or glass of local wine. You'll find ample opportunities for wine-tasting in and around the town and be sure to take home a sample of the local olive oil.
FOR A TRUE TASTE OF CHIANTI VISIT GREVE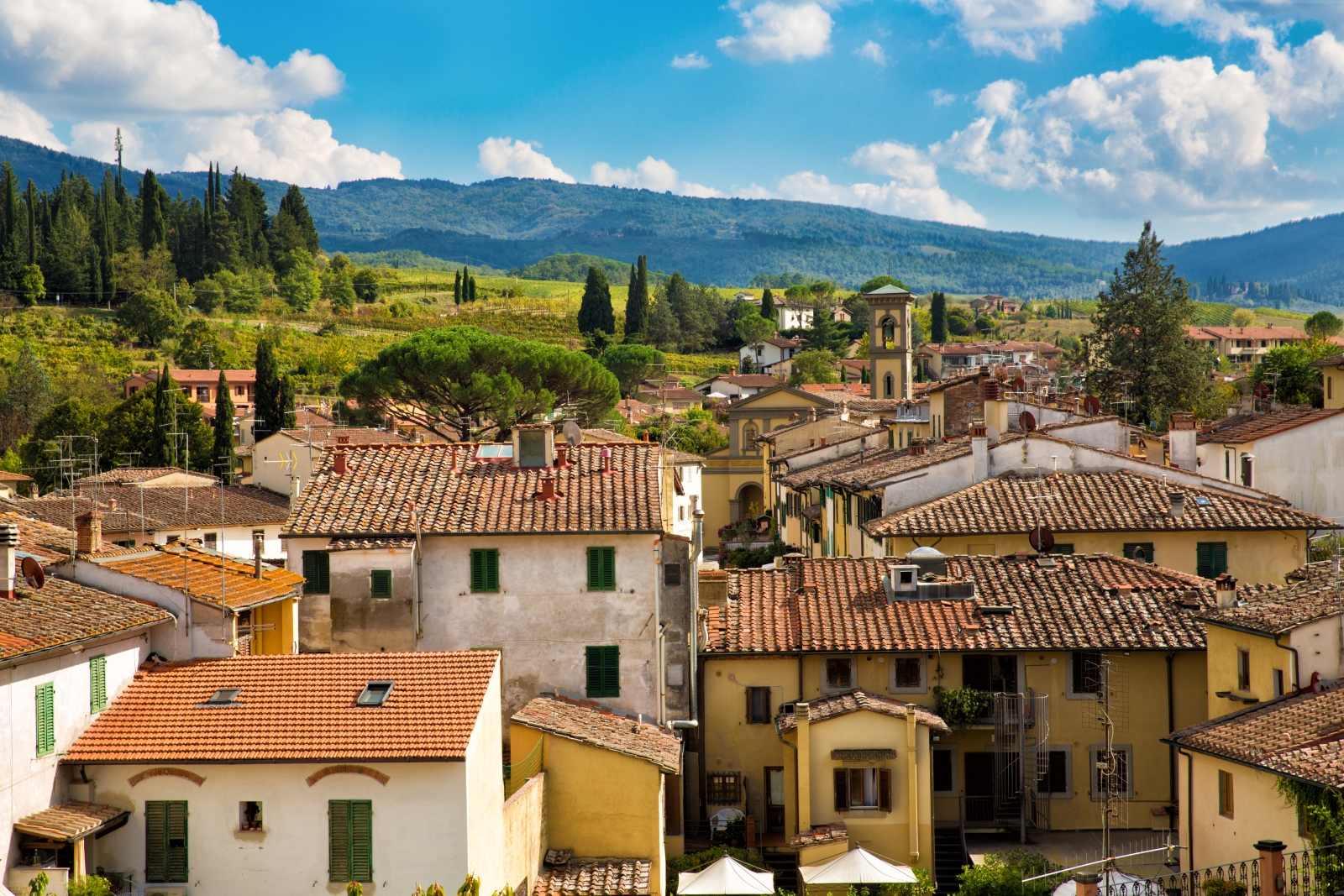 Park the car and walk into the centre of the town. It's a truly delightful atmosphere offering a little bit of everything. Greve lies in the heart of Chianti – halfway between Siena and Florence. Surrounded by vineyards and olive groves, this city of wine has worked to become the 'heart of Chianti' although other towns – Panzano and Castellina to be precise – will debate this long enough to consume a case of Chianti. The unusual triangular Piazza Matteotti in the centre of Greve is a destination for locals and tourists alike, making it a great place for people-watching while enjoying an espresso or a gelato. The town also offers a good variety of specialised wine shops stocking hard-to-find labels. There are plenty of good bars, trattorias and restaurants in and around the piazza. In the summer, the puppet theatre holds regular performances in Piazza Matteotti to entertain the children.
SAMPLE THE 'SCHIACCIATA' IN GREVE
Be sure to stop for a sweet at Pasticceria Chianti on the piazza. The excellent 'schiacciata' here is classically prepared with olive oil and salt and maybe fresh rosemary. This Tuscan flatbread may also be prepared with fresh figs and grapes (complete with seeds) for sweet versions in the fall.
TAKE HOME SOME LOCAL WINE & OLIVE OIL
For the best souvenir, purchase your favorite local wine or olive oil to savour back at home. Many of the local wineries are able to ship wine globally. Gorgeous Vignamaggio has a stunning modern olive oil and wine shop in the centre of Greve.
For further information and advice on planning a holiday to Italy's Chianti region, contact our team of specialists on +44 (0)1242 787 800.