Our Caribbean travel experts would be delighted to help you plan your white-sand, sun-filled trip to
Turks and Caicos
. Seebelow for a few travel tips and contact us for further advice and recommendations.
WEATHER IN TURKS AND CAICOS
The average temperature in Turks and Caicos ranges between 29 - 32°C from June to October, sometimes reaching 35° degrees, especially in the late summer months. From November to May the average temperature is 27 - 29°C. Water temperature in the summer is 28 - 29°C and in winter about 23 - 26°C. A constant trade wind keeps the climate in Turks and Caicos at a very comfortable level. The islands can be vulnerable to hurricanes between July and October though rarely experience a direct hit.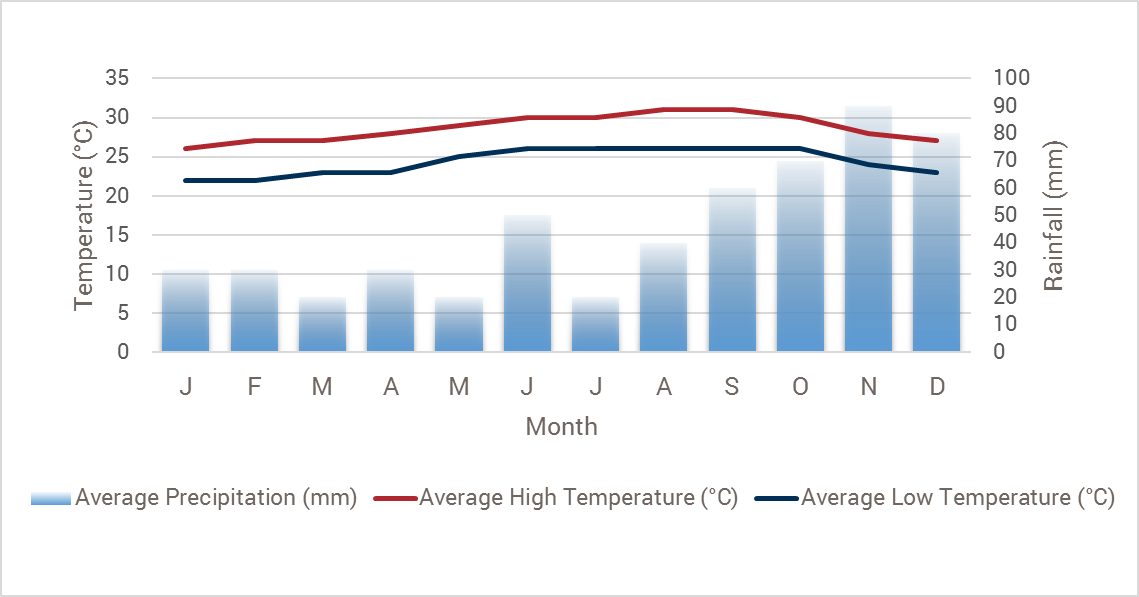 MAP OF TURKS AND CAICOS
MEDICATIONS & VACCINATIONS FOR TURKS AND CAICOS
The Turks and Caicos, like most Caribbean islands, does not pose a risk for Malaria but does present Dengue fever and Zika virus, both of which are also mosquito-borne. The latter is of particular serious health concern to pregnancy. We suggest you speak to your doctor before you travel to discuss any health precautions you should take. While on the islands one should take all preventative measures against being bitten so as not to fall ill with either virus, for which there are no vaccines. Use insect repellent and wear loose clothes covering all exposed skin when mosquitoes are out. Enquire also with your hotel as to whether they 'fog' the resort to reduce or eliminate mosquitos. In all cases, pack medications or prescriptions you may require for the length of your stay. Further information about travel health in the Turks and Caicos can be easily obtained from the user-friendly NHS website
Fit for Travel
, as well as that of
The Center for Disease Control & Prevention.
TIPPING IN TURKS AND CAICOS
Hotels in Turks and Caicos usually add a 10% service charge to the bill. If you find the hotel service to be particularly good where you are staying you may wish to leave an additional cash tip in your room for the maid service, and give a modest gratuity to your porter or bell hop. Restaurants in Turks and Caicos likewise often build-in a service charge on your bill. If they haven't already done so, it is customary to leave 10-15% for your waitstaff. Please note that in Turks and Caicos all hotel and restaurant bills include a 12% government tax surcharge. This is not to be confused with an added service charge, which suffices as a gratuity unless you found the service to be exceptional.
GET CONNECTED
ELECTRICAL SUPPLY
Power in Turks and Caicos operates on a 110 volt/60 hz cycle, which makes it suitable for all U.S. appliances and plugs. Should you be coming from Europe or elsewhere you will need to request an adaptor and transformer from your concierge.

MOBILE / INTERNET CONNECTIVITY
Roaming agreements for your stay in the Turks and Caicos do exist with a few international mobile phone companies. It is best to check with your provider ahead of your journey. Phone signals are average throughout the islands. Most hotels in Turks and Caicos offer its customers free Wifi access. It is always advisable to check with any establishment however whether any charges will be incurred before using their internet service.
RECOMMENDED READING
Island Beneath the Sea by Isabel Allende
The White Woman on the Green Bicycle by Monique Roffey
The Old Man and the Sea by Ernest Hemingway
Flickering Shadows by Kwadwo Agymah Kamau
A History of the Turks and Caicos Islands by Dr Carlton Mills
The Log of Christopher Columbus by Robert H Fuson