Completely invisible from below and often shrouded in a thick mist concealing it from sight, there's a tangible air of mystery to Machu Picchu, one of South America's most important archaeological sites. Tucked high in the Peruvian Andes, it's one of the best-preserved Incan cities on the continent, and while almost all others were destroyed during the Spanish conquest, Machu Picchu remained undiscovered. It's a must-visit for anyone travelling to Peru, and despite the remote location, there's no need to spend several nights roughing it in a tent to get there. Read on for the best ways to reach Machu Picchu in style…
Spend a night acclimatising in Cusco
As the former capital of the Inca empire, Cusco is, for many travellers, the gateway to Machu Picchu. We would always recommend spending a day or two acclimatising in the city before heading up into the Andes. Stay at Belmond Palacio Nazarenas; set in a former 17th century convent with peaceful cloistered courtyards and original Inca walls, this is arguably the city's finest hotel. Oxygen-pumped rooms help ease any altitude issues, while the fabulous outdoor pool is a lovely place to cool off after a day exploring. Those with more time may wish to spend an extra night in the Sacred Valley; with countless Inca ruins to explore, it's an even better place to acclimatise as it's lower down than Cusco and gives visitors extra time to adjust to the altitude. To find out more, take a look at our list of the Top Five Things to do in Cusco.
How to get to Machu Picchu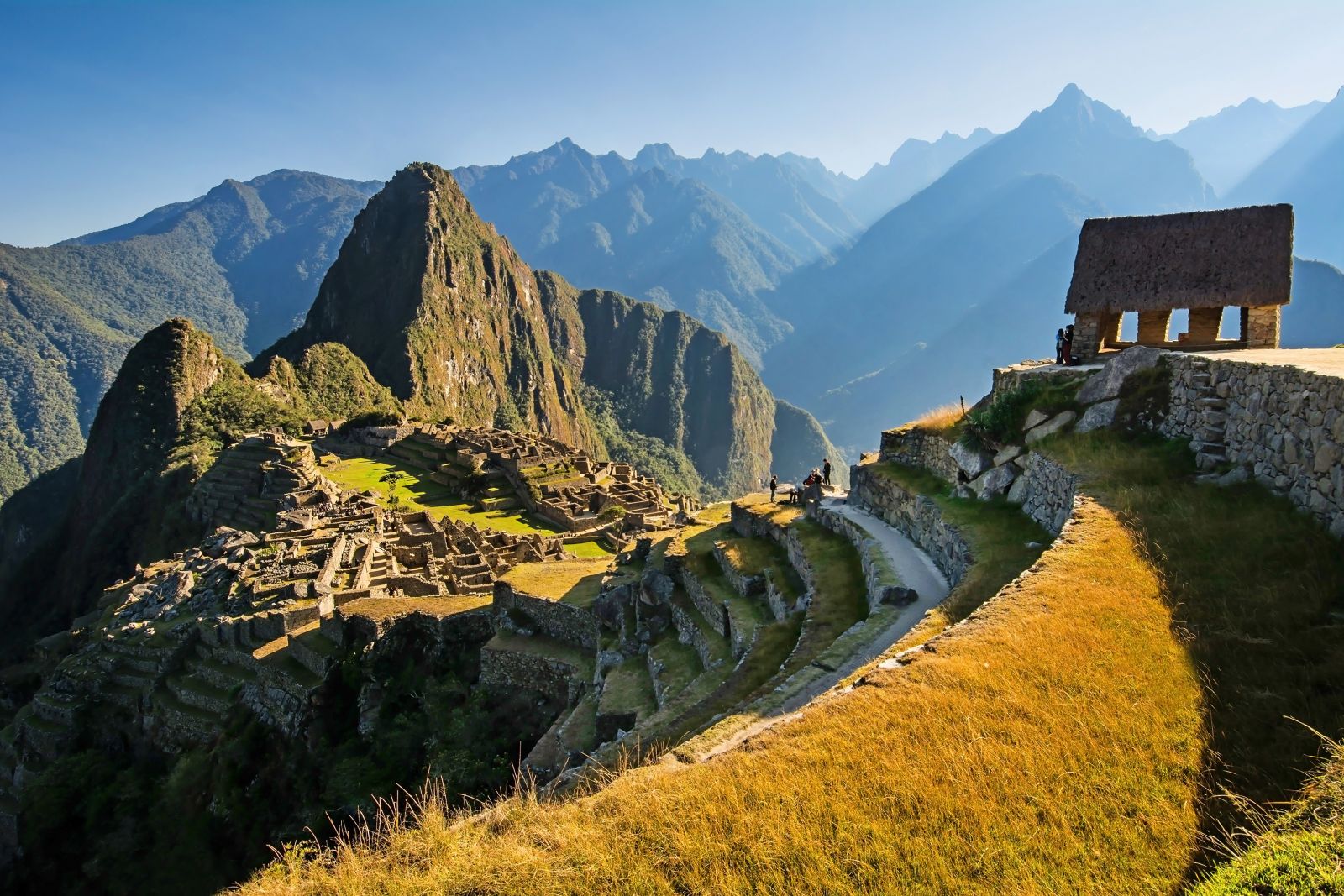 Luxury train from Cusco to Machu Picchu
The Belmond Hiram Bingham
By far the easiest – and the most luxurious – way to arrive at Machu Picchu is by train. The Belmond Hiram Bingham runs between Cusco and Aguas Callientes; sip pisco sours at the bar as you whizz through the region's spectacular landscapes, enjoying brunch accompanied by a live performance from Peruvian musicians. After a guided tour of Machu Picchu, afternoon tea is served in the gardens at Belmond Sanctuary Lodge. Later, board the train back to Cusco, arriving back at your hotel in time for dinner. There are a handful of alternatives too; 270o panoramic windows on board the Vistadome train provide a unique view of the Sacred Valley en route to Aguas Callientes, while the Inca Rail First Class Train has its own outdoor balcony and lounge bar with live music and cocktail tastings.
Luxury Machu Picchu Hike
Adventurous travellers should consider a luxury trek to Macchu Pichu, passing along the Camino Royal, the ancient Salkantay Pass and the Llactapa Pass, through cloud forest and rural village settlements. During the trek, you'll stay in cosy lodges with comfortable beds, crisp linens, fabulous Peruvian cuisine and outdoor jacuzzis for soaking tired limbs. Staff will even clean and dry your boots in preparation for another day of walking! Six days later, you'll arrive in Aguas Callientes, a charming town reachable only by train or on foot and the last stop before Machu Picchu. Check into Inkaterra Machu Picchu Pueblo Hotel and stay in one of the property's whitewashed casitas tucked deep in a private forested reserve. It's an easy walk into town and then a bus ride up to Machu Picchu – but if you want to be first through the gates in the morning, upgrade to Belmond Sanctuary Lodge. Located just moments from the entrance to the park, here you can enjoy well-earned spa treatments in the peaceful gardens and a private sunrise breakfast overlooking Machu Picchu.
Riding the Salkantay route to Machu Picchu
To really get off the beaten track, Red Savannah's Riding to Machu Picchu itinerary is the ultimate way to avoid the crowds – and a brilliant alternative to arriving on foot. Riding along the Salkantay route, you'll dip in and out of vast mountain passes, enjoy picnic lunches along the banks of the Santa Teresa River and stop to engage with locals in traditional villages. Each night, you'll stay in a luxury trekking lodge with hot showers, and excellent food, setting you up for another day on horseback.
The best time to visit Machu Picchu
Machu Picchu is more or less a year-round destination, but the best times to visit are in spring (April to June) and autumn (September to October) when there are slightly less crowds but the weather conditions are generally still good. January and February are the wettest months so best avoided; visits are still possible during the rainy season but be prepared for reduced visibility.
To find out more, including what to pack, see our Peru Travel Advice page.
For more information on luxury holidays to Peru, contact our Latin American Travel Specialists on +44 1242 787 800.