Spanning the Equator 575 miles off South America's Pacific coast, the Galápagos archipelago is a wildlife watcher's paradise. This far-flung province of Ecuador teems with creatures found nowhere else (including the Northern Hemisphere's only penguins), left to evolve in splendid isolation thanks to the relatively late arrival of people. Early seafarers exploring this part of the Pacific Dry Belt were underwhelmed by this cluster of 66 volcanic islands – younger, taller and active in the west, older and flatter in the east – thanks to their lack of fresh water. It took Charles Darwin to put them on the world stage after his discoveries during a voyage in 1835 inspired his revolutionary theory of evolution. Nowadays, this still-evolving island group is much valued for its extraordinary biodiversity. It was the second World Heritage Site listed by UNESCO, 97.5% of the land has national park status, and 27,000 square miles of the surrounding ocean is a marine reserve.
THE GALAPAGOS ISLANDS
The Galapagos's 33,000 human inhabitants are confined to four of the larger islands: Santa Cruz, San Cristobal, Isabela and Floreana. The first of these, a water taxi ride from the airport on neighbouring Baltra, will appeal to those who prefer to sleep on land after a day of discovering anything from local fish markets to the volcanic landscapes of nearby Isabela (formerly Albemarle). Laidback San Cristobal, the first island Darwin explored, is home to the archipelago's other airport and the capital, while Floreana's human population of 400 is vastly outnumbered by nesting flamingos and sea turtles. On the remaining 60 or so islands, most are accessible only on a liveaboard ship, whose numbers and itineraries are strictly controlled for conservation reasons.
GALAPAGOS ISLANDS WILDLIFE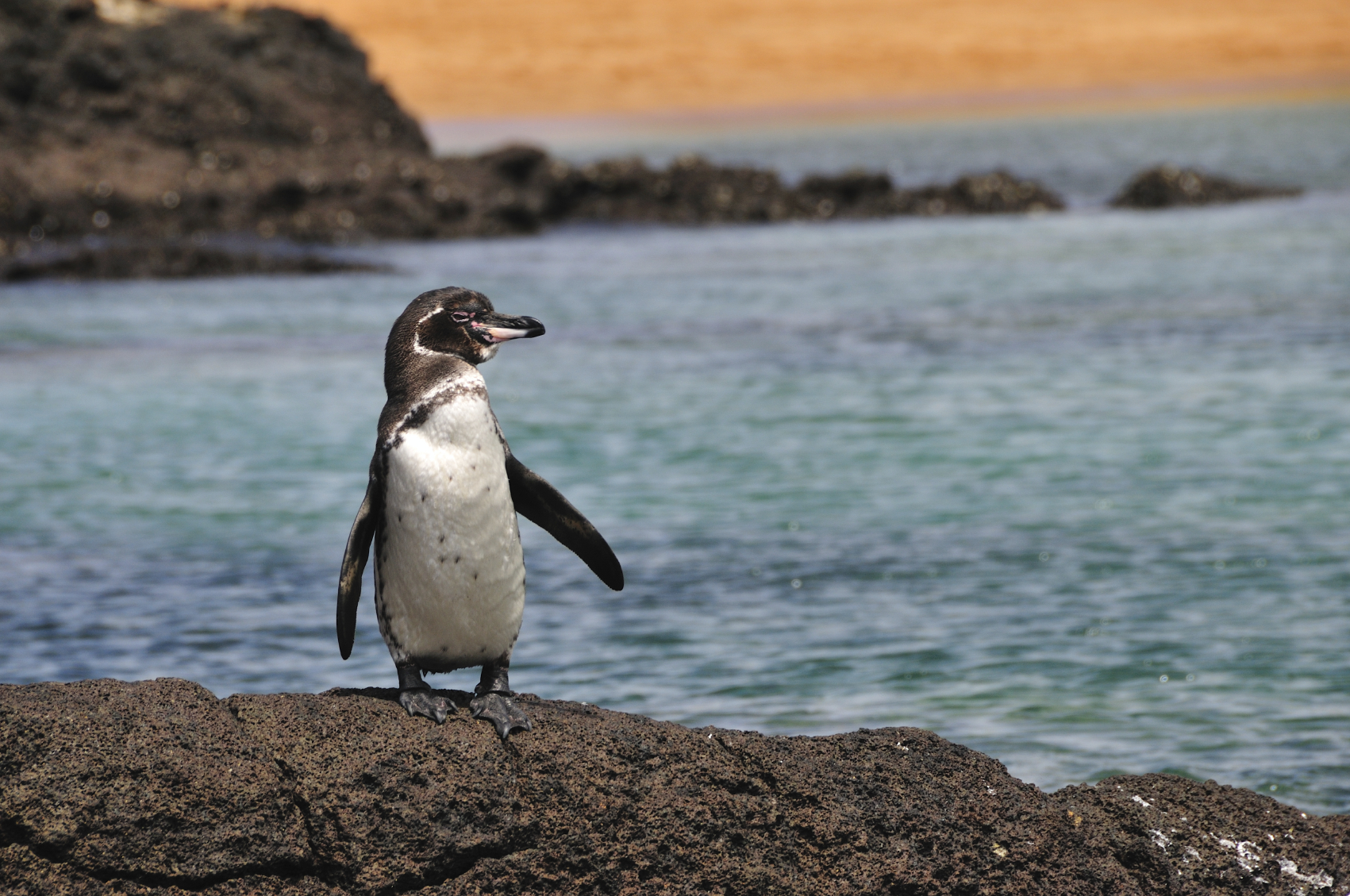 When it comes to unique species, there are few places to rival the Galapagos Islands. Among the dizzying roster of names, the most intriguing, eye-catching and iconic are the famously long-lived giant Galapagos tortoise, the world's only marine iguana, the endangered Galapagos fur seal and the small Galapagos penguin, which survives here thanks to the cold ocean currents. The rest of the birdlife is just as remarkable, with a rich mix of land, shore and sea species, which includes raucous blue-footed boobies, the waved albatross and the Galapagos hawk. There's just as much to see on the water, from migrating humpback whales to 15 species of rays.
WHAT TO SEE WHEN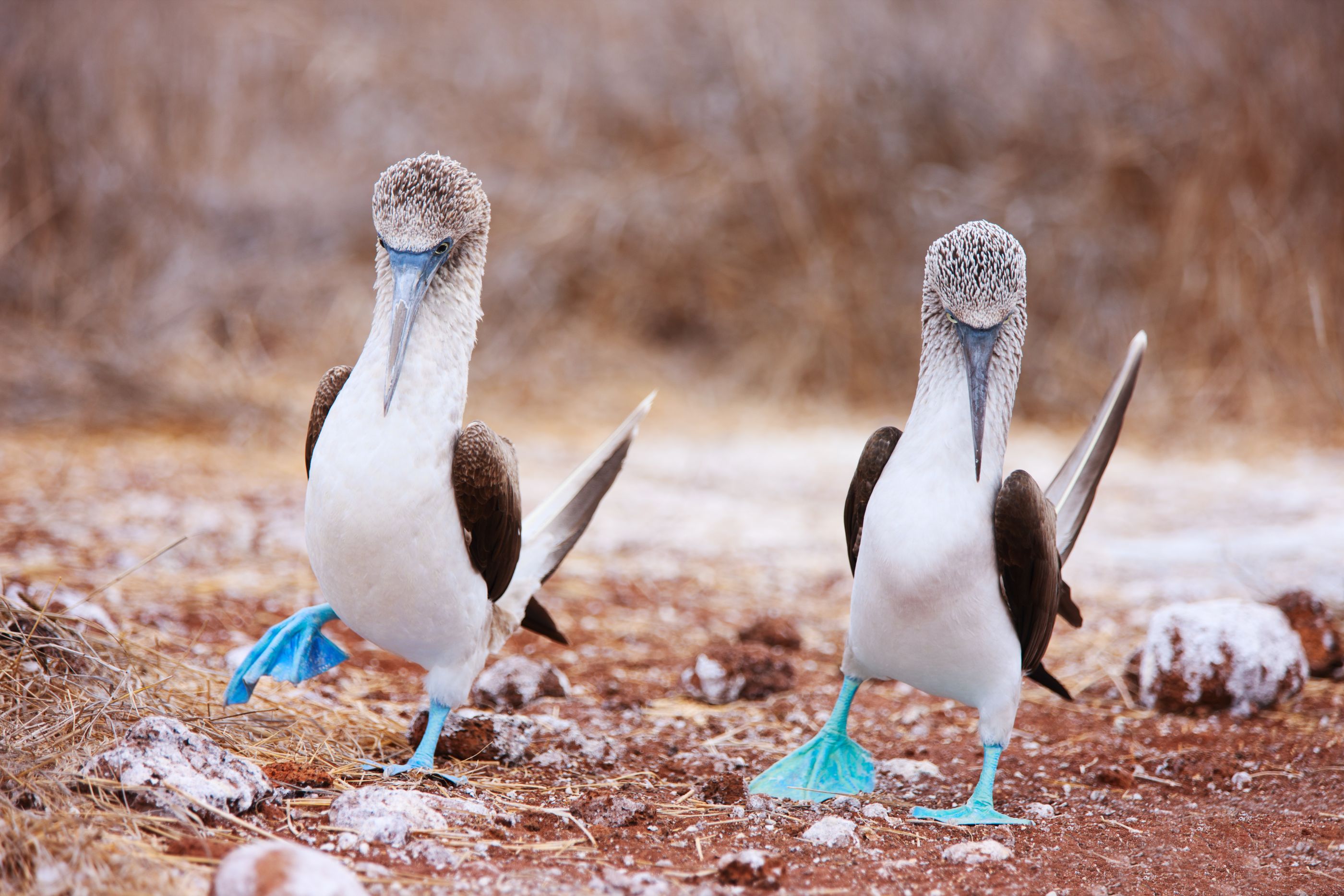 Timing matters if you want to catch sight of annual visitors, courtship behaviour or the arrival of a new generation. At sea, you can spot humpback whales from June to September, whale sharks from June to December and giant manta rays between December and May. On land, the courtship dance of the blue-footed booby can be seen from June to August, while marine iguanas favour January to March for their mating displays. Endemic Galapagos sea lions give birth between May and August, while giant tortoises hatch from December to March.
WHAT TO SPOT WHERE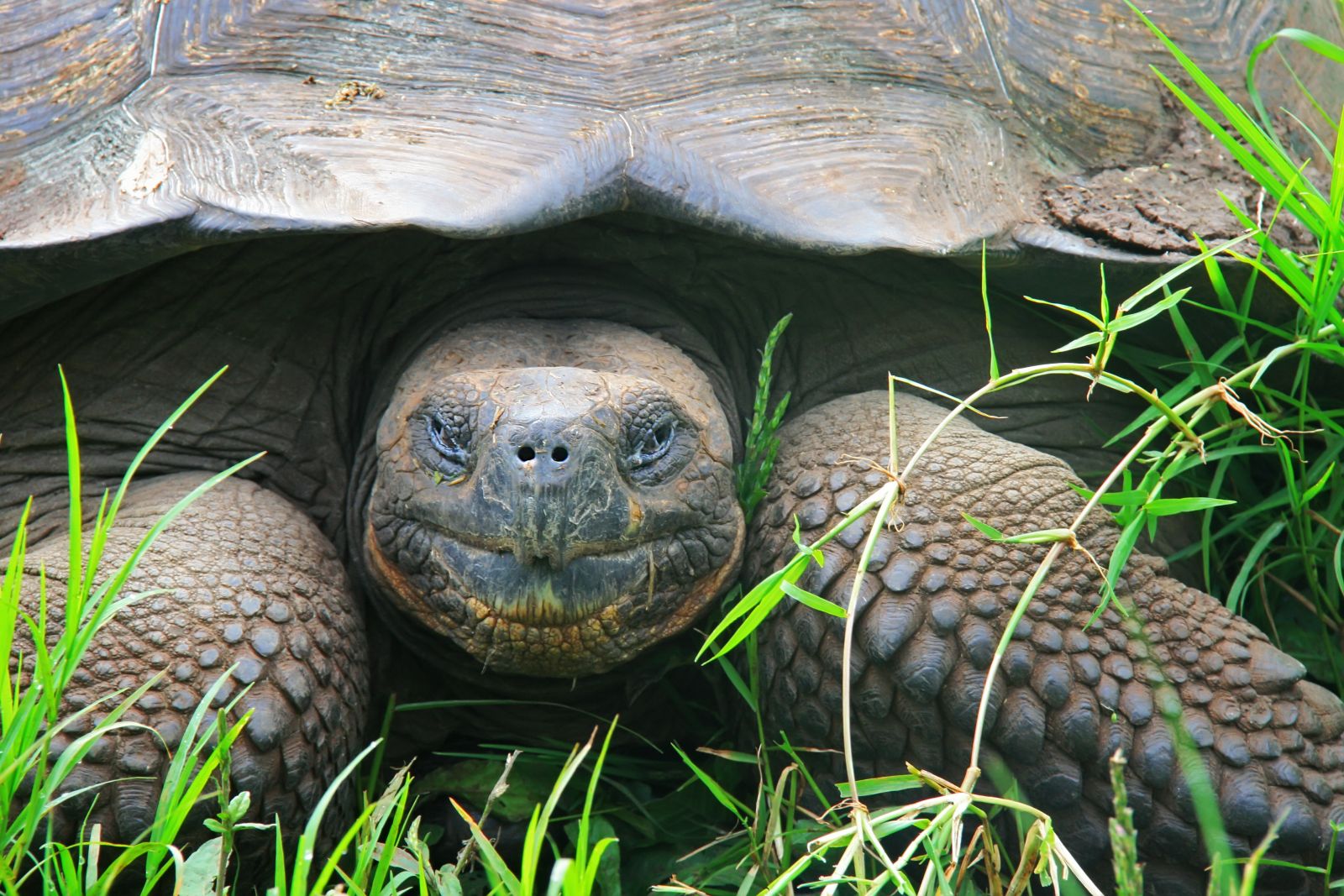 Though sightings are never guaranteed, certain species favour particular islands. For a glimpse of the world's rarest penguin, head to Isabela, Fernandina and Pinnacle Rock on Bartolome. The highlands of Santa Cruz and Isabela shelter the largest populations of giant tortoises, and both islands – along with North Seymour, Fernandina, South Plaza, Santiago and Baltra – are also home to land iguanas. As for the blue-footed booby, North Seymour is a favoured breeding ground, though there are others on Espanola, Fernandina, Floreana, Isabela, Pinzon, and Santa Cruz.
WHAT NOT TO MISS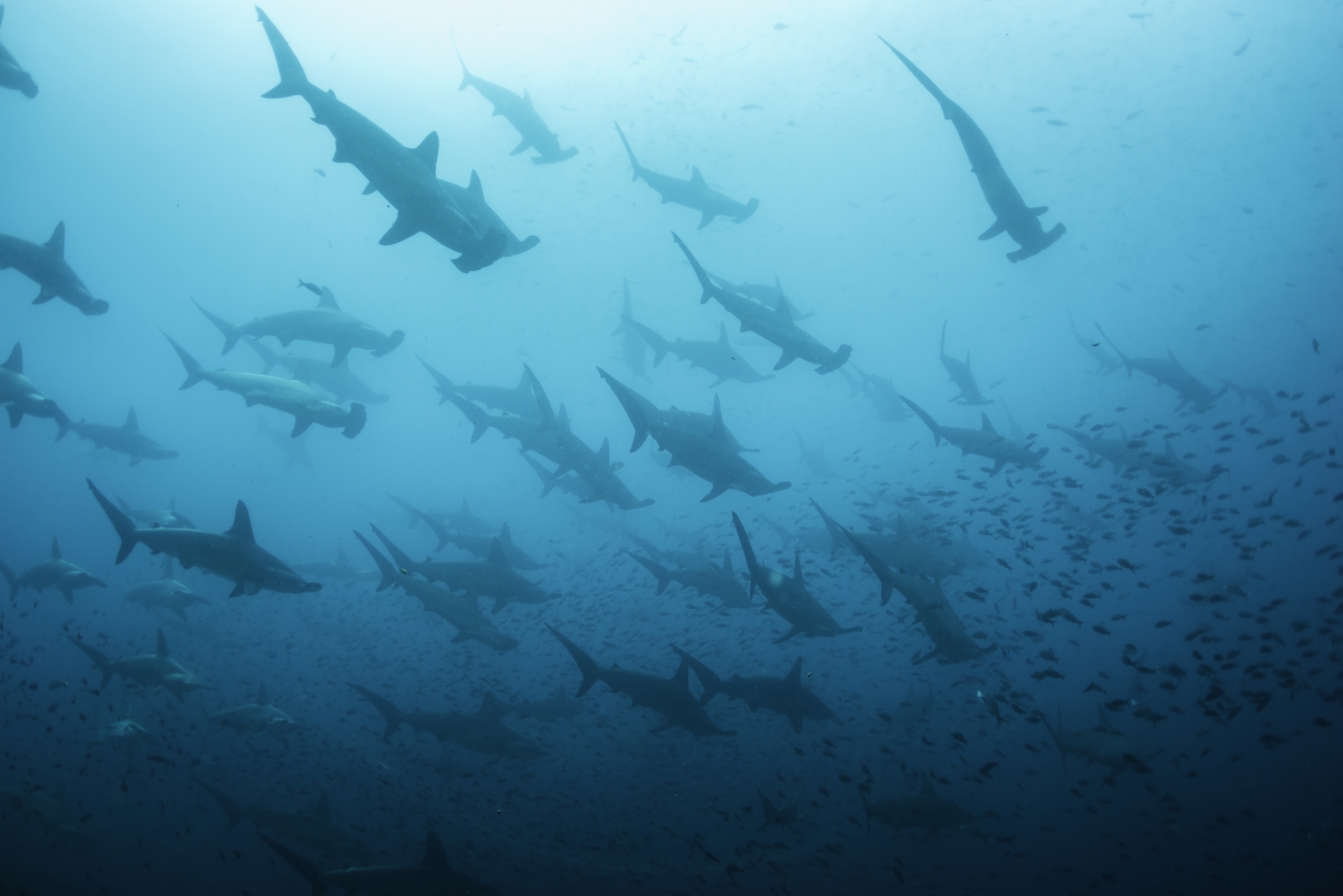 The Charles Darwin Research Station in Santa Cruz is an essential port of call. Here, you can learn about its conservation work, the local ecology and encounter the resident giant tortoises. Unwind afterwards at Tortuga Bay, a tranquil white-sand beach where you can kayak, snorkel or just listen to the chorus of birdsong. In contrast, tiny Wolf and Darwin Islands are on the northernmost edge of the archipelago, beyond the usual sailing itineraries. They're a magnet for experienced scuba divers, staying on specialist liveaboard dive boats, who venture here to see vast schools of hammerhead sharks and whale sharks.
BEST TIME TO GO TO THE GALAPAGOS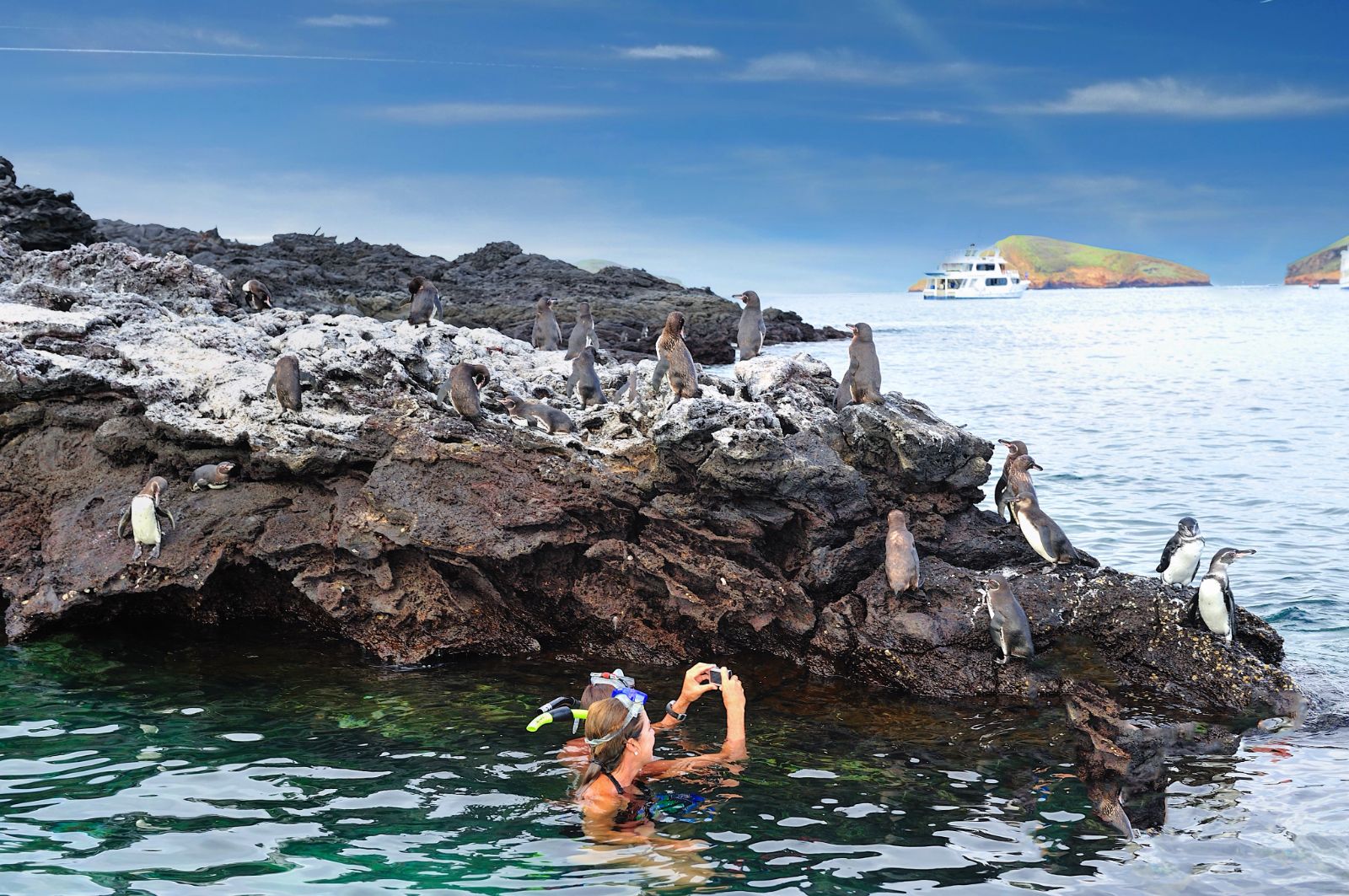 The Galapagos is a year-round destination with a sub-tropical climate (despite being on the Equator), so your individual 'best time to go' will depend on what you want to do and see while you're there. December to May is warmer both on land and in the water, so snorkellers and divers will be in their element. From June to November, the cool Humboldt and Cromwell currents draw up nutrients from the deep ocean, so it's the breeding season for many animals and a good time for spotting migratory and resident whales and dolphins.
WHERE TO STAY IN THE GALAPAGOS
A few nights aboard a boutique ship with luxurious facilities is by far the best way to explore the islands in depth, though there are inviting land-based options for those less sure of their sea legs.
LAND BASED LODGES & CAMPS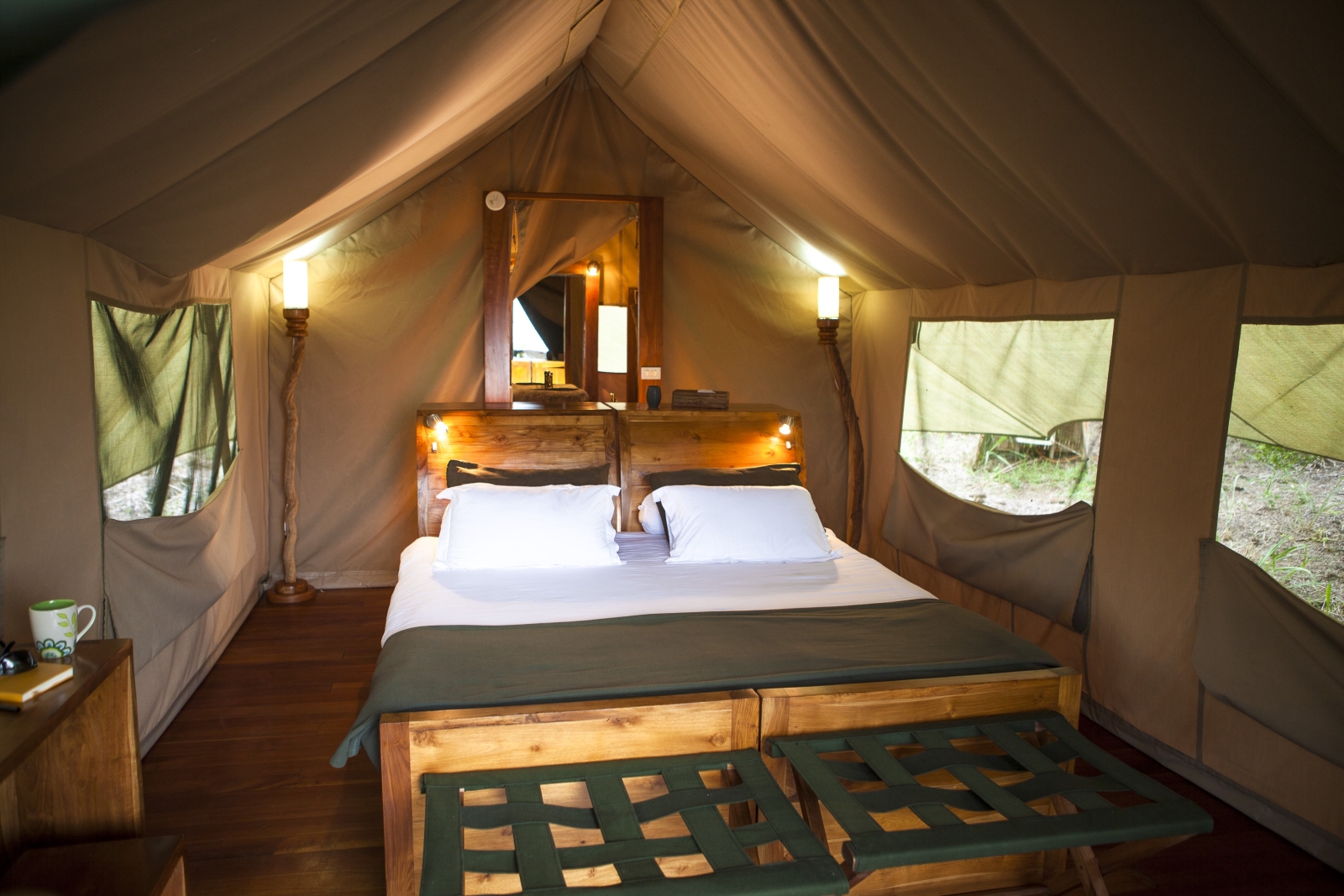 In Santa Cruz's rugged, greenery-smothered interior, this out-of-Africa camp provides a tailor-made safari experience on land and sea. Stretch out by the infinity pool, around the firepit or in one of nine tents or the family suite between imaginative wildlife-themed adventures. READ MORE >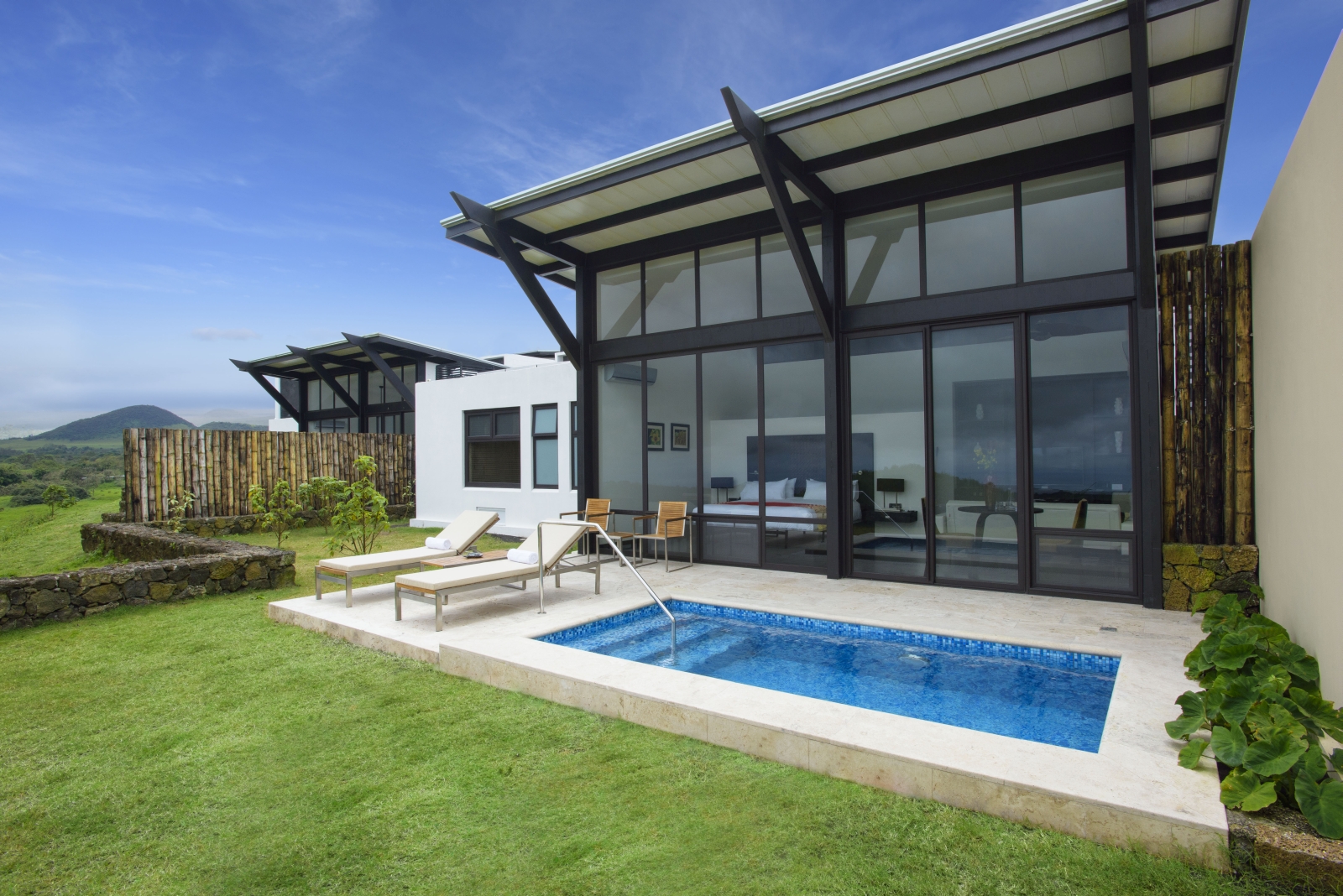 Set in a former cattle ranch turned private giant tortoise reserve on the lip of an extinct volcanic crater, this contemporary luxury eco-lodge on Santa Cruz offers everything from a chic pool and spa to customised expeditions on terra firma and its own sleek yacht. READ MORE >
GALAPAGOS CRUISING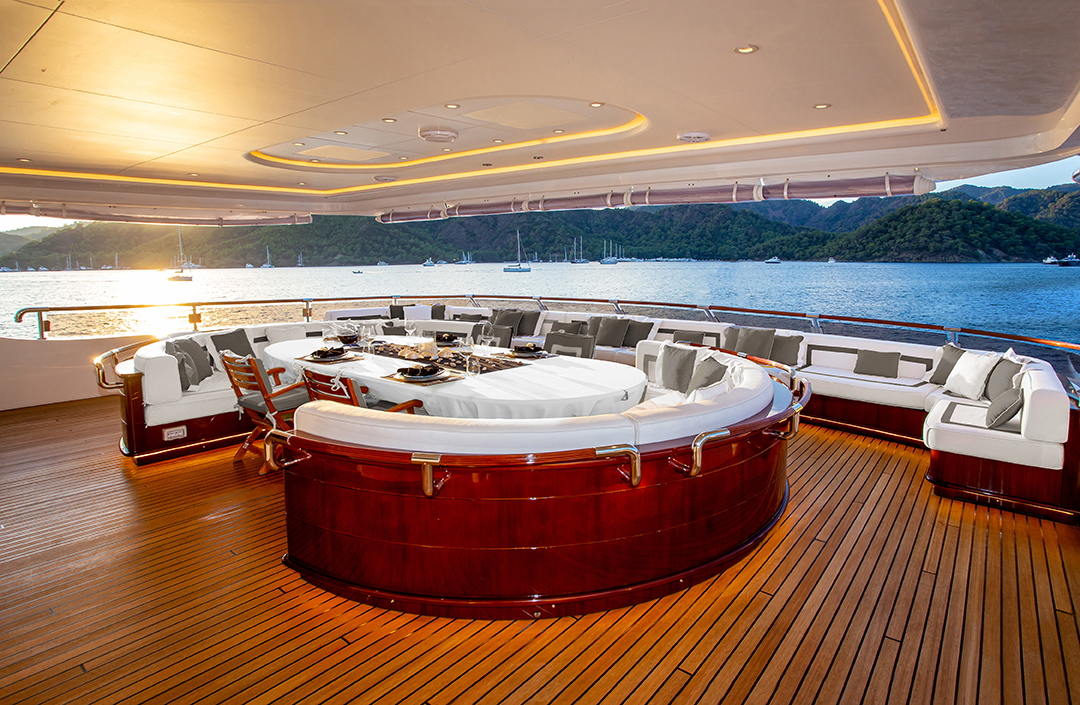 The creation of an Italian superyacht specialist, the Aqua Mare is the last word in style, comfort and sustainability. With just seven spacious guest suites and a 1:1 crew-to-guest ratio, the service could hardly be better, while everything from the wildlife guides to the fusion cuisine is first-rate. READ MORE >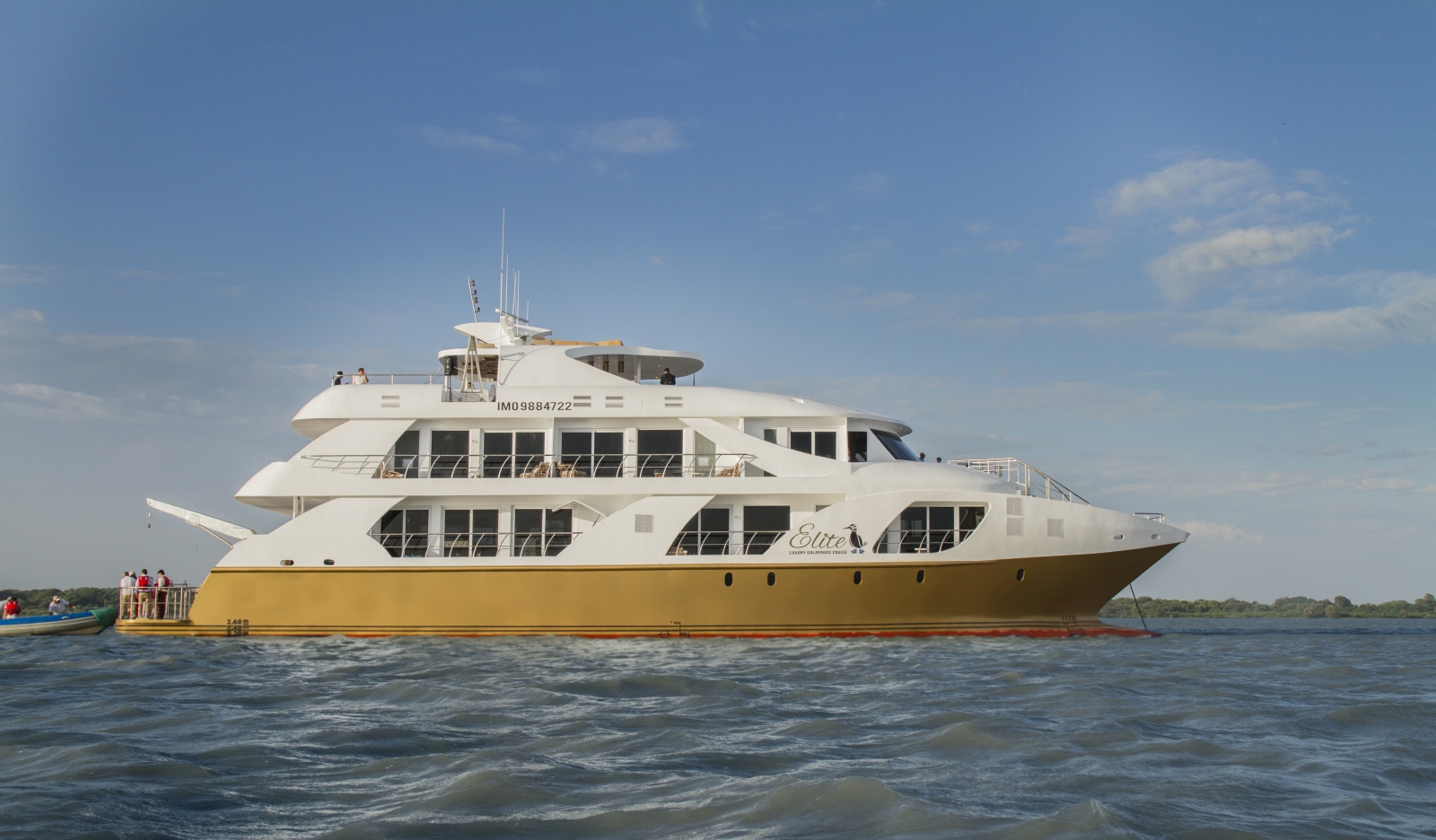 One of the newest vessels in the Galapagos, this immaculately designed twin-hulled yacht provides a striking floating home for up to 16 guests. Every suite has floor-to-ceiling windows and a balcony, while the well-thought-out itineraries range from three to seven days. READ MORE >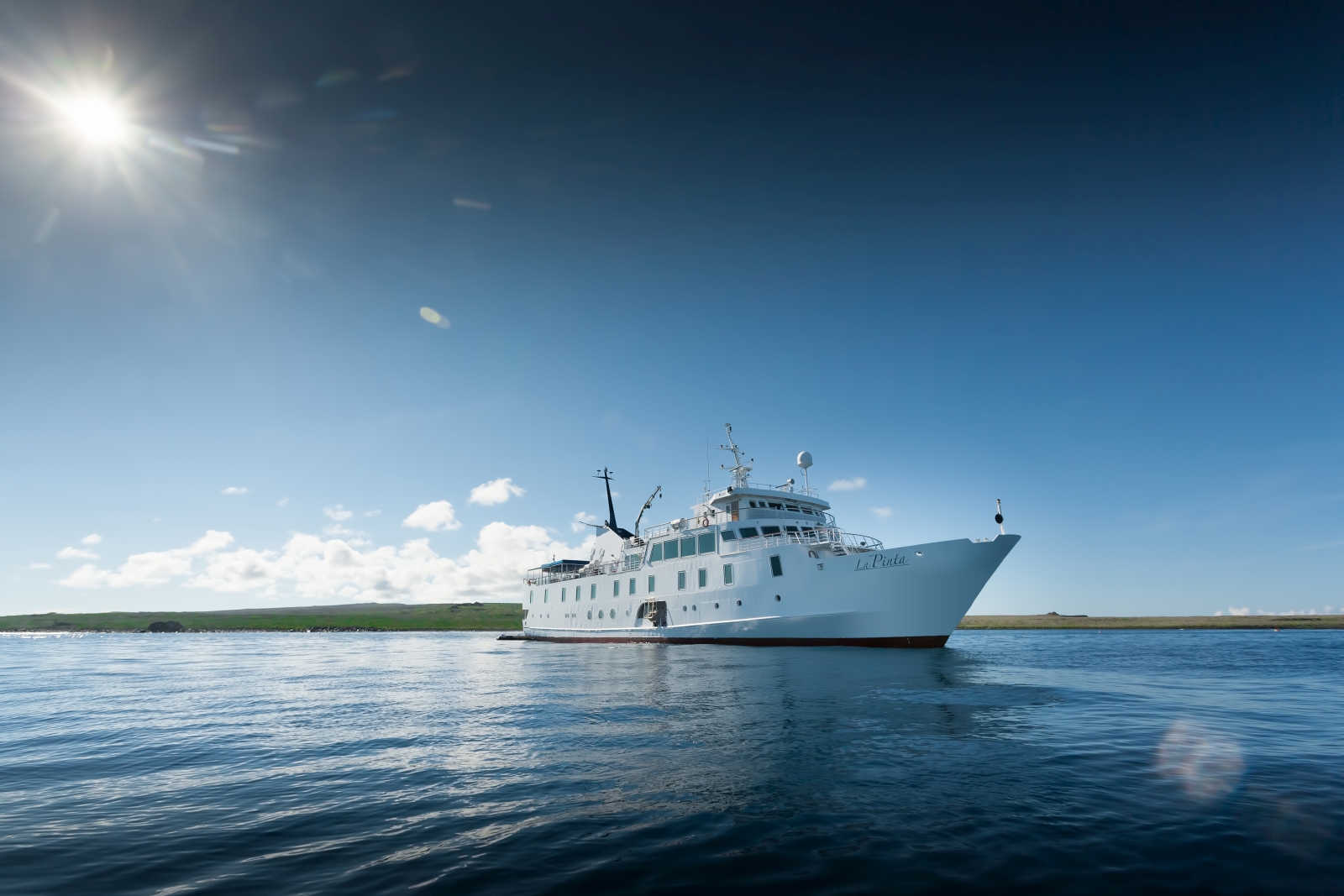 A modern expedition vessel with 24 generously proportioned cabins, La Pinta is small enough to reach the islands' more remote corners but also has room for a hot tub on the sun deck, a natural-history library, four expert wildlife guides and a medical officer. READ MORE >
GETTING TO AND AROUND THE GALAPAGOS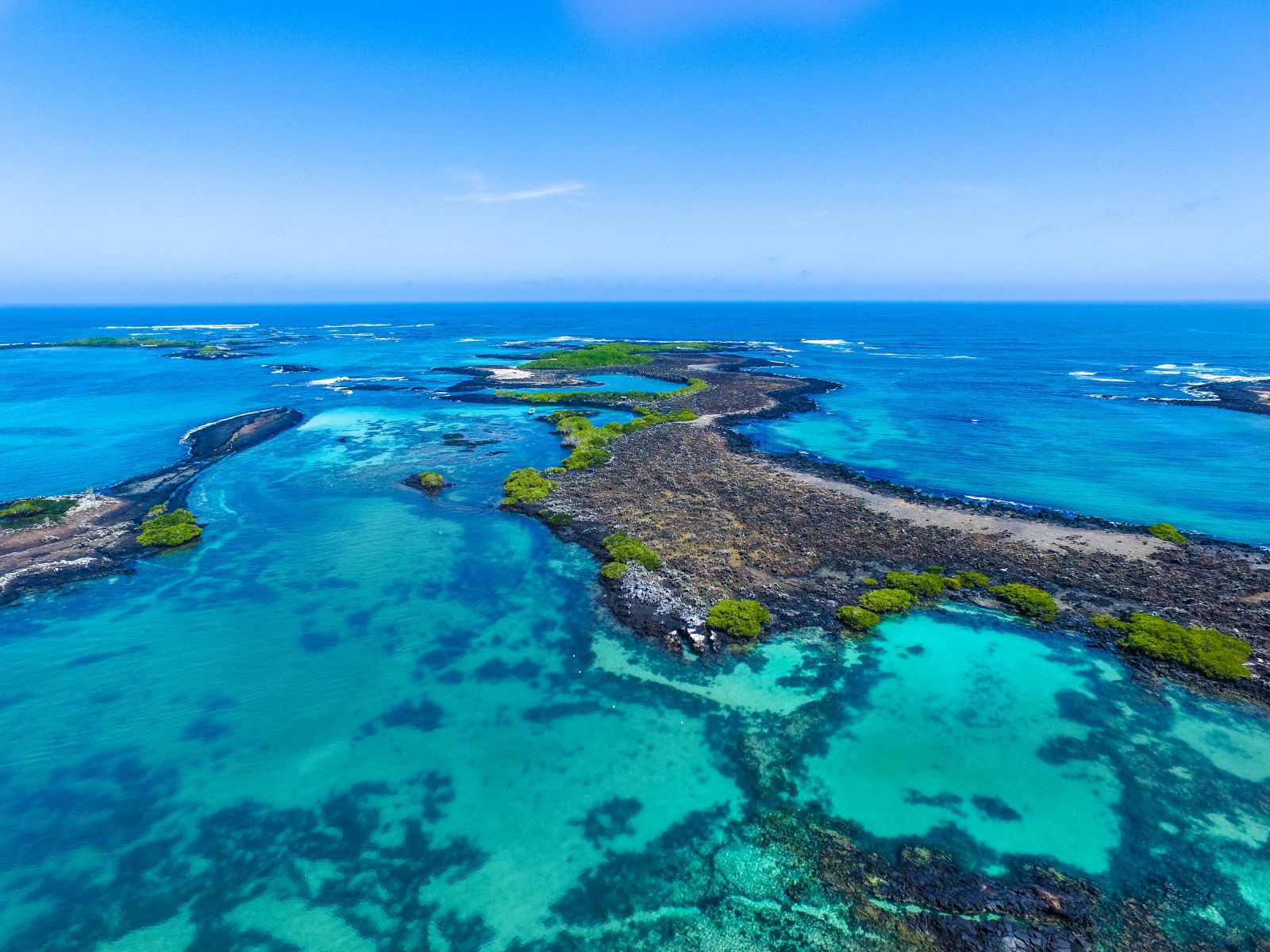 There are regular flights from Guayaquil and Quito in mainland Ecuador to Baltra in the heart of the archipelago and to the easternmost outpost of San Cristóbal. From here, most visitors board a sleek liveaboard expedition boat to island hop in hotel-level comfort; on land, with no car hire available, travel is mainly by private transfer and made-to-measure safaris.
WHERE TO GO AFTER THE GALAPAGOS ISLANDS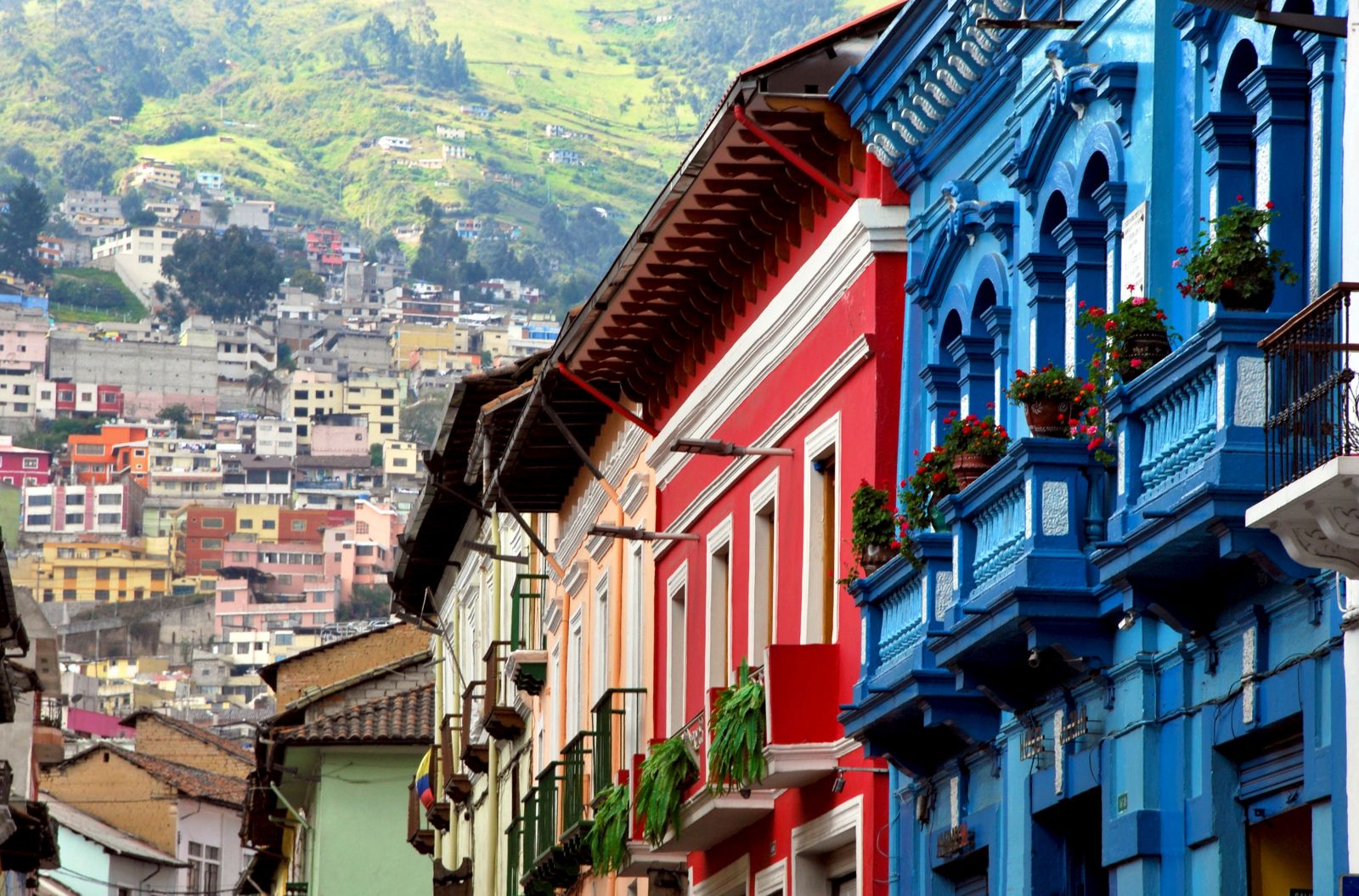 Mainland Ecuador is the obvious complement to a Galapagos jaunt, where a wildlife-themed itinerary can introduce you to the biodiversity of the Amazon rainforest as well as the UNESCO-favoured capital, Quito. Next-door Peru is another appealing option, thanks to its Baroque colonial towns and world-famous Inca ruins such as Machu Picchu, while Ecuador's other neighbour, Colombia, is an increasingly popular but still under-the-radar alternative for those who relish Caribbean-coast beaches, snow-capped mountains and World Heritage-listed coffee regions.