From endless seas of sand to craggy mineral-stained mountains, deserts are some of the planet's most fascinating environments. One of the largest is the Arabian Desert, which stretches from Oman via the United Arab Emirates to Jordan across most of the Arabian Peninsula. With a stark beauty to its arid landscapes, it's an ideal destination for anyone seeking an authentic desert experience, a dose of winter sun with a dash of soft adventure and a few nights of precious peace in a luxurious camp among the dunes.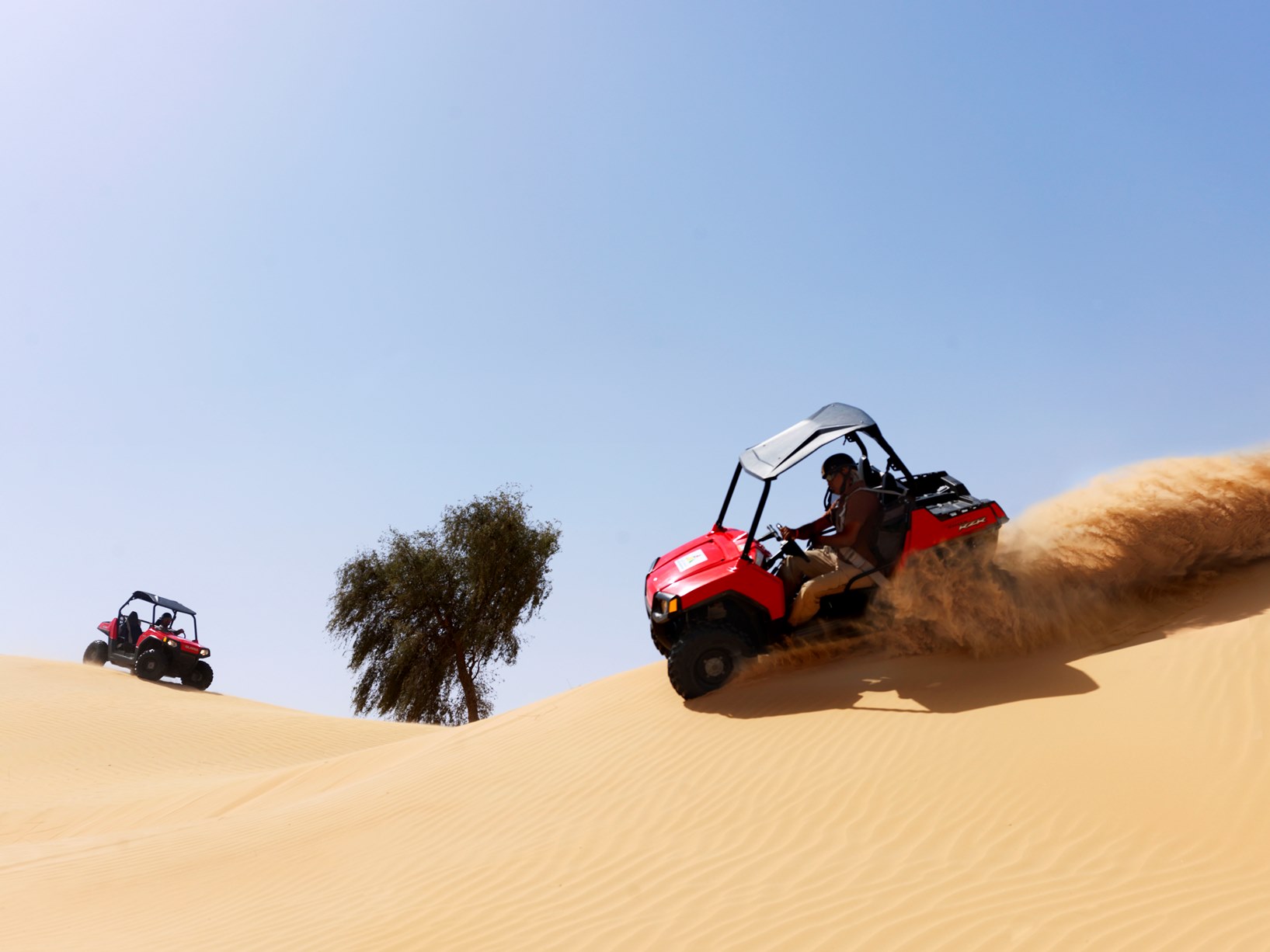 Dune bashing in a sturdy 4x4 provides endless heart-stopping moments as you swoop, slide and glide among the ever-shifting sands in the care of a skilled local driver. For something quieter, but no less exciting and even more energetic, you could surf the dunes on a specially shaped board similar to a snowboard, the thrill of which is well worth the climb to the top. Driving fanatics might prefer the fun of hurtling through the sand on a quad bike under the supervision of an expert guide. Rockier desert landscapes are perfect for climbing; Jordan's Wadi Rum has hundreds of different routes for all experience levels.
There's a romantic feel to some of the gentler adventures, from channelling your inner Lawrence of Arabia on a camel safari to stargazing under crystal-clear night skies with the sounds of nature as your soundtrack. You might find yourself face-to-face with a magnificent bird of prey as you learn about the popular UAE sport of falconry or take to the skies yourself in a hot-air balloon, drifting over the dunes at sunrise looking out for gazelles and Arabian oryx below. Or you may want to learn about life in these harshest of environments by spending time with a Bedouin family.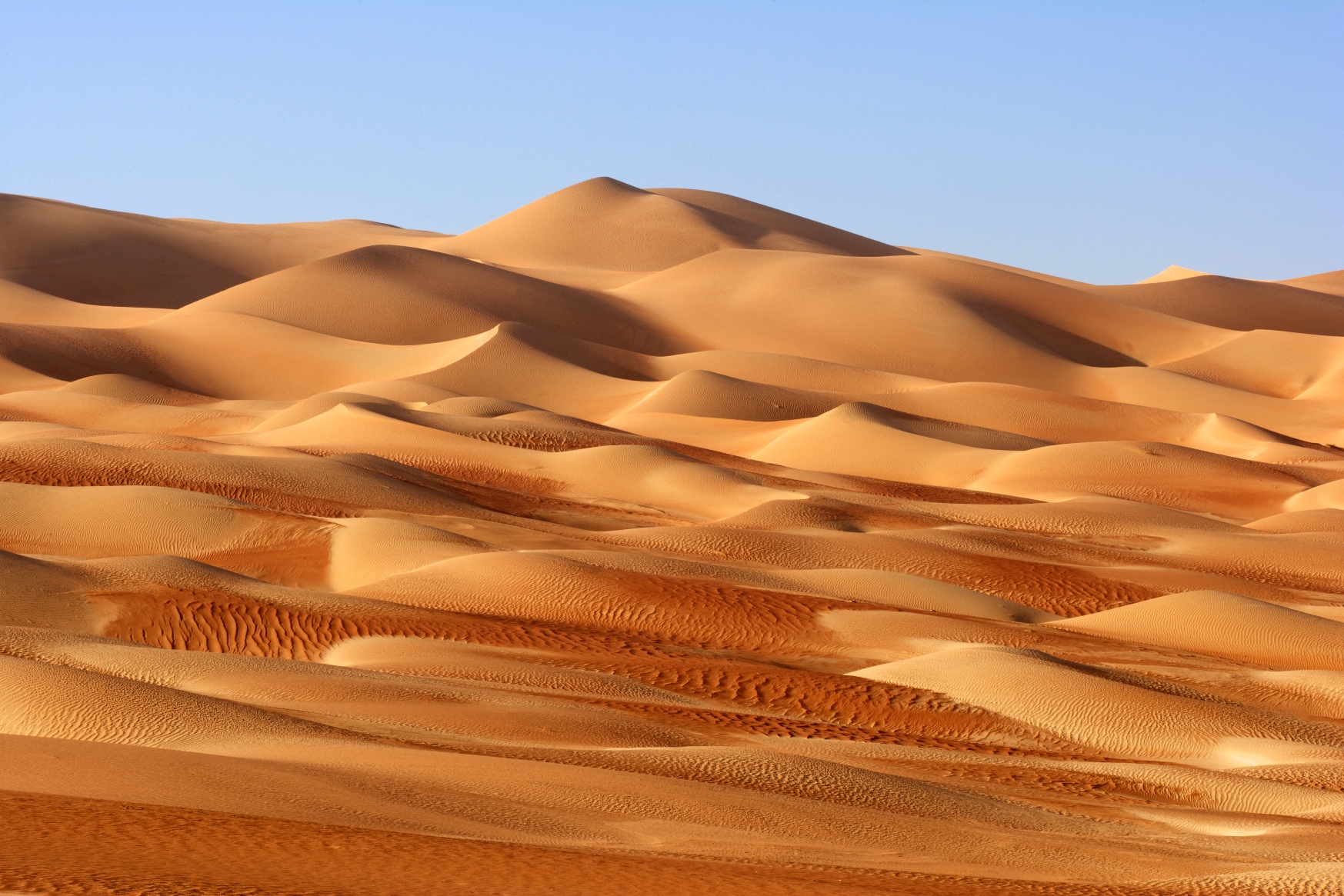 The Empty Quarter, or Rub al Khali, blankets the south of Oman in rolling dunes, and there's more dramatic scenery to admire in both Wahiba Sands and the Hajar Mountains. There's plenty of history to be explored, from the ruins of ancient towns that once grew rich from producing frankincense to prehistoric rock paintings and 5,000-year-old beehive tombs. Despite the unforgiving conditions, wildlife lovers will also be in their element; as well as birds such as chestnut-bellied sand grouse, there are intriguing insects and reptiles, along with mammals including Nubian ibex and sand cats. Or you may prefer to go fossil hunting; palaeontologists have found petrified dinosaur bones, marine creatures and trees in Oman's most arid regions.
Whatever your interests, be sure to factor in a stay at the Canvas Club, which takes the idea of desert camping to a new level. There's nothing so humdrum as a set location; instead, you'll be whisked by 4x4 and camel to a private tent among the dunes of the Wahiba Sands, where you can stretch out in a huge bed and shower in your open-air bathing tent before settling down for a meal prepared by your personal chef, with a campfire to keep you warm. READ MORE >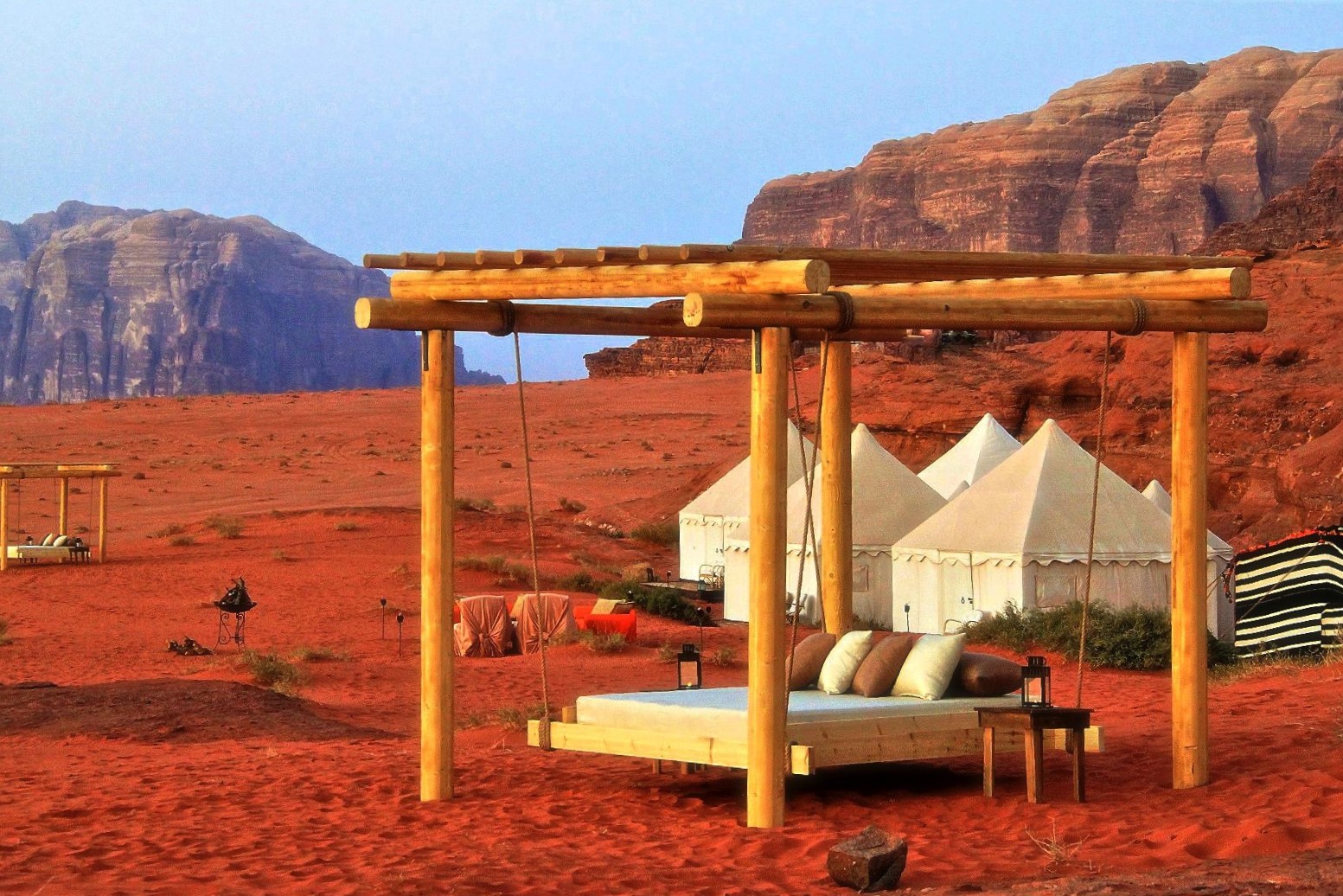 Of all Jordan's desert areas, Wadi Rum is the name on everyone's lips. Its otherworldly landscape – it's also known as 'the Valley of the Moon' – has been shaped over thousands of years by water and wind. The sculpted sandstone cliffs, canyons and rock formations, tinted red, orange and apricot, have featured in a host of films, from 1962's Lawrence of Arabia to Dune in 2021, while scientists and space agencies have used the rocky expanses as a training ground for future expeditions to Mars.
Adventure seekers can dive deep into this 178,000-acre wilderness with guided walks, camel treks and 4x4 expeditions that showcase everything from how plants survive in such a hostile setting to the history of the Arab Revolt. For a richer experience of the desert, opt for a few nights in a luxury tented camp. Discovery Bedu has just six suites, each with a solar-powered shower room and a private deck for soaking up the sunset views and the spellbinding clarity of the star-laden sky. Sun City Camp is a more out-of-this-world option, where you can stay in a futuristic dome-shaped tent complete with a king-sized bed and raised deck from which to drink in the spectacular vistas. READ MORE >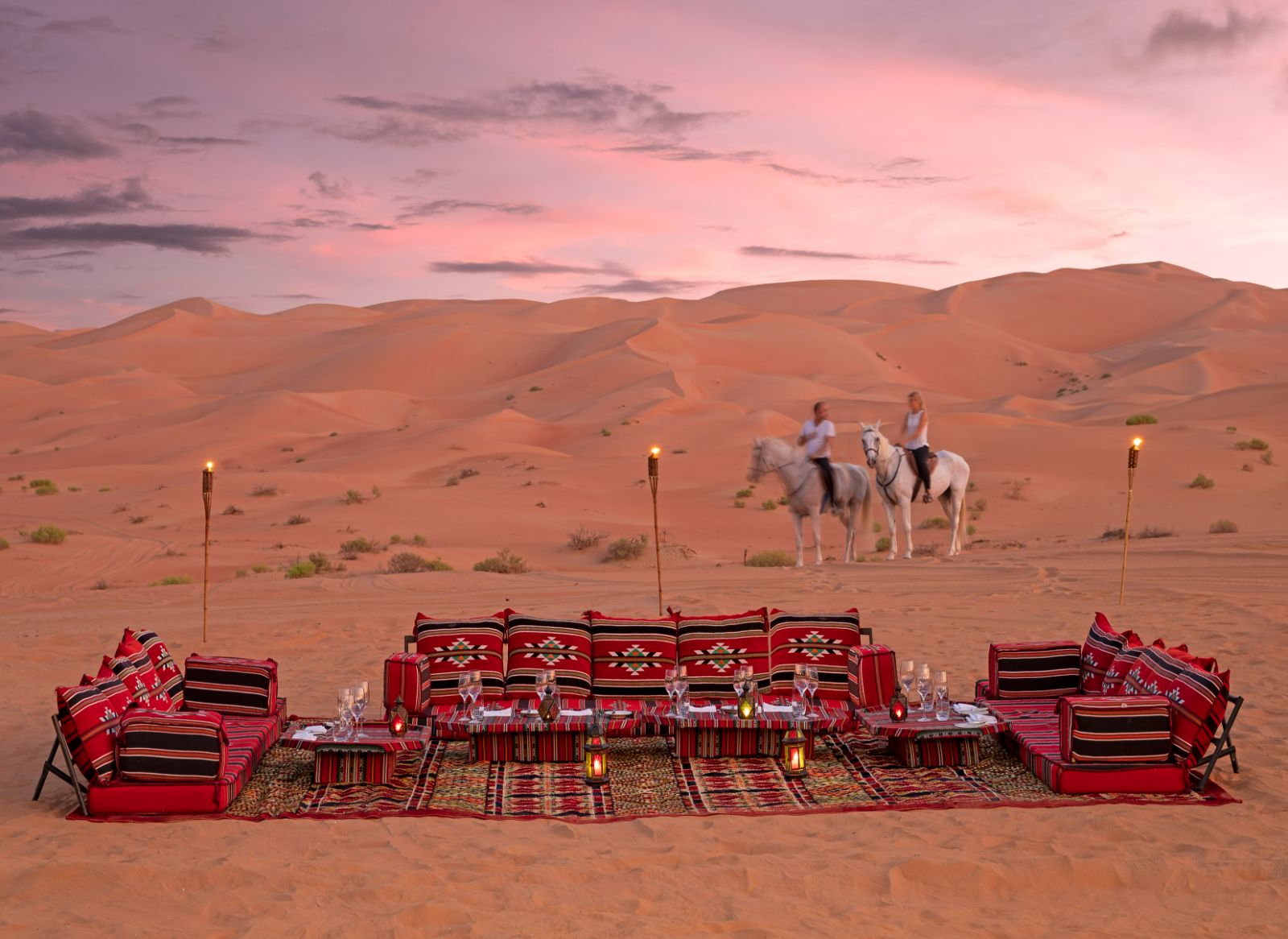 Around four-fifths of the UAE is covered by desert, from Abu Dhabi's stretch of the Empty Quarter to the Hajar Mountains that run through Fujairah, Sharjah and Ras Al-Khaimah. While the miles of rolling sand dunes – at their most epic and extensive in Abu Dhabi – capture much of the attention, there's another side to these stark landscapes. Far from being barren, they're bursting with interest, from Bronze Age tombs and date farms to native flora and fauna adapted to the lack of water. You can learn more about the area's surprising biodiversity with a game drive or horseback safari in the Dubai Desert Conservation Reserve, or take a hot-air balloon flight to see it from a different perspective.
Savour the peace of your surroundings at Al Maha, a luxurious desert resort fringed by palm groves within easy reach of Dubai. The generously proportioned tented suites are decorated with antiques, and each has a private infinity plunge pool from which you can gaze out over the sandy plains. Even more remote, the Qasr Al Sarab Desert Resort by Anantara rises from the sands of the Liwa desert like an ancient oasis settlement. Impressive eco-credentials are matched by equally impressive facilities, particularly the sublime spa. READ MORE >
BEST TIME OF THE YEAR FOR DESERT ADVENTURES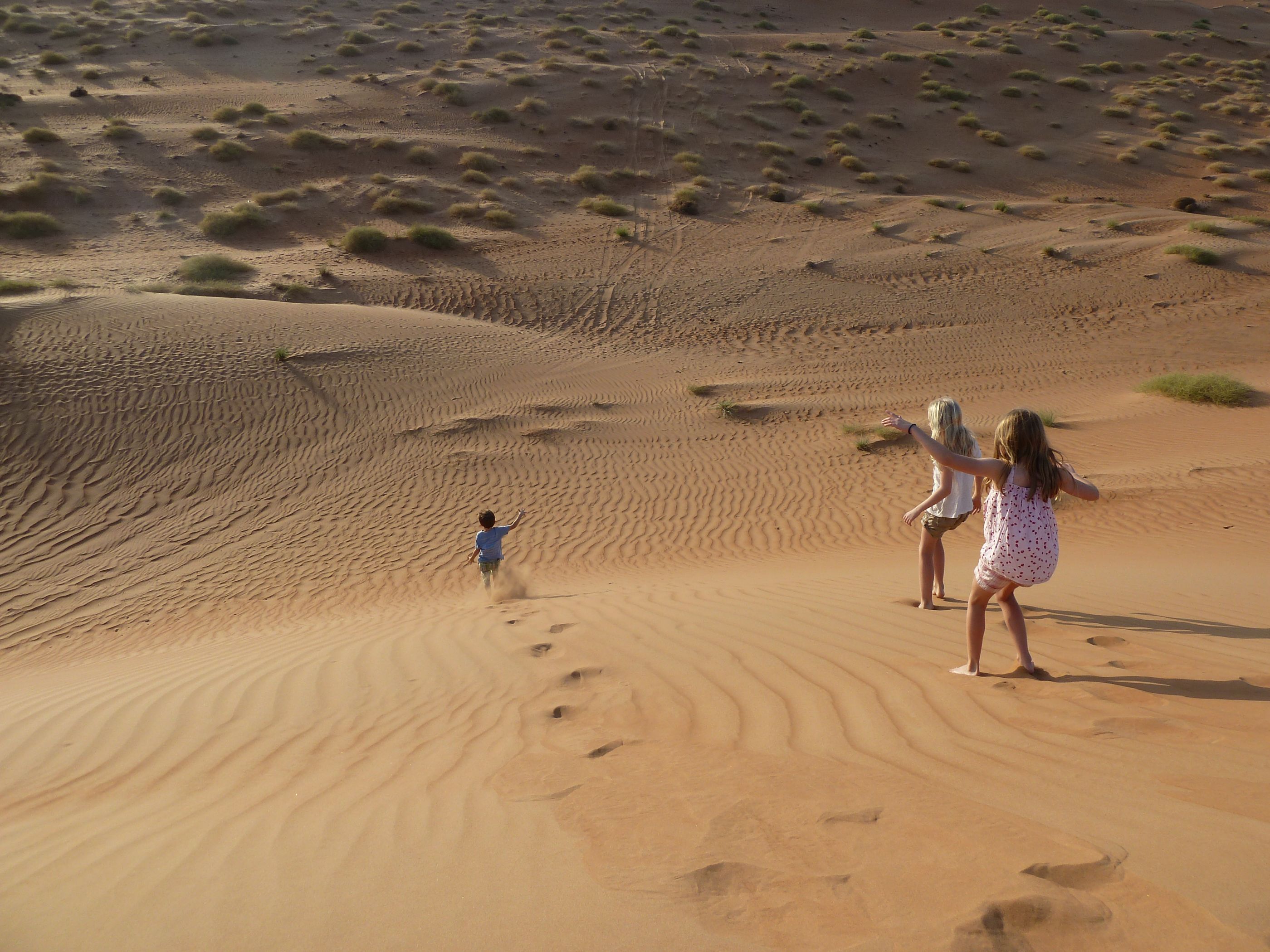 The winter months from November to March are the ideal time for a desert safari in Oman and the United Arab Emirates, with dry, pleasantly warm days and average overnight lows of 12C (54F) – a far cry from the torrid heat of July and August. If your destination is Jordan's Wadi Rum, October to April offers more comfortable weather for outdoor activities, though bear in mind that nighttime temperatures can drop to 2C (36F) from December to February.
DESERT ATTIRE – WHAT TO WEAR
'Long, loose and lightweight' is your motto in the desert, meaning long trousers, long-sleeved shirts and tunics, and a large scarf, pashmina or local keffiyeh to protect your head and eyes in a sandstorm. Opt for natural fibres such as cotton and take extra layers for chilly evenings.