India is home to over half of the world's tiger population – and most of these big cats roam freely in a handful of India's best-known national parks. Spotting these elusive creatures in their natural habitat is an exhilarating, once-in-a-lifetime experience, and thanks to recent conservation efforts, their numbers are on the rise. If you are thinking about booking a tiger safari, here are some tips to consider:
The Best National Parks to see Tigers in India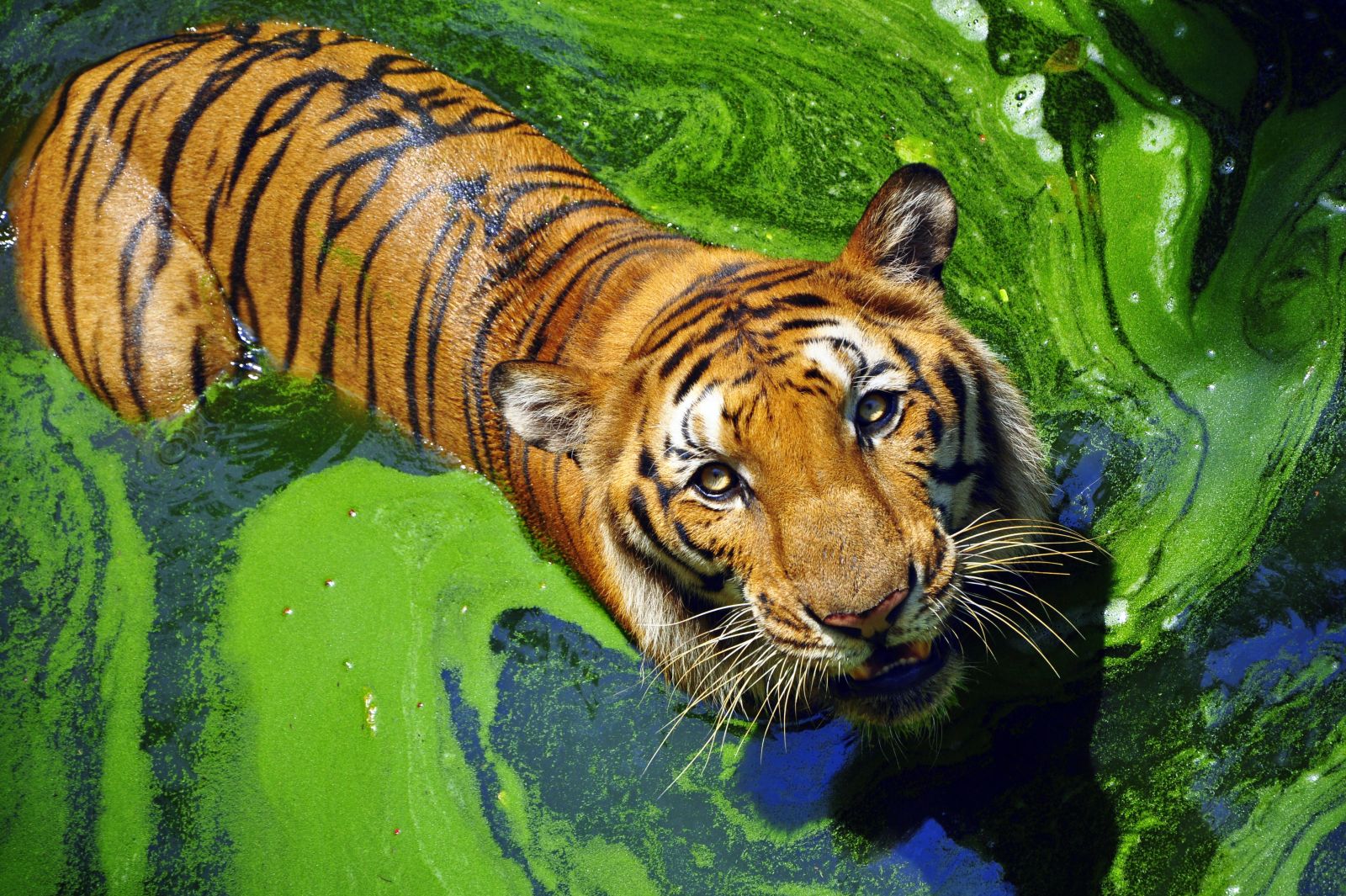 Bandhavgarh National Park
Set in Central India's Madya Pradesh region, cradled between the dramatic Vindhya and Satpura mountain ranges, Bandhavgarh National Park is a little off the beaten track – and as a result, less visitors make the effort to go. With its core area spreading across just 100km2, Bandhavgarh is one of India's smallest national parks - yet boasts the highest density of Bengal tigers in the country. Formerly the private game reserve of the Maharaja of Rewa, one of Bandhavgarh's defining features is its ancient hilltop fort, which dominates the park's lofty central plateau. There's plenty of other wildlife to look out for too; leopards, langur monkeys, wild boar, sloth bears and a cornucopia of exotic birds all call the park home.
There are a handful of deeply authentic lodges located in close proximity to the park; Mahua Kothi has twelve rustic suites and a lovely swimming pool for cooling off in at the end of a dusty game drive, while the luxurious Samode Safari Lodge is set in the park itself. The lodge's expert guides are highly in tune with the tigers' movements – they're often able to track them simply by listening to the alarm call of the park's native birds.
Kanha National Park
For a twin-centre tiger safari, Kanha National Park is a good option to combine with Bandhavgarh National Park. Located roughly five hours south, Kanha is around ten times the size of Bandhavgarh and renowned as one of the best areas in the country to track tigers in their natural habitat. This is also a place to come and enjoy the region's fantastic scenery - Rudyard Kipling used Kanha as inspiration for his childhood classic The Jungle Book and the landscape of bamboo forest, grassy meadows, trickling streams and lofty sal trees may feel familiar to some. As well as its high tiger concentration, Kanha is also known for its populations of swamp deer, chital, striped hyenas and leopards.
Stay at Banjaar Tola, a supremely comfortable tented camp overlooking the grassy meadows of the park. After game drives, a bar is set up on the banks of the tranquil Banjar River for sundowners, before dinners served in a lantern-lit forest clearing.
Ranthambore National Park
Due to its proximity to Delhi and Jaipur, Rajasthan's Ranthambore National Park is much more accessible to visitors than Bandhavgarh or Kanha. Once the hunting ground of the Maharaja of Jaipur, today it's one of India's best-maintained national parks. Come for the wild, dramatic scenery; steep rocky hills, swathes of dry forest and clusters of ancient ruins, including a crumbling 10th century fortress where tigers and leopards often take shelter. Around 77 tigers live in the 400km2 park and during game drives there's also a high chance of spotting hyenas, jackals, sloth bears and crocodiles wallowing on the banks of the Chambal River.
The standard of accommodation around Ranthambore National Park is very high and here you'll find the Aman-I-Kas tented camp, set in a rugged brushwood forest striking distance from the park – and the nearby Oberoi Vanyavilas, a boutique camp with some of the slickest service in India. Sher Bagh, meanwhile, oozes old-world glamour – twenties-inspired canvas tents come with canopied four posters and views of the grasslands from their verandas.
The Best Time of Year to See Tigers in India
Tiger sightings are never guaranteed at any time of year, but the best time to go on an Indian tiger safari for spotting wildlife is between May and June, when the temperatures are at their highest. Limited water supplies mean tigers flock to the few remaining watering holes, and the drier, dustier landscape give them fewer places to hide. That said, the weather in the summer can be extremely hot, and visitors who prefer more comfortable temperatures should travel between October and April. Once the monsoons have cleared in February and March the parks become beautifully lush and green and migratory birds start arriving, making this a brilliant time to visit for keen birdwatchers.
What to Pack for an Indian Tiger Safari
You should consider bringing the following items with you:
Binoculars
A good-quality camera
Sunhat and sun cream
An insulated water bottle
A scarf to cover your face – the roads leading into the parks can be very dusty and risk irritating your eyes and nose
Light, camouflage-coloured clothes
Extra layers for early-morning game drives
Cash for a tip for your guide and driver
What to Expect on an Indian Tiger Safari
If you've already been on an African safari, prepare for a somewhat different and arguably more authentic experience. Indian tiger safaris are a lot less slick and lack some of the finesse of their African counterparts – you're unlikely to be served a gin and tonic mid game drive from a pop-up bar with a white tablecloth billowing in the breeze!
India's national parks are strictly controlled and each safari jeep that enters is only permitted a limited amount of time in the park. The parks are much busier than in Africa, and at certain times you could be joined by a fleet of other vehicles. Most lodges will take guests out on a game drive in the morning and then again in the afternoon, so it is worth staying a few days and entering the parks on multiple occasions to help increase your chances of spotting a tiger.
Be aware that tiger sightings are never guaranteed - so instead, take time to enjoy the spectacular landscapes and the other fascinating wildlife living in India's national parks. These wildlife-rich regions are also home to striped hyenas, langurs, sloth bears, Indian wild boar, jackals, caracals as well as birds including kingfishers, serpent eagles, and great-horned owls. Game drives are accompanied by expert naturalists who are incredibly knowledgeable about the region's diverse flora and fauna.
To find out more about tiger safaris in India, contact Rachel, Red Savannah's India travel specialist on 01242 787 814.