Gulet charters are the perfect solution for those seeking peaceful beaches, endless sunshine and the chance to experience local culture without the crowds. If you have ever pottered around glamorous marinas, casually eyeing the beautiful yachts and dreaming of setting sail into the big blue yonder, a week spent on your very own boat may seem like a bit of a fantasy. However, this dream can easily become a reality aboard a gulet, which far from being super-yachts with film-star prices, can favourably compare in price to a really good quality villa, but with the ability to move from place to place.
THE BEST TURKISH GULETS FOR PRIVATE CHARTER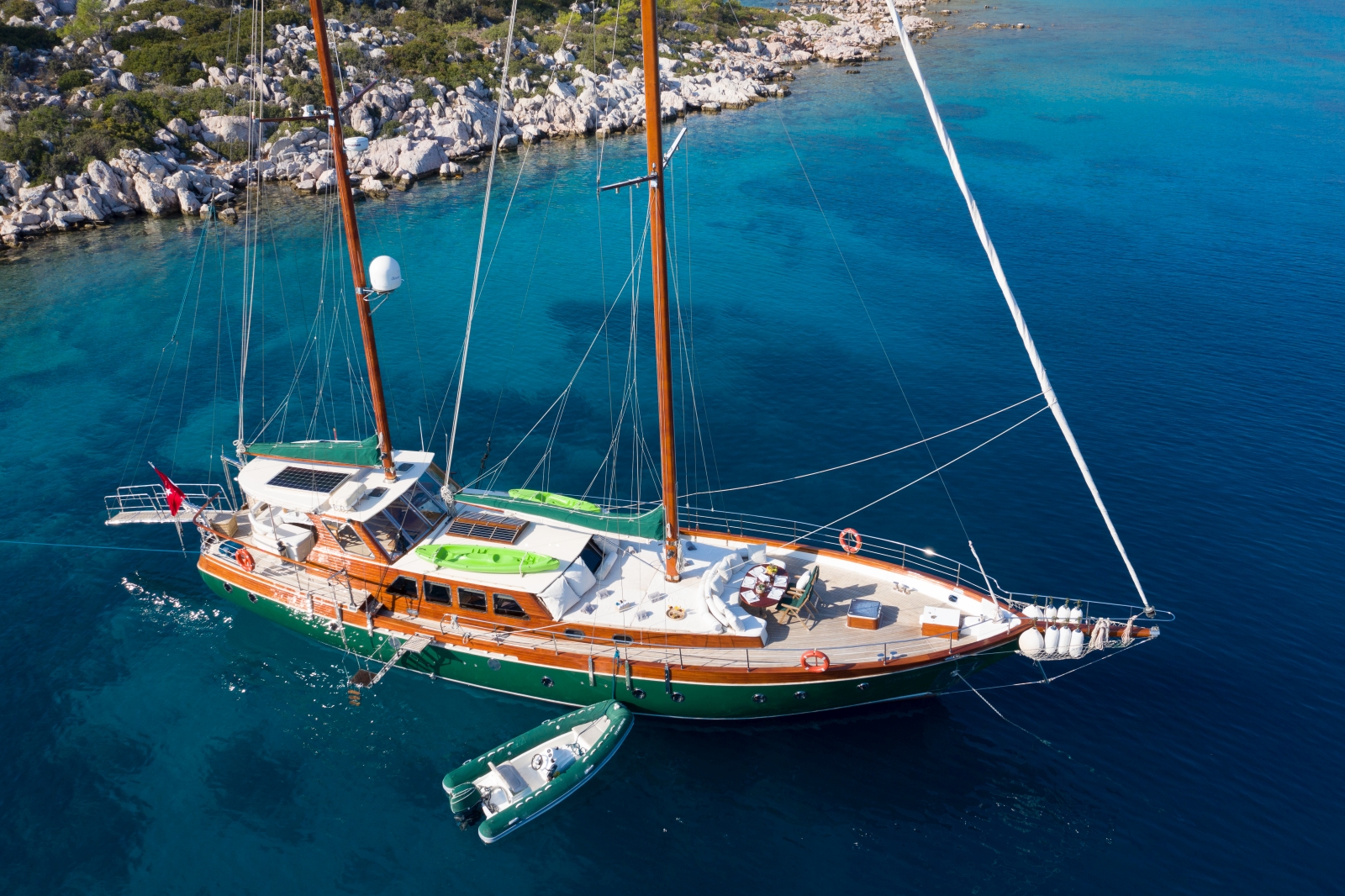 Serenity 86 - A modern, stylish vessel, sporting highly polished wood and chrome throughout. With four private cabins, this luxury yacht can sleep up to eight comfortably. Guests particularly appreciate the deck space that lends itself perfectly to al fresco meals and the flybridge which is the perfect spot for sundowners.
Kanaryam - Completely refitted in 2014, this traditional gulet offers great value for parties of up to ten people who want to enjoy their time predominantly in the water enjoying water-skiing, wakeboarding, canoeing, paddle boarding, snorkelling and fishing. Guests will appreciate being taken care of by their crew of four before retiring to sleep to the rhythm of the gently lapping waves.
Schatz - The gleaming white hull cuts stylishly through the blue Aegean waters. Spacious enough for two families to share, there is enough sports equipment on board to keep everybody entertained before they congregate for dinner on deck. The high-spec interior comfortably sleeps ten guests in five private cabins with en-suite bathrooms.
LIFE ON BOARD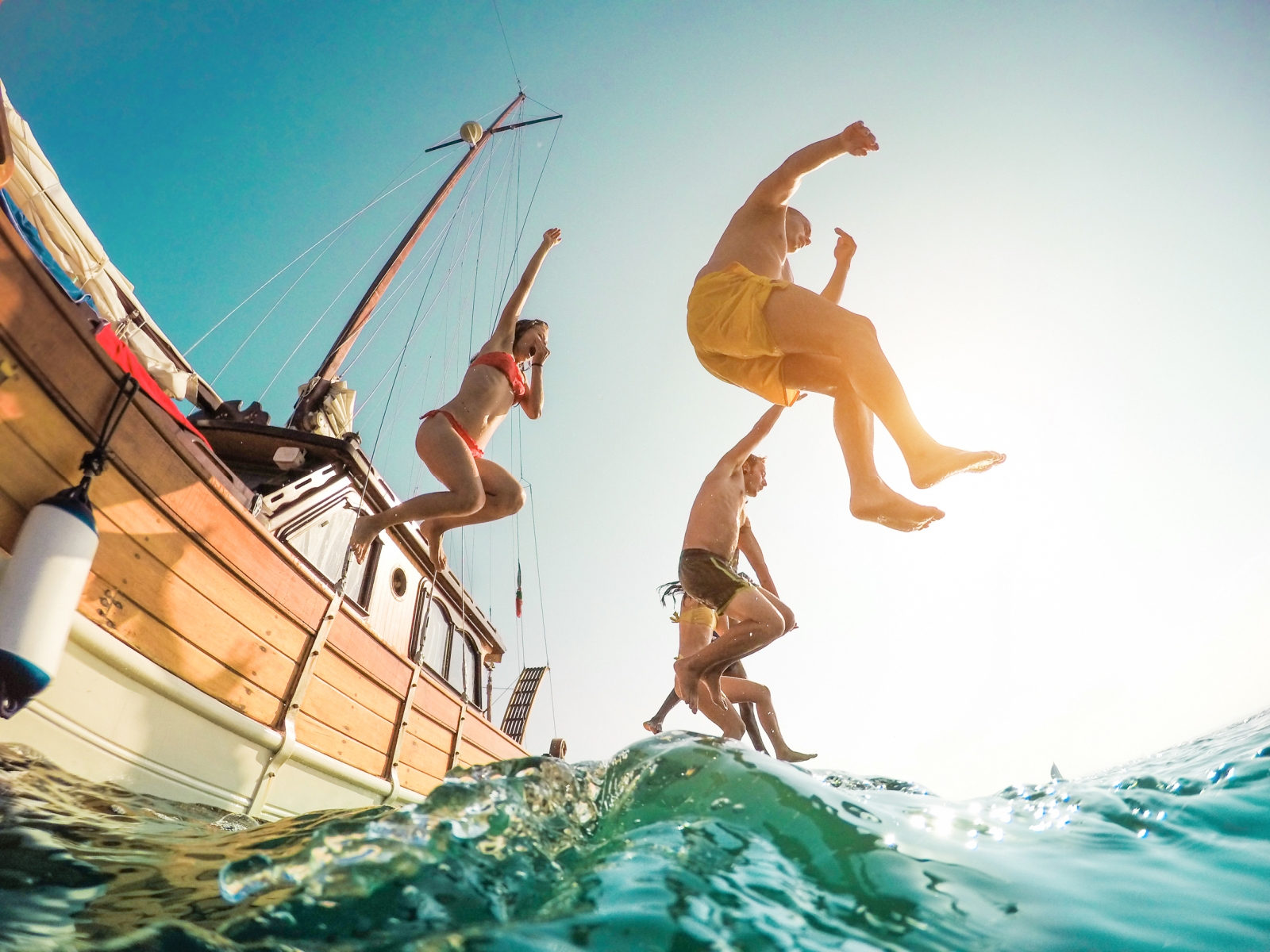 Free spirit and a dose of serendipity dictate life on board. You can stop at will to enjoy shopping in local markets and dining in authentic village tavernas, exploring local ruins, swimming in the turquoise sea and sunbathing on deck. You might choose to go for a swim each morning before enjoying an assortment of water sports that provide endless entertainment for all on board. Almost all gulets pack into the lazarette water skis, paddle boards, a selection of inflatables and canoes to keep everybody amused.
Traditional gulets are wonderfully spacious compared to regular sailing boats, with roomy interiors that were originally designed to take cargo. Days will be interspersed with cruising and sailing, stopping for lunch mid-day and again in the evening to anchor overnight. The crew will provide three meals a day, intermingled with delicious snacks and drinks, all served to you while the captain steers the yacht to that next deserted cove or quiet bay.
MEET THE CREW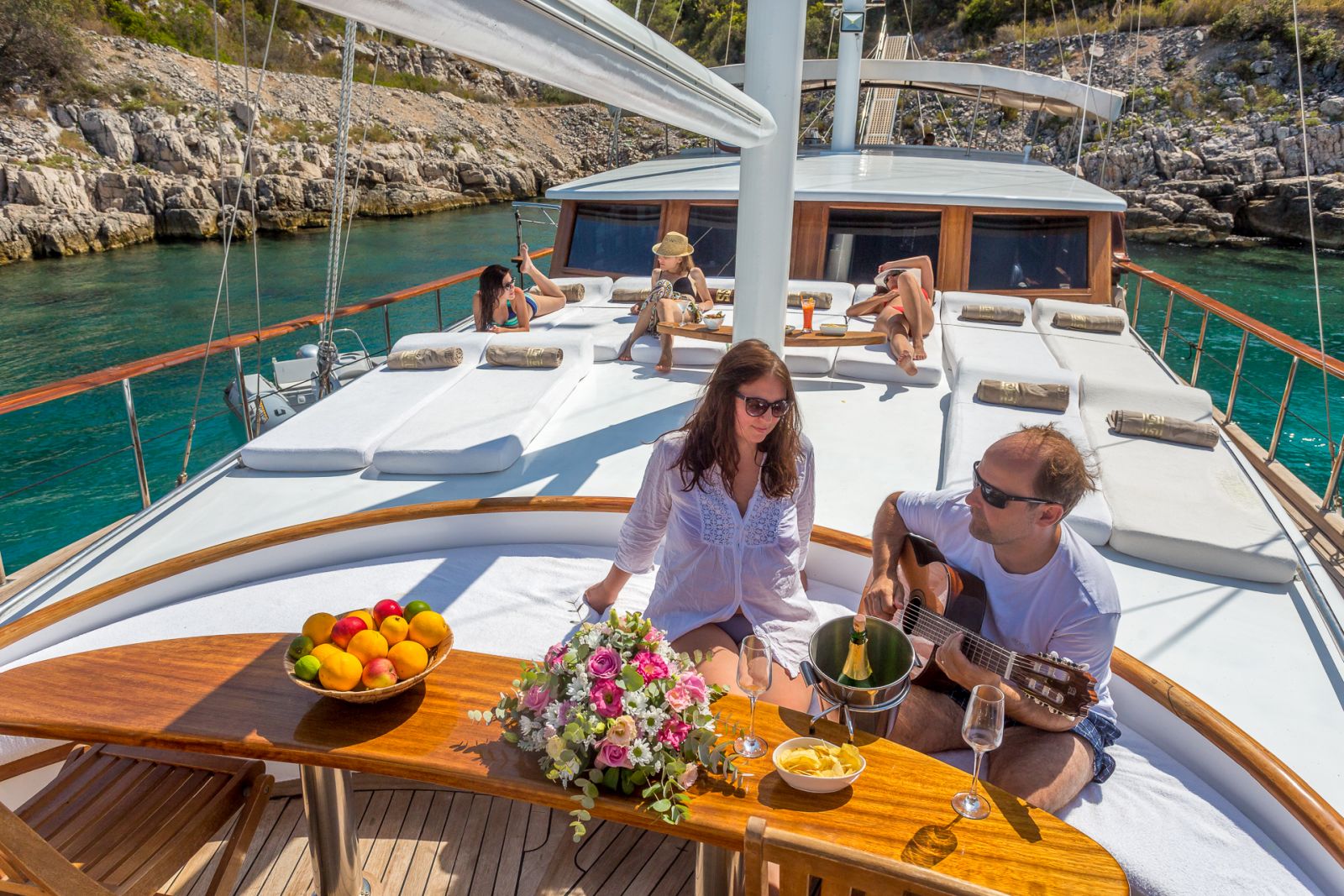 The captain is the most important crew member on board. Responsible for navigation and for each day's activities, the skipper will carefully plan the route and transport you to the most beautiful bays in which to drop anchor overnight. And if the wind is of sufficient strength and blowing from the right direction, he will be delighted to crack out the sails.
The cook or chef specialises in local Turkish dishes, often with a bit of international flair, and prepares sumptuous meals with a delicious mix of fresh seafood, locally sourced meat, vegetables and fresh fruit. Meals are generally taken on deck, al fresco.
The deckhands, despite being on board to tend to your every need, are discreet, friendly, attentive and incredibly respectful of your privacy. They will also drive the tender and take the children water-skiing or fishing, and they are responsible for keeping your cabins spick and span too.
SAILING ROUTES IN TURKEY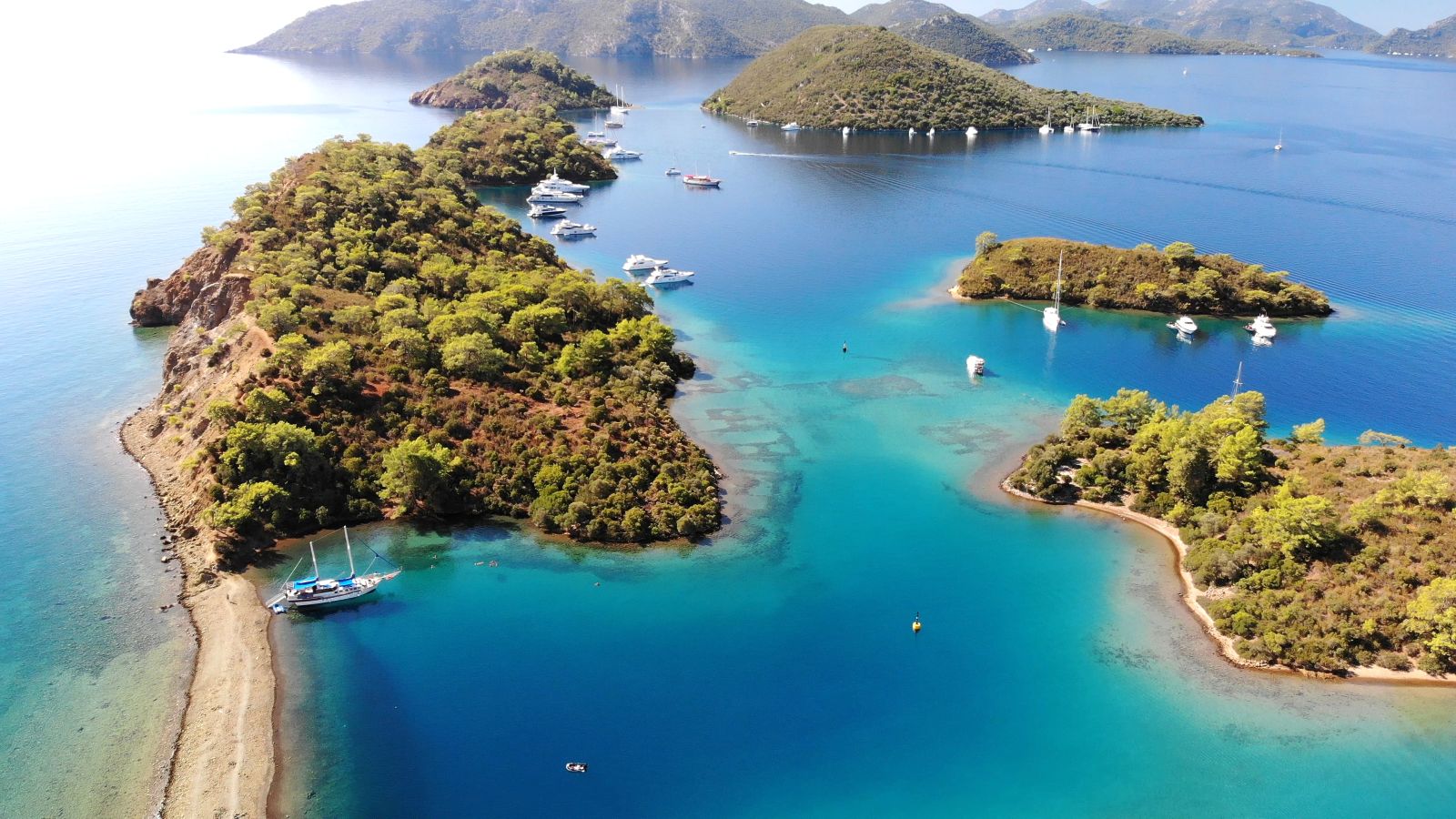 There is no set formula on a gulet holiday. Freedom and independence reign and you can set sail as you wish, with your captain to advise at all times. We provide some suggested routes, including a spectacular journey from Gocek to Hisaronu. Setting sail from Gocek, this eight-day cruise takes you along the spectacular Turkish coastline during which time you will be able to hunt for octopus, search for loggerhead turtles, snorkel and sunbathe on secluded Arap Island.
PLACES TO DROP ANCHOR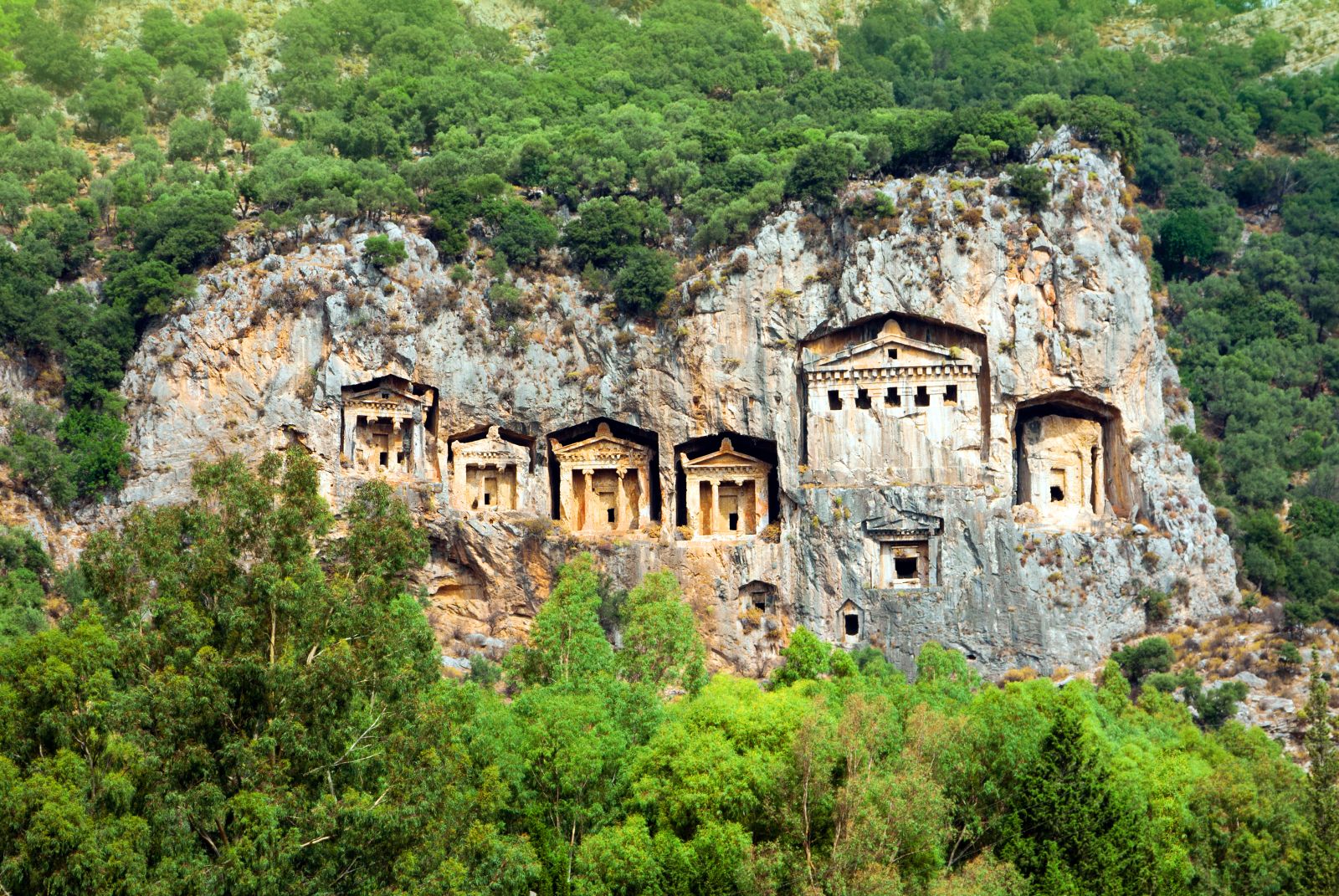 The best thing about a gulet holiday is that you can drop anchor at will, whether to simply swim, to enjoy lunch at a newly-discovered taverna or to explore ancient pathways above pretty fishing villages. The Turkish coast is littered with interesting, historic places to explore.
Explore the ruins of ancient Lydae and Loryma Castle while leaving your gulet moored in the bay.
Visit the impressive ruins of the ancient city of Kaunos to see the unique temple tombs cut into the rock-face.
Go ashore to explore the pretty riverside town of Dalyan, known for its authentic Turkish restaurants, Saturday market and shops selling handicrafts.
Walk over the hill to the deserted ghost town of Kayakoy, complete with two Greek Orthodox churches and abandoned in 1917.
THE BEST TIME TO TAKE A TURKISH GULET CRUISE
Gulet holidays provide a chance to enjoy splendid isolation, yet experience the nightlife in coastal towns and villages that will be buzzing with activity in the popular summer months.
July-August: High season is much sought-after due to the endless sunshine, school holidays and perfect sailing weather. The best gulets are booked early, so talk to Red Savannah's travel experts to avoid disappointment.

June and September: The mid-season months, are popular for those who like to avoid higher temperatures and big crowds and many consider this the best time to explore the Turkish coast.
May and October: The off-season months are favoured by those who seek peace and quiet and the chance to explore while the weather is not too hot. This is also when prices are at their lowest.
To discuss your requirements and to receive a personalised quote for Turkish gulet holidays, contact our gulet experts on +44 (0)1242 787800.