By George-Morgan-Grenville

I am never quite sure why the Germans take all the credit for efficiency. The unsung heroes in possession of that quality are surely the Swedes who, by the way, win the award for generosity as well. This is a country that works like clockwork, where trains, planes and automobiles pride themselves on early arrival. Add to that the omnipresent smorgasbord of generosity (not just in private houses but even at the airport where free wifi and complimentary newspapers seem to be de rigeur) and it soon becomes clear that travelling in Sweden is a joy.
No small wonder then that a journey to Swedish Lapland proved every bit as magical as one might expect. 200 miles north of the Arctic Circle lies the small town of Kiruna with a delightfully small airport. Never before have I descended the aircraft steps, picked up my suitcase and crossed a tiny car park to a warm hut where an Arctic suit, boots, balaclava, fur hat and mittens awaited, alongside a team of highly excited Alaskan huskies, all howling and barking in a cacophony of enthusiasm for their impending journey.
A quick introduction to dog-sledding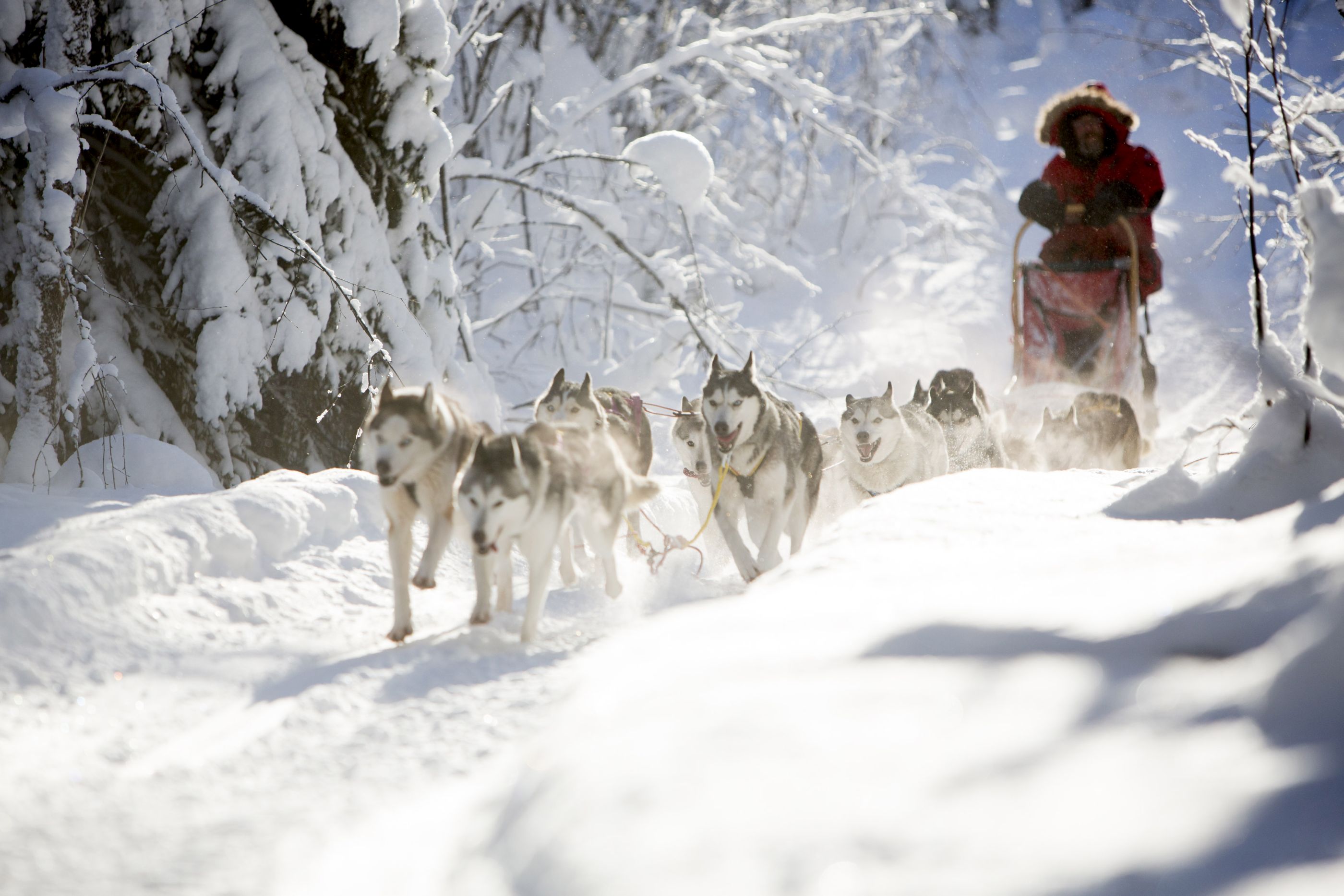 We set off at speed across the snow covered terrain to the private house and extensive dog kennels of Kenth Fjellborg, an experienced husky breeder, Arctic expert (who accompanied Prince Albert to the North Pole) and most impressively, Iditarod competitor (only the best of the best in the world of 'mushing' – dog sled driving – can qualify to compete in this 1,000 mile epic endurance race). On arrival at the kennels we are assigned our own dog teams and taught the rudiments of driving a dog sled, the respective roles of the lead dogs, swing dogs, team dogs and wheel dogs, each dog's name, use of the the braking system and the various words of command. At this stage, seeing the speed these dogs like to go, I am mainly preoccupied with the braking system and the 'stop' command. But I needn't have worried, within minutes of setting off, it feels as though one is in completely harmony with these intelligent canine engines, who pull their precious cargo with such unadulterated enthusiasm.
We speed across the frozen surface of the Torne River and onwards across snow-covered fields, valleys and forests of silver birch, spruce and pine trees. As the sun goes down, the sky first turns orange and then a livid red. We turn on our high powered head lamps and continue onwards, the dogs now silent as they work their magic. And then after what seems like only minutes (but was in fact several hours), we arrive at one of Kenth's homesteads, a marvellously comfortable affair in the middle of a forest. The path is lit by flaming torches and a roaring fire pit awaits as the manager steps out with wooden mugs filled with piping hot lingonberry juice. In all the excitement, it was easy to forget the -16 degree temperature outside. Later on we relax in the state-of-the-art sauna before enjoying an exceptionally good dinner of reindeer carpaccio (a healthy meat that is low in fat and high in nutrients) followed by delicious soy-glazed Arctic Char.
In this environment, sleep comes all too quickly and it is not long before we are kitting up the next morning ready for another day. Today however, the dogs have been replaced by gleaming royal blue high powered snowmobiles. We are soon powering through fresh snow and crossing the stunning frozen wilderness to reach the abandoned village of Sevu where the ever-entrepreneurial Kenth has beautifully restored an old house and barn where we stop for lunch and a relaxing sauna.
Some 60 miles later we arrive back in Kiruna, stopping to visit the Ice Hotel en route. The latter, constructed of 1,000 tons of Torne River ice and 30,000 tons of 'snice' (snow and ice mixture) is a stunning merger of art & architecture and it should form part of everyone's 'must see' bucket list. Constructed in a different form each year, a team of global artists compete to design, build and sculpt this arctic masterpiece. Impressive though it undoubtedly is, it is also something of a tourist mill and not somewhere we would recommend our clients to stay. We felt lucky as we arrived back in the warm and comfortable guest house on the Fjellborg property on the far side of the river.
A Great Stay at the Aurora Safari Camp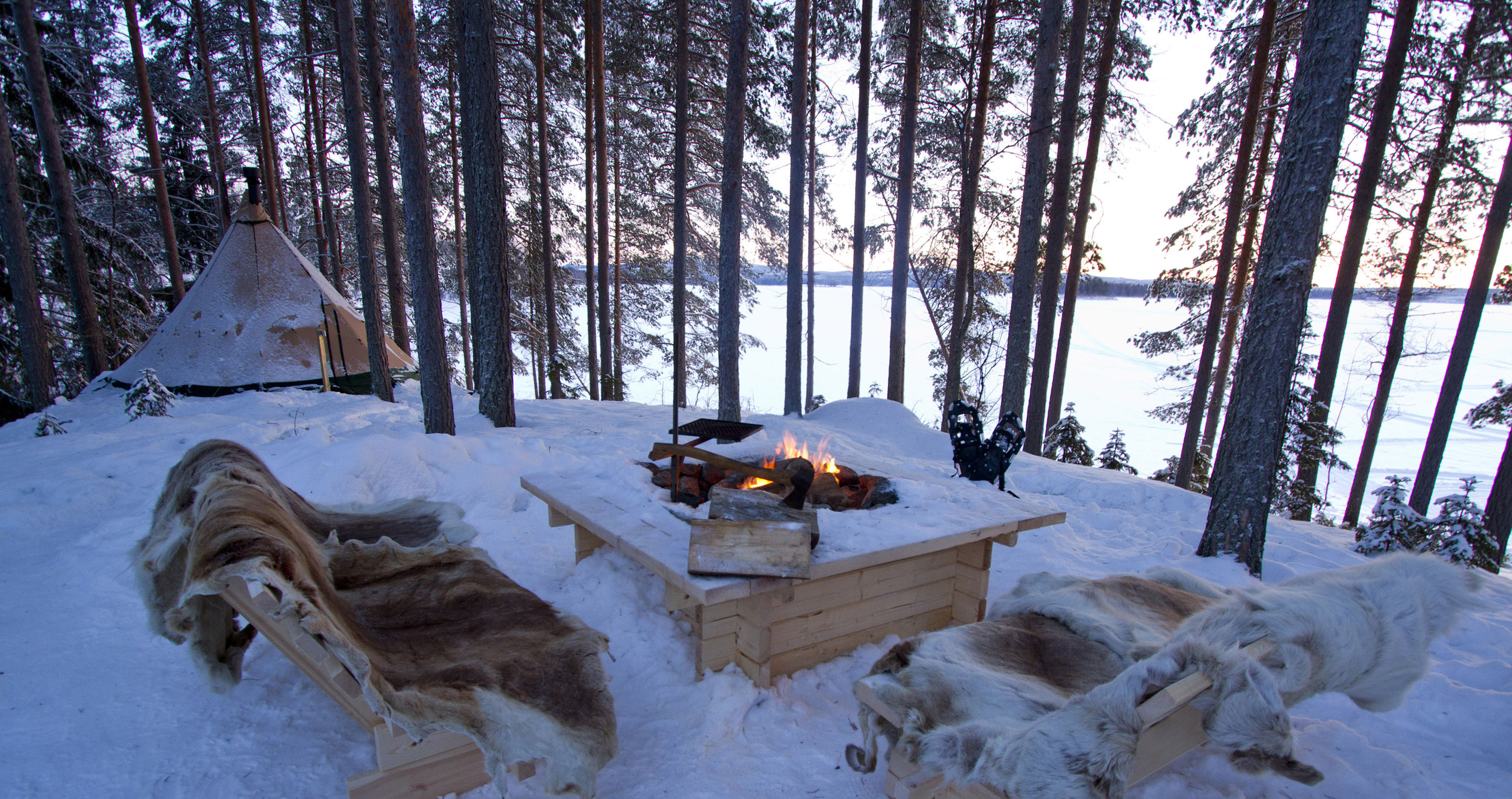 On the third day we find ourselves on the comfortable (and of course punctual) train for the three hour journey to Boden, where we are met by the charming Fredrik Broman, explorer, photographer, mountain biker, former teacher and thoroughly good man. We head straight out of this military town and head west to Fredrik's Aurora Safari Camp, a small number of 'lawu' tents (tipis) set up on a knoll overlooking a frozen lake on the Råne River. This is not for the faint-hearted; one bathroom tent with a self-composting loo and only the material of the tipi itself to shield you from the sub-zero temperatures. That said each 'lawu' has a log burner in it and as long as one keeps putting logs on (of which there is a plentiful supply), you remain warm as toast. The mess tent is a giant tipi (with a giant wood burner) overlooking the lake and it was here we experienced Fredrik's cooking, one of the most outstanding meals I have eaten in a long time. Starting with Kalix löjrom (Caviar of Kalix), a very special and delightful local delicacy from vendace fish roe (a fish only found in the Bothnian Sea in northern Sweden) that renders caviar a very poor cousin, followed by an utterly delicious light pasta with finely chopped reindeer meat and finishing with home-made vanilla ice cream (Fredrik had bought the vanilla back from Zanzibar) with a cloudberry coulis. Inevitably dinner turned into a dinner party, the wine flowed and no one seemed to notice we were in the middle of the Arctic. Well, at least not until Richard, a delightful local husky breeder came to pick us up in his wooden sled pulled by sixteen beautifully trained Siberian Huskies. For an hour we travelled at almost supersonic speed through moonlit forests of silver birch trees, across frozen lakes and rivers all lost in the magnificent beauty and our own thoughts, punctuated only by the commands from Richard to his dogs. We returned to find Par (pronounced Pat), the Camp Manager, handing out mugs of coffee laced with rum…..the perfect end to a perfect day.
We sadly didn't have time to stay longer but Fredrik can arrange snow mountain biking, snowmobiling, photography courses, ice skating, dog sledding, ice sculpting and even ice fishing. The emphasis is on adventure and fun and Par is always on hand to ensure everyone is comfortable and enjoying themselves. In many ways, it is the perfect Arctic introduction for children.
Witnessing Aurora Borealis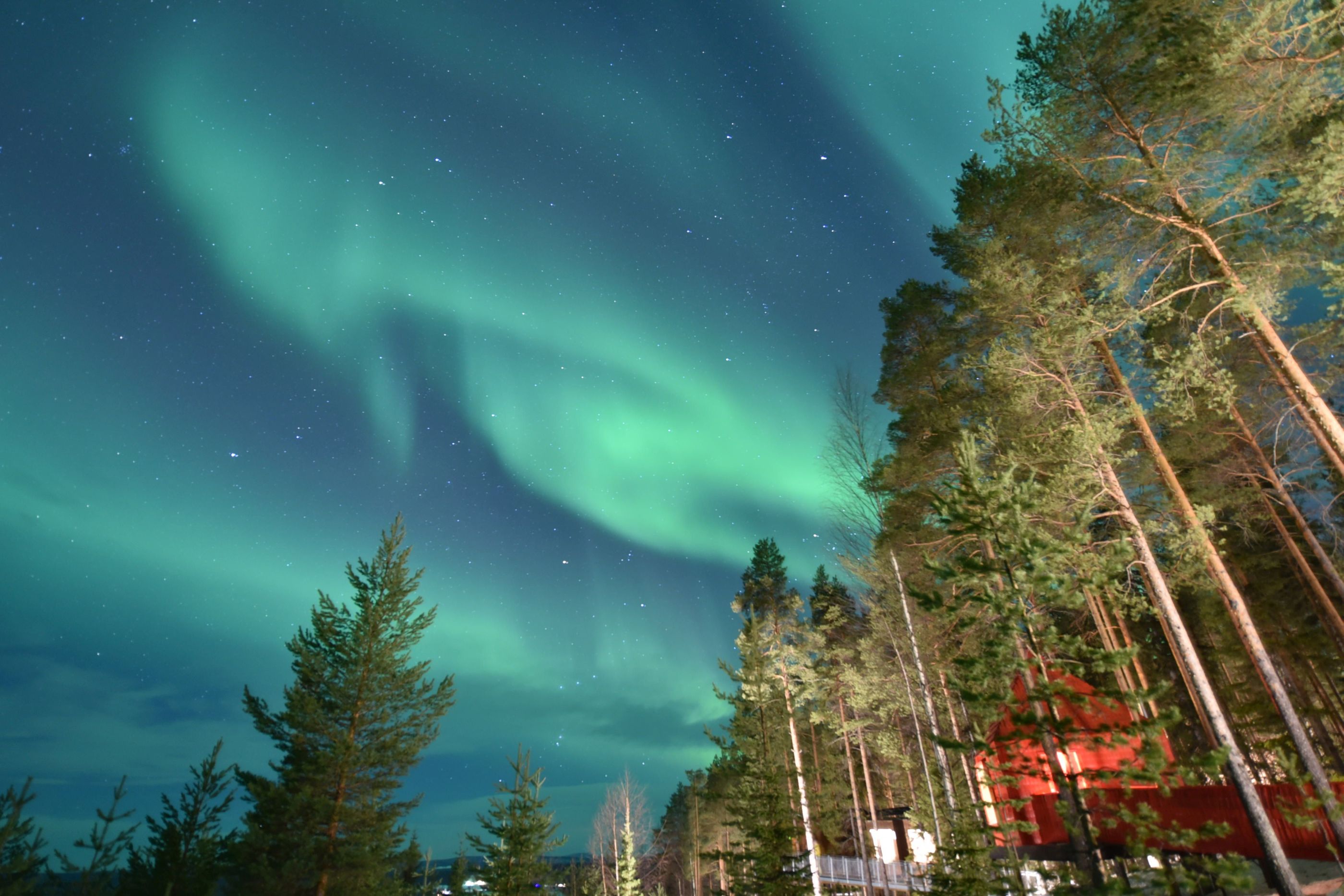 Our final step was back into the 1950s time warp lodge carefully juxtaposed by the futuristic 'treehouse' architecture of the Treehotel. This is the brainchild of the delightful Kent and Britta Lindvall, who welcome everyone at their lodge like old friends, before sending them off with a map to find their treehouse. These are no ordinary treehouses. All designed by different architects, they include a mirrored cube, a bird's nest, steel cabin and even a UFO with a hydraulic ladder. Inside they are hugely warm and comfortable and the ideal base for exploring the local area with an activity list as long as your arm. If you have ever wanted to climb frozen waterfalls or ski behind a rope pulled by a horse, this is the place to do it. And when you return to the lodge you are indulged with wonderful home cooking and the charming company of Kent and Britta, two of the nicest people you could ever meet.
The pièce de résistance to this story however, occurred on the last night. I had just got into bed when my treehouse telephone rang – it was Kent – quick, he urged, the best Aurora Borealis they had seen all winter was happening NOW! Leaping back into my arctic kit I descended the ladder at speed to be greeted by what one can only describe as the most extraordinary, ethereal and beautiful sight I have ever been privileged enough to see. My limited journalistic talent could not begin to describe it, but for those in search a long weekend in the filled with adventure, raw nature, delicious food, charming hosts and above all, beauty beyond your wildest dreams, Swedish Lapland is the place to go.
If you want to find out more about planning a luxury holiday to Sweden contact Red Savannah's travel specialists on +44 (0) 1242 787 800.