Despite Bermuda's heritage as one of Britain's oldest colonies, as well as it's relative isolation in the western Atlantic, the feel in Bermuda is distinctly Caribbean. Although only a 90-minute flight from New York, arriving in Bermuda transports you to a land where you can feast on fresh lobster on the shores of pink-sand beaches, snorkel in azure waters or go scuba diving around some 200 miles of coral reef in search 16th century shipwrecks. Bermuda is blessed with a number of luxury resorts where service levels meet the demands of the most discerning clientele and where you can indulge in a Bermudan adventure that is as active or relaxed as you see fit.
WHEN IS THE BEST TIME TO VISIT BERMUDA?
Bermuda has a humid sub-tropical climate and is warmed by the nearby Gulf Stream. Between December and March the island is cool, with daytime temperatures averaging at 18 degrees Celsius / 64 degrees Farenheit. The arrival of spring sees much warmer conditions, and in the peak summer months of July and August temperatures of 30 degrees Celsius are not uncommon, with plenty of warm sunshine. The hurricane season in Bermuda officially falls between June and November, peaking from August to October, though the ocean temperature around Bermuda means that hurricanes nearly always weaken as they approach the archipelago.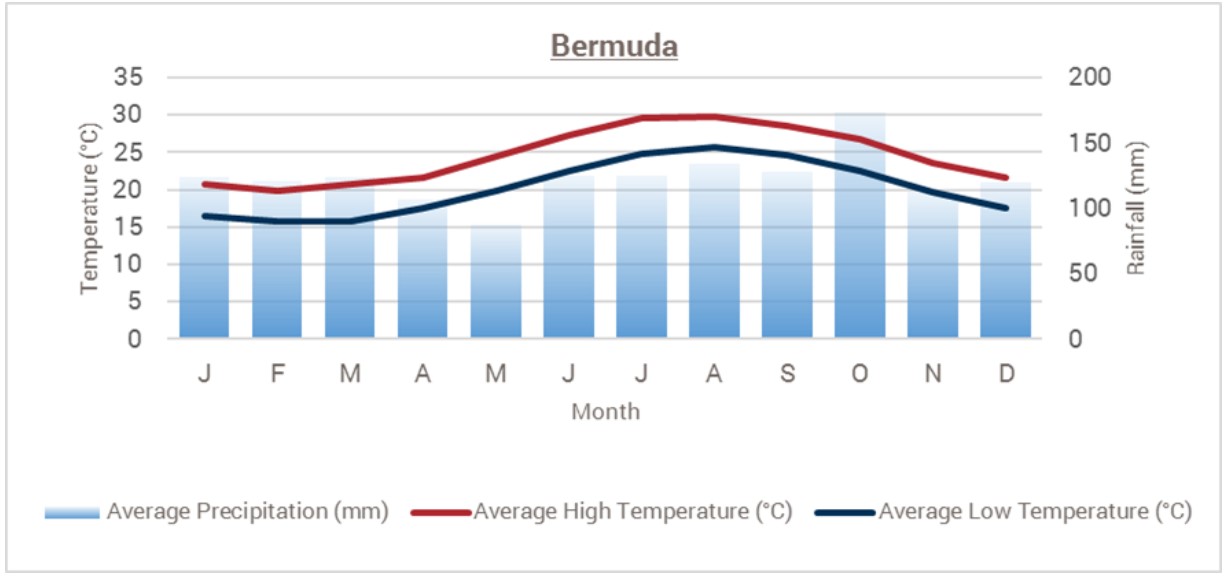 MAP OF BERMUDA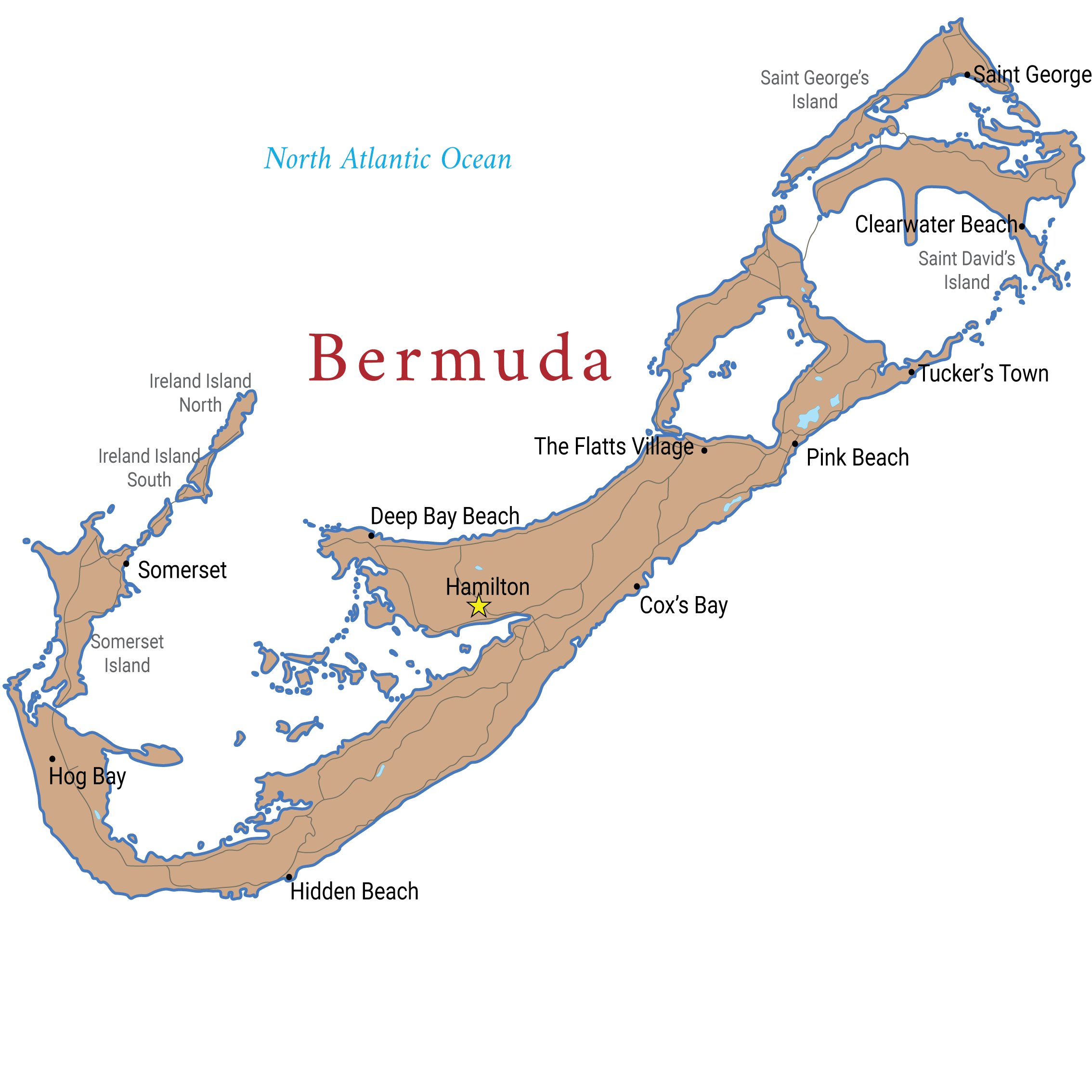 MEDICATIONS & VACCINATIONS
There are no mandatory vaccinations required for Bermuda, though you may wish to check that your boosters for Hepatitis B and Diphtheria-Tetanus-Polio are up to date. For further information on health precautions and requirements for your holiday we suggest you visit The Center for Disease Control & Prevention's website, or  Fit For Travel, published by the NHS. 
TIPPING IN BERMUDA
A service charge of 10% is applied to the cost of many tourist services in Bermuda, though you may still wish to tip a few dollars on top of this for hotel porters and housekeeping. In restaurants a service charge is also likely to have been added to your bill and no additional tip is expected, but you can still tip your server a few dollars on top of this for excellent service. If no service charge has been added to your bill then a tip of 20% is the norm, provided you are satisfied with the service you have received. Tipping taxi drivers is also customary in Bermuda, between 10 and 20% of the fare.
TRAVEL INSURANCE
It is crucial that you take out travel insurance if you do not already have a policy in place. In particular, make sure that you have cover for loss of personal effects and a high level of cover for medical expenses and repatriation if necessary. Please note that taking out travel insurance is a condition of travel with Red Savannah.
GET CONNECTED
ELECTRICAL SUPPLY
Part of Bermuda is on 110 volts and the remainder is 220 volts. Most hotels have both voltages available. The type of plug used is the standard American flat pin.


CAR RENTAL
Renting an electric car is one of the easiest and most eco-friendly ways of exploring Bermuda. Visitors can take advantage of the wide fleet of two-passenger electric vehicles and a charge points can be found throughout the country.
RECOMMENDED READING FOR BERMUDA
Bermuda: Five Centuries by Rosemary Jones
Rambling Notes of an Idle Excursion by Mark Twain
The Bermuda Triangle Mystery Solved by Larry Kusche