Madagascar is one of the world's great wildlife havens, a place of dense forests bursting with flora and fauna found nowhere else in the world. Travel logistics can be challenging here, which is why making your arrangements through a knowledgeable operator ensures everything runs as smoothly as possible and you gain the very best experience of this enchanting country.
WHEN IS THE BEST TIME TO VISIT MADAGASCAR?
The best time to visit Madagascar is between April and November. This period offers ideal conditions for enjoying the country's colourful flora and fauna at its very best, and for spotting species such as lemurs, sifakas and chameleons. Travel is not advised between January and March as this is the cyclone season in Madagascar.
MAP OF MADAGASCAR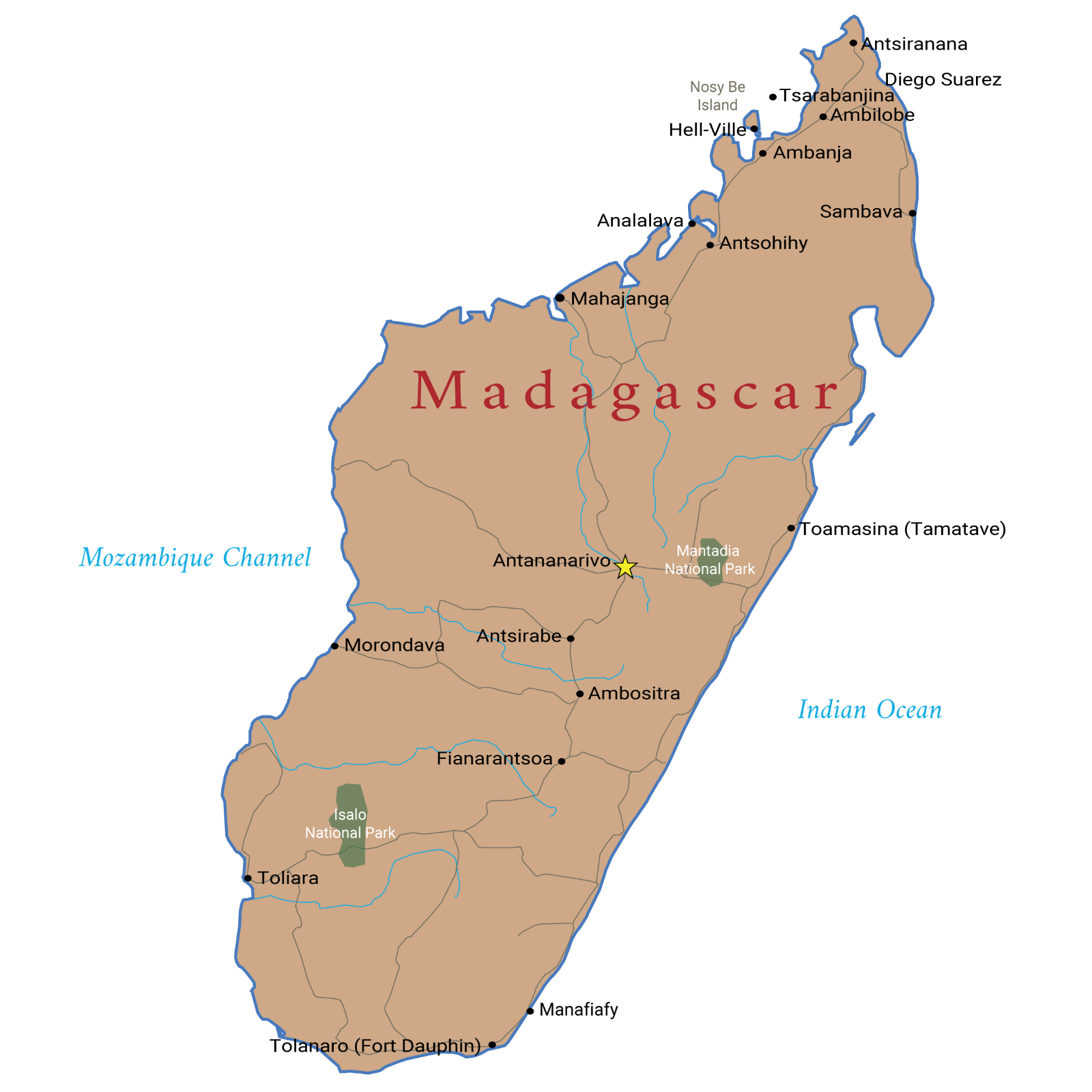 MEDICATIONS & VACCINATIONS
We always recommend that you see your doctor or a travel clinic before travelling to make sure that you have taken all the necessary health precautions. Your diptheria, tetanus and polio vaccine should be up-to-date, and your doctor may also recommend vaccination against Hepatitus A and Typhoid. A yellow fever vaccination certificate is required if you are arriving from a country where the disease is endemic. Malaria is prevalent in many areas of Madagascar, so you should speak to your health professional about obtaining anti-malarials prior to travel. For further information on health precautions and requirements for your holiday, we suggest you visit The Center for Disease Control & Prevention's website, or  Fit For Travel, published by the NHS. 
TIPPING IN MADAGASCAR
Tipping for good service is recommended in the tourism sector in Madagascar. In restaurants it is recommended that you leave a tip of around 10% of the total bill, provided a service charge has not already been added. Leaving a tip for hotel housekeeping, porters and your tour guide is customary, and we will provide detailed guidance in your final travel documents.
TRAVEL INSURANCE
It is crucial that you take out travel insurance if you do not already have a policy in place. In particular, make sure that you have cover for loss of personal effects and a high level of cover for medical expenses and repatriation if necessary. Please note that taking out travel insurance is a condition of travel with Red Savannah.
GET CONNECTED
The electrical supply in Madagascar is 220 volts, 50 Hz. Plug sockets are typically type C or E – two round pins, the same as those found in continental Europe.


RECOMMENDED READING FOR MADAGASCAR
The Aye-Aye and I by Gerald Durrell
Muddling Through in Madagascar by Dervla Murphy
Madagascar: The Eighth Continent by Peter Tyson (Bradt Guides)