Discover more about what to expect when travelling to the pristine and lesser-visited island of
Dominica
from our Caribbean specialists.
WHEN IS THE BEST TIME TO VISIT DOMINICA?
Dominica's climate is tropical, with an average year-round temperature of 27C (81F). The cooler, drier season falls between January and May, with trade winds capping the temperatures at this time. This is generally considered to be the best time to visit Dominica. Heat and humidity begin to increase from mid-May, with June seeing the beginning of the rainy season. Rainfall is more abundant on the island's east coast, and in the lush, forested interior. Hurricanes are most likely between the months of August and October.
MAP OF DOMINICA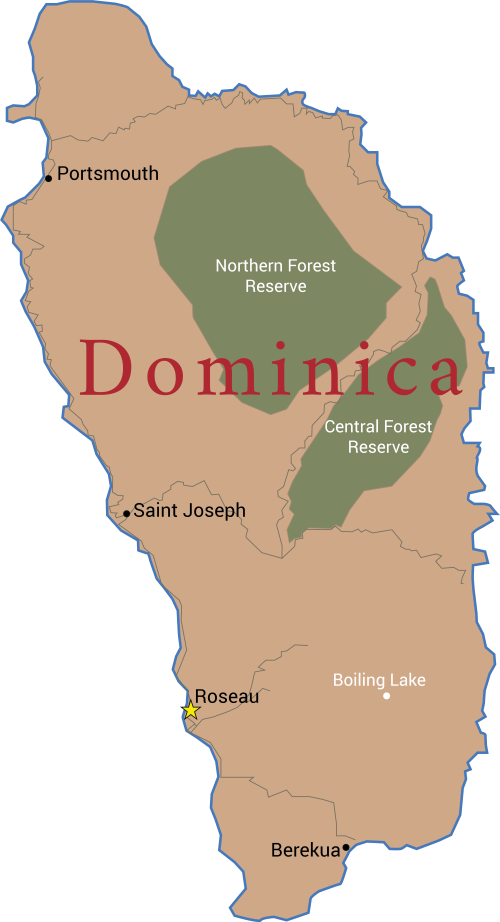 MEDICATIONS & VACCINATIONS FOR DOMINICA
If you are arriving from a country with a risk of yellow fever, a vaccination certificate is mandatory for entering Dominica. Dengue fever and the Zika virus are present in Dominica, both of which are contracted through mosquito bites. While not at epidemic levels, one should still take preventative action against these moderate risks. For pregnant women Zika virus poses very serious health implications to unborn children. Should you be holidaying here, ensure you take with you a good insect repellent and loose, cool clothing to cover your limbs when the mosquitoes are out. As with all travel abroad, we suggest you make an appointment with your doctor or local travel clinic well ahead of your journey to Dominica; in addition to discussing these viral risks or other health matters, your health practitioner may recommend you have a Tetanus vaccine or booster shot before your trip. For more helpful information about travel health in Dominica please visit the NHS's Fit for Travel website or see
The Center for Disease Control & Prevention
.
TIPPING IN DOMINICA
Tipping is not mandatory in Dominica but will be appreciated for good service. A couple of dollars are suggested for hotel porters, and a similar amount for housekeeping each day. In restaurants and bars, we suggest leaving a tip equivalent to 10% of the bill.
GET CONNECTED
ELECTRICAL SUPPLY
The power supply in Dominica is 230 Volts / 50 Hz. Though plug sockets are usually 3 pin (flat or round), in some hotels you will encounter 2-flat pin, American style plug sockets. We therefore recommend packing an international adapter.



RECOMMENDED READING
The Dominica Story by Lennox Honychurch
Caribbean by JAmes A. Michener