This eastern Mediterranean island is split into two sections, the south being Greek Cypriot - where Greek and British is widely spoken - and the north Turkish Cypriot where Turkish is the predominant language. Cyprus offers abundant sunshine and beaches and for this reason both sides of the country remain popular destinations. Contact our Cyprus destination specialists for practical travel tips.
WEATHER IN CYPRUS
Cyprus has a subtropical climate with very mild winters (on the coast) and warm to hot summers. Snow is possible only in the Troodos Mountains in the central part of island. Rain occurs mainly in winter, with summer being generally dry. Cyprus has the warmest climate (and warmest winters) in the Mediterranean part of the European Union. The average annual temperature on the coast is around 24 °C during the day and 14 °C at night. Generally – the summer holiday season lasts about 8 months, beginning in April and ending in November. Among all cities in the Mediterranean, Limassol has the warmest winters in January and February. The middle of summer is hot – in July and August on the coast the average temperature is usually around 33 °C during the day and around 23 °C at night and large fluctuations in temperature are rare.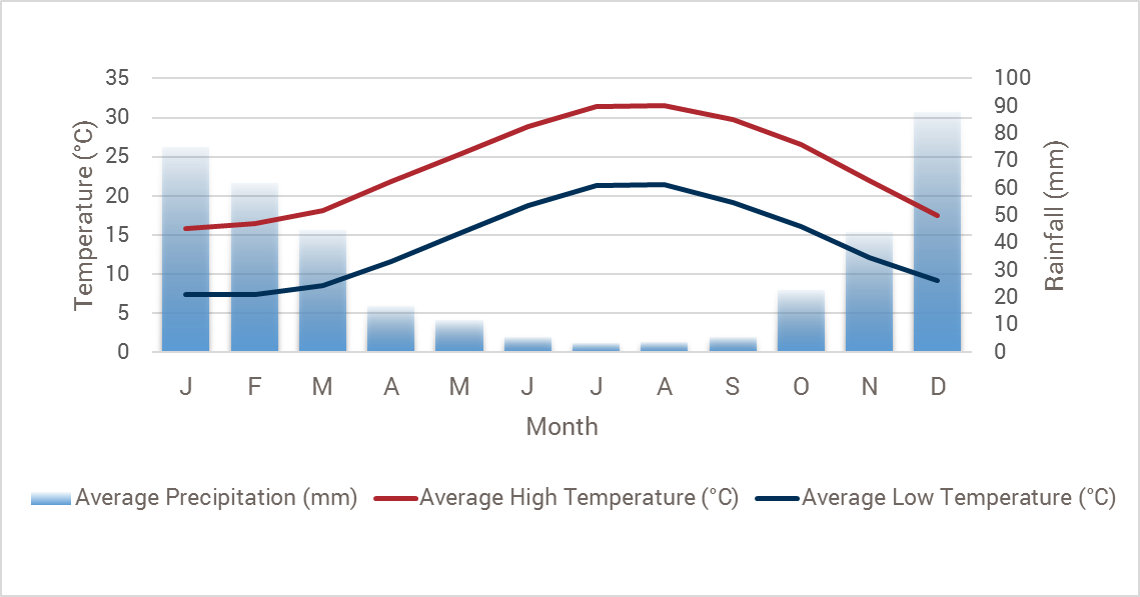 MAP OF CYPRUS
MEDICATIONS & VACCINATIONS FOR CYPRUS
Please check with your doctor ahead of travel to ensure you have any prescribed medications issued to you to cover the duration of your trip. There is the slight risk in Cyprus of contracting Hepatitis A through contaminated food and water, irrespective of where you stay, so do talk through the vaccination option with your health practitioner as well as weigh up the risk by referring to good health websites such as
Fit For Travel
and
The Center for Disease Control and Prevention
. Both of these should provide a good indication of what precautions you may want to take for your trip to Cyprus.
TIPPING IN CYPRUS
Tipping is entirely discretionary in Cyprus and dependent on how good you judge the service you receive to be. The normal guide is to add a gratuity of roughly 10% to the total.
GET CONNECTED
ELECTRICAL SUPPLY
Cyprus operates on a 230 V, 50 Hz electrical system using the BS-1363 3-pin British plugs. Europlug adapters are widely available in local stores.

MOBILE / INTERNET CONNECTIVITY
Generally speaking, mobile phone coverage throughout Cyprus is good, but there may be some problems in some remote or mountainous areas. Most hotels and, in recent years, a number of cafes and shopping centres, have WiFi internet access. Always check what charges will be made before using, but in most cases WiFi will be complimentary. No charges are made at Anassa.
RECOMMENDED READING
Bitter Lemons by Lawrence Durrell - Tale of an Englishman in Cyprus in the 1950s.
My Old Acquaintance: Yesterday in Cyprus by Barbara Cornwall - story of a bygone era.
Journey Into Cyprus by Colin Thubron - The recollection of his near 1,000 km walk.
Cyprus: An Island Apart by Seamus MacHugh - a modern travel memoir.