Located barely one hundred miles from the coast of Sicily, Malta shares many of the blessings of the southern Mediterranean; long, sun-drenched summers, turquoise waters, vestiges of centuries of rich history and an alluring culinary scene. Despite these more familiar influences, Malta also possesses a distinctive heritage all of its own, and its many natural and cultural attractions reward those seeking a short break or an extended holiday in equal measure.
WHEN IS THE BEST TIME TO VISIT MALTA?
The climate of Malta is similar to much of the southern Mediterranean, with long, dry summers and mild winters with occasional rain. Though the summer and early autumn are the most popular times to visit – particularly for those seeking to take advantage of the country's beaches, coastal and underwater pursuits – the gentle seasonal shifts and absence of a harsh winter make Malta a rewarding destination year-round. Temperatures average at between 25 – 30 degrees Celsius (77 – 86 degrees Fahrenheit) in the height of the summer, and rarely drop below 10 degrees Celsius (50 degrees Fahrenheit) during the winter months. Persistent rainfall is rare throughout much of the year.
MAP OF MALTA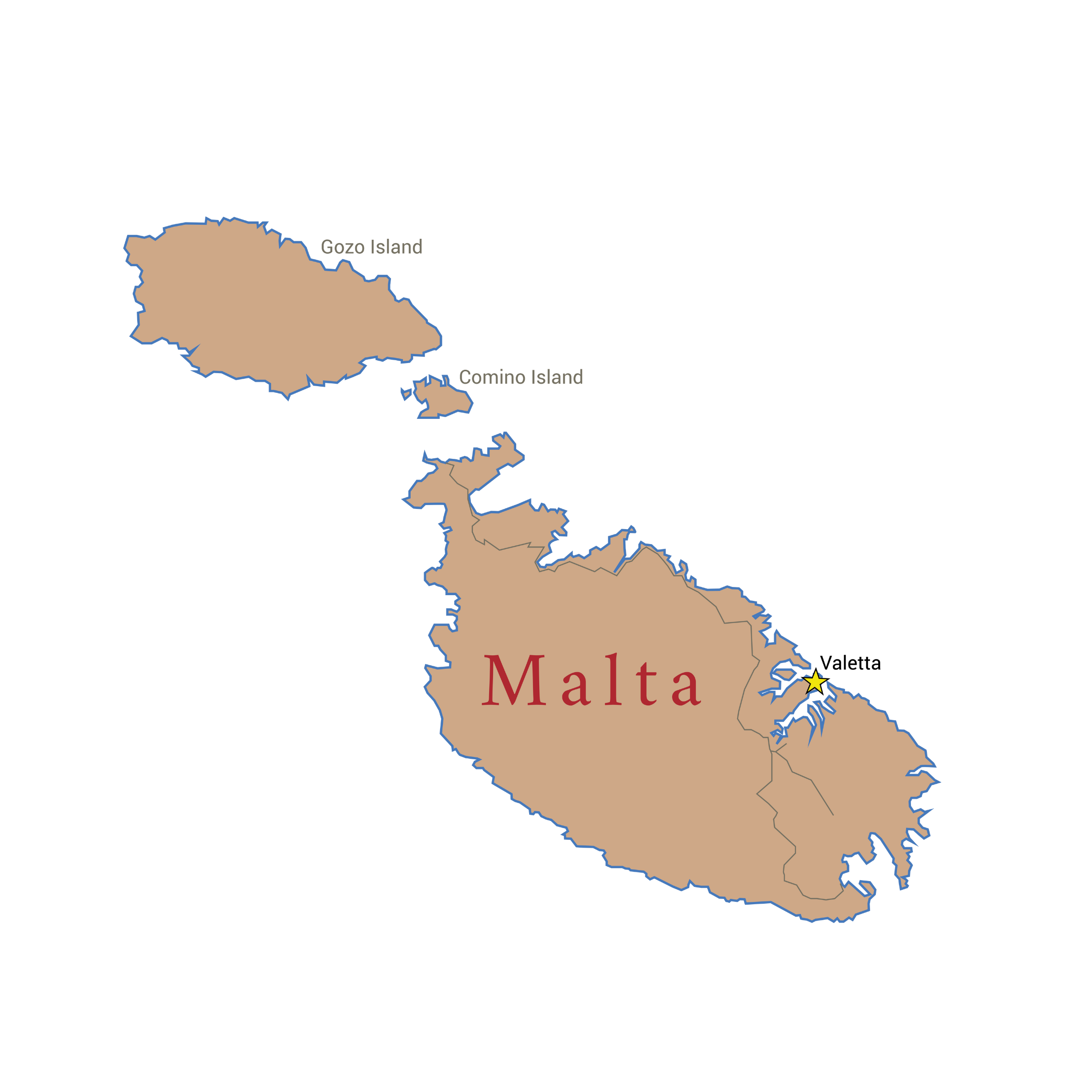 MEDICATIONS & VACCINATIONS FOR MALTA
There are no mandatory vaccinations required for Malta, but we do always recommend you check with your doctor ahead of any foreign travel to ensure you take any necessary precautions, as well as re-fill any medical prescriptions to last you the duration of your stay. For further information on health precautions and requirements for your holiday we suggest you visit The Center for Disease Control & Prevention's website, or  Fit For Travel, published by the NHS. 
TIPPING IN MALTA
Tipping for good service is customary in Malta. In restaurants it is recommended that you leave a tip of around 10% of the total bill, provided a service charge has not already been added. For taxi drivers it is customary to round up the fare to the nearest Euro.
GET CONNECTED
The electrical supply in Malta is 230 volts, 50 Hz. Plug sockets are category G, with 3 flat pins – the same as those found in the United Kingdom.

RECOMMENDED READING
The Story of Malta by Brian Blouet
Fortress Malta: An Island Under Siege by James Holland
The Knights Hospitaller: A Military History of the Knights of St Johnby John Carr