Rajasthan is the epitome of regal, romantic India – a colourful kingdom of palaces and pageantry, giant gold castles in the sand, sun-kissed deserts and tiger-padded parks. Here we shine a spotlight on four of its finest cities and where to stay within them.
JAIPUR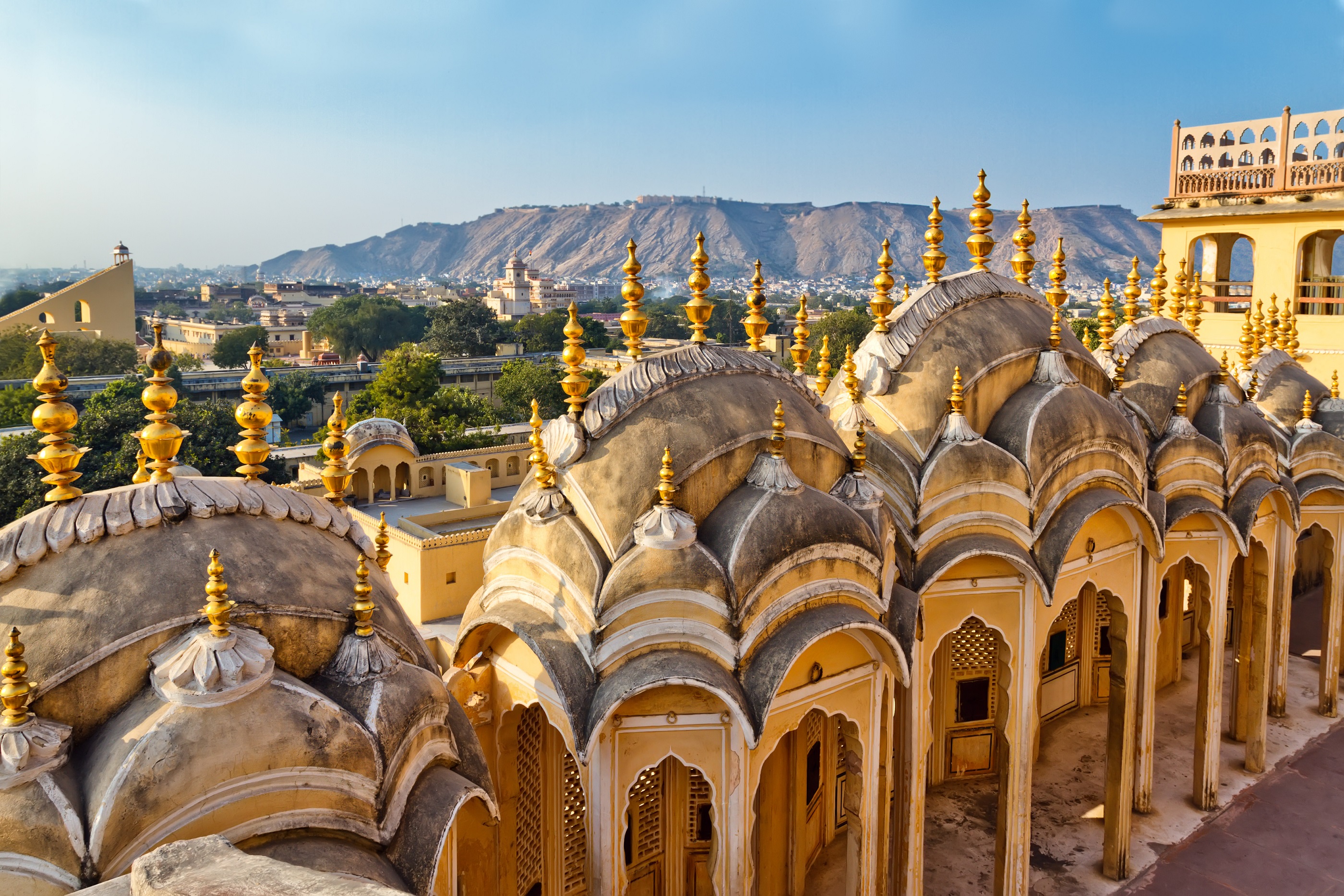 The captivating capital of Rajasthan, Jaipur is known as India's 'Pink City' and is thus a worthy home for the five-storey, salmon-pink Palace of the Winds or Hawa Mahal, an elegant façade just one room thick, where royal concubines watched the world go by in the days of the Raj. Climb to the top and you'll get wonderful views of the historic Old City from any of its myriad honeycombed windows.
It's part of the whole City Palace complex, a rambling, exotic blend of Rajasthani and Mughal architecture built by a slew of master craftsmen. It's a fascinating place to wander and take photographs, made all the more evocative by the knowledge that the Jaipur royal family still lives within its walls.
If that sounds rather impressive it's nothing compared to the opulent Amber Fort, about a 30-minute drive from the centre of the city. Built over 400 years ago, this complex of palaces and fortified structures is a vision of sandstone and marble, with rooms decked out with gold and silver and shimmering mirror-tile mosaics.
Jaipur, of course, is not just about forts and palaces. You could join hundreds of movie-goers to whoop and cheer at the latest Bollywood release at the Art Deco Raj Mandir Theatre, or even get lessons from a Bollywood dance teacher. You could wonder at the vision of India's 18th century engineers and astronomers at the Jantar Mantar, said to be the world's largest stone observatory. Don't miss the thousands of freshly cut flowers, all wrapped up in saris and laid out for sale at the Phool Mandi flower market, one of the city's hidden gems. Or you could simply get lost within the walls of the Old City, where twisting alleyways reveal an ever-changing melee of tuk-tuks, food stalls, cows, goats, camels and chai sellers.
Where to stay
With traditional Rajasthani architecture – think carved arches and colourful glass windows – a sleek pool and updated bathrooms, 300-year-old Samode Haveli was one of the first of the city's mansions to be turned into a boutique hotel and provides great value for palatial-feeling quarters within the Old City.
More intimate in feel is 47 Jobner Bagh, a 10-bedroom, family-run guesthouse just outside the walled city, whose wonderful roof terrace has spectacular views across to Nahalgarh Fort.
If you feel like splashing out, then look no further than the Rambagh Palace. Formerly a guest house for Rajasthani royalty, this splendid, sprawling palace has been at the top of Jaipur's luxury hotel list since the 1950s. Now part of the Taj group, it's an old-world, aristocratic fantasy with superlative service and modern amenities.
JODHPUR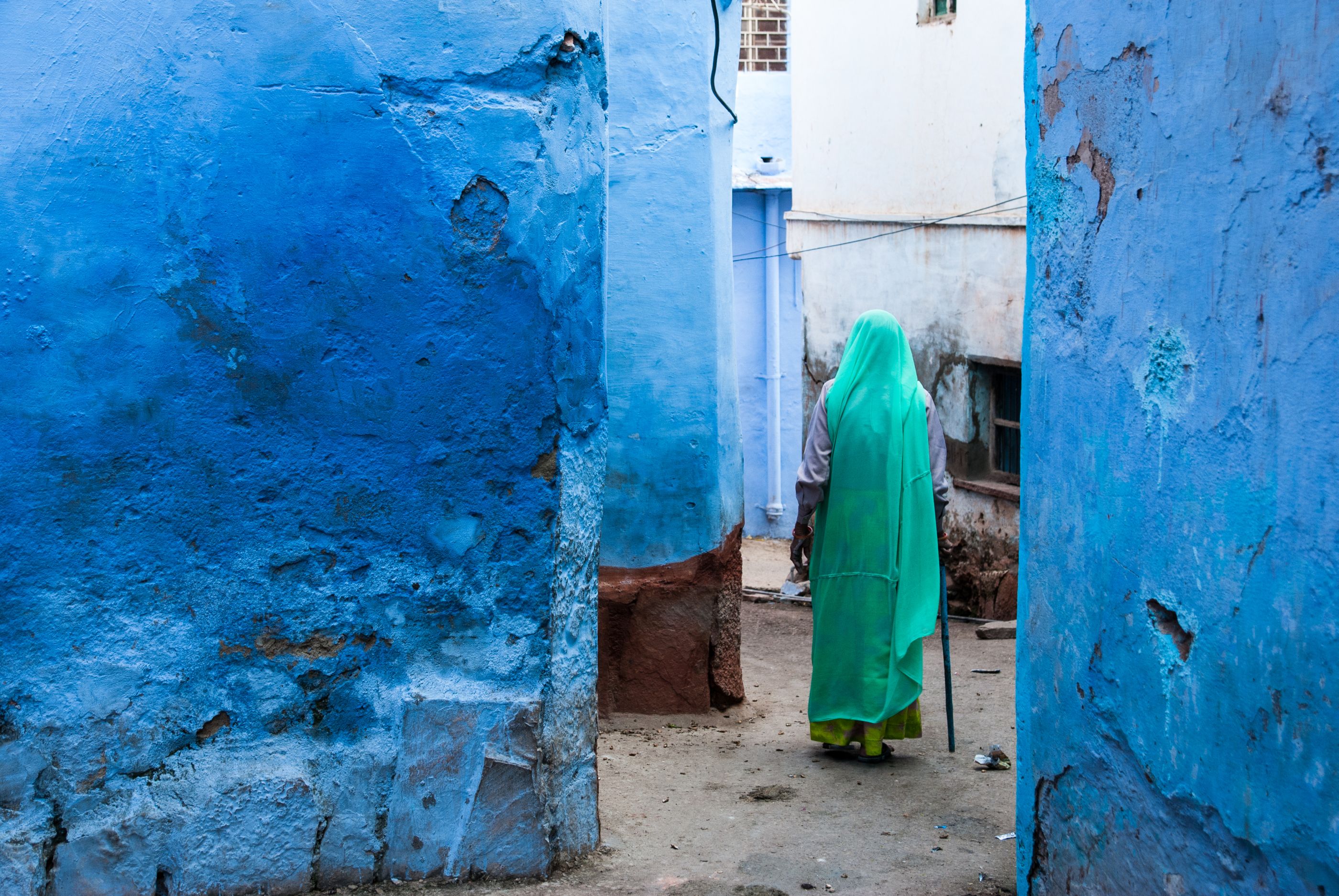 At the centre of the state and poised on the edge of the Great Thar Desert, Jodhpur is home to perhaps the most formidable of all Rajasthan's forts – towering Mehrangarh. The former 15th century palace is now a must-see museum displaying weapons, paintings and elaborate royal palanquins. It sits on a rocky outcrop 400 feet above the tangle of blue buildings that has come to define the city. No one knows for sure why the locals began painting their homes with indigo. It may have been Brahmins looking to indicate their higher caste, or simply a means of combatting termites and other annoying insects. Whatever the reason, the visual effect is nothing short of sublime.
The city is also known for its textiles and handicrafts, with many colourful shops and stalls clustered around Girdikot and Sardar Market, one of the oldest in the city. Jodhpur also provides a base for adventurous forays into the starkly beautiful fringes of the Great Thar Desert, where there are chances to ride camels, meet desert-dwelling villagers and spot herds of gazelles among the windswept desert dunes.
Where to stay
There's no shortage in Rajasthan of palace hotels but Jodhpur's Umaid Bhawan Palace is one of the finest. The building, extravagant even by maharaja standards, is unique for its Art Deco details, which reflect both the period and the British architect's tastes. Its pink buff sandstone was chiselled and interlocked without the use of mortar – something to ponder when standing beneath the palace's lofty 135-foot-high central dome.
A wonderful alternative is RAAS Jodhpur, a modern boutique hotel whose centrepiece pool, lined with cabanas, provides the perfect refuge from the daytime heat. And being practically in the shadow of Mehrangarh Fort, it would be impossible to ask for a more inspiring backdrop.
JAISALMER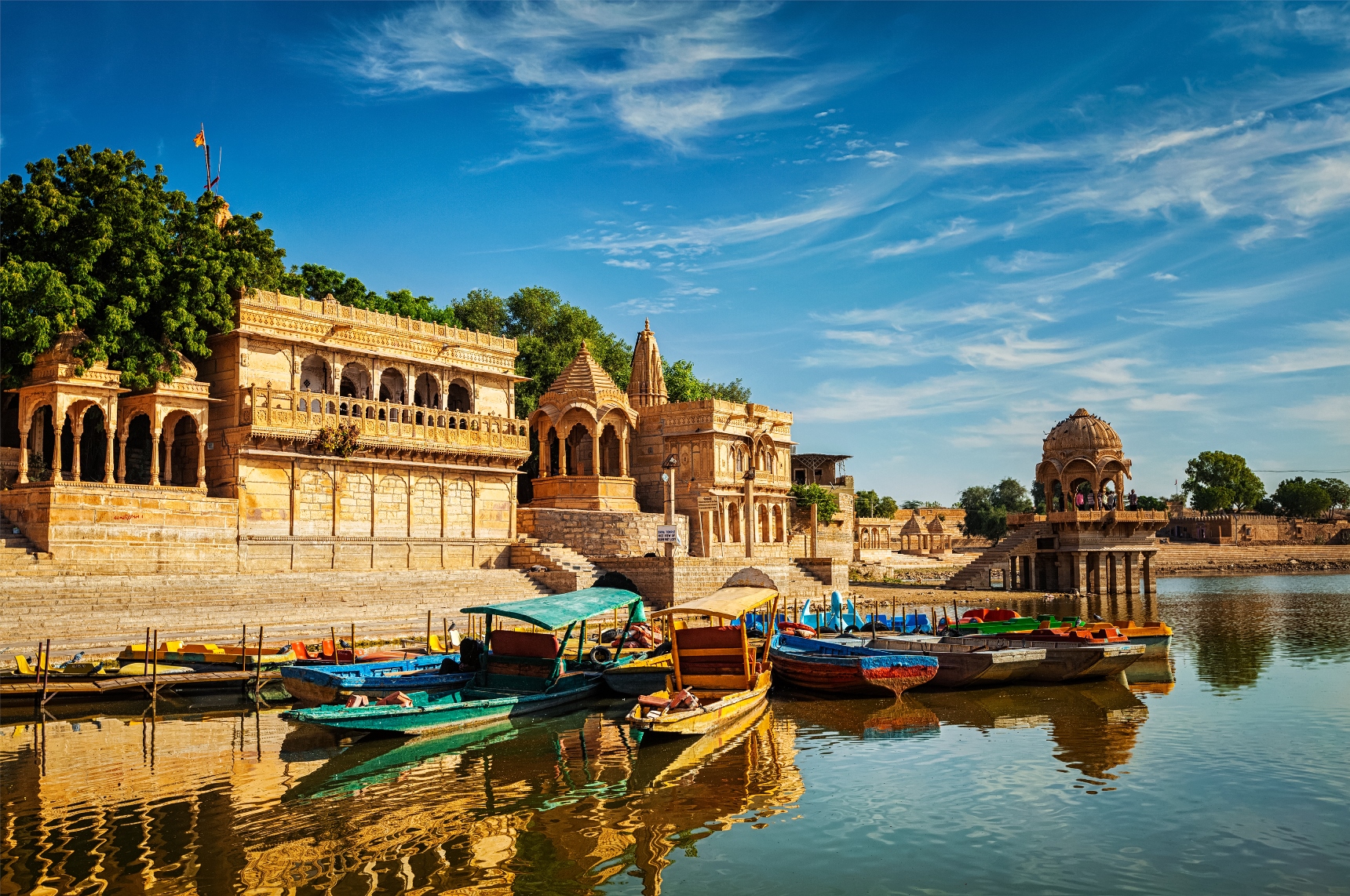 Known as the 'Golden City', this former trading post on the spice route to the Khyber Pass rises from a sea of sand, its 30-foot crenelated walls and medieval sandstone fort sheltering carved spires and palaces that soar into the sapphire sky. With its winding lanes and hidden temples, Jaisalmer seems plucked from the pages of Arabian Nights and is more low-key than its Rajasthani rivals. In fact, so little has changed here that it's easy to imagine yourself back in the 13th century, in the city's trading heyday.
Within the walls of the ramshackle fort are some impressive havelis (Rajput mansions elaborately carved from the local golden stone) and some exquisitely carved Jain temples, some dating back to the 12th century when the fort was built.
Also worth seeking out is the Gadi Sagar tank, which used to be the sole source of water for the town. Built around 700 years ago, it's now often completely dry, though if it fills in the monsoon (usually around September), it offers the illusion that the fort is floating on a vast and shimmering lake.
On the outskirts of town are the Barra Bagh chatris (royal cenotaphs), which have commanding views of the fort and offer excellent vantage points from which to watch the sun set, its last rays turning the town from the uniform yellow of daytime to a glowing golden hue.
Where to stay
Drawing inspiration from the royal caravans of old, SUJAN The Serai is a luxury tented camp set in 100 acres of private desert scrub, about 30 kilometres from UNESCO-listed Jaisalmer. Air-conditioned suites are closer to hotel rooms than they are tents, with permanent stone bases, super-king beds, Victorian-safari-style furnishings and enormous bathrooms with his and her sinks and walk-in showers. Raison D'Etre handles the spa treatments, daily yoga classes help you reconnect with nature, and camels are available for meanderings into the desert.
UDAIPUR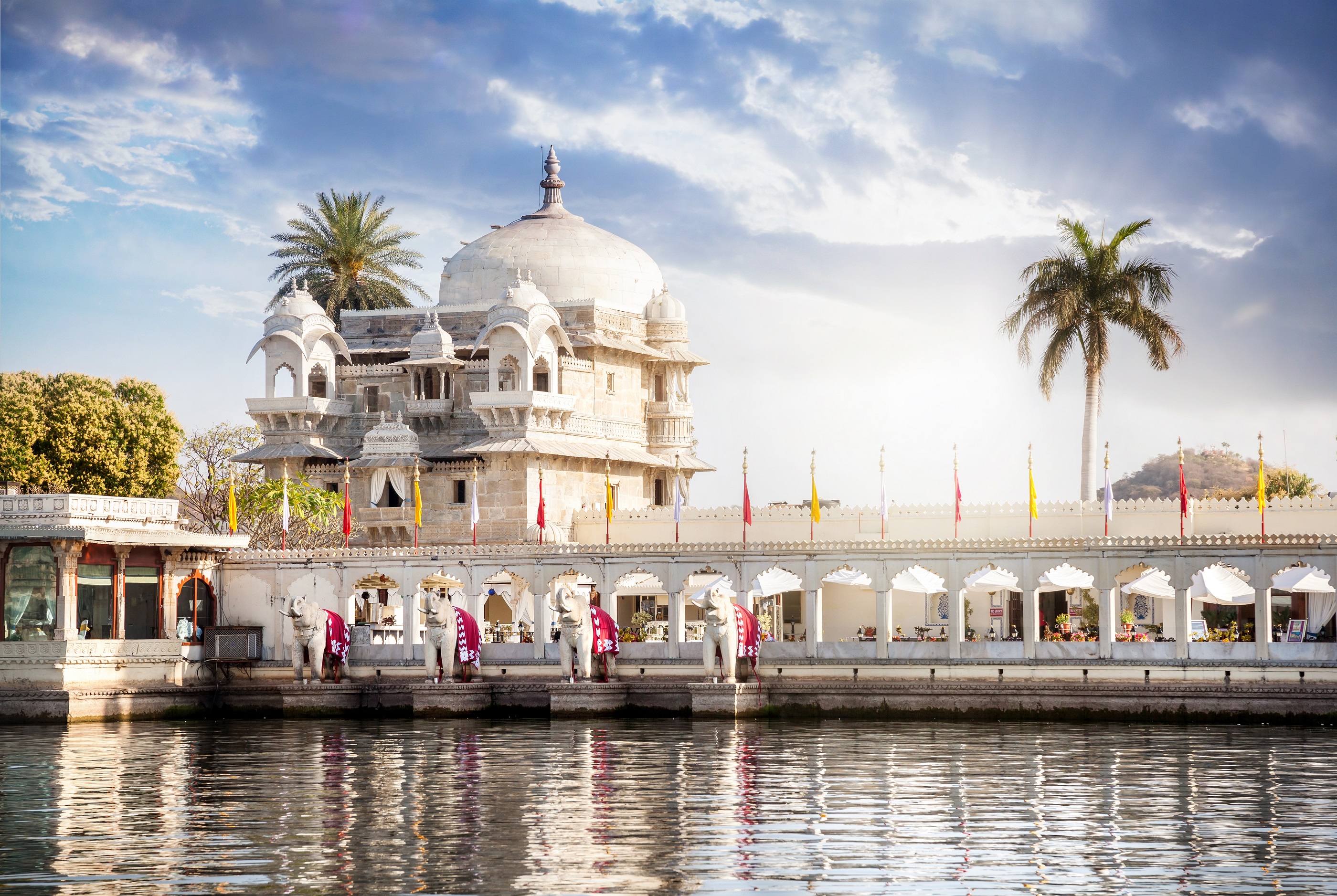 Udaipur is a profusion of palaces, temples and cenotaphs, ranging from the modest to the extravagant. But nowhere is the power, pride and wealth of the local maharajas (known here as maharanas) more evident than at the immense City Palace. Onetime residence of Udaipur's princely ruler, it's the largest palace complex in the whole of Rajasthan – a stunning conglomeration of elaborately decorated buildings and private apartments sitting high on the banks of mountain-ringed Lake Pichola, and one of the most romantic cities in India.
A cruise on the lake is an absolute must here and normally includes a stop at Jag Mandir island, whose palace is said to have inspired Shah Jahan to build the Taj Mahal. The city is also home to some fascinating Hindu temples, like the Jagdish Temple, reached via a steep, elephant-flanked flight of steps just north of the City Palace. It's also a great place to immerse yourself in cultural experiences, from dances and puppet shows to cookery classes with a local family.
Where to stay
At first glance, Oberoi's Udaivilas on the shores of Lake Pichola may look like yet another former maharaja's palace turned luxury hotel. But this one has actually been built for purpose, with modern, pampered travellers in mind from the outset. As such it screams luxury in everything it does, from its nine swimming pools to its sublime spa and sprawling hotel rooms, the humblest of which would likely be sold as suites in most lesser hotels.
If you're willing to venture a little outside the city, then let us draw your attention to RAAS Devigarh, a palace hotel about an hour east of Udaipur set deep in the beautiful Aravalli Hills, with views out across a landscape that's changed little since Rajput rulers hunted here 200 years ago. With just 39 sumptuous suites and butlers at your beck and call, it makes a wonderful alternative to other in-city offerings.
When to go to Rajasthan
The best time to visit Rajasthan and its imperial cities is from October to March, when the days are clear and sunny, with temperatures between 16 and 30 degrees, and the nights pleasantly cool. Throughout April and May the temperature and humidity builds as the summer monsoon approaches (July to September), bringing short, sharp downpours but fewer crowds.