Our destination specialists can offer first-hand travel advice on the best time to go to India, as well as other practicalities such as packing tips and useful background reading.
WEATHER IN INDIA
The climate of India can be broadly classified into four seasons. The pre-monsoon season is the most parched of the year. It is actually the hot season that precedes the monsoon and extends from April to June. The temperature ranges from 32⁰C to 45⁰C. Then the monsoon itself brings relief to the sultry and humid cities during July to September and the temperature drops from 40⁰C to 35⁰C. With the fall in temperature, humidity increases. The post-monsoon season lasts from mid-September to November and is characterised by warmth with the average maximum temperature varying from 33⁰C to 38⁰C. The average minimum temperature is 18⁰C. India's winter is the season with the most favourable conditions. Winter extends from December to March and January is the coldest month of the year. Winter temperatures range from 8⁰C to 28⁰C.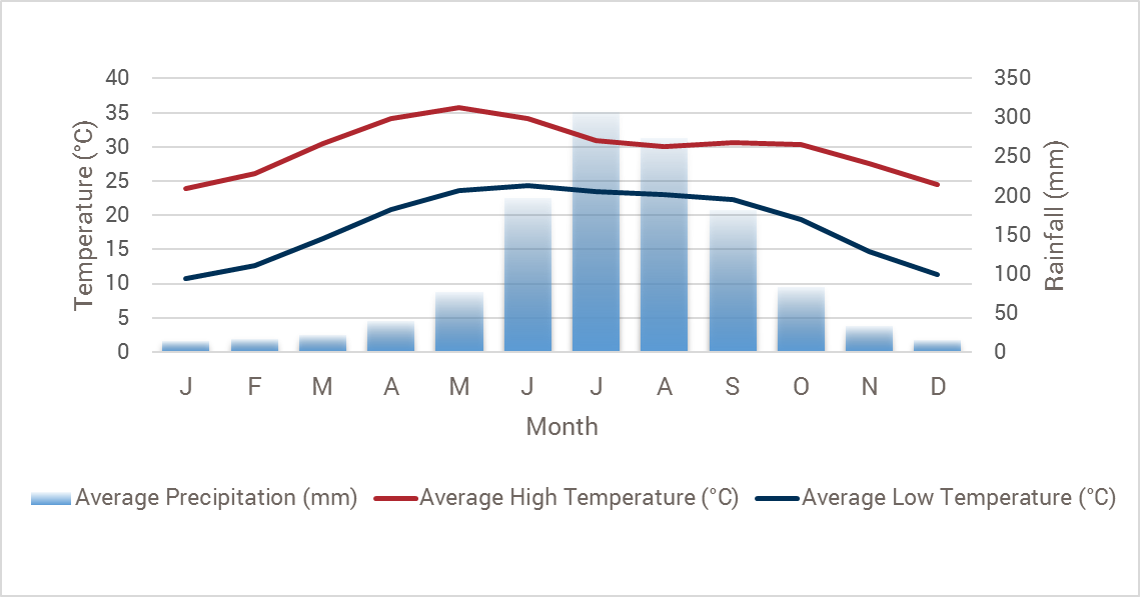 MAP OF INDIA
WHAT TO PACK FOR INDIA
Lightweight, loose fitting summer clothing in cotton or linen is ideal for most of the year, outside of the northern mountain regions. Sweaters, a light jacket or a pashmina may be needed for the cooler evenings. Indians tend to dress conservatively; sleeveless vests and short shorts are seen as disrespectful on both ladies and gentlemen, so do cover your shoulders and thighs. For ladies, we find that a pashmina scarf or similar is invaluable when travelling to India, so that you can cover your head and bare arms when you enter a holy place as a sign of respect. Remember, shoes need to be removed prior to entering a temple, so wearing shoes that are easy to slip on and off is advisable. Visitors are often affected by stomach problems and so you are advised to take a pack of Imodium or similar, as well as a rehydration solution.
For holidays to the Himalayas, you should consider the following items:
Good walking shoes / boots which you have already broken in.
Comfortable outdoor clothing for walking / mountain biking (it is always a good plan to dress in layers due to extreme variations in temperature).
Fleece for cool / cold evenings (even in summer temperatures can drop at night to single digits).
Wind / waterproof jacket.
Panama or sunhat.
Good quality sunglasses, designed with activity in mind.
High factor sun cream due to altitude.
Good book to read in evenings and while acclimatising (note: no internet services, TV or mobile phone signal).
iPad with games apps for evenings.
Swim suit for white water rafting.
Appropriate long trousers and shirts with sleeves for visiting temples.
Suitable headache tablets (in case affected by altitude).
Once outside of main towns such as Leh, there are very few shops so it is better to bring with you any 'must have' items including batteries.
MEDICATIONS & VACCINATIONS FOR INDIA
In addition to being up to date with your usual vaccinations (e.g. Diptheria, Tetanus, etc.) you are advised to speak to your health practitioner several weeks before travelling to India to discuss further immunisations you may wish to consider. Parts of India are prone to the spread of Cholera, Hepatitis A and Typhoid. Your doctor will be able to help you assess the risks and make a decision on the recommended precautions to take. As with all travel, ensure you bring with you any prescribed medications clearly marked in your name to see you through the duration of your trip. Further health information on travelling to India can be found on
The Center for Disease Control and Prevention
as well as the
Fit for Travel
websites.
TIPPING IN INDIA
It is customary in India to tip for any service be it waiters, porters, guides and drivers. Tips are usually not included in the price of any tours and the final amount given is entirely at your discretion based on your satisfaction. We would recommended the following per couple/individual traveller: Guide (Full Day) 1500 Rupees per day (USD 20), Guide (Half Day) 1000 Rupees per day (USD 15), tour escort 2000 Rupees per day (USD 30), driver for touring 1200 Rupees per day (USD 15), driver for local duties 750 Rupees per day (USD 10), transfer rep 500 Rupees per transfer (USD 5), Bell Boy 100 Rupees per member of staff (USD 2).
Room service & restaurants expect around 10-15% of the bill total, however do be sure to check that this has not already been detailed as included in the final cost.
GET CONNECTED
ELECTRICAL SUPPLY
The electrical system is based on 230 volts, and 50 Hz. The plugs in India are different from US, UK, European, Australian or Singaporean plugs and it can be difficult to
find an Indian plug outside of India. The best option would be to buy an adaptor once you are in India, from any electrical appliances/accessories shop in India or at the Indian
airports.

MOBILE / INTERNET CONNECTIVITY
Generally speaking, mobile phone coverage throughout India is very good. Most hotels, and in recent years a number of cafés and shopping centres, have WiFi internet access. Always check what charges will be made before using these services, as in some cases WiFi will be complimentary whilst in others it will be chargeable.
RECOMMENDED READING
Shantaram by Gregory David Roberts
City of Joy by Dominique Lapierre
A Passage to India by E.M. Forster
White Tiger by Aravind Adiga
A Suitable Boy by Vikram Seth
Chasing the Monsoon by Alexander Frater