It could be said that Malaysia parcels up all of the best bits of Asia: dynamic cities, idyllic beaches, fascinating national parks, ancient rainforests and a rich array of cultural and historical influences. We've rounded up the most thrilling regions to add to any luxury Malaysian itinerary.
LANGKAWI
Once a safe-haven for pirates, the blissful Malaysian archipelago of Langkawi is made up of 99 different islands sprinkled in the Andaman Sea. Most are uninhabited, lending a proper Robinson Crusoe vibe, and visitors are never far from a sun-drenched beach or the crystal-clear waters lapping the shore. Just inland, there are plenty of stunning waterfalls to cool off in after steamy treks through the jungle, while Kilim Karst Geoforest harbours hundreds of exotic birds, flying lemurs and cheeky macaque monkeys. Those with a head for heights can ride the 1.4-mile-long cable car up to the top of Langkawi's second highest peak, Gunung Machinchang – the views unfurling from the top are downright extraordinary. The best place to stay in Langkawi is The Datai – the hotel's ultra-contemporary villas tumble down through ancient rainforest before spilling out onto one of the best beaches in southeast Asia, while a team of resident naturalists and marine biologists lead land- and water-based expeditions around the island.
KUALA LUMPUR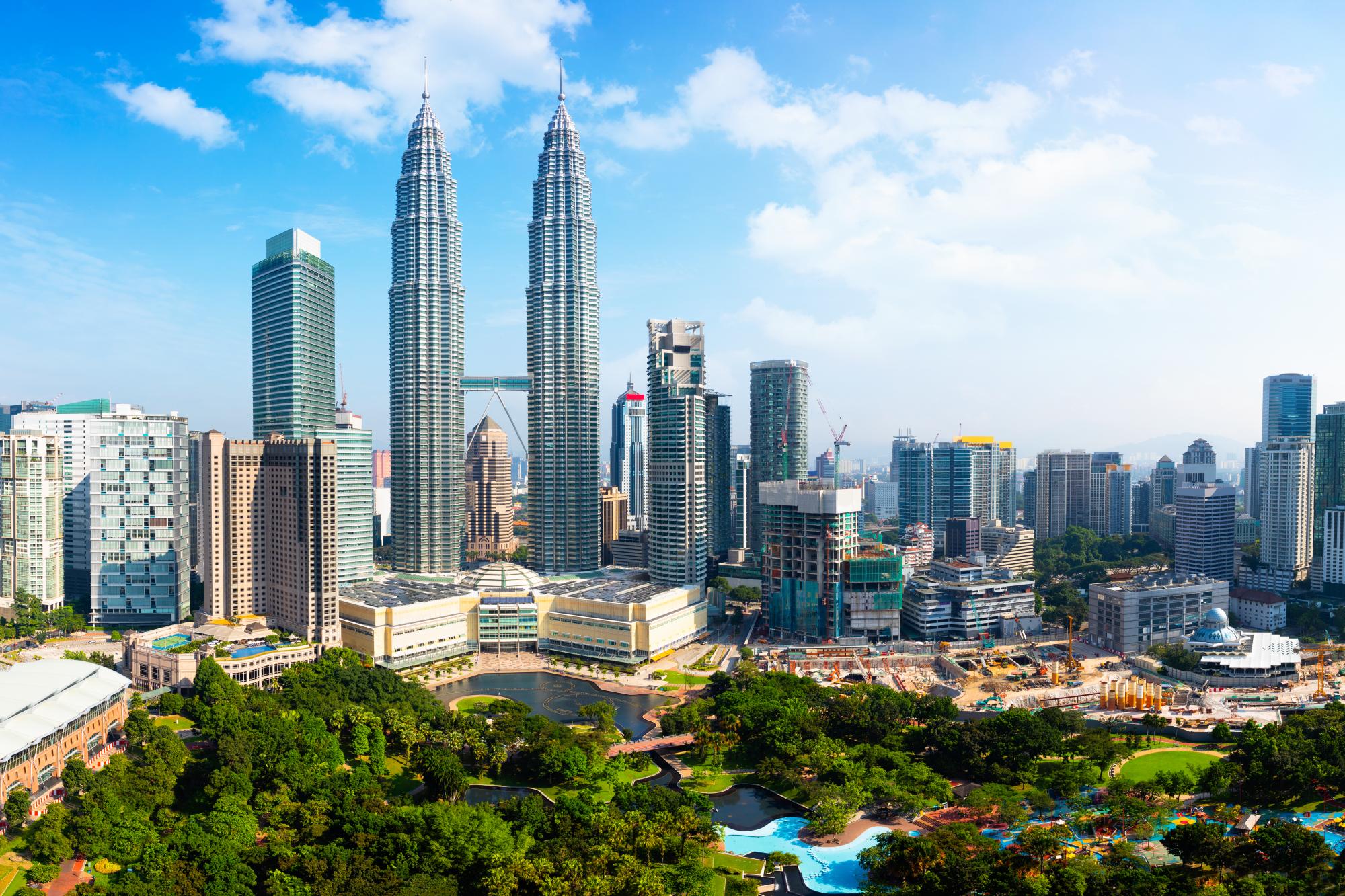 Malaysia's energetic capital city is a melting pot of religions and cultures, with Buddhist temples jostling alongside Hindu shrines and Islamic mosques, and Art Deco architecture at odds with modern skyscrapers and supersized shopping malls. The Petronas Twin Towers – an emblem of modern Malaysia – dominate the city skyline, while downtown's Merdeka Square hosts the colourful annual Independence Day parade, held to commemorate Malaysia's freedom from centuries of British colonial rule. The best way to get under Kuala Lumpur's skin is by eating your way around the city, and many of the hawkers flooding the streets of Chinatown and Little India give Kuala Lumpur's world-class restaurant scene a run for its money. If the urban chaos gets too much, respite beckons in Lake Garden's Park – the city's leafy green lung is home to a butterfly sanctuary, botanical gardens and even a deer park.
CAMERON HIGHLANDS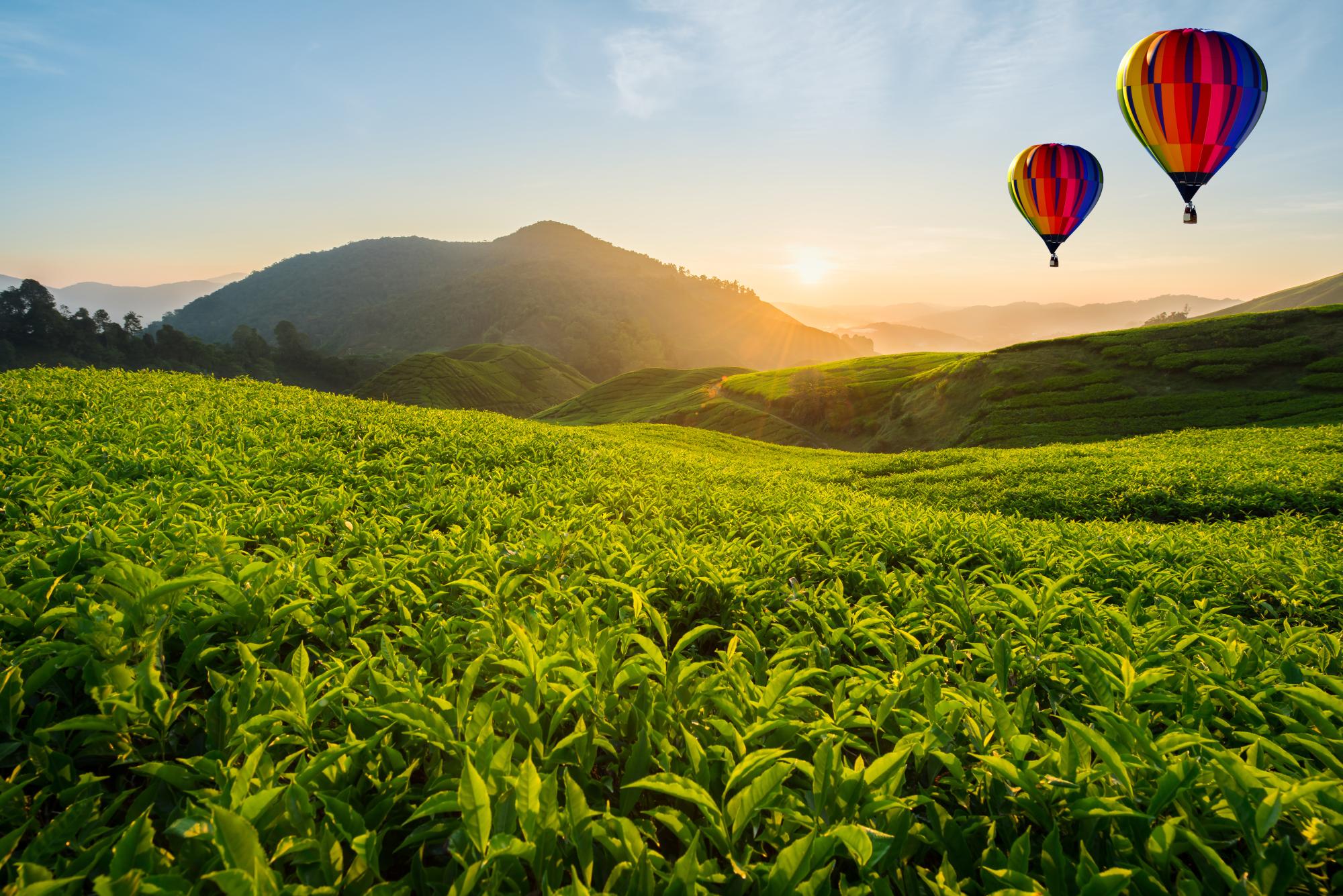 First planted on the map in the late nineteenth century by British explorer Sir William Cameron, the Cameron Highlands reached their heyday in the 1940s, when the cool climate and rolling tea plantations lured British colonialists and government officials seeing an escape from Malaysia's muggy cities and lowlands. Today, the region is a little slice of England, overrun with manicured gardens, golf courses, strawberry fields and mock Tudor-designed hotels serving afternoon tea and perfectly-mixed gin and tonics. The Cameron Highlands' two main towns – Brinchang and Tanah Rata – make a good base; from here, there are many hiking trails (for all abilities) winding their way through the lush green landscape and past picturesque waterfalls. The region is also home to the indigenous Orang Asil people, who have lived in the surrounding jungle for tens of thousands of years, and it's well worth organising a guided visit to their remote hilltribe villages to learn about their fascinating history.
SABAH
Known as 'the land below the wind' due to its strategic location just south of Malaysia's infamous typhoon belt, Sabah sits at the northern tip of Borneo. With 30 different ethnic groups and countless languages and dialects, Sabah has an extraordinarily diverse identity and a cornucopia of wildlife, including Borneo's very own Big Five (tragically, many of these are now under threat due to the high number of palm oil plantations slowly overwhelming the region). Mount Kinabalu, Malaysia's highest peak, is Sabah's main icon, but head east and you'll unearth the region's most astonishing natural wonders, from the thick virgin rainforest of Danum Valley to the twisted mangrove swamps along the Kinabatangan River. Top sightings here include orangutans, pygmy elephants, proboscis monkeys, crocodiles and the rhinoceros hornbill. Sabah's offshore islands are paradise for avid divers, with beautiful beaches and a treasure trove of marine life hidden below the surface said to rival even the Great Barrier Reef.
TAMAN NEGARA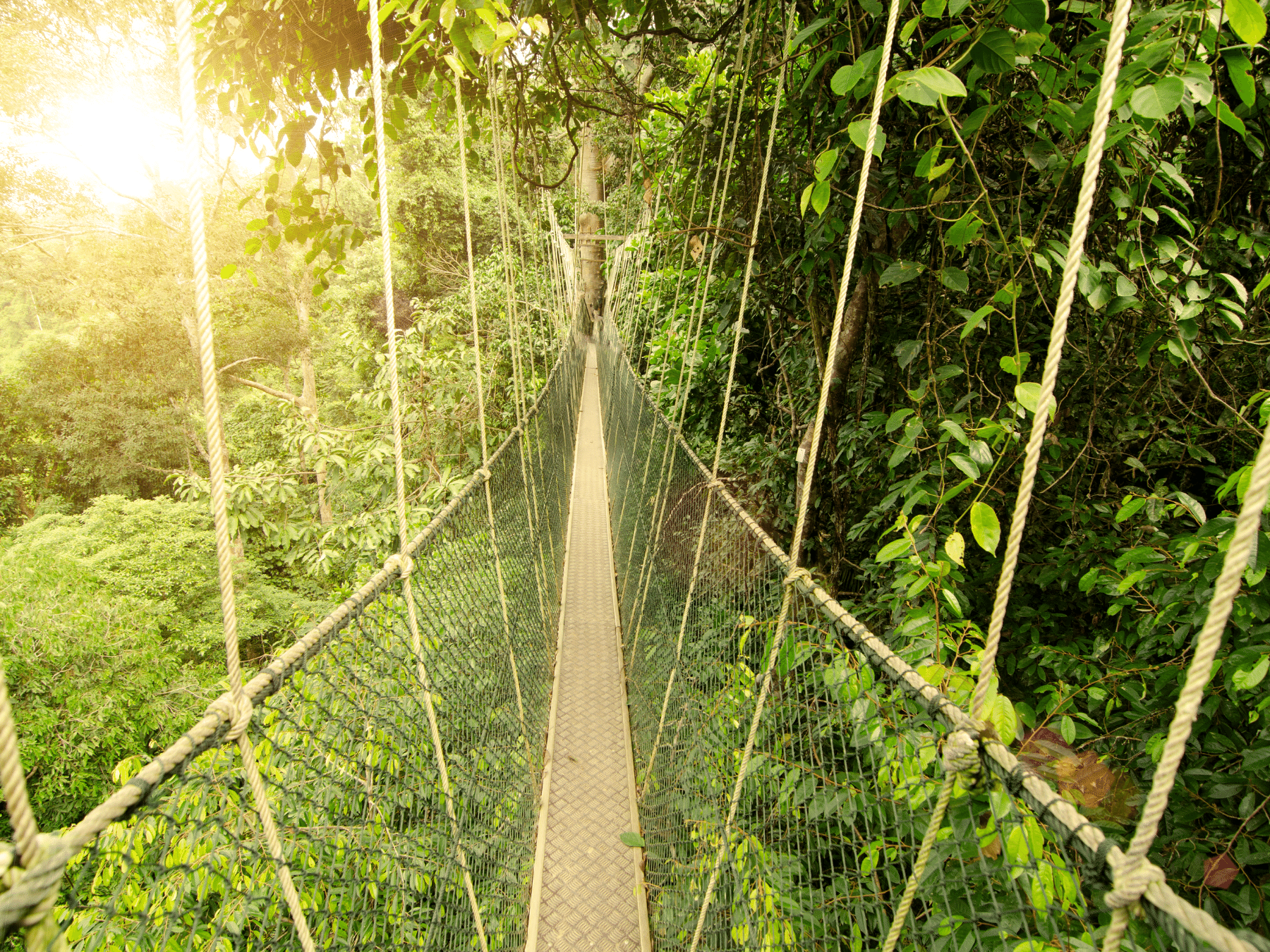 Thought to be some 130-million-years-old, Taman Negara encompasses one of the most ancient swathes of rainforest on the planet. Now considered Malaysia's flagship national park, the most intrepid travellers come here to attempt to conquer the notoriously tough summit of Mount Tahan, but Taman Negara's virgin wilderness and vast array of flora and fauna is a huge draw too. The best place to take it all in is from the park's canopy walkway – clocking in at over half a kilometre long, it's thought to be the longest rainforest suspension bridge in the world. It's fun to take a relaxing boat cruise down the river that cleaves its way through the park, or prepare for a soaking on an exhilarating trip shooting the rapids – other activities include caving, fishing and bird-watching. Many of the park's wonders are best seen after dark, and knowledgeable guides can lead night-time forest walks to seek out deer, tapirs, boars and the region's notoriously elusive tigers.
PENANG
Connected to the mainland via Malaysia's longest road bridge, the island of Penang lies just off the northwest coast of Malaysia. In a past life, its capital George Town was one of the most important trading hubs in the Straits of Malacca; today, the UNESCO-protected city hums with artisan boutiques, buzzy bars and chic heritage hotels restored to their former glory. Eating in George Town is an activity in itself, and there's an unrivalled street food scene here, with Penang's conflation of cultures reflected in culinary influences from China, India and Thailand as well as Malaysia. Rising up behind the city, Penang Hill is the oldest hill town in the country; at the top, nature trails and treetop walks offer breathtaking panoramic views of Penang Island. The beach resorts on the island's north coast include the scenic beach town of Batu Ferringhi, while a little further west, Penang National Park makes for a great day trip into the jungle.