Fish eagle, flamingo, violet-backed starling, lilac-breasted roller, carmine bee-eater: just some of the colourful birds regularly spotted in Botswana. Diverse protected habitats ranging from the salt pans of the Kalahari to the verdant wetlands of the Okavango Delta provide refuge for an impressive 593 species, and most Botswana safaris will bring excellent bird sightings.
The north of the country is particularly lively thanks to year-round water and lush vegetation, with the justly popular Okavango Delta being a great place to see not only the Big Five but a great variety of birdlife. Specifically, the tranquil lagoons of Moremi Game Reserve are home to waders and egrets, as well as the Pel's fishing owl.
There are numerous waterside camps in the Moremi which allow easy access to the waterways by mokoro (traditional dug-out canoe) when the water is high; and you'll have the added luxury of bird-watching from your balcony. Machaba Camp overlooks the water and is surrounded by fruit-laden Machaba trees that attract pretty green pigeons, while the team at Xigera Camp report regular sightings of western banded snake-eagle, rufous-bellied herons, swamp boubou, and coppery-tailed coucal to name just a few.
If you prefer to be slightly off-the-beaten-track, head to Selinda Camp in the private Selinda Reserve, a conservation area centred around the Selinda Spillway. Wonderful wildlife including antelope, predators and birds can be enjoyed on driving, walking and canoeing safaris, but there are far fewer human visitors than in Moremi. The local pride of wild dogs and regular sightings of rare slaty egrets and wattled cranes are real draws.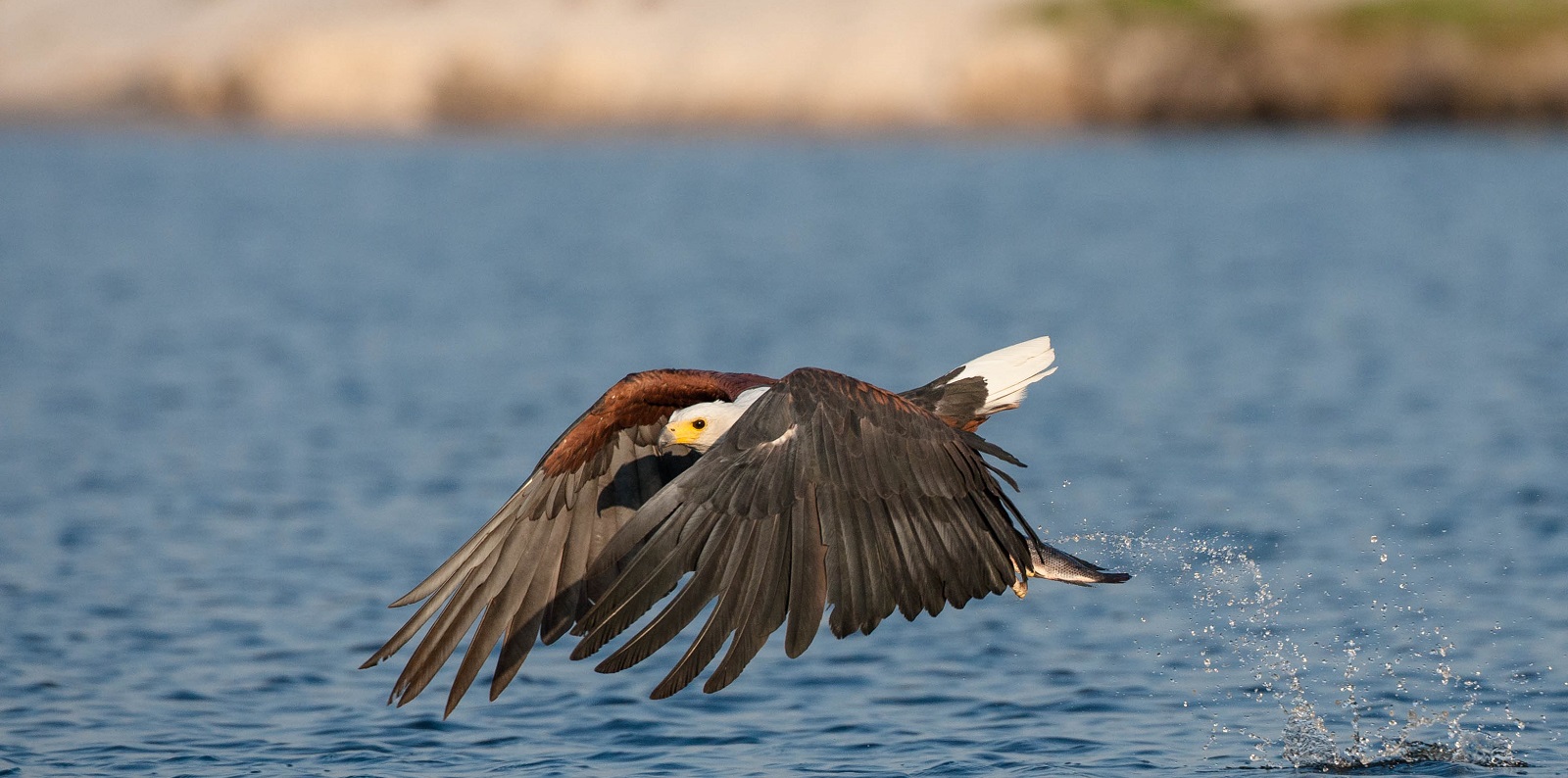 The Chobe National Park is a haven for birders due to its varied landscape of marshlands, broadleaf forests and riverine woodland. The rainy season (November to March) is the time to see birds in breeding plumage, but generally the months between May and September are more comfortable. Exploring Savute and Linyanti Marshes and the forests around Kasane, Ngoma and Kazangula you will see a variety of species – from crimson breasted shrike and the carmine bee eater to various motacillidae, eagles, owls, hornbills and herons.
Botswana's Kalahari plains provides an entirely different habitat and shelter large numbers of greater and lesser flamingos who feed on the worms, crustaceans and algae of the warm and shallow salt pan waters. The Makgadikgadi Pan – a salty remnant of the ancient Lake Makgadikgadi which dried millions of years ago – is now one of Botswana's great wilderness experiences. Birdlife includes kori bustards, ostrich, secretary birds and double-banded courser; and adventures from the fantastic Jack's Camp might bring you into contact with the rare brown hyena and black-maned lion, as well as ancient fossils and archaeological sites. One of the other major draws for visitors to Jack's Camp is the chance to walk with the habituated mob of meerkats who live in the area.
Botswana's government's genuine focus on conservation ensures fantastic bird sightings and the country provides a sanctuary for many species struggling to survive elsewhere. This is just one of the many reasons Botswana remains high on our list of rewarding safari destinations.
Find out more about where to stay and how to book a Botswana safari and birdwatching holidays at Red Savannah.