From what to pack to what to expect on a typical day, Red Savannah's Africa expert, Samantha Gee has all of the essential information.
Be prepared for an early start
The first thing to know about a typical day on a safari holiday is that it starts early, just before dawn in most cases. And that's because early morning is the best time to see game, including big cats, who hunt before it's too hot and then spend the rest of the day snoozing in the long grass. This is also when Africa is at its most beautiful, the horizon bathed in a rosy glow as the sun climbs higher in the sky.

In most camps you will be woken with a hot drink and a light snack about half an hour before the game drive departs. Bear in mind that it will be chilly at this time of day so you'll certainly need a couple of layers (layers are best because by the time you return for breakfast, temperatures will be rising fast). Opt for neutral colours or khaki as brighter shades might startle wildlife and navy blue can attract tsetse fly. Binoculars are useful and a camera is essential; you'll also need a hat, sunglasses, sunscreen and insect repellent.

Generally, safari vehicles are open-sided and good camps limit the number of passengers to six so that everyone has a 'window' seat. Obviously, you will want to take photos but try not to spend all of your time behind the lens or you will miss the bigger picture and possibly some of the wildlife, too. If you can, leave your mobile phone back at the lodge. If you need it to take photos, make sure it's on silent.

If there is anything you are particularly interested in seeing, tell your guide or driver as he will know where the best chances of spotting it are. But remember, there are no guarantees and the chances are you won't see everything on your first drive. There's always tomorrow…

Your morning game drive will last around three hours, at the end of which you'll either head back to your lodge or sit down to a hearty breakfast out in the bush. If the latter, your guide will choose a spot with a magnificent view, perhaps from the top of an escarpment overlooking Kenya's Rift Valley or from the edge of Tanzania's Ngorongoro Crater. Like as not, camp staff will have set up a table with linen too.
There's plenty of time for relaxing
The rest of the morning and early afternoon is generally spent at leisure. This is your chance to enjoy your lodge's facilities, use the pool or have a nap to make up for that early start. If your lodge is close to a waterhole, you are likely to spot a wide variety of animals as they stop by for a drink, often from the comfort of your own deck or terrace. Zambia's
Puku Ridge
, for example, comprises eight tents with round-the-clock views over a waterhole and the surrounding plains, while guests at
Enasoit
in Kenya can watch wildlife coming to drink at a waterhole in front of the mess tent.
Traditional afternoon tea, with cake and sandwiches, is served around 3pm, prior to the afternoon/evening game drive. This usually sets off at about 4pm to give you a couple of hours of daylight viewing before you stop at a good viewpoint for sundowners. The drive will then continue for another 45 minutes to an hour as it gets dark. Again, take insect repellent and several layers of clothing as once the sun goes down, it will be pretty cold.
You'll never go to bed hungry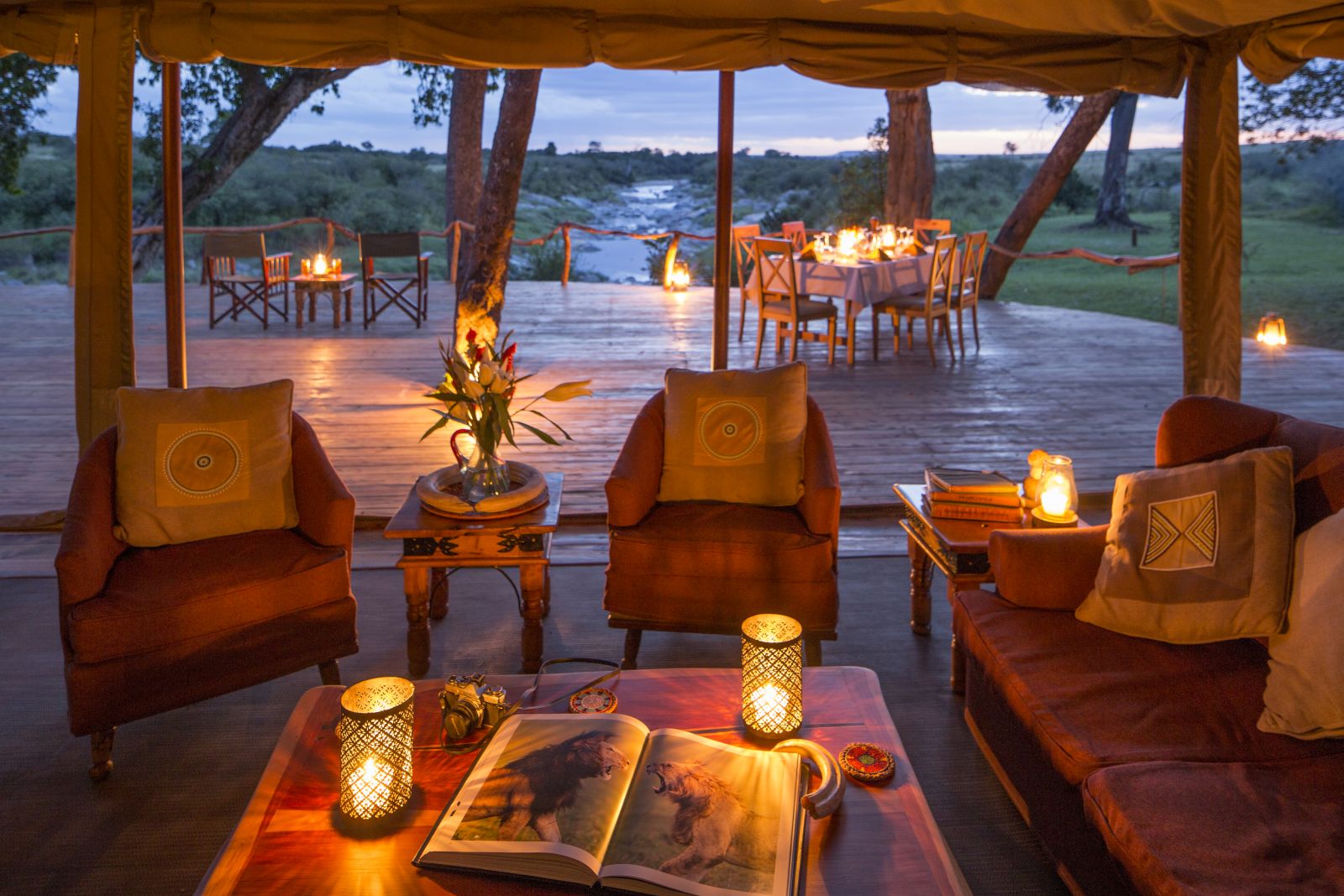 Dinner is an important part of the whole safari experience and is almost always three courses and, in top-end lodges such as Jamala Madikwe in South Africa, à la carte. Some of the more traditional camps, such as Cottar's 1920s Camp on the edge of the Masai Mara in Kenya seat everyone together at a big table while others seat couples and families at separate tables. You'll often have dinner in a different location each night, sometimes in the dining area, on a deck, in the camp 'boma' or on a dry river bed. At most lodges you will not be expected to change for dinner, but if you are, there's no need to dress up, informal is fine.

Some camps offer night game drives, which either take place after an early dinner or before a late dinner. In general, though, you'll find that most guests turn in early, perhaps after a nightcap and a tale or two by the fire. It's another early start in the morning.
Call our Africa expert Sam to have a chat about the ideal safari holiday for you.