By George Morgan-Grenville
The afternoon knows what the morning never suspected

- Swedish proverb
Sitting at latitude of 78°15N the island of Spitsbergen (part of the Svalbard archipelago in Norway) is approximately 2,500 miles from London and 3,500 from New York. It is a magnificent, pristine arctic desert of unimaginable beauty. In fact, it is so far north that from November to February it is shrouded entirely in darkness and from May, only in light. Put simplistically, this is the ultimate base from which to discover raw beauty, an extraordinary and fascinating history, wildlife, adrenaline….and perhaps even yourself. Red Savannah's CEO, George Morgan-Grenville, explores.
When the Dutchman Willem Barents and his small group of cartographers & explorers discovered the islands in 1594 they received a welcome they wouldn't forget….from a polar bear who attempted to climb aboard their ship. Their very primitive musket having failed to go off, they set about trying to capture the bear which then ran amok and had to be killed.
What Barents (who incidentally, only stumbled upon the island by accident – he was trying to find the North East passage to Asia) could not have foreseen, was the fascinating story that would unfold in the future. It wasn't until 1901 when an American tourist, John Munroe Longyear visited Svalbard that it became apparent the island was rich in easily accessible coal. He returned five years later in 1906, to establish the Arctic Coal Company and build the town that still bears his name today. There is still plenty of evidence of the early mining infrastructure, despite the fact that on 8th August, 1943, the Tirpitz and Scharnhorst of the German Kreigsmarine shelled and destroyed almost every structure they could find – only four buildings survived. The Svalbard Treaty of 1920 had established full Norwegian sovereignty with all Treaty signatories having full rights to conduct commercial activities. Predictably, these were only taken up in earnest up by Russia who still runs an uneconomical coal mining operation from a slightly bizarre 1950's settlement called Barentsburg. Their second small town called Pyramiden, home to 1,000 people, was abandoned suddenly and immediately in 1998, leaving behind a ghost town that can be visited by snowmobile.
Today, Spitsbergen provides the base for simply the best adventure imaginable. Waiting in the arrivals hall was my guide, Steinar, a gentle giant of a man who exuded charm and confidence. He had previously been CEO of a major Norwegian retail chain but lost his heart to the island, gave everything up and now manages the best adventure operation on the island. We didn't waste any time. Within an hour of arrival, I had abandoned my suitcase, put on every layer of clothing I had brought with me and then been re-equipped by Steinar with full arctic gear suitable for snowmobiling. Steinar's kit was more sophisticated; a rifle, flare gun, GPS, tracker beacon and a trailer loaded up with extra fuel, emergency rations, tents and a large supply of Ritter Sport chocolate which we ate in abundance. Within two hours, snowmobile training was over and we were off up the fjord, passing along the ice runway of the old airport. Steinar pointed out the mountain into which a Russian pilot had crashed in 1996 killing all 141 passengers on board.
Our objective was 60 kms away, an old Dutch schooner that had become stuck in the ice for the season and was being run as a frozen, floating hotel. Our journey took us up several small fjords, stopping en route to explore a river at the end of which stood, frozen in time, a massive waterfall. As we turned the engines off, I became immediately aware of the total and utter silence. As if by magic, one began to sense at once the spell being cast by the island. Suddenly, out of nowhere appeared a brace of Ptarmigan, followed shortly by a pair snow buntings in full winter plumage. My mind was being subsumed by the magnificence of the scenery, surrounded as we were on all sides by magnificent snow covered mountains. An hour later, we reached Templefjorden, where the ship lay at anchor a few kilometres across the ice. Driving a snowmobile on ice requires a different set of procedures and Steinar explained that speed was of the essence and whatever happened, never stop! "Oh and by the way, keep a careful look out for seal holes!" We set off at a rapid pace, the odd seal looking up in alarm before plopping down through its hole into the darkness beneath the ice. We made it. Our prize, a beautiful two masted schooner and a warm welcome from the lovely Mika who showed us to our cabins. Bearing in mind there was nothing between us and the North Pole, dinner was an excellent three course affair supplemented by delicious Norwegian homemade bread.
The following morning, under an angry grey sky and light snow, we boarded our (now faithful) snowmobiles and set off on a 160km trip across fjords and mountains to the abandoned communications station, Isfjord Radio. Before doing so, we headed north to see the Tuna Glacier – a magnificent wall of ice 100 feet high. Steinar explained that when the glacier is 'calving', people mistakenly think that it is receding when in fact, it is often being pushed forwards by the weight of snow on the permafrost high up the mountain.
We continued along the fjord trying to spot a female polar bear and her cubs which had been sighted a day or two earlier. The driving became more challenging than the previous day as we navigated up and down steep gulleys with everything the weather could throw at us from snow to fog to bright sunshine. Wildlife abounded and we spotted bearded seals, ringed seals, a walrus, Svalbard reindeer and numerous terns and eider ducks. Mid-afternoon we reached Barentsburg, the Russian coal mining town with its largely abandoned 50's buildings, some adorned with slightly naive frescoes of Russian polar heroes. The more modern buildings looked hideously incongruous and drab in that peculiar Russian way. Interestingly, the statue of Lenin remained intact. We stopped our snowmobiles and headed into the hotel. Not a soul around except for a smiling young lady who told us gleefully that they had run out of everything except Frankfurters! Steinar remarked that he had visited the place 40 times and she had never smiled before. We were too hungry too argue and by the time she had added some cheese and toast we were in a culinary seventh heaven. One of the amazing things about Svalbard is that there is no crime. We left everything outside including the rifle, our back packs and all the kit and this is quite normal. Nothing ever gets stolen.
Arrival at Isfjord was celebrated with a Sloppy Joe beer in the shadow of the old 1933 lighthouse. The main accommodation block has been converted into a 20 bed hotel with a charming 4 bedroom Manager's House available for private charter. We dined in style with a really superb dinner prepared by the resident chef, washed down with a 2009 Chablis, probably the furthest north a bottle of Chablis has ever been. The station is full of history and bits of archaic communication equipment are dotted around throughout the hotel.
The next day consisted of a 100km journey back to Longyearbyen. This was the highlight – a trip so unbelievable it is something I will never forget. We set off driving around the coastline looking at magnificent arctic waters and the abundant bird life showing the onset of spring. Passing old trapper's huts, we started our snowmobile ascent of the massive Aldegondebreen mountain, pausing in the valley below to absorb the incredible silence. As the terrain became steeper, the snow became deeper and up and up we went, passing false ridge after false ridge. And then suddenly, we were on the saddle looking down across Spitsbergen, her fjords, mountains and glaciers. It was, as people so bizarrely say, a view to die for; a view that was so literally breath-taking, it is imprinted on my mind. Driving back down through deep virgin snow was equally exhilarating. Around every corner there was something even more magnificent and midway back, we entered a frozen valley, full of fresh snow with not a track in sight. The scale is incomprehensible but for some 20 kilometres we guided our snowmobiles at speed along this monstrous natural race track. The sense of freedom, adrenaline and discovery were thrilling beyond imagination.
Back in Longyearbyen dinner was arranged at Huset. This is a modern restaurant situated in what was the original cinema built in 1951. The Arctic 5 Course dinner was a superb interpretation of modern Norwegian cuisine including raw sashimi of halibut, reindeer with a beet sauce and some fine Norwegian cheese, one of which is made in a cave.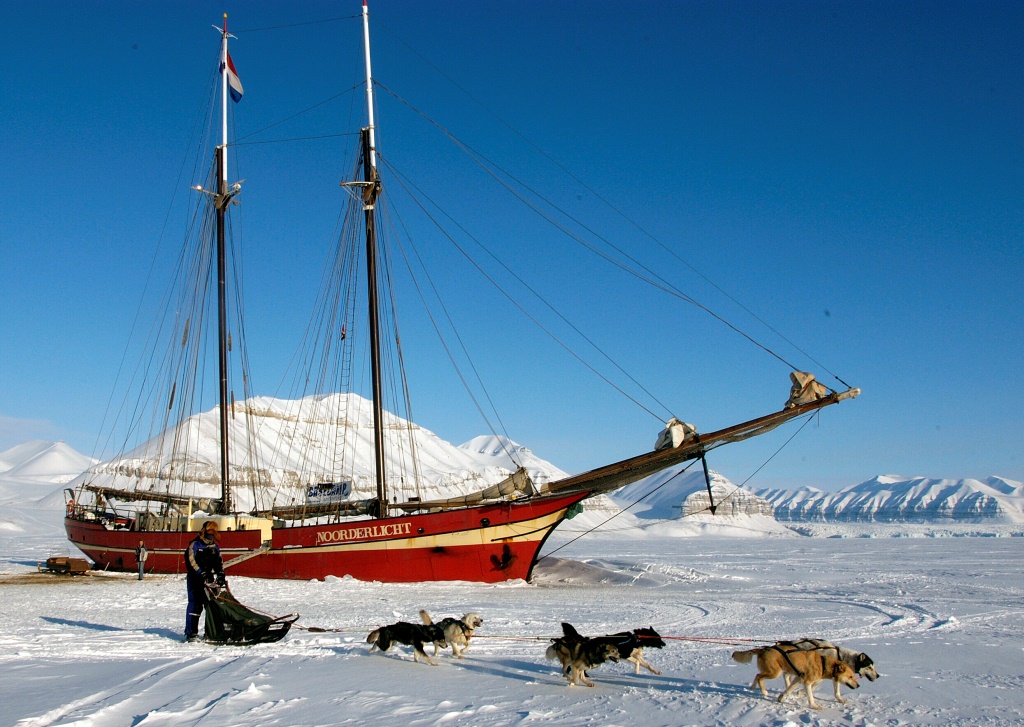 The final day was spent mushing a team of six huskies up the beautiful Endalen valley under brilliant sunshine. These dogs are extraordinary and there cannot be any other mammal on earth that gets so excited about the thought of pulling a heavy weight up and down mountains! Having learnt how to harness the dogs (easier said than done – the guide couldn't have been politer when he explained that several of mine were either inside out or on backwards), we hitched them up to the sleds and set off at top speed. The cacophony of barking that had permeated the air disappeared in a split second and the dogs maintained compete silence as they focussed on their work. Mushing is a delightful, rewarding experience and one that truly unites man and his best friend. The pace is perfect and with the only sound being the runners crunching the frozen snow crust, one is left to marvel at the sheer magic of nature.
In conclusion, I would rate Spitsbergen as a 'must see' for anyone who has the taste for adventure and love of the outdoors. This is as far away from the pseudo-sophistication of the chic beach clubs of the Mediterranean as it gets. It is quite simply pure, unhurried, uncomplicated and with real substance and I don't believe there is anywhere else like it. To find such an extraordinary place that is only 600 miles from the North Pole is a delight and a privilege. I couldn't recommend it more.
For more information about Norway and An Arctic Adventure in Svalbard contact Red Savannah's travel specialists at 01242 787804.