Our Africa specialists would be delighted to share advice on the best time to go to
Rwanda
, tips on tracking gorillas and other primates, as well as other practical advice such as what to pack for expeditions into the jungle regions.
WEATHER IN RWANDA
A combination of tropical location and high altitude means that Rwanda has a temperate year-round climate with temperatures rarely going above 30°C. The exceptions are the chilly upper slopes of Rwanda's Virunga Mountains and the hot low-lying areas on the Tanzanian border. The hottest months are from December to February and the rainy seasons are from April to May and October to November.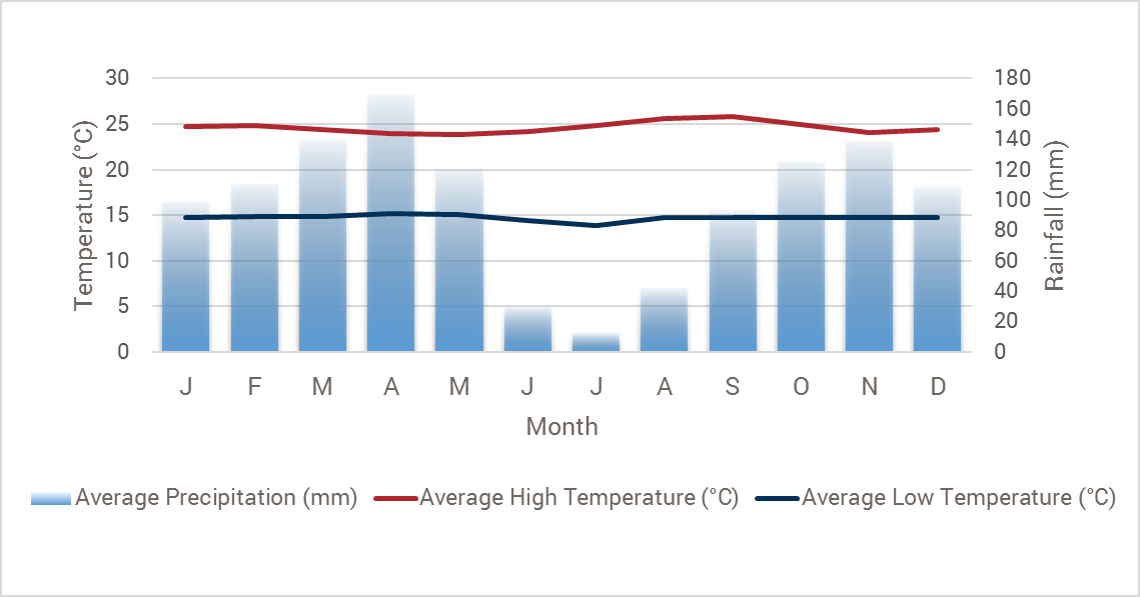 MAP OF RWANDA
WHAT TO PACK FOR RWANDA
Important note when packing and travelling to Rwanda: In 2008 the government of Rwanda passed a law prohibiting the manufacturing, importation, use and sale of all plastic/polythene bags to Rwanda. The policy requests that all passengers travelling to Rwanda support this legal implementation and avoid carrying plastic/polythene bags.
As for attire, lightweight summer clothing in cottons or blends is ideal for most of the year in Rwanda. In winter a jumper or jacket may be needed, especially in the mornings and evenings. When tracking gorillas wear solid walking shoes and sturdier clothing to protect against stinging nettles. A waterproof jacket may come in handy in the moist mountains. In these mountainous regions it will be much cooler in the evenings so pack some warmer clothing.
Days on Rwandan safari are generally hot and you will most likely find yourself wearing shorts and a t-shirt. In the early mornings and evenings long-sleeved shirts and trousers are recommended, both to take the bite out of the chilly air and to protect you from mosquitoes. Should you be particularly sensitive to the sun, a loose cotton shirt is essential during the day, as is a good sunscreen. Light neutral-coloured clothes are generally the order of the day on safari – they help to deflect the harsh sun, are less likely to attract mosquitoes and also are less conspicuous in the African bush. Where possible, have your safari clothes be hardy and durable rather than flimsy and prone to wear and tear.
Remember that most lodges include laundry as part of their package so you should only need three or four changes of clothing for an entire trip. Toiletries such as soap, shampoo and insect repellent are also usually offered at lodges and hotels so there is no need to overpack these items.
MEDICATIONS & VACCINATIONS FOR RWANDA
Medical care in Rwanda is limited. Essential medications and supplies are sometimes unavailable. Make sure you take any prescriptions you require with you in their original containers, clearly labelled, and enough for the duration of your trip. A signed, dated letter from your doctor describing all medical conditions and medications is also recommended. Ahead of your departure, you should also ask your doctor or local travel clinic their advice on any health precautions you should take. Malaria is a risk in Rwanda throughout the year in all areas, so you may be given anti-malarial tablets, and also advised to update your vaccinations against Hepatitis A and Tetanus. Again, these considerations can be weighed up with your health professional. For further helpful medical information about Rwanda we suggest you visit the
NHS's Fit For Travel
website or contact the
Medical Advisory Service for Travellers Abroad (MASTA)
. We also recommend bringing some basic medical supplies with you to Rwanda, including Anthisan, Imodium, insect repellent, plasters and sun cream.
TIPPING IN RWANDA
Tipping is an integral part of Rwandan life but is entirely optional and only recommended if you are satisfied with the service you have received. As a guideline, for gorilla trekking, you will always have a guide for your group of 8 trekkers and should plan to tip $10 per person to him. There will be local porters offering to carry bags and cameras and you should pay them $10 for this service (more if the trek is a very long one). On Rwandan safari, you will always have a professional safari guide and sometimes a tracker as well on your safari vehicle. Look at around $20 per person per day ($50 for a family) for the guide, and $5-$10 per person per day for the tracker. Some Rwandan lodges have a gratuity box in which you can leave tips for general staff, such as chamber maids and waiters. We suggest you contribute US$10 per person per day for all the staff.
GET CONNECTED
ELECTRICAL SUPPLY
Plugs used in Rwanda are the UK round two-pin or flat three-pin kind. Electricity is supplied at 220/240 volts AC, 50HZ. Major hotels and some lodges will supply adapters on request, but it is advised to pick one up at the airport if needed, as a precaution.

MOBILE / INTERNET CONNECTIVITY
Several mobile phone networks operate in Rwanda, and roaming works in most major towns and some rural areas. Be aware that if you don't have a roaming package from your mobile/cell phone provider, costs for your calls in Rwanda can be very high. Wi-Fi is available in most high-end hotels and lodges but is often painfully slow and intermittent.
RECOMMENDED READING
End of the Game by Peter Beard
The Rebels' Hour by Lieve Joris
Gorillas in the Mist by Dian Fossey
Machete Season by Jean Hatzfeld
Sowing the Mustard Seed by Yoweri Museveni
Gorillas: Natural History & Conservation by Kelly J Stewart