Indonesia
is a complex destination with varying weather patterns from east to west. Our travel specialists are well travelled throughout the archipelago and can offer practical advice on the best time to go, what to pack and how to plan your itinerary.
WEATHER IN INDONESIA
Java, Bali, Lombok, Sumba & Komodo Islands:
In these parts of Indonesia, the dry season is between May and October and there is a wet season between November and April with the heaviest downpours occurring in January and February. The wet season usually involves rainfall once a day each evening. As you head east across the country you will see an extended dry season so places like Komodo and Sumba only experience rainfall for a couple of months at the beginning and end of the year. The temperature tends to hover around 30°C year round with humidity around 75% in most places. In the mountains the weather can be much cooler and you need trousers and jackets if you are planning on staying overnight.
Sulawesi & The Raja Ampat Archipelago:
These Indonesian islands have two wet seasons in December / January and again in July / August. However, as the Islands are tropical, it can rain here at any time, not just during rainy season. Raja Ampat lies on the equator and so the ocean is warm all year round. The temperature is reliably constant, with a daytime average maximum of 31°C and a nightly minimum of 25°C, however the humidity can be as high as 83%.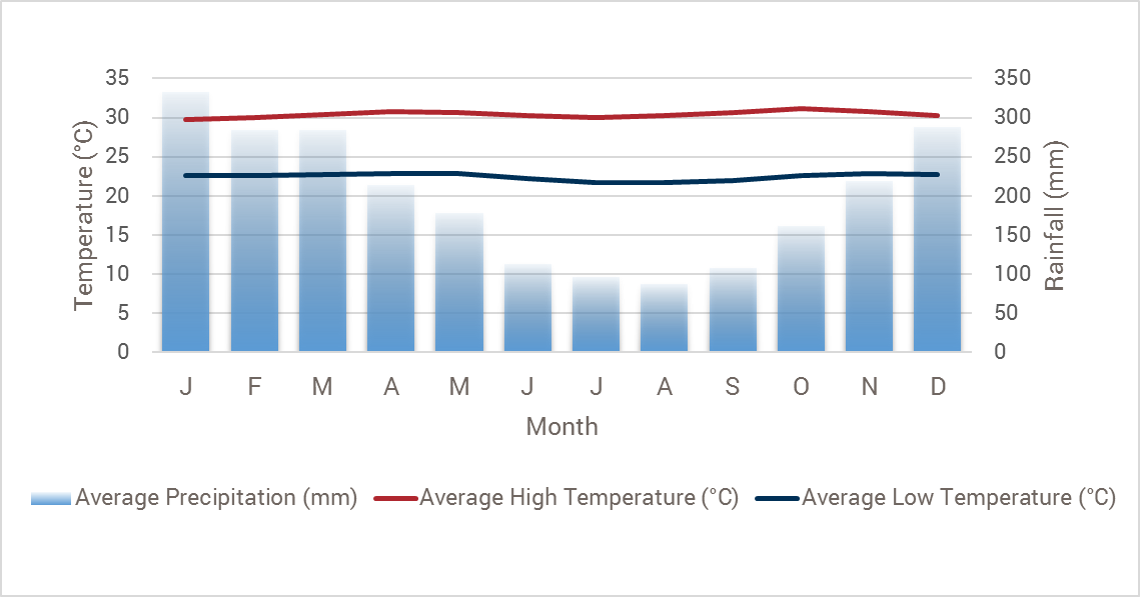 MAP OF INDONESIA
WHAT TO PACK FOR INDONESIA
Whatever your destination in Indonesia, we recommend that ladies bring a pashmina scarf or similar shawl. This is a valuable accessory when travelling to Indonesia as it allows you to cover your head and bare arms when entering temples and other holy sites as a mark of respect. It is also advisable to pack a pair of shoes that are easily removable, as shoes are not to be worn inside temples. For further packing tips, please ask our travel specialists as you will be guided according to your specific destination in Indonesia as well as the time of year that you are going.
MEDICATIONS & VACCINATIONS FOR INDONESIA
Malaria is low to no risk in Jakarta, Bali, Java and most urban areas or main cities. However, travelling further afield in Indonesia does present the risk of malarial contraction so if applicable to your destination, we suggest you bring the appropriate prophylactics and take sensible precautions in avoiding mosquito bites. Bringing a good insect repellent with you when travelling to Indonesia is a must. For further health considerations, such as weighing up the risk of exposure to diseases such as Diptheria or Tetanus infection, it is important you consult your doctor or local travel clinic ahead of your trip to Indonesia, to ensure you are fully advised on precautions to take and have ample time to vaccinate yourself against certain viruses, should you choose to do so. If travelling from an area affected by yellow fever, Indonesian authorities will require you to produce a certificate of yellow fever vaccination upon your arrival. Further information can also be found on-line by visiting the
NHS's Fit for Travel
website, or
The Center for Disease Control & Prevention.
TIPPING IN INDONESIA
Tipping is an entirely discretionary practice in Indonesia and dependent on whether you feel the quality of service you receive calls for it. Should you wish to show thanks by way of leaving a gratuity in Indonesia, we would suggest a 10% tip in restaurants (provided this has not already been added to your bill), 10% of the cost of a cruise for a boat crew (unless advised that gratuities are included), US$15 per day for guides, US$15 per day for drivers, and US$1 for taxis and porters.
GET CONNECTED
ELECTRICAL SUPPLY

Plug types used in Indonesia are the European-style 2 and 3 round pin ones, operating with 220/230 volts AC, 50Hz. Some Indonesian hotels however do have British square pin plugs sockets. Most hotels provide adaptors, but best to take one of your own that can cope with any type of plug, as the Indonesian power outlet system is eclectic to say the least!

MOBILE / INTERNET CONNECTIVITY
Indonesia generally offers very good mobile phone coverage throughout the country. If you are taking a mobile phone with you it is very easy to buy a local SIM card or use your own, assuming your phone is unlocked and can register a new SIM. Calls or texts using your foreign SIM card can get very expensive so you should contact your network provider before departure for any Indonesian roaming rates on offer. Most hotels, and in recent years a number of cafés and shopping centres, have WiFi internet access. Always check what charges may be incurred before using. In some cases WiFi will be complimentary.
RECOMMENDED READING
Culture Shock: Indonesia by Cathie Draine and Barbara Hall
Civil Islam by Robert W Hefner
A Nation in Waiting: Indonesia's Search for Stability by Adam Schwarz
A History of Modern Indonesia since C. 1300 by M C Ricklefs

Everyday Indonesian: A Basic Introduction to the Indonesian Language & Culture by Thomas Oey