Indonesia is best-known as a land of island-hopping, idyllic beaches and some of Mother Nature's greatest wonders – and with over 17,000 different islands making up this enormous country, Indonesia's most popular regions are as diverse as their cultural hits. Here's where to head to experience Indonesia at its most beguiling.
JAVA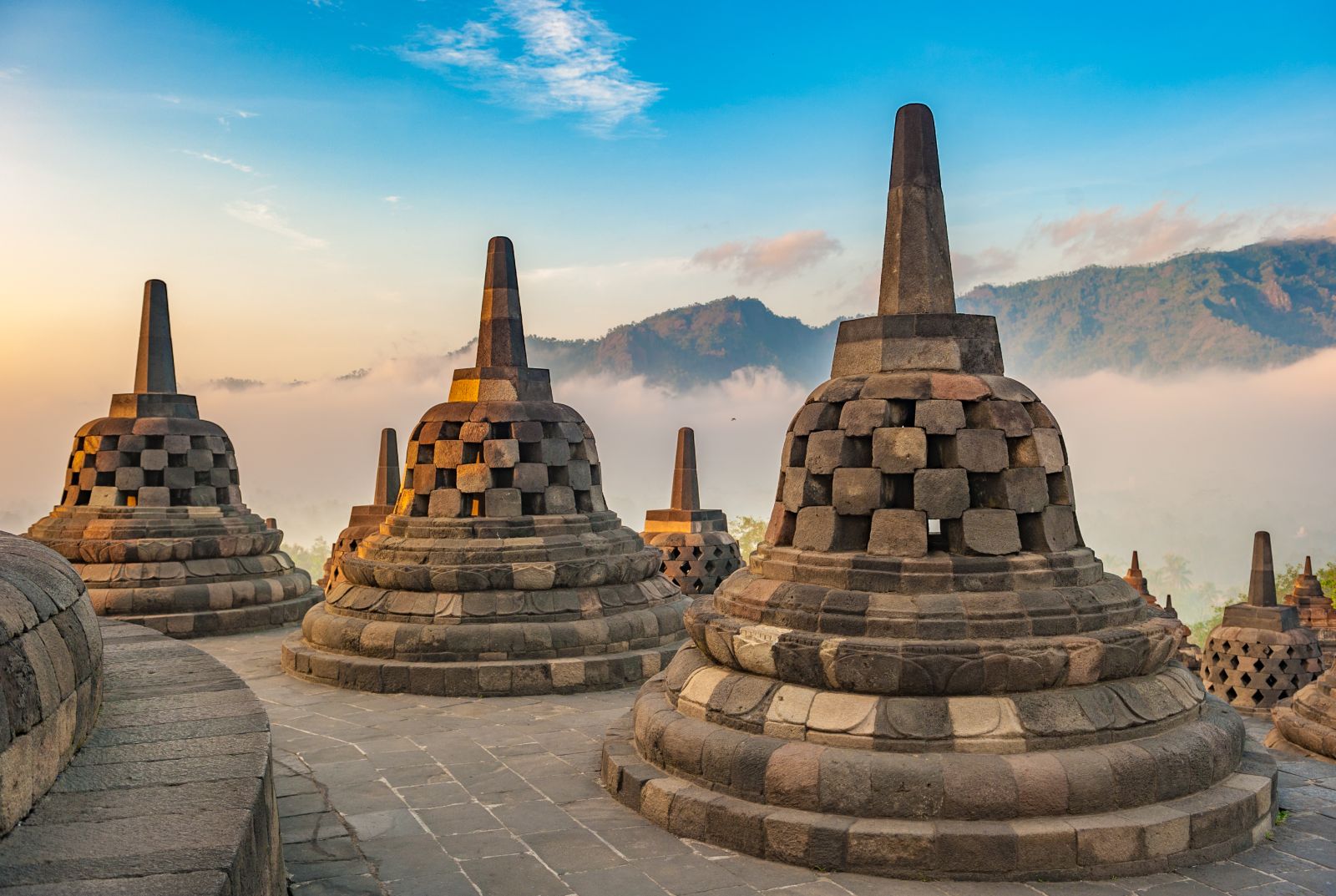 One of the most culturally-rich and populous islands in the world, Java is home to over half of the Indonesian population. Majestic temples represent glorious kingdoms of a bygone era, while striking Dutch architecture serves as a poignant reminder of the island's colonial past. Today, Java is a melting pot of cultures and religions, and the sprawling metropolis of Jakarta is a stark contrast to the ancient traditions of the island's cultural heartland of Yogyakarta. Borobudur is the most fabled of Java's UNESCO World Heritage Sites, and a sunrise visit to the world's most important Buddhist relic is not to be missed. Java's craggy volcanic landscape promises epic trekking, while swathes of tropical forest and national parks protect a hugely fragile and diverse wildlife population. Down on the south coast, the calm waters and spectacular sunsets at Pangandaran beach rival some of Indonesia's best sweeps of sand.
BALI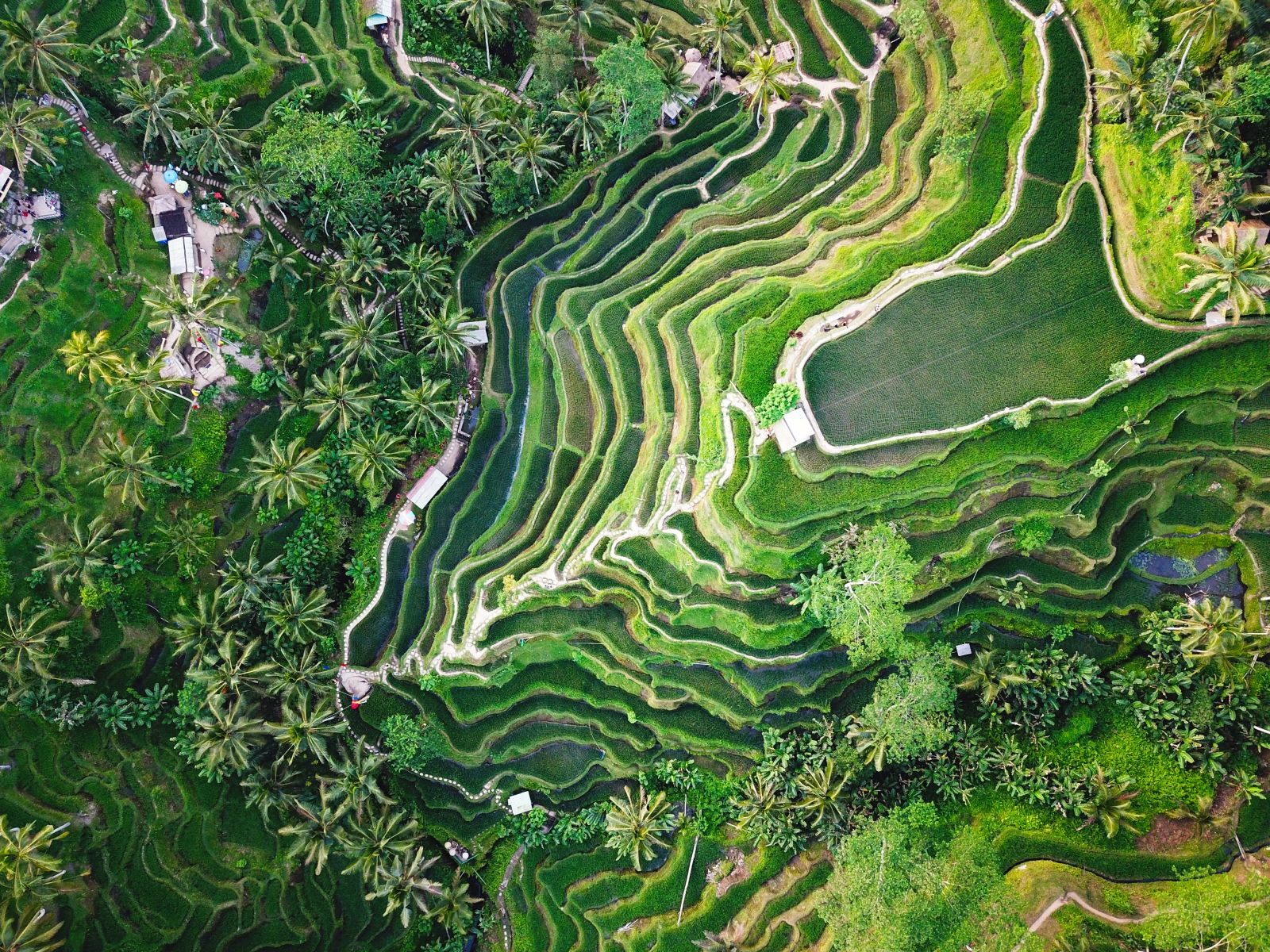 As Indonesia's poster boy, it's little wonder Bali is often referred to as the Island of Gods. Beaches steal the spotlight here, from Uluwatu's wave-lashed coastline to Lovina's tantalising black sands and Seminyak's thumping waterfront clubs. Bali has long been a magnet for go-slow, easy-going travellers, and the island's spiritual home of Ubud is a hotbed of emerald-green rice paddies, fascinating Hindu shrines and beautiful royal temples. Suspended like a high eyrie over the mist-shrouded Keliki Valley, Capella Ubud provides a jungle-chic base for tapping into the island's wellness scene and exploring art galleries and artisan workshops. It's well worth the early start to climb Mount Batur, Bali's most active volcano, while the tiny island of Nusa Lembongan promises superb snorkelling and a peaceful alternative to the hustle and bustle of Bali's well-trammelled south.
SULAWESI
Just an hour's flight north of Bali, Sulawesi is the island time forgot. Formed by the seismic clash of tectonic plates, the island is easily recognisable by its spindly peninsulas and typified by ancient tribal rituals and utterly compelling natural scenery. The thriving port city (and hub of Indonesia's phinisi boatbuilding production) Makassar acts as the jumping-off point for Sulawesi's off-the-beaten-track experiences; from here, head inland to the mountainous Toraja region to learn about the hilltribes' elaborate funeral ceremonies and striking stilted houses shaped like a ship's bow. Toraja's famous market, Pasar Bolu, is a real feast for the senses, and farmers gather here from all over the region to trade livestock. Off Sulawesi's northern tip, you'll find a dusting of five tropical islands lapped by the crystal-blue waters of Bunaken National Park; check into deliciously remote Siladen to dive some of the world's best coral reefs and spot whales and dolphins in the wild.
KOMODO ISLANDS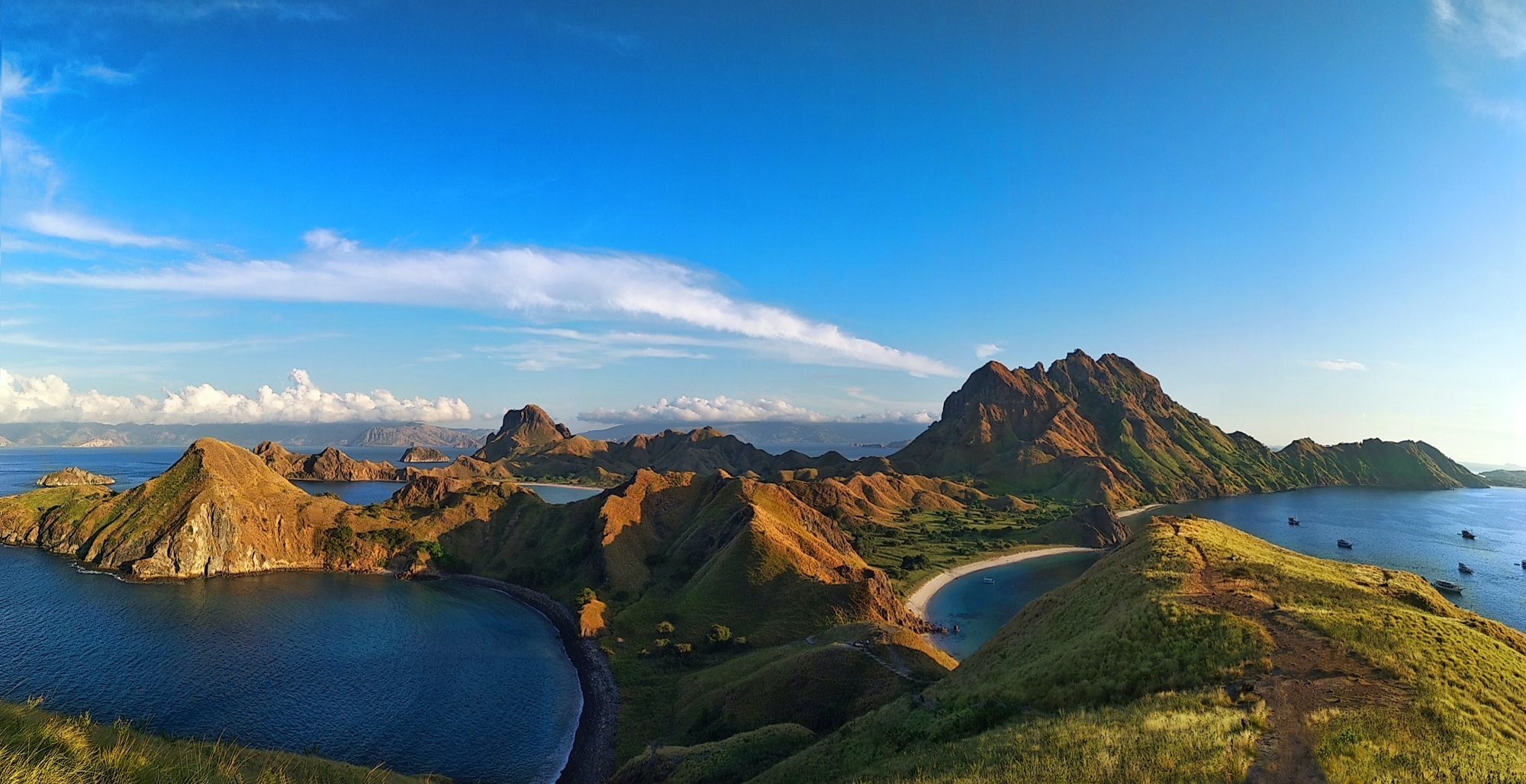 Synonymous with the mythical Komodo Dragon, the world's largest lizard capable of growing up to three metres in length, UNESCO-protected Komodo National Park is home to some of Indonesia's most spectacular flora, fauna and scenery. Spread across the three main islands of Komodo, Rinca and Padar plus 26 smaller satellite islands, Komodo National Park's craggy hillsides, thick mangrove forests and dry vegetation contrast with the coral-rich blue waters lapping the shore, and thanks to the rich variety of marine life and dense population of manta rays below the surface, diving in a real draw. The best way to explore Komodo is aboard a traditional sailing schooner: Raja Laut comes with a crew of seven to cater for guests' every whim. Days can be spent seeking out hidden coves and secret swimming spots, picnicking on pink-tinged beaches and feasting on deliciously fresh fish plucked straight from the water.
RAJA AMPAT
Indonesia isn't short of a far-flung island or two, but the sprawling Raja Ampat archipelago off the north-western tip of West Papau surely takes the top spot. Made up of four main islands and tens of hundreds more, Raja Ampat is undisputedly one of the most paradisical island chains on the planet, and the region's extraordinarily diverse coral reefs and calm clear waters are primed for diving enthusiasts. Kawe Island's deserted white-sand beaches provide the perfect launchpad for snorkelling excursions with manta rays, while a sunset hike on Fam Island rewards walkers with breathtaking panoramic views. The tropical rainforest in Waigo's Kabui Bay is utopia for nature-lovers – this is the only place on earth you'll find the endemic red bird-of-paradise. To explore Raja Ampat in style, charter Alexa, one of the most luxurious sail boats out there. Designed for just two guests, it's the ultimate romantic honeymoon adventure, and about as off-grid as it gets.
LOMBOK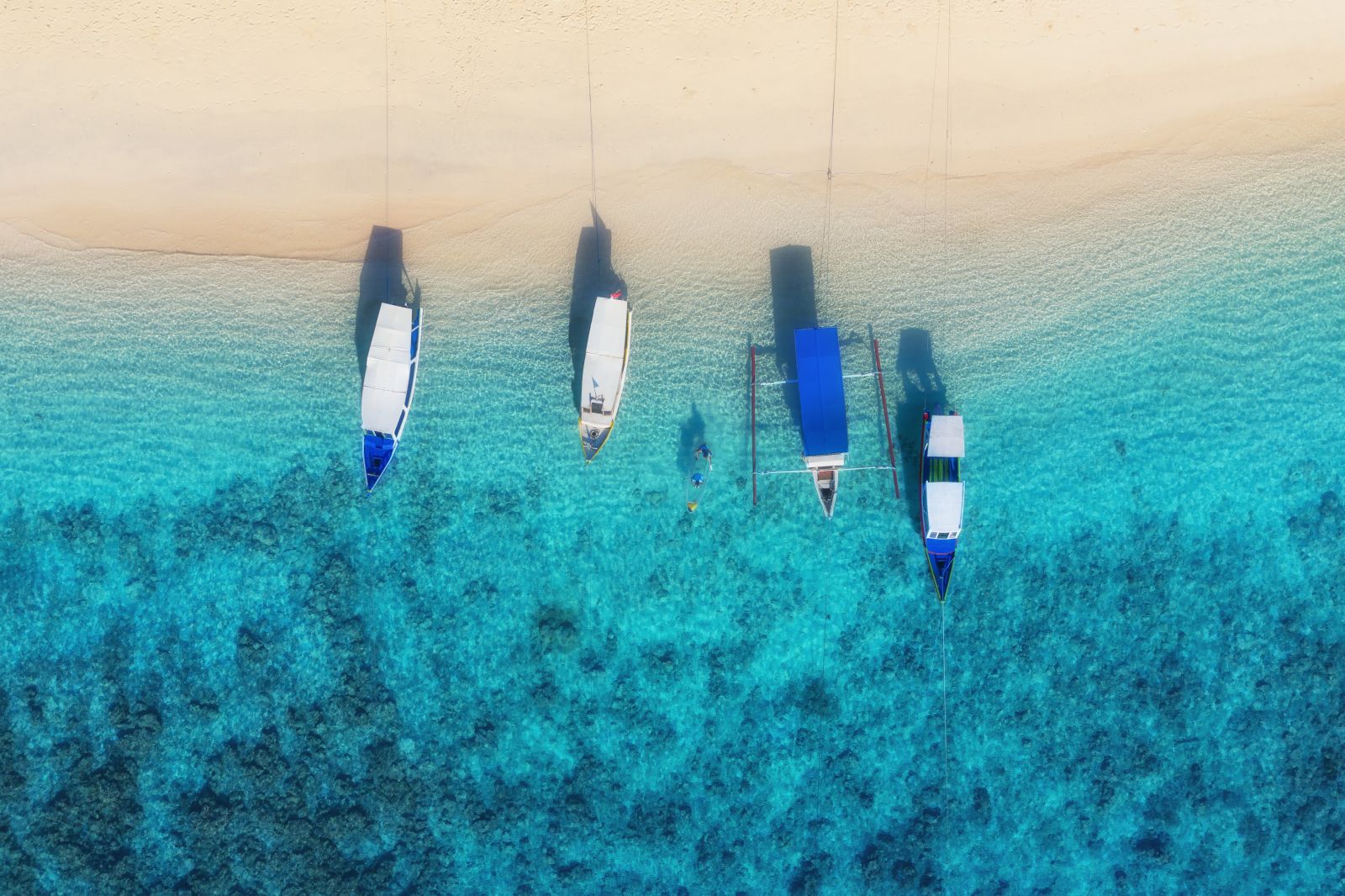 Often overshadowed by Bali, Lombok is a quieter and more unspoiled alternative to its perennially popular neighbour. Home to Indonesia's second highest volcano, the mighty Mount Rinjani looms large in the background – and while treks to the summit aren't for the faint-hearted, intrepid visitors are rewarded with bucket-list views and soaks in the island's hot springs on the way back down. Beach-hopping along Lombok's miles of golden sand is one of the island's big attractions, and Kuta's sought-after surf breaks attract wave riders all year-round. Further inland, sleepy villages and jungle-shrouded waterfalls beg to be explored. The car-free Gili Islands are just a short hop across the water – skip party mecca Gili Trawangan and make a beeline for Gili Meno, the least developed of the trio and an ideal day trip for snorkelling and kicking back with a cocktail on the palm-fringed sand.
SUMBA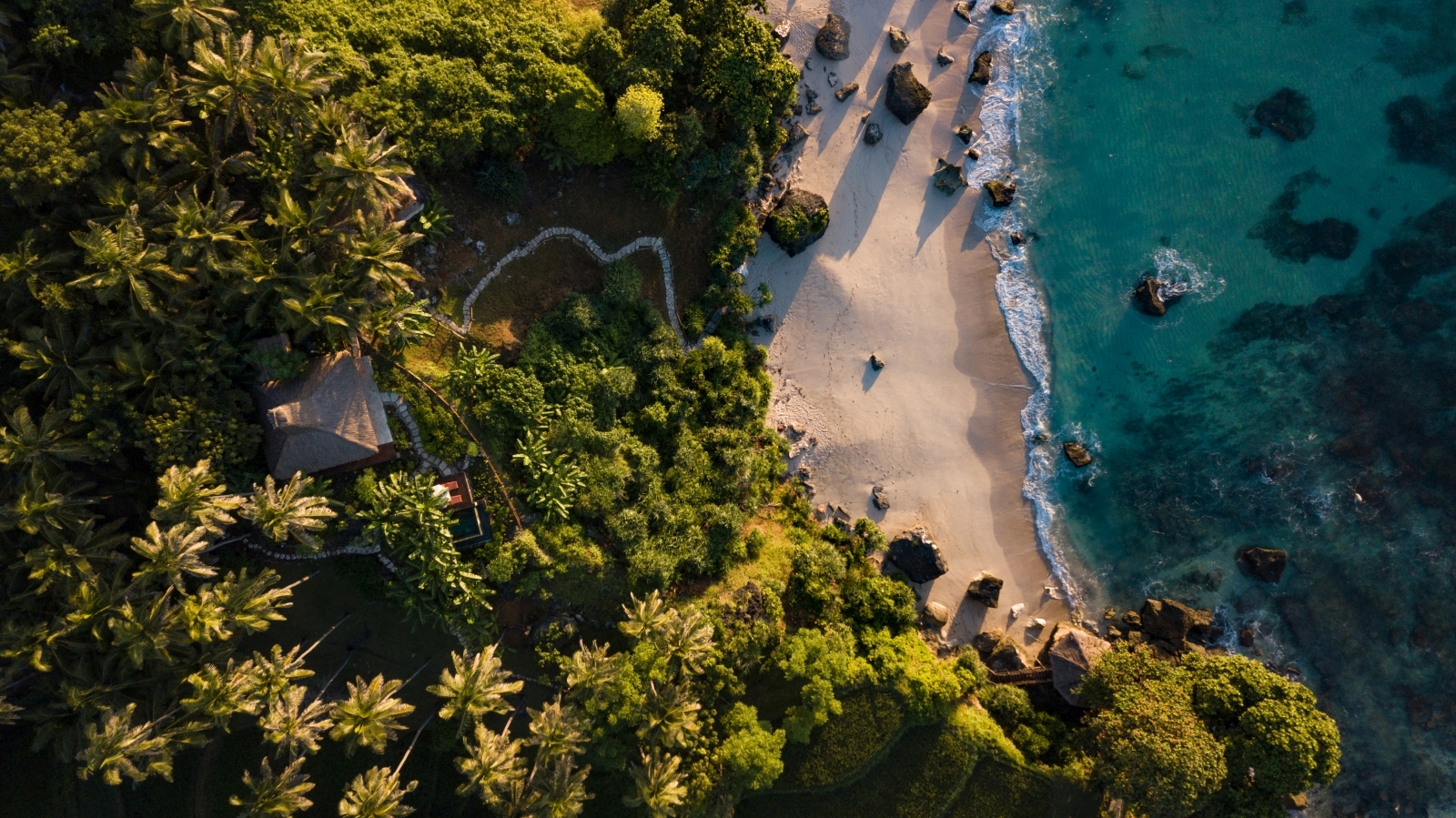 Sometimes referred to as the forgotten island of Indonesia, Sumba's relative isolation from the outside world has helped preserve an indigenous culture steeped in ancient tradition. Sumba locals still pay their respects to village chiefs and hold elaborate funeral ceremonies, while the annual sacred festival of Pasola sees men ride bareback and engage in a bloody spear way, with mythology dictating that the more blood spilt, the more abundant the year's harvest will be (thankfully, spears are now carved from wood and the aim is to unseat rather than kill). While the fertile rolling hills on the western side of the island give way to impressive waterfalls and pristine beaches, the arid east – the heart of Indonesia's ikat textile industry – remains far less populated. No trip to Sumba is complete without a stay at Nihi Sumba, the epitome of barefoot luxury. Surfers make pilgrimages here to ride the infamous Occy's Left, while guests can help out with the Sumba Foundation's community projects, which aim to tackle poverty on the island.
SUMATRA
Sumatra is one of only two places left on the planet to see orangutans in the wild. This largely undiscovered wild island is home to some of the richest tropical forests in existence and harbours hundreds of other majestic mammals, many of which are on the brink of extinction. Travellers typically zone in on the north; Bukit Lawang offers the best orangutan-spotting opportunities, while rhinos, elephants and the Sumatran tiger can sometimes be glimpsed on treks into the thick jungle of Gunung Leuser National Park. Southeast Asia's largest lake, Lake Toba, was formed by a colossal volcanic eruption thousands of years ago – today, it's a lovely spot to relax for a few days by the water, while the minuscule tropical island Pulau Weh boasts world-class diving. Sumatra's capital Padang is a worthy stopover; now rebuilt after the devastating 2009 earthquake, it's renowned for its colourful Dutch architecture and spicy Padang cuisine, and acts as the gateway to the Mentawai Islands, a true surfers' paradise.