Japan is a country of contrasts – traditional and modern. The beauty of Japan's natural world is a well-kept secret and lovers of big cities will enjoy the cultural diversity of trips to modern Tokyo and traditional Kyoto and Kanazawa. The travel specialists at Red Savannah have produced this Japan travel advice guide with tips and useful information to help you plan your journey.
BEST TIME TO VISIT JAPAN: WEATHER
Japan has two main travel seasons; March to May and September to November, the climate however varies greatly from north to south. The north, Hokkaido, has a humid continental climate with long, cold winters and very warm to cool summers. On Honshu's west coast, there are heavy snowfalls in winter. In the summer; the region is cooler than the Pacific area, though it sometimes experiences extremely hot temperatures. The Central Highland has large temperature differences between summer and winter. The mountains of the Chugoku and Shikoku regions experience mild weather year-round. On the Pacific coast winters are milder with sporadic snowfall and summers are hot and humid. The Ryukyu Islands have a subtropical climate, with warm winters and hot summers.
The main rainy season begins in early May in Okinawa, and the rain front slowly moves north, reaching Hokkaido in late July. In Honshu, the rainy season begins before the middle of June and lasts about six weeks. In late summer and early autumn, typhoons often bring heavy rain.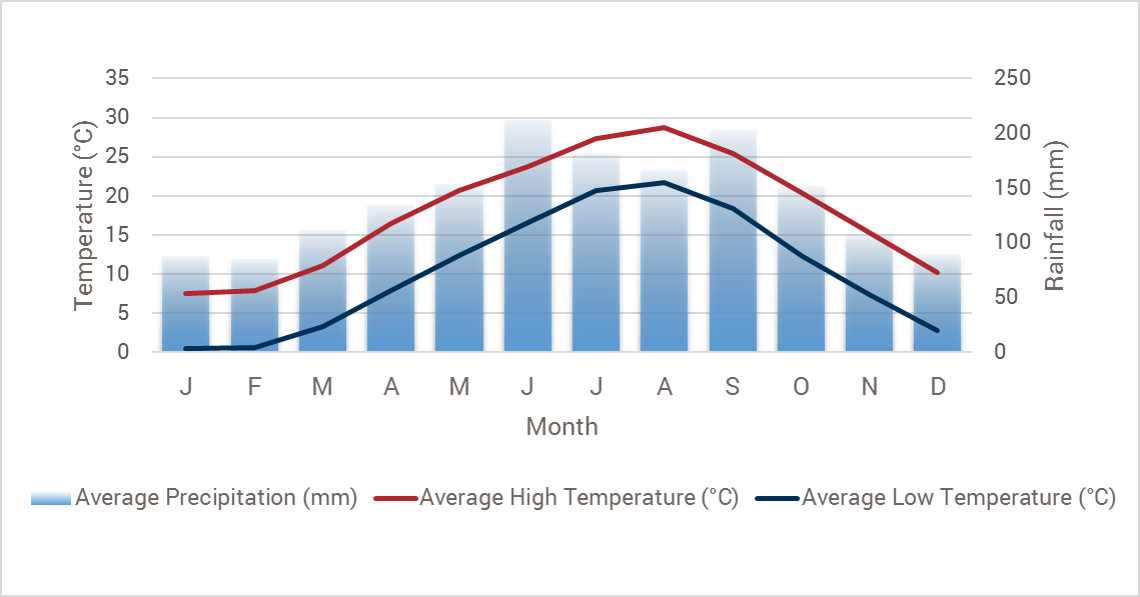 MAP OF JAPAN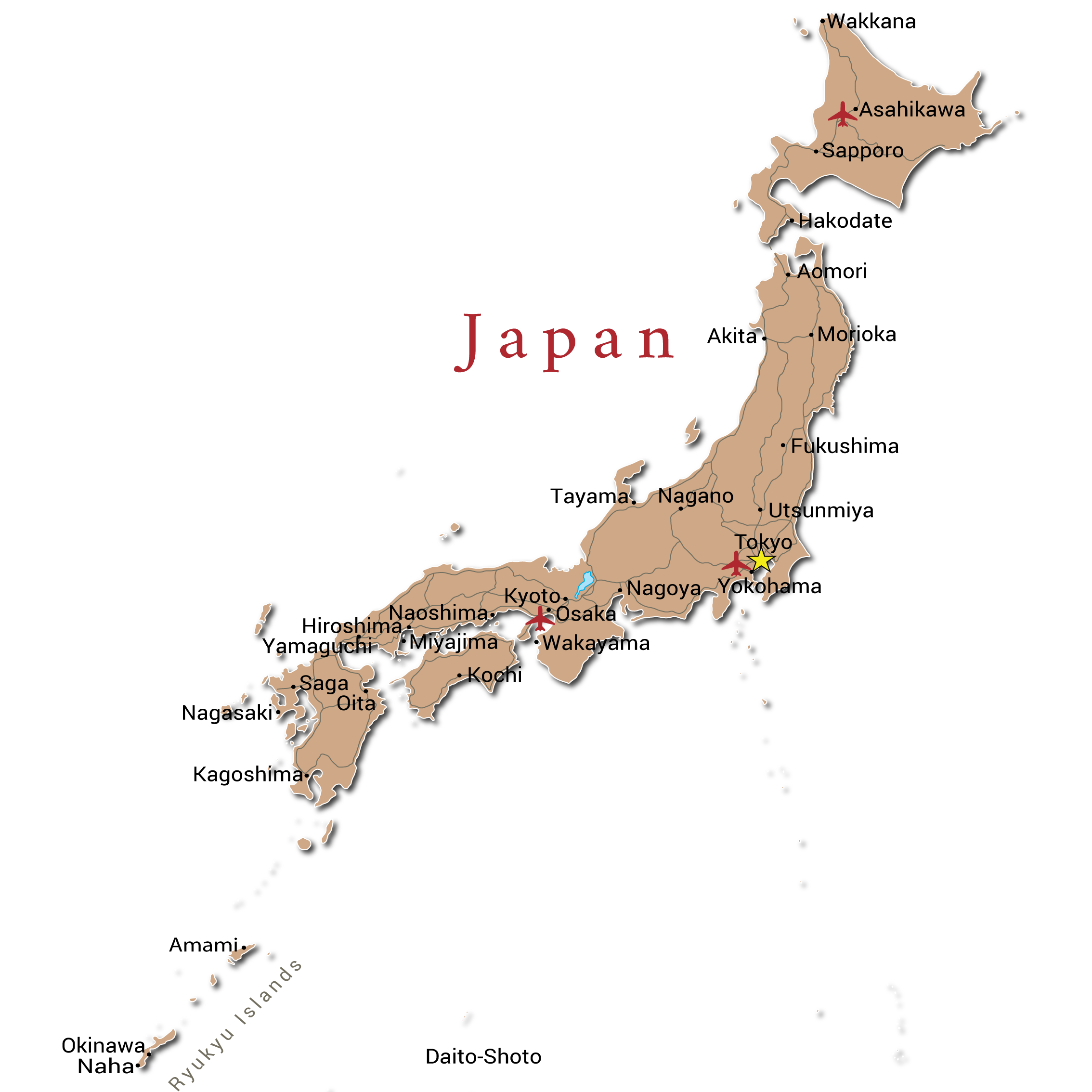 MEDICATIONS & VACCINATIONS
We always recommend that you see your doctor or a travel clinic at least two months before travelling to Japan to make sure you have taken all the necessary health precautions. For guidance look at Fit for Travel's website which is a good source of travel health information.
Another useful site is the Travelers' Health page on the Centre for Disease Control and Prevention website which lists destinations and health requirements. Make sure you take any medications you require with you in their original containers, clearly labelled. A signed, dated letter from your doctor describing all medical conditions and medications is also worth taking.
PASSPORTS & VISAS FOR JAPAN
Your passport must be valid for at least six months from the date you are scheduled to leave Japan and have one adjacent blank page. British passport holders do not require visas to enter Japan for visits of up to 90 days.
TIPPING IN JAPAN
Tipping is not required in Japan and attempts to do so may cause confusion. A 10% Service charge is usually already included in hotels and restaurants. The only exception is at high-end ryokans and for tour-guides (if you were satisfied with their services – perhaps a sum of $10.00 per person per day would be appropriate). Money should be formally given with two hands, in an envelope.
TRAVEL INSURANCE
It is important that you take out travel insurance if you do not already have a policy in place. Make sure that you have cover for loss of personal effects and a high level of cover for medical expenses and repatriation if necessary. Please note that taking out travel insurance is a condition of travel with Red Savannah.
JAPAN MONEY
Japan is still mostly a cash society and many businesses including shops and high-end restaurants accept only cash (although most stores and hotels serving foreign customers nowadays take credit cards). You can exchange cash at the airport or at major banks (9am-3pm) in cities. Exchange rates are usually very good for US dollars and Euros but not so favourable for other currencies. Many ATMs in Japan do not accept credit cards issued overseas, except at JP Bank (Japan Post) and most convenience stores – 7-11 stores are the best for this and found throughout Japan. It is a good idea to advise your bank that you are travelling to Japan, as it is not unknown for banks to freeze customers' cards after one or two foreign transactions for fear of fraud.
GET CONNECTED
ELECTRICAL SUPPLY
The voltage in Japan is 100 Volts.

MOBILE PHONES & BATTERY CHARGERS
Please ensure that your mobile and other electronic devices are fully charged before you arrive at the airport as you may be asked by security to turn them on. Uncharged electronic devices will not be allowed on the plane. As local rules differ from country to country it is safer to pack your battery charger(s) in your hold luggage rather than your hand luggage.
COMMUNICATIONS / INTERNET CONNECTIVITY
Generally speaking, Mobile phone coverage throughout Japan is good. Calls or texts using a foreign SIM card can get very expensive so you should contact your network provider before departure. Japan has fast Internet access widely available and most hotels offer free Wi-Fi.
RECOMMENDED READING FOR HOLIDAYS IN JAPAN
Lost Japan by Alex Kerr
Tokyo Year Zero by David Peace
Memoirs of a Geisha by Arthur Golden
Hiroshima by John Hersey
The Sailor who fell from Grace Yukio Mishima