Vietnam
is a topographically, historically and climatically complex nation. Our experienced advisors can help negotiate the complexity, with practical advice on best time to go, what to pack and more.
WEATHER IN VIETNAM
Vietnam has three main micro climates and can be divided into Northern, Central and Southern regions. In Vietnam it is almost impossible to avoid rain at some point (which is why the vegetation is so lush).
Northern Vietnam has cool dry weather from October to March and in April it begins to warm up with showers being common. The months of June to September tend to be hot and humid with tropical rains and Halong Bay should be avoided in August and September.
The central areas of Hue, Hoi An and Nha Trang experience rain for a large part of the year. Hot sunny weather prevails here in our spring and summer months (beginning of February to the end of August), making this a great time to visit the beaches.
The south of Vietnam is best visited from November until May when temperatures are very comfortable. From June to October this region experiences hot, humid and very wet conditions. Mountain areas tend to be cooler and you should go prepared with long trousers and jumpers as well as a rain jacket at all times of year.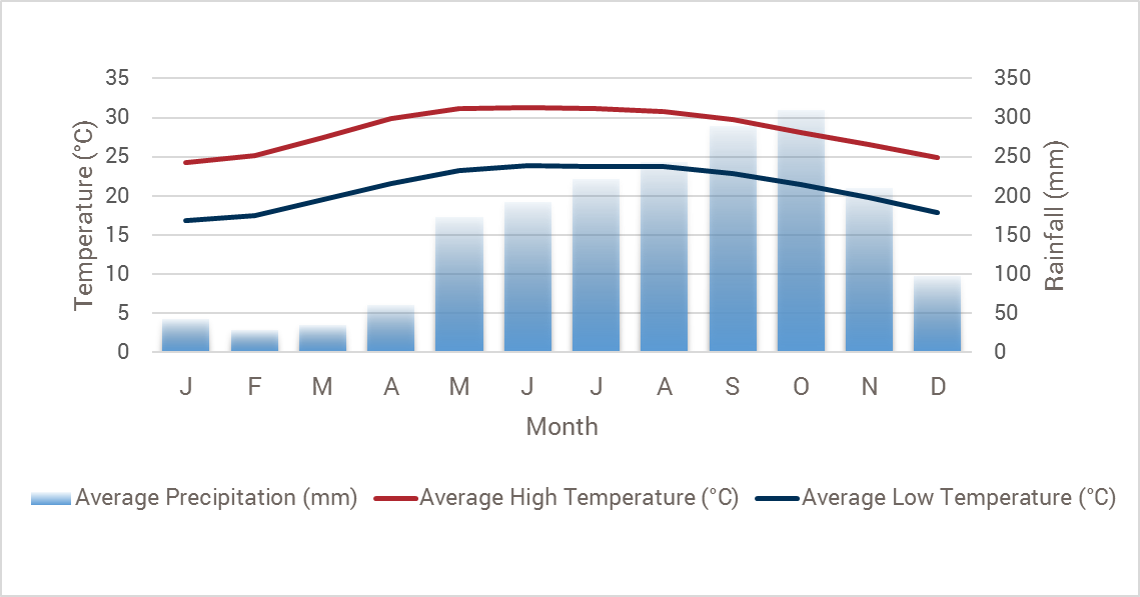 MAP OF VIETNAM
WHAT TO PACK FOR VIETNAM
Lightweight summer clothing in cottons, linen or blends to work as layers is ideal for most of the year as Vietnam has varying climates. Most hotels offer a laundry service and therefore we recommend you use this facility to enable you to travel lightly. Sweaters, a light jacket or a shawl may be needed for the cooler mornings or evenings. Vietnamese people tend to dress conservatively.
In the winter months, a few warmer layers are also advisable as temperatures can drop quite low in the evenings, especially in the far northern regions such as Sapa. If travelling to Sapa and planning to do some walking, make sure you pack adequate footwear - walking boots/shoes or a sturdy pair of trainers with good grip.
For ladies, a pashmina or similar scarf is useful for covering heads and arms when entering holy sites and showing respect.
A small torch can be useful in certain parts of the Vietnam where power supply can be subject to the occasional blackout.
MEDICATIONS & VACCINATIONS FOR VIETNAM
As with all travel adventures abroad, we strongly suggest you visit your health practitioner or local travel clinic ahead of your trip to Vietnam. There are some risks of contracting Diptheria or Tetanus, and the extent of this can be assessed with a professional and whether you should take any vaccination precautions. You should also confirm whether the country you are travelling from before entering Vietnam is on the list of at-risk nations for yellow fever. If so, Vietnamese authorities will require you to produce a yellow fever vaccination certificate upon arrival. More about this and other health-related matters you may wish to prepare for can be found on the
NHS's Fit for Travel
website, or on
The Center for Disease Control & Prevention
website.
The Medical Advisory Service for Travellers Abroad (MASTA)
is another good source of information to help you take any necessary precautions depending of the region of Vietnam to which you are travelling.
TIPPING IN VIETNAM
Tipping is entirely discretionary in Vietnam and based on whether you feel the quality of service you received calls for it. Should you wish to show a fiscal gesture of appreciation, we suggest tipping 10-15% in Vietnamese restaurants (assuming a service charge has not already been added to the bill), US$10 per person, per day for tour guides, US$5 per person, per day for drivers, and US$1 per person for taxis and porters.
GET CONNECTED
ELECTRICAL SUPPLY
Voltage in Vietnam is normally 220V/50 but in more rural areas it can be only 110V/50. Vietnamese plug sockets usually take the 2 pin variety and are generally round pins. A good quality international adaptor will be needed and can be purchased at most UK airports.


MOBILE / INTERNET CONNECTIVITY
On the whole, Vietnam offers good mobile phone coverage. Calls or texts using a foreign SIM card however can get very expensive so you should contact your network provider before departure and enquire as to whether they have any data roaming packages for Vietnam. Barring the odd power outages, WiFi is also generally available countrywide and you will find most hotels and restaurants offer internet access; though you should check with Vietnamese establishments before using their connection to be aware of any potential charges you may incur for its use.
RECOMMENDED READING
The Lover by Marguerite Duras
The Sea Wall by Marguerite Duras
The Map of Lost Memories by Kim Fay
The Headmaster's Wager by Vincent Lam
The Quiet American by Graham Greene
The Sorrow of War – a novel of North Vietnam by Bao Ninh