Whether your interests lie in the world-famous Australian wines, the reef-fringed beaches, the rugged outback or the cosmopolitan cities, our
Australia
specialists can provide practical travel tips.
WEATHER IN AUSTRALIA
Australia experiences temperate weather for most of the year but the climate can vary from north to south and east to west due to the size of the continent. The northern states typically experience warm weather much of the time, with the southern states experiencing cooler winters. Australia is also one of the driest continents on earth with an average annual rainfall of less than 600 millimetres. Like all countries in the southern hemisphere, Australia's seasons are opposite to those in the northern hemisphere. December to February is summer; March to May is autumn; June to August is winter; and September to November is spring.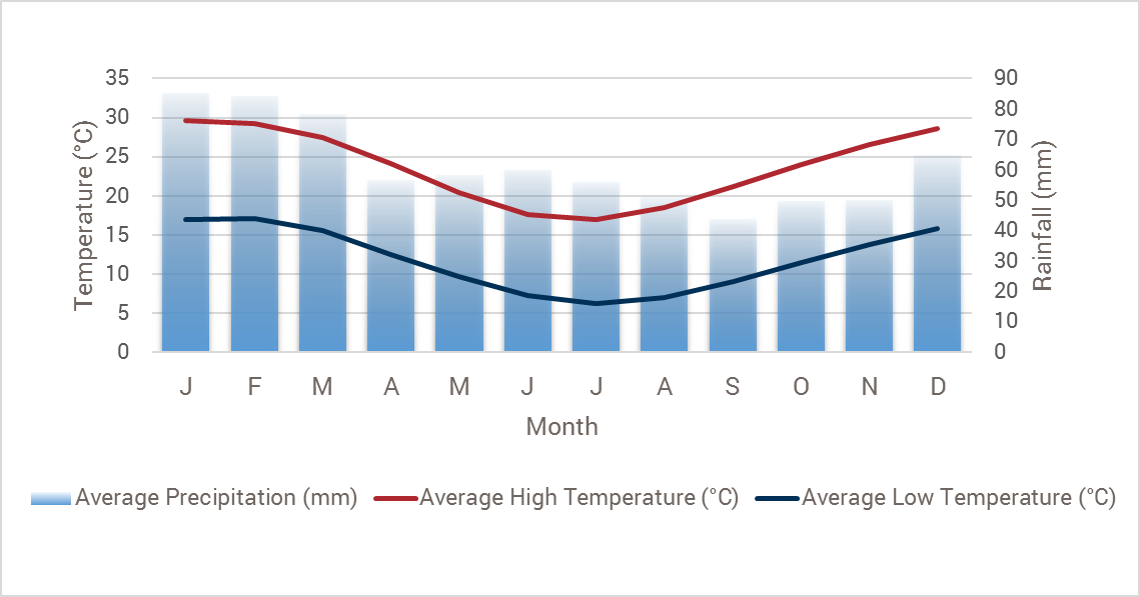 MAP OF AUSTRALIA
WHAT TO PACK FOR AUSTRALIA
As a guide, dress is fairly casual in Australia – you can even wear jeans to the opera or casinos without getting a second glance; but when dining out in the evening you may feel more comfortable in smart casual wear. Clothes in natural fibres work better in the heat and it is worth packing a lightweight cardigan or pashmina for cooler evenings or chilly air conditioning. Pack a sun hat, sunscreen and sunglasses as well as comfortable footwear for walking. If you are planning to visit Melbourne, then a lightweight waterproof is useful in case of light rain.
MEDICATIONS & VACCINATIONS FOR AUSTRALIA
Before travelling to Australia we strongly suggest you visit your local travel clinic or health practitioner to discuss the nature and travel destination. While there are no particular epidemics, there is a risk of Diptheria, Japanese Encephalitis, Tetanus and Dengue Fever, depending on where you are going. Some of these health risks can be prevented with vaccination, others, such as Dengue Fever, simply require vigilance to avoid mosquito bites. Further helpful information can be found on the NHS website Fit for Travel, as well as The Center for Disease Control & Prevention. These will also advise whether you will require a yellow fever vaccination certificate upon entry to Australia, depending on which country you are arriving from. For a more personal assessment of your health considerations ahead of travel, you can contact the Medical Advisory Service for Travellers Abroad (MASTA). In all cases check in with your doctor before your trip to ensure you are prescribed any of your normal medications to last you the duration of your stay in Australia.
The Australian sun is very strong. Always wear a shirt, hat, sunglasses and minimum SPF 30+ sunscreen lotion, even on cloudy days. If spending the whole day outdoors, reapply sunscreen regularly.


TIPPING IN AUSTRALIA
Tipping in Australia is a fairly new practice, and is by no means obligatory. Those in the service industry receive a minimum living wage, which means tipping isn't as necessary as other countries with low pay for service sector employees. However, appreciation for exceptional service is always welcome. A good rule of thumb is to round your bill up to the nearest $5 or $10 when service exceeds expectations. Be aware that restaurant prices are required by law to include tax and service charges, so there will be no unexpected additions to the cost of an item. It is common for servers to not receive gratuities included on a credit card, so try to leave cash whenever possible.
GET CONNECTED
ELECTRICAL SUPPLY
Voltage in Australia is 220-240 Volts. Sockets are designed with three flat prongs.
MOBILE / INTERNET CONNECTIVITY
Mobile phone service in Australia is very good in urban and suburban areas, as well as along most stretches of popular highways. Service may be more limited in rural and remote areas and may not be available in portions of its national parks. Always check what charges will be made before using any internet services in Australia. In some cases WiFi will be complimentary whilst in others it will be chargeable.
RECOMMENDED READING
Australia, A Traveler's Literary Companion by Robert Ross
In a Sunburned Country by Bill Bryson
The Explorers by Tim F. Flannery
Kangaroo Dreaming by Edward Kanze
A Town Like Alice by Neville Shute
Oscar and Lucinda by Peter Carey