Set in north-western Botswana, surrounded by the bone-dry sands of the Kalahari basin, the Okavango Delta is a beyond-beautiful geological oddity and one of the most pristine wild landscapes on Earth. This World Heritage-inscribed inland delta stretches across more than 2,000,000 hectares – and a larger-still buffer zone – encompassing diverse habitats including permanent wetlands, rivers and lagoons, seasonally flooded grasslands and islands of deciduous forest. It owes its existence to the waters of the Okavango River which, instead of flowing out to sea, drains out into the desert, providing habitats for a superabundance of flora and fauna in what would otherwise be an arid land. Aside from a select scattering of temporary tented safari camps accessible by air, the only human presence is the hunter-gatherer BaSarwa people, so it truly feels like a lost world that's a privilege to experience.
WILDLIFE IN THE OKAVANGO DELTA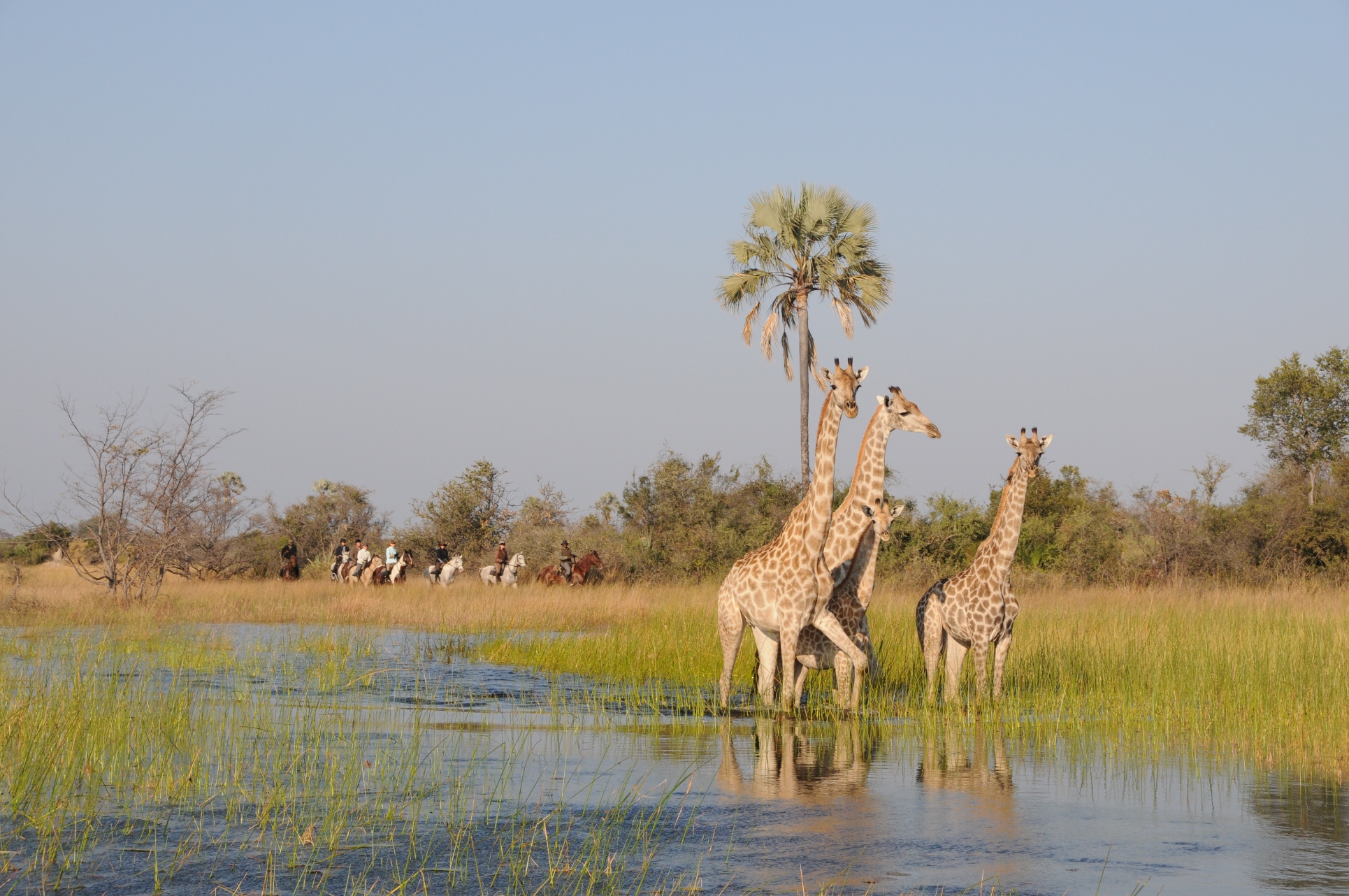 One of the world's richest ecosystems, the Okavango Delta overflows with wildlife of all shapes and types, including the Big Five. Beyond the headline-grabbing lions, leopards, elephants, buffalos and black rhinoceros, though, there are myriad other creatures to be seen. Spotted and brown hyenas, cheetahs and endangered wild dogs thrive here thanks to the large population of antelopes such as water-wading sitatunga and lechwe, impala and greater kudu, and you're never far from giraffes, hippos, warthogs and Burchell's zebras. This ever-changing landscape also attracts more than 400 species of birds, especially those whose preferred habitat is wetlands, rivers and reedbeds. Among the more notable inhabitants, the most eye-catching include malachite kingfishers, African fish eagles and saddle-billed storks. If you visit in the rainy season, you'll be able to appreciate a different side of the area's biodiversity: around 1068 species of flowering plants also flourish in this unique environment.
WHAT TO DO IN THE OKAVANGO DELTA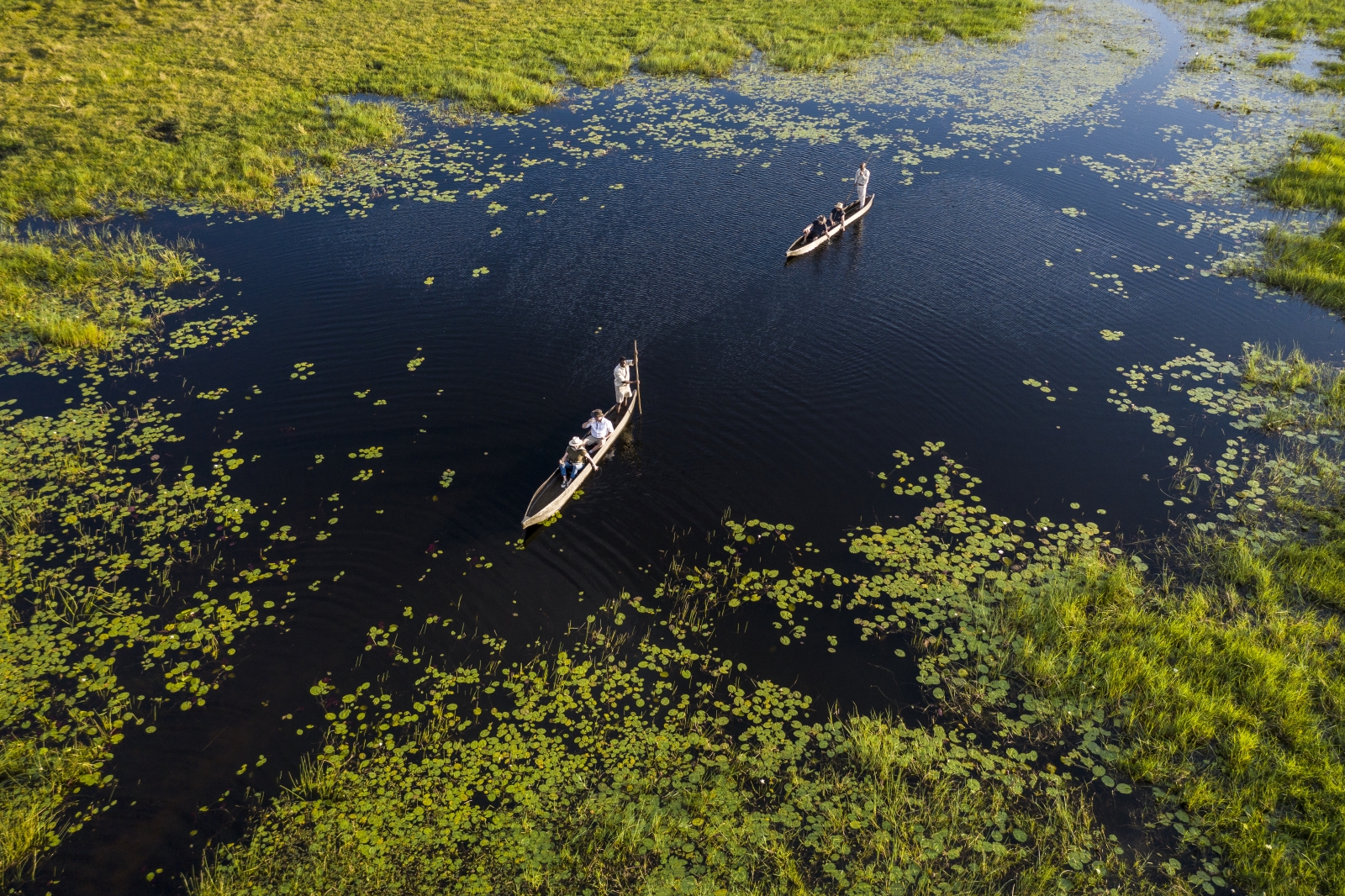 Gliding through the delta in a traditional dug-out canoe, or mokoro, is a quintessential Botswana experience. As your guide propels the craft along reedy waterways with a pole – like a punt – you'll be immersed in your surroundings, with waterlilies in touching distance and a soundtrack of croaking frogs, whispering papyrus and a neverending chorus of birdsong. With no motor to disturb things, you're more likely to stumble on wildlife behaving naturally: think elephants bathing, sitatunga and red lechwe antelopes wading and kingfishers diving for fish.
A horseback safari is more high-tempo, but just as absorbing. From the elevated position of the back of an immaculately bred and trained mount, the views across the floodplains and grasslands are sublime, giving you the opportunity to observe roaming giraffes or a family of elephants in all their magnificence. Again, there are no engines to break the peace, just the sound of hooves as you canter gently past grazing herds of antelopes and the squeaks, grunts and snorts of the delta's multiplicity of residents.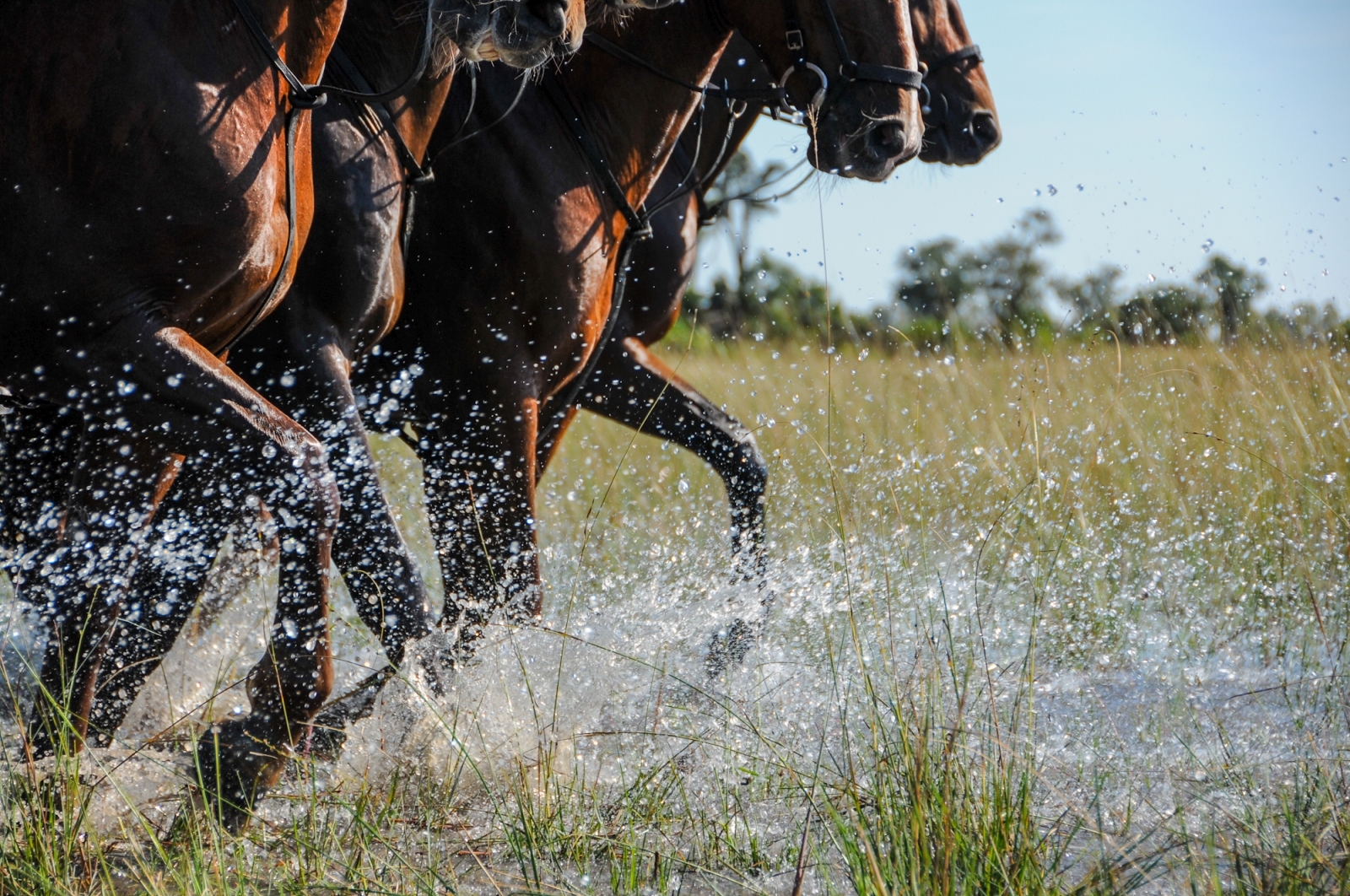 While the thrill of seeing big game species never palls, the Okavango is also the perfect setting to discover or indulge a passion for bird watching. Permanent waterways, lagoons and wetlands support a year-round population of water-loving birds, from endangered dark-hued Slaty egrets to Pel's fishing owls. With more than 400 species to look out for, even regular game drives can deliver noteworthy sightings. For avid birders, a specialist safari in the 'green season' from December to March is highly recommended – the air echoes with the song of resident birds in breeding plumage and winter visitors from colder climates.
Another popular Okavango activity is fishing in lagoons and waterways rich in aquatic life. From the comfort of a motor launch, with a cold drink at your elbow, you'll be able to dangle a line at tilapia, bream, African pike, fearsome tiger fish or another of the 70 or so species found here. For many, however, the pleasure comes less from what you land – which is strictly catch-and-release – than from the sights and sounds along the way, whether that's an elephant taking a drink or the call of an owl that's also in search of fishy prey.
An integral part of the Okavango experience is scenic flights – an inevitable result of the fact that transfers between camps are by light aircraft. Flying low over the landscape, you can start to appreciate the vastness of the wilderness that stretches to the horizon below you – but also make out herds of elephants, giraffes and buffaloes, perhaps, as they drift across the landscape.
THE BEST PLACES TO STAY IN THE OKAVANGO DELTA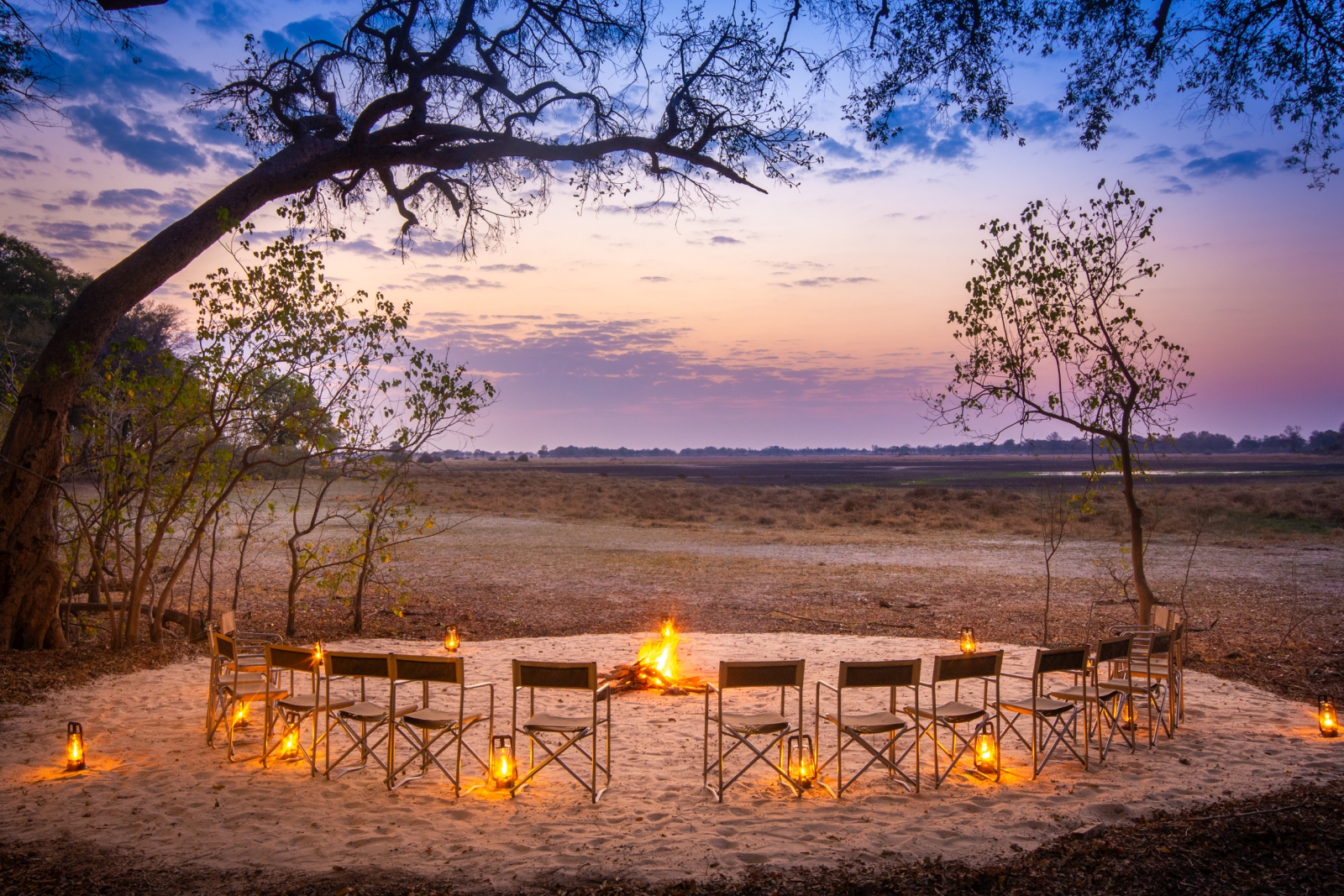 With nine en-suite tents overlooking a lagoon, Kwara has an intimate African-flavoured charm. Set on a private reserve in the northern Okavango Delta, the camp is wrapped in 175,000 hectares of grasslands and mopane woods crisscrossed by permanent waterways. Spot a rich diversity of wildlife, from wild dogs to Pel's fishing owl, as you explore by open-top 4x4, mokoro, motorboat or on foot. Read More >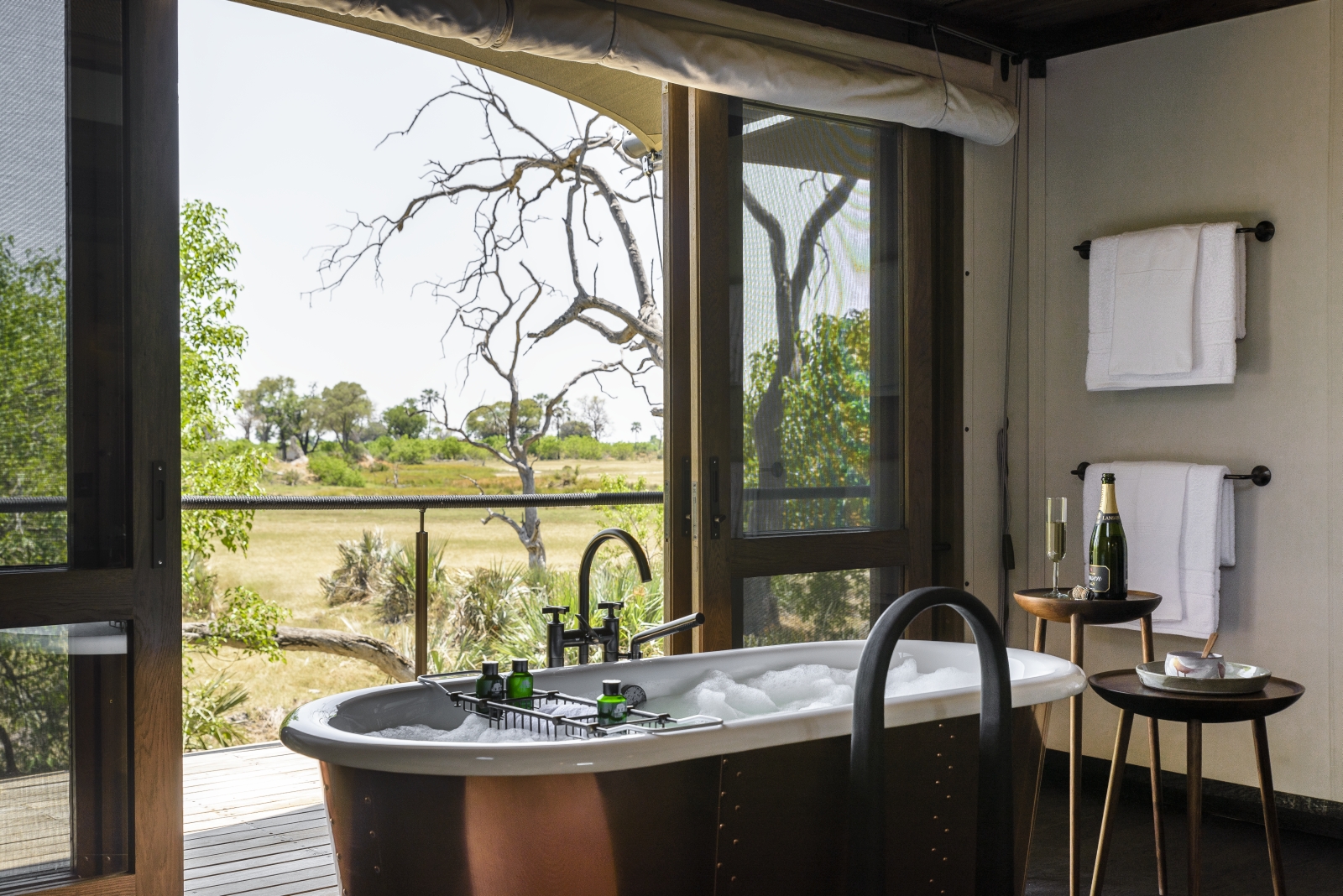 One of the delta's original water-based camps, Xigera Safari Lodge combines a spectacular setting beside a reed-lined waterway with thoughtful features such as morning and evening yoga sessions led by an in-house instructor. Everything here has been carefully considered, from the nature-inspired contemporary design of the 12 overwater suites to the wildlife-viewing activities, which include boat and mokoro cruises as well as walking and 4x4 drives. Read More >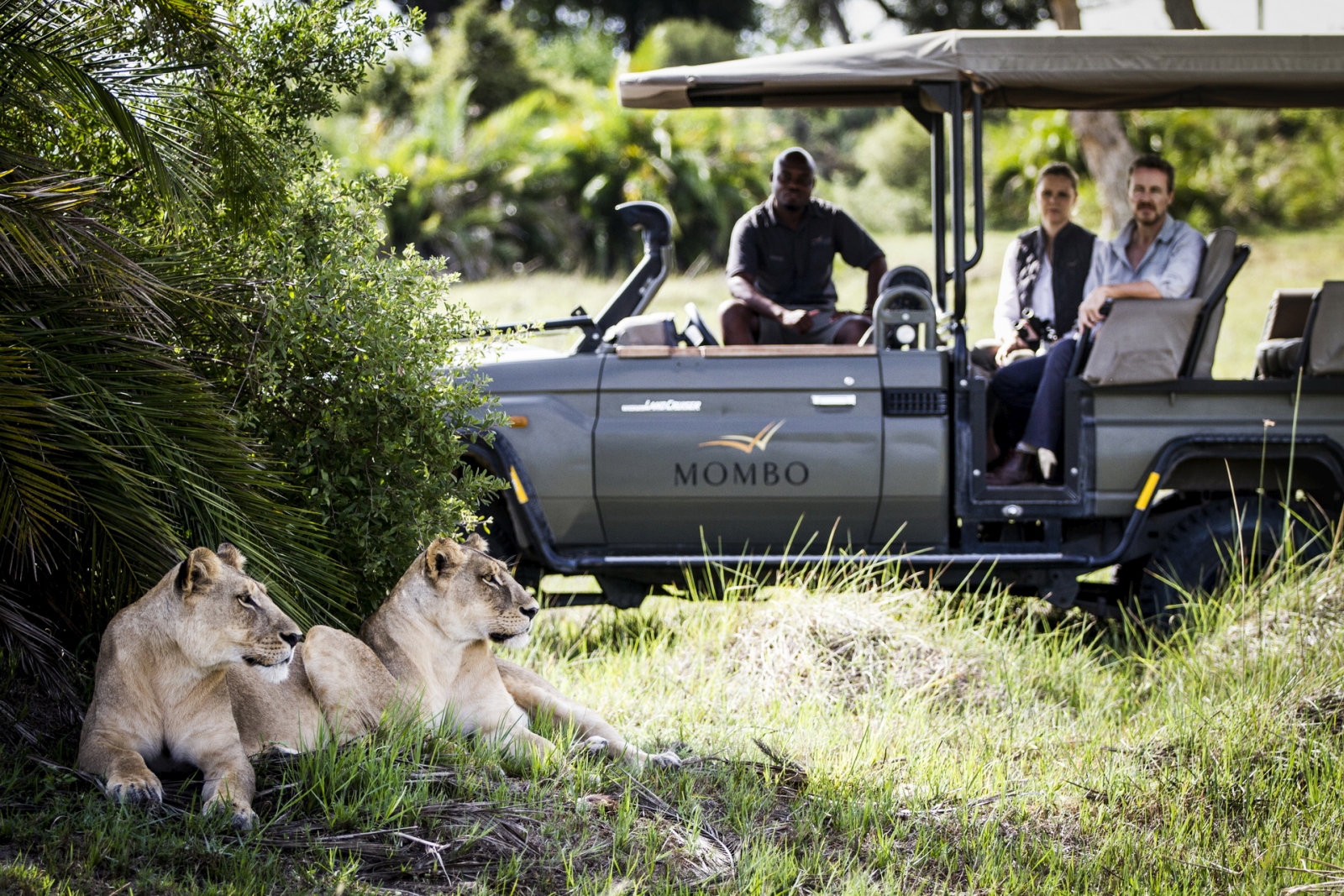 Occupying a privileged position on Chief's Island in the heart of Moremi Game Reserve, this celebrated camp has an exceptional game-viewing pedigree. Twice-daily game drives are all but sure to produce sightings of key predators, or you might just stumble on a reintroduced white or black rhino. Back at camp, there are nine luxuriously furnished tents with private plunge pools from where you can watch passing elephants, giraffes and more. Read More >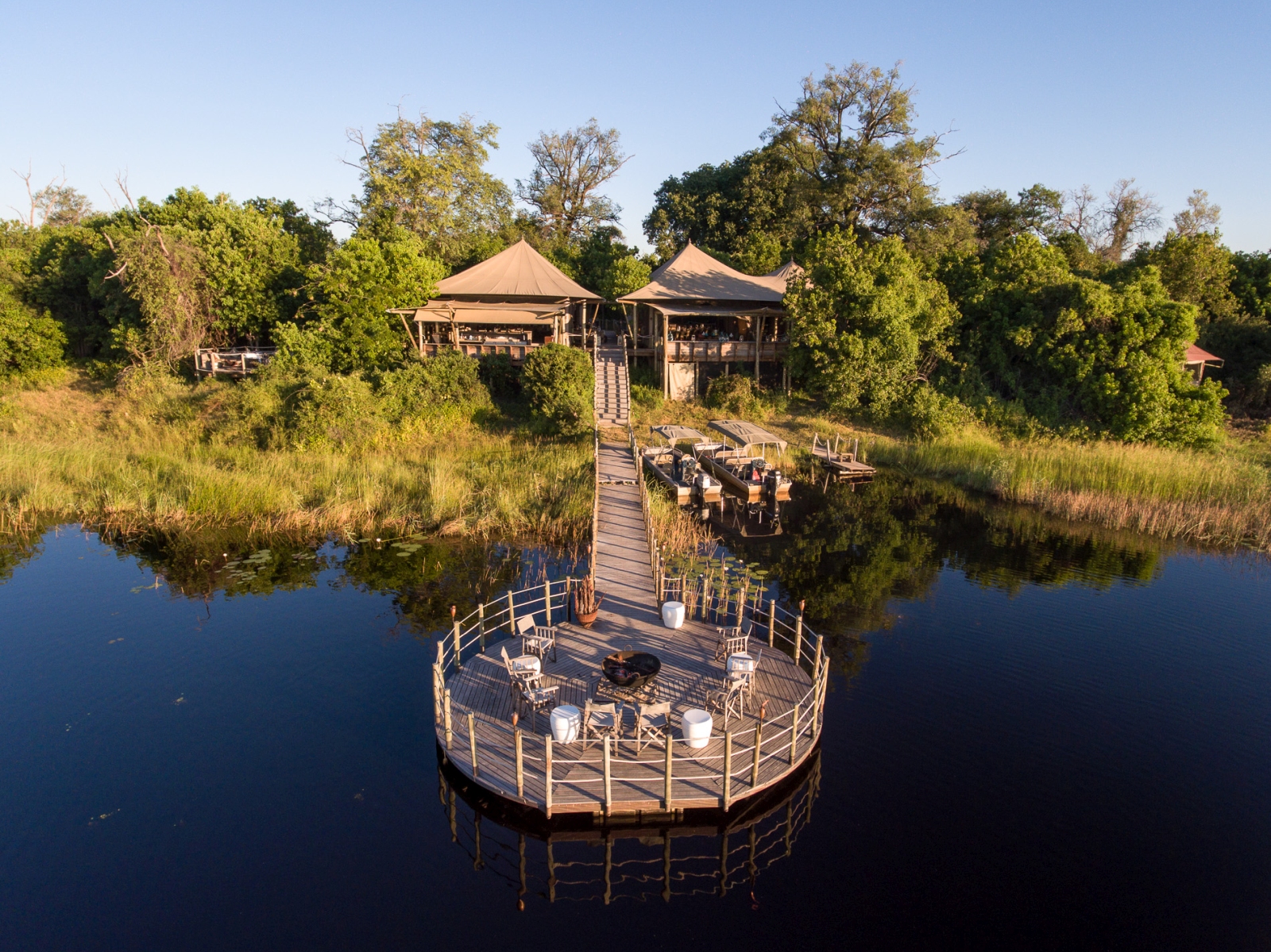 In a remote 125,000-hectare private concession bordered by the Linyanti River, Dumatau provides a stylish base from which to discover an extraordinary diversity of wildlife. Glide along waterways by boat or barge in search of elephants, hippos and carmine bee-eaters, or take a 4x4 to track down anything from wild dogs and lions to water-loving red lechwe. The ten tents, two for families, overlook a lagoon that thrums with birdlife. Read More >
BEST TIME TO GO TO THE OKAVANGO DELTA
By May, the rains that fall from December to March have begun to find their way into the Okavango Delta, filling the water channels, dousing the floodplains and shrinking the islands, creating ideal conditions for game viewing both on land and water that last until September. The shoulder months of October and April have their own attractions – the former is good for fishing, for instance – while the quieter rainy season brings fresh greenery, brightly hued flowers and a plethora of native and migratory birds such as rare wattled cranes.