While climbing Mount Kilimanjaro is firmly on the bucket-list of many an intrepid traveller, the reality of embarking upon this monumental challenge quite often proves to be a bridge too far for many. Learning more of the trek's notoriously unpredictable weather conditions, dizzying altitude and nights spent under canvas can make the seeds of an enthusiastic idea quickly shrivel way. Not so for Red Savannah client Bruce Beecham who, at aged 72, finally made his long-standing dream to conquer Kilimanjaro a reality in 2022. Here he recounts the story of his inspiring journey.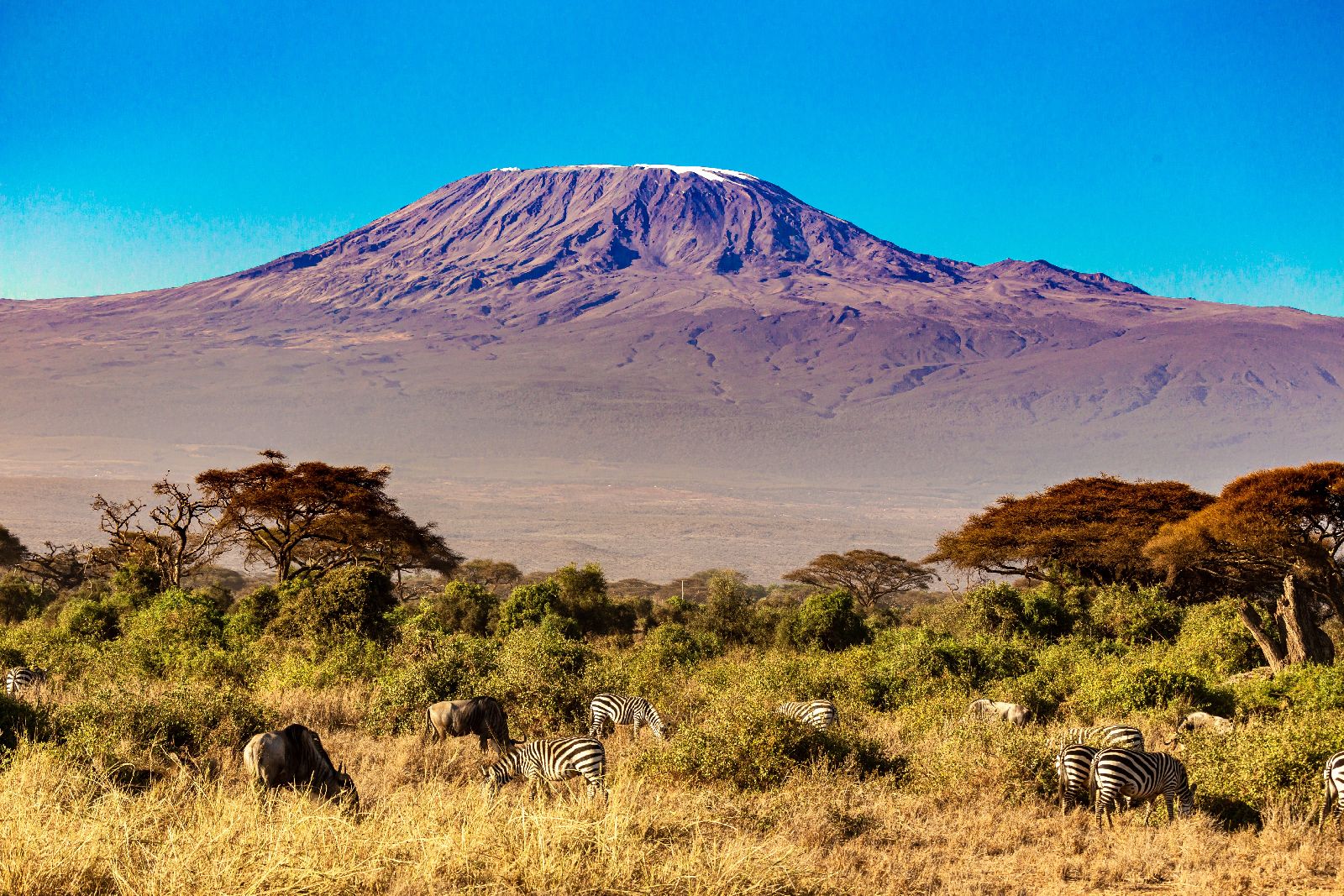 "We were on safari in Kenya twenty years ago when the bus driver stopped and said "look, in the distance, there's Mount Kilimanjaro!" At first all I could see were some thin clouds above the horizon and no mountain shape rising below them. Then I lifted my eyes and there was this monster towering above the cloud. It left a memory of an impressive reality, not just a name in a story."
PREPARING TO CLIMB KILIMANJARO
"Approaching 70, still working, with fewer responsibilities but a pedestrian life, I felt the need to challenge myself. With thinning grey hair and dodgy feet reminding me of my increasing age, I know I have to get on with these things while I still can. So as a seasonal window approached I spoke to Red Savannah about the possibility. "Yes" was the answer. I poked around the internet as well but felt there were so many unknowns about this trip that a safe pair of hands was more important than picking individual elements for low prices. As it turned out that was the right decision for several reasons; I needed the right advice to cater for my age, I needed a seamless arrangement including R&R afterwards, and I needed to be sure I had reputable local providers. Red Savannah effortlessly dealt with all of those concerns."
"So last November, my 72nd birthday, I booked for a February trip and started a modest programme of preparations, telling almost no-one: I wanted to get this running before meeting the blinks of startlement and the sucking of teeth among my nearest and dearest. When I finally discussed the trip with my family they hid their scepticism well. When I eventually got to Tanzania, a final message from one of my daughters said that they were so proud of me: it didn't matter whether I got to the top, it was that I was giving it a go. That made me feel very warm."
THE LEMOSHO ROUTE
"On arrival in Tanzania we headed east from the airport towards Arusha. My lodge was about 1,200 metres in altitude, and that evening I met my guide Charles for a thorough kit check. The next morning Charles and a driver collected me and we headed to the park and Lemosho Gate, an entry point on the Southern Circuit of Kilimanjaro. Lemosho Gate is at 2,100 metres above sea level so that's a good start. This is the long route, seven days in all, because I needed to acclimatise, and to get used to the thinner air."
"My guide Charles was strict – "You walk behind me. Not beside me, not ahead of me: behind me. You watch where I tread and you follow my footsteps. You walk at my pace and we'll take small steps, polli polli – slowly, slowly." True enough. The trail is of course rough, it has sections with shallow steps, some steep steps, rarely a flat trail and not infrequently a scramble over rocks. But still, polli polli conquers all. The porters overtake, dancing like gazelles some of the time, going ahead to set up that night's camp. Luxury!"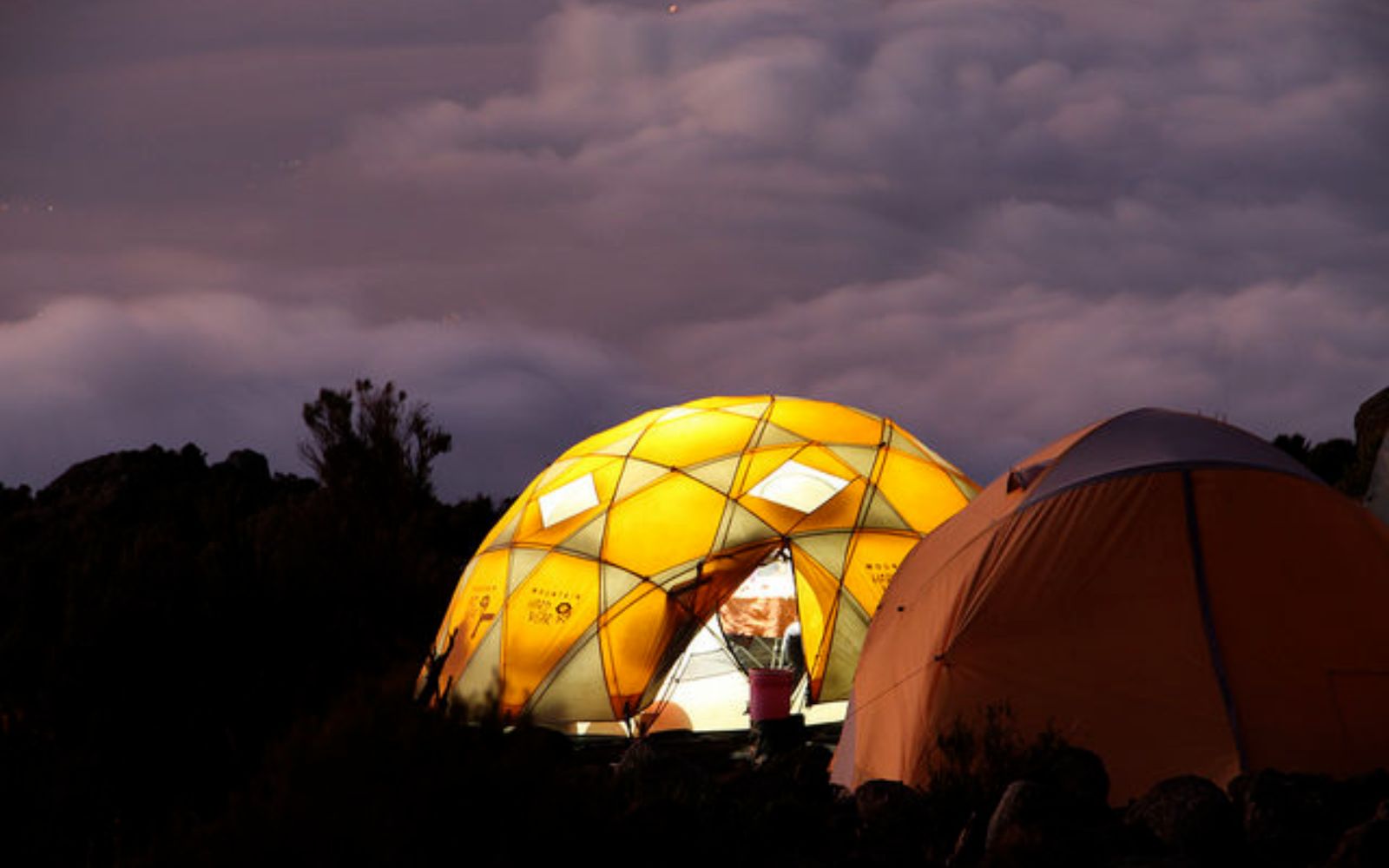 "The walking wasn't tiring, it was the breathing that was difficult. If you kept your breath regular it was OK with Charles' small steps. The paths in the lower sections twist and turn around rocks and narrow streams. The contours are volcanic. We cross lava flows, so it's up and down – and up again."
KILIMANJARO SUMMIT
"On the final day's midnight summit bid, we zigzagged up the long, steep trail to Stella Point (the breakthrough to the rim) and other parties could be seen from time to time, each a small cluster of headtorches in the dark. We saw a shield of rock high above us, delineated against the starry sky. As we climbed up the trail and got close to its top there was another shield above it. And then another. But suddenly we arrived!"
"At Stella Point you are on the rim. The rim is broad as 250,000 years of weathering have eroded the original jaggedness, but the slopes down are remorseless scree and sometimes the clear width is only a few metres. Much of the snow had melted away but on the tramped path between small snowbanks the surface was black ice. So Charles kept a close eye on me as I wandered slightly dazedly along the path, stopping for a bit of gasping every hundred metres or so. My superbly reshod boots gave me fabulous grip; more reliable than the man steering them."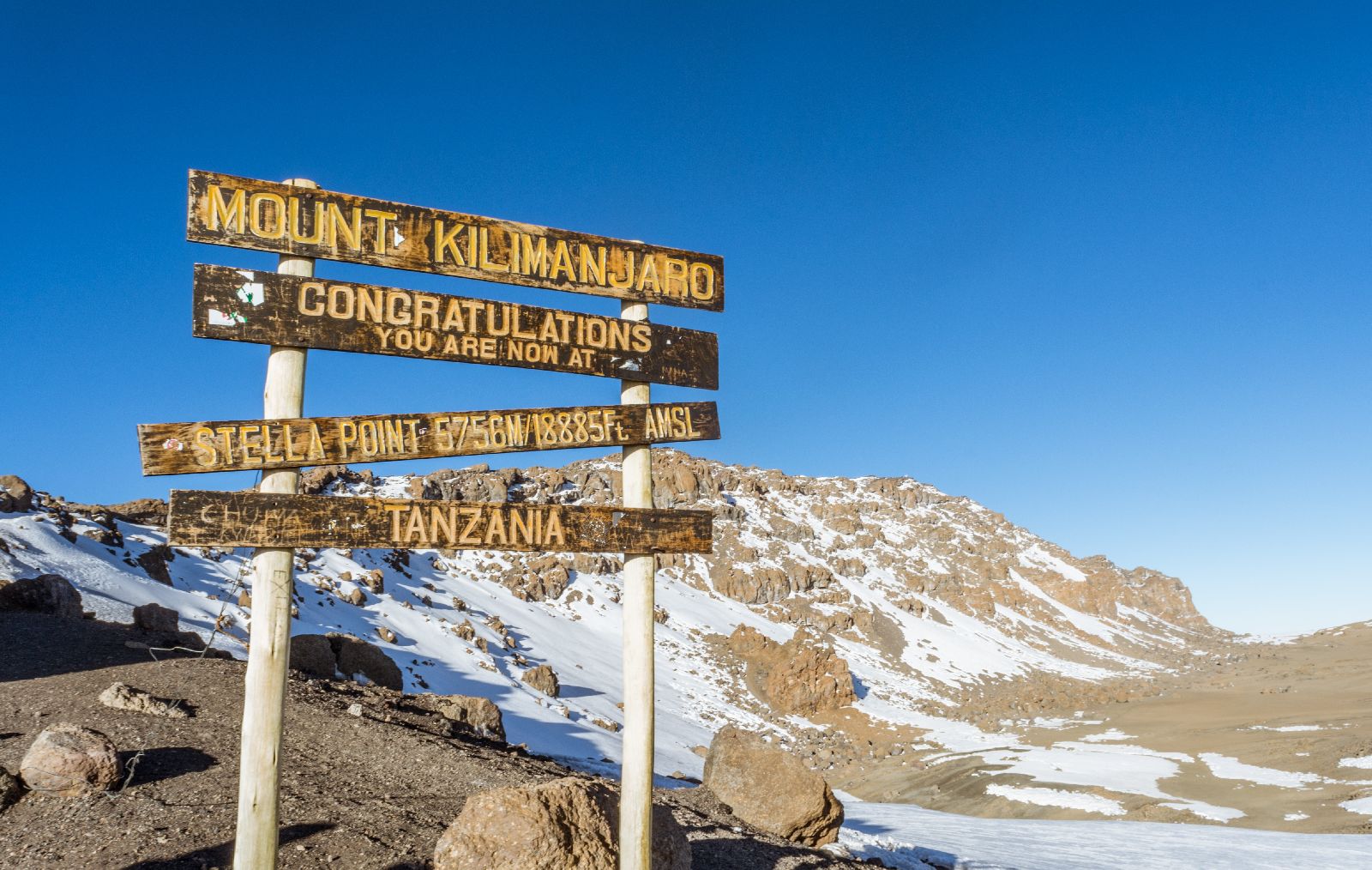 "Suffice to say that the views are extraordinary. As you walk along the rim to Uhuru Peak (5,895 metres above sea level) you see different views. The sight of dawn from the rim is wonderful, especially as in the foreground there are the dark silhouettes of lower peaks just in front of you. Daylight showed sights one rarely gets in life, and a feeling like that is unique."
"The possibility of talking to my daughters and Brenda as well, the prospect of their reaction was so lovely, it spurred me on. It was then very emotional, when I was able to send messages and got the responses, out of the park and at the final lodge. Was it cold at the top, I was asked by perceptive Elsa? I don't really know. Taking off my beanie was no discomfort - so the photo at the summit showed it really was me. You would have doubted: grizzled, unshaven, spiky hair unwashed for seven days, swaddled in padded jacket – not quite the pinstripe. Still, my teeth were always clean."
"I was lucky: the weather was benevolent almost all the way through. That said, it was in the evening before the final push that the wind rose, the tents flapped and the cloud really swept up to our height. Breathing wasn't easy even here, and I feared if the weather was like this here, what would it be at the top? Was I bonkers? I toyed with saying to Charles that it was not for me. But I couldn't find a rational form of words that would be convincing – so I concluded it was not what I should say."
"Earlier on the route, when Charles and I were approaching Karanga camp, a guide appeared, coming the other way. They had a short chat in Swahili and after he'd gone I asked Charles if the man was having to exit the park. Charles looked quizzically at me and said "No... why?" and I said I'd overheard a reference to "baby". "No," said Charles, "that was babu - the grandfather". It appears that there was some betting among the Tanzanians whether this old man would get to the top. Charles radioed down from Stella Point with a report and, when we got back down to base camp, I was really moved that all the porters came out from our camp to meet us, applauding, singing and smiling all over their faces. Perhaps they always congratulate clients this way. But as it was, it was a delightful and humbling thing."
ARRIVING BACK AT MWEKA CAMP
"The exit was, as predicted in the notes, an increasingly hard downhill effort. We reached the gate eventually, limping! When we arrived back in the camp and the team wanted to congratulate me, and then they started singing a song, with typical East African rhythm and it was lovely, plugging in words like 'babu'. Frederick the chef presented a cake on our last evening with "Job Done, Congratulations BRUSS" iced onto it. It was a delicious cake, so we shared it out among the crew, that was lovely, everyone was quite emotional and there was a bit of singing, Jambo Jambo and referring to Brucie and the babu. But who carries icing sugar up a mountain? How did Frederick do it? He had only simple cooking kit, carried up and down, with a gas cylinder. I don't know, don't want to know, I just want to appreciate the thought and effort and sincerity that went into the whole thing."