Chile travel advice is available from our destination specialist who would be delighted to discuss and design an itinerary just for you based on your interests. Visit the Andes, volcanoes, glaciers and vineyards, or indeed the famed capital of Santiago and coastal city of Valparaiso.
BEST TIME TO VISIT CHILE: WEATHER IN CHILE
Because
Chile
, a beautiful Spanish-speaking country lying along the Pacific Ocean, stretches so far north and south, it has at least seven climatic zones, ranging from desert in the north to mountains in the east. Chile lies deep in the southern hemisphere and so the seasons fall at opposite times of year from the northern hemisphere. The summer months are December to February and are generally considered the best time to visit with the season spanning from November to April. June, July and August are the winter months. Chile can be divided into three major climatic areas — very arid in the far north, cool and damp in the south, and a temperate Mediterranean climate in the centre.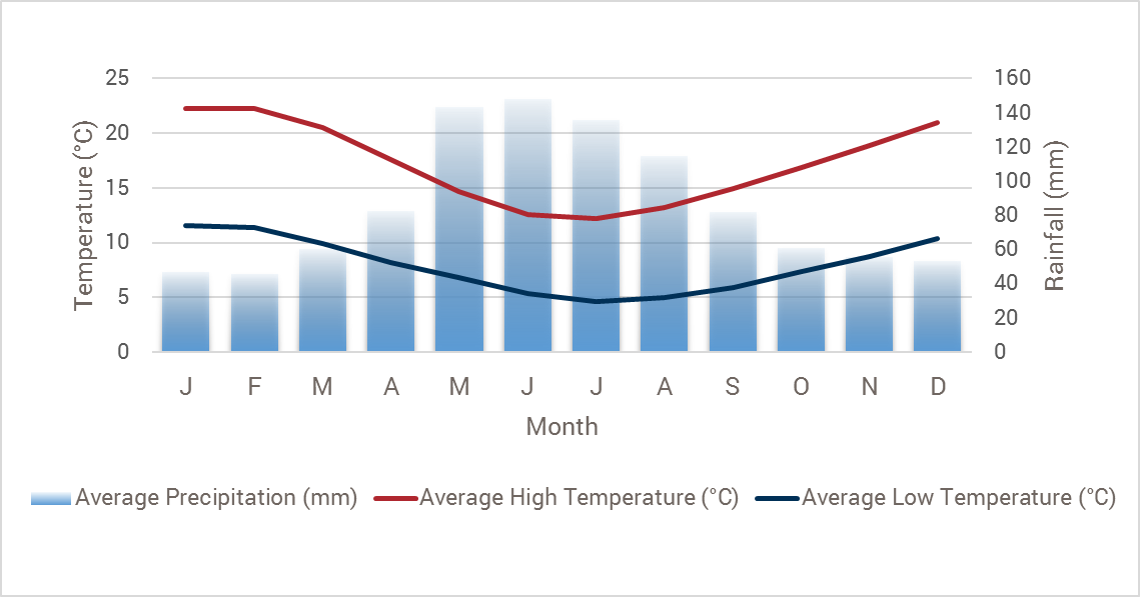 MAP OF CHILE
WHAT TO PACK FOR CHILE
Chile extends 2,600 miles but has an average breadth of between 100 and 200 miles, so what you pack really does depend on where you are planning to visit. The solution is to dress in layers that can be shed as the day heats up. Being a conservative society, women are advised to wear dresses, trousers or longer skirts.
Southern Chile tends to be wet all year round. Winters are rarely very cold, but summers are cool and cloudy, so pack a light raincoat. If your trip includes exploring the mountains, be sure to carry good, rubber-soled walking shoes, warm weather clothes, and sunglasses. When visiting religious sites, be sure to cover your shoulders and bare legs.
MEDICATIONS & VACCINATIONS FOR CHILE
Our Chile travel advice recommends that you see your doctor or visit a travel clinic several weeks before departure to ensure you have taken all the necessary health precautions. As with other South American countries, when travelling to Chile, you may be advised to get vaccinated against Hepatitis A and Typhoid. You might also like to look at
Fit for Travel
which is a good source of travel health information, as is
The Centers for Disease Control and Prevention.
CHILEAN CULTURE
With a strong indigenous heritage (mostly Mapuche), Chile has a prominent folk history and culture that varies from north to south and remains embedded in modern daily life despite the subsequent Spanish colonial effects. As it lies geographically apart from the rest of South America, Chile's national flavour is further unique to itself.
TIPPING IN CHILE
Tipping is entirely discretionary and dependent on how you judge the service provided. We recommend around 10% in restaurants, provided this has not been added to the bill already, $US10 per day for guides, $US5 per day for drivers and $US1 for taxis and porters. This is entirely discretionary.
GET CONNECTED
ELECTRICAL SUPPLY
Electrical sockets in Chile usually supply electricity at between 220 volts and 50 Hz.

MOBILE / INTERNET CONNECTIVITY
Generally speaking, mobile phone coverage throughout Chile is very good. Roaming agreements exist with most international mobile phone companies, but travellers should check with their service providers prior to travel. Most hotels, and in recent years a number of cafés and shopping centres have Wi-Fi internet access, as high-speed Internet connection is the norm in Chile today. Always check what charges will be made before using. In some cases Wi-Fi will be complimentary whilst in others it will be chargeable.
RECOMMENDED READING
The House of the Spirits by Isabel Allende
Spain in Our Hearts by Pablo Neruda
In Patagonia by Bruce Chatwin
Curfew by Jose Donoso (Accounts of life under the Pinochet dictatorship)
Between Extremes by Brian Keenan and John McCarthy
Clandestine in Chile by Gabriel García Márquez