Our Destination Specialists have explored
Oman
from the beaches of Muscat to the dunes of the Empty Quarter. They can share travel tips on what to pack, best time to go and more.
WEATHER IN OMAN
The best time to visit Oman is between October and April with temperatures averaging between 25°C and 35°C during the day and between 17°C and 19°C at night. Summer is between April and September when the weather is very hot and humid. Relatively mild weather is experienced all year round in the Omani mountains, in Salalah and the Dhofar region, where a regular monsoon occurs between June and October. In winter, you will find that that the mountains can get quite chilly after sunset.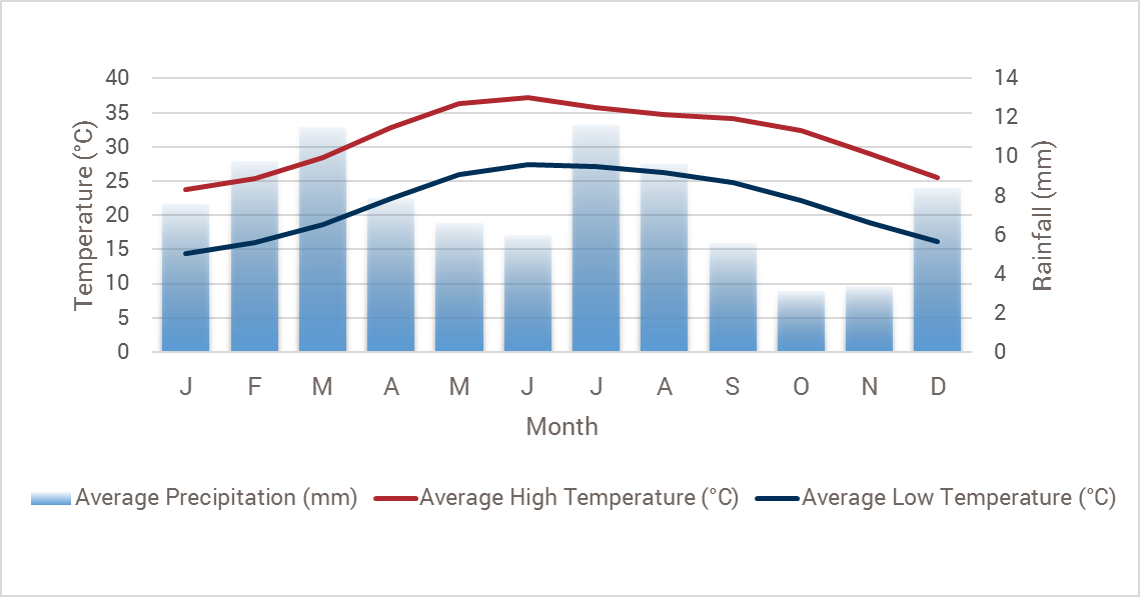 MAP OF OMAN
WHAT TO PACK FOR OMAN
Lightweight summer clothing in cottons or blends is ideal for most of the year in Oman. Sweaters, a light jacket or a shawl may be needed for the cooler evenings, and jumpers will definitely be required if you are staying overnight in the desert or up in the mountains. Walking around the desert barefoot is inadvisable due to the occasional creepy-crawly hidden under the sand, so do bring a pair of sandals or similar. In public places (outside of the hotels), women are advised to wear garments that cover their upper arms and legs at least to the knee. Shorts, tight trousers, bare-backed or low-cut dresses should be avoided. Shorts and sun tops should only be worn at the hotel's beach or by the pool. When swimming in public places such as wadis or public beaches that do not belong to a hotel, we would recommend that ladies wear a t-shirt over their swimsuit out of respect to local sensibilities.
Women travelling to Oman also benefit from bringing with them a large, loose shawl or pashmina. This allows you to wear sleeveless clothing where appropriate in Oman, but also practice modesty by covering up your head and bare arms when required. This is especially the case when you enter a holy place and exposed skin and hair must be sheathed as a sign of respect. When visiting a religious site, including the Sultan Qaboos Grand Mosque, please ensure that you do not wear any sheer fabrics, transparent or tight clothes or white trousers. All trousers have to be long to the ankle and sleeves should reach to the wrists. This applies to both men and women. Shoes will need to be removed prior to entering a mosque, so packing footwear that is easy to slip on and off is advisable.
If you plan to do extensive walking we suggest you take some sturdy hiking shoes or proper trainers with good ankle support as the Omani terrain can be rugged. We also recommend that if you are a light sleeper, you pack some ear plugs. In addition to the prospect of urban street sounds, you will hear the calls to prayer from speakers on the nearest minarets. These take place five times a day, the earliest of which will likely be before you want to wake and the last might be after you have already gone to bed. The timing of the calls is based in part on sunrise and sunset.
For your holiday planning, alcohol is not part of the Islamic culture and thus is only served in licensed restaurants and hotels, of which there are relatively few. During the Holy Month of Ramadan and on certain other religious holidays, alcohol is served at licensed hotels to in-house guests only and even then is only available through room service. It can then only be consumed in guests' rooms and not in the public areas of the hotel. The main beach resorts in Muscat and Salalah (and Zighy Bay) have alcohol licenses, but most of the hotels in the interior of Oman do not, with the exception of the top hotels in Jabal Akhdar. With the exception of the Desert Nights Camp, most camps in the desert also do not stock or serve alcohol. Outside of your hotel restaurants, you will find that the vast majority of Omani restaurants do not have alcohol licenses, but it is worth checking before making a reservation as a handful of them do.
If you are going to hotels and desert camps without licenses, you are generally welcome to bring along your own alcohol and mixers will be provided. Alcohol cannot be obtained in any Omani shops other than the Duty Free shop in Muscat Airport. Here you will have an import allowance of up to 1 litre of wine or spirits per adult or 12 cans of beer. Unlike the desert camps, you should avoid taking your own alcohol to restaurants outside of the hotels which do not have a license.
SPECIAL NOTE FOR ZIGHY BAY: Please note that you must not have any alcohol (including from Duty Free) with you on the journey to Zighy Bay. The route to get there passes through the Emirate of Sharjah which entirely forbids the possession of alcohol. If you are found with alcohol in Sharjah the consequences can in some cases be extremely serious.
MEDICATIONS & VACCINATIONS FOR OMAN
Oman does not pose any particular heath risks to travellers. You are nonetheless advised to consult with your GP ahead of travel to discuss your trip to Oman. You may be advised to get a booster shot for Tetanus, and you will certainly need to renew any medical prescriptions to last you the duration of your holiday. You should also confirm that the country you will be travelling from is not at risk of yellow fever. If it is, you will be required to produce a certificate of vaccination against yellow fever before being allowed entry to Oman. While you won't need anti-malarial tablets as the transmission of malaria is extremely limited in Oman, you are still advised to take all necessary precautions against mosquito bites, including using a good DEET insect repellent and protecting any exposed skin with clothing when necessary. Please also discuss your fitness levels with your health practitioner, to ensure you will be able to cope with Oman's high altitude levels in parts. Finally, there are cases of Schistosomiasis (also known as bilharzia) in Oman. This is a parasitic infection that transmits to humans through contact with affected fresh water. It is therefore recommended that you do not swim or bathe in fresh water lakes or streams here. More travel health advice about Oman can be found on the NHS's website
Fit for Travel
or that of
The Center for Disease Control & Prevention.

TIPPING IN OMAN
Tipping in Oman, while not expected, is important to the service industry. It is customary for porters, guides, drivers and restaurant staff to receive a fiscal gesture of appreciation if you are satisfied or pleased with their service. Naturally it is discretionary, but leaving a 10% gratuity in a restaurant, for example, is recommended. A driver might expect US$10 - US$15 per day and a guide perhaps US$20 - US$30. Hotel staff in Oman also appreciate a few dollars where appropriate for services rendered.
GET CONNECTED
ELECTRICAL SUPPLY
The Omani electrical system is based on 220/240 AC volts, using the UK 3-pin plug type. Adaptors for non-British appliances will be available from your hotel concierge.

MOBILE / INTERNET CONNECTIVITY
Mobile phone coverage throughout Oman is very good. We recommend you check with your service provider before travelling however to see if there are any data roaming packages available to you in Oman, otherwise you may find your phone charges to be exorbitant. Alternatively, you can purchase a local pre-paid SIM card in Oman to better manage your call costs, especially if you will be dialling local numbers. Internet access is also good in Oman. Your hotel should provide you with a complimentary WiFi connection. Should you need the internet at other establishments, enquire first as to any charges for its use.
RECOMMENDED READING
Sultan in Oman by Jan Morris
Where Soldiers Fear to Tread by Ranulph Fiennes
In The Service of The Sultan by Ian Gardiner
The Craft Heritage of Oman by Neil Richardson and Marcia Dorr
Travels In Oman: On the Track of the Early Explorers by Philip Ward
Wilfred Thesiger: The Life of the Great Explorer by Alexander Maitland