Our
United Arab Emirates
experts have compiled some practical travel advice and insider tips for those heading to this exotic destination, whether going on a desert adventure or a city break en route to the Indian Ocean.
WEATHER IN THE UNITED ARAB EMIRATES
The United Arab Emirates lie within the Arabian Desert and therefore are influenced by a hot and humid climate with long hours of sunlight. Summers are very hot and dry as temperatures reach an average of 40 °C. The best time to visit the UAE is during winter months between December and April when it is cooler with a very pleasant average of 26 °C.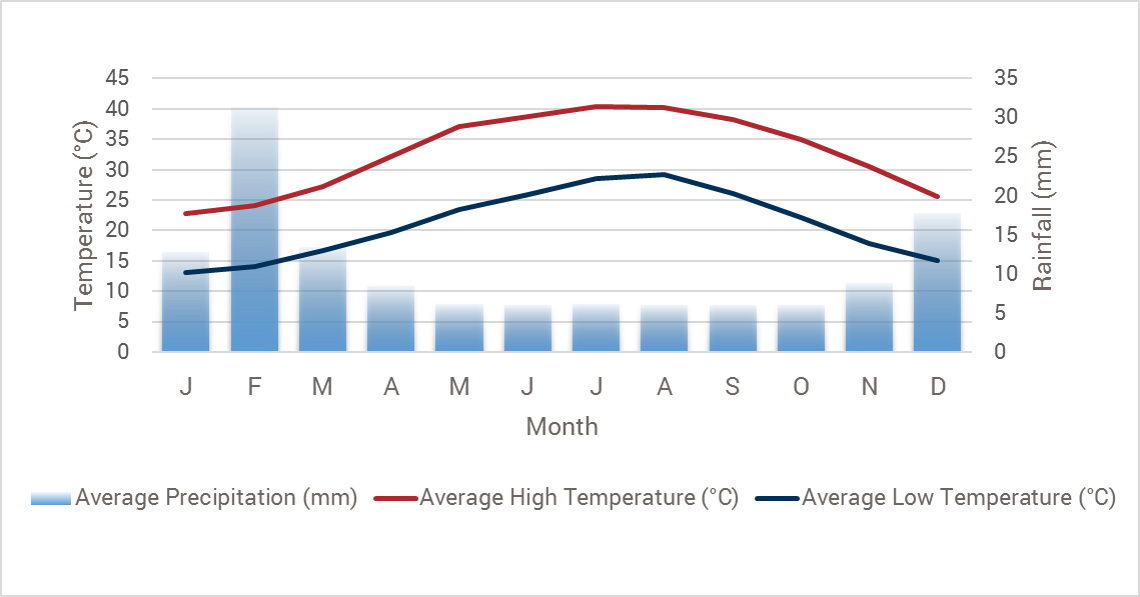 MAP OF THE UNITED ARAB EMIRATES
WHAT TO PACK FOR THE UNITED ARAB EMIRATES
Lightweight summer clothing in cottons or linen is ideal for most of the year in the UAE. Sweaters, a light jacket or a shawl may be needed for the cooler evenings. Although the dress code here is generally casual, guests in the larger hotels do tend to dress more formally in the evening. Since you are visiting a Muslim country, bikinis, swimsuits, shorts and revealing tops should be confined to western beach resorts and hotel pools out of respect to locals, as well as for your own comfort. At a public beach we suggest women wear a t-shirt over their swimsuit as well as shorts, and that men also cover their chest with a top. Note that in Sharjah women are prohibited altogether from wearing swimsuits on public beaches. In public places outside of the hotels, other than sea and pool sites, conservative dress should still be observed, as modesty is important in large parts of the UAE. Women are advised to wear garments that cover their upper arms and legs; shorts, tight trousers, bare-backed or low-cut dresses should be avoided. Men should wear long trousers and shirts.
Ladies will greatly benefit from bringing with them a large shawl or pashmina when visiting the UAE. It allows you to wear sleeveless clothing but have an easy accoutrement to hand to cover up your head and bare arms in a show of respect when you enter a mosque or holy place. When visiting a religious site, conservative attire is essential. All trousers have to be long and sleeves should extend to the wrists. Footwear will also need to be removed prior to entering mosques, so packing slip-on shoes is helpful.
For walking excursions in the UAE we recommend you take some sturdy walking shoes or proper trainers with ankle support.
The calls to prayer from speakers on the nearest minarets, which are dotted around throughout the UAE, can take place during your sleeping hours and are not always quiet affairs. For this reason we suggest that light sleepers bring ear plugs with them, as the prayers take place five times a day and occur both before sunrise and after.
It is important to understand that alcohol is not part of the Islamic culture and thus the United Arab Emirates only allows alcohol consumption in hotels, bars, clubs, restaurants and at private parties. It is illegal to consume alcohol in a public space or drive after drinking alcohol.
MEDICATIONS & VACCINATIONS FOR THE UNITED ARAB EMIRATES
Please also be aware that the United Arab Emirates has a very strict, zero-tolerance anti-drugs policy and conducts thorough searches at its airports, using highly sensitive equipment. Some drugs and medications that may be purchased over-the-counter in other countries are classified as controlled substances in the UAE and are illegal to possess. A person may be arrested and prosecuted if in possession of prescribed or over-the-counter medicines containing, for example, codeine or similar ingredients.
We suggest you speak with your doctor before you travel to ensure any pharmaceutical products you carry with you are not on the UAE's banned list. And if they are, and it is still imperative you travel with them, ensure your doctor writes a detailed note about your medical condition and required medications for the authorities, in the event your possessions are searched and any medicines questioned. In all cases, make sure you take any medications in their original containers, clearly labelled. It is worth noting that most over-the-counter remedies you may need are readily available at pharmacies in the UAE. There is also at least one pharmacy open 24 hours a day. In the United Arab Emirates a 24-hour municipality emergency number - 04 2232323 lists the locations of open chemists. For further information about any health precautions you should take when travelling to the UAE, the NHS's website Fit for Travel is helpful, as is the Medical Advisory Service for Travellers Abroad (MASTA).
TIPPING IN THE UNITED ARAB EMIRATES
Tipping is customary across the board in the UAE: for porters, guides, drivers and restaurant staff. Naturally it is discretionary, but adding 10% to a restaurant bill is appropriate, and far preferred in cash so that the waitstaff receives it rather than the restaurant. A taxi driver for a short ride will be happy with you simply rounding off the fare, an all-day driver might expect US$10 - US$15, and a guide perhaps US$20 - US$30 per day. Hotel staff in the UAE, such as bell hops and valet service are grateful for 5-10 Dirhams, while maids appreciate 20-30 Dirhams at the end of your stay (though you can leave smaller amounts for them on a daily basis).
GET CONNECTED
ELECTRICAL SUPPLY
Domestic power supply in the UAE is 220 volts. Sockets suitable for three-pin 13 amp plugs of British standard design are the norm, though in some cases sockets accommodate the two-pin plug types (which are generally what appliances purchased in the UAE come attached with). It is a good idea to bring an adaptor with you just in case, although your hotel in the UAE will be well equipped for such requirements.


MOBILE / INTERNET CONNECTIVITY
Mobile phone coverage throughout the United Arab Emirates is good. GSM operators have roaming agreements with international operators, but visitors can use "Speak Easy", a GSM mobile service for those who cannot use their own mobile phones in the UAE. Most hotels offer free WiFi internet access. As a precaution, always check what charges will be made before using these services.
RECOMMENDED READING
Wilfred Thesiger: The Life Of The Great Explorer by Alexander Maitland
Dubai: The Story of the World's Fastest City by Jim Krane
One Year In Wonderland: A True Tale of Expat Life in Dubai by Christopher Combe
Dubai Dreams: Inside the Kingdom of Bling by Raymond Barrett
The Great War for Civilisation: The Conquest of the Middle East by Robert Fisk
Travel Journal United Arab Emirates by E. Locken