A vast, diverse nation, with climates ranging from arctic to tropical, the
USA
promises a rewarding experience from its fast paced cities to the remote wilderness of its beautiful national parks. Our destinations specialists will share practical travel tips to help you get the most out of your holiday in the USA.
WEATHER IN THE USA
The United States has varied weather conditions, and the best time to visit depends both upon location and season. Spring (March, April, May) and autumn (September and October) are generally cooler, more comfortable times to visit. Summer months - June, July, and August - are generally hot regardless of the region, but winter temperatures (November-February) can vary substantially depending upon the part of the US you are visiting. The southern part of the country tends to be warmer in the winter than the north. The general climate of the continental US is temperate, but keep in mind that Hawaii is tropical and Alaska is arctic. Summer in the USA is considered the peak holiday season throughout the country; other popular travel times are major American holidays, especially Thanksgiving and Christmas, as well as the school holiday known as Spring Break.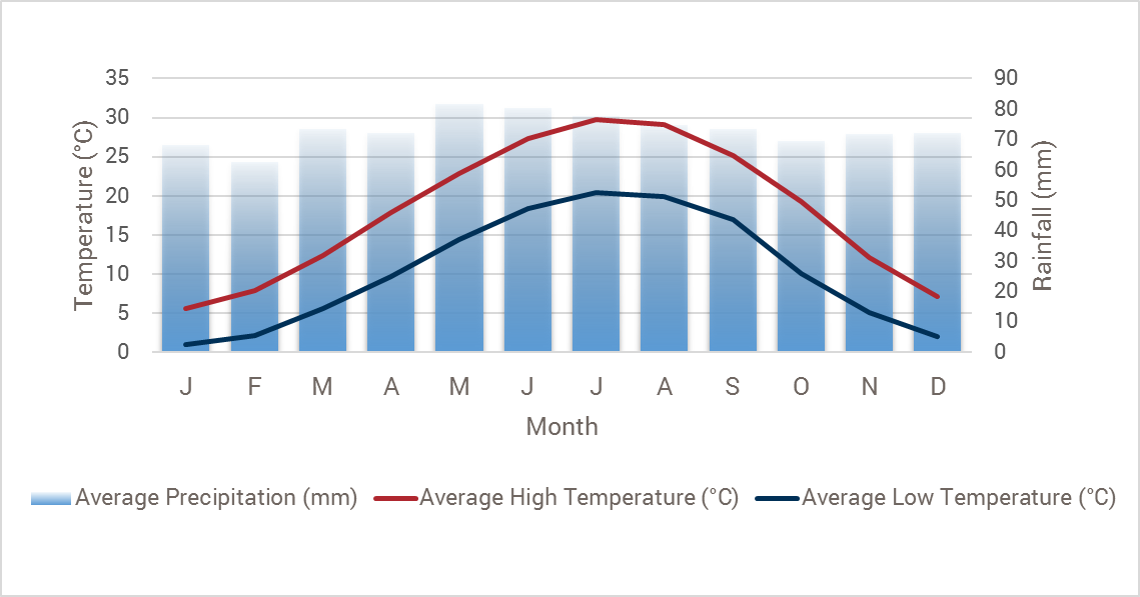 MAP OF THE USA
WHAT TO PACK FOR THE USA
As the US is a vast country with varying climates and four distinct seasons, packing clothing that allows you to layer for warmer and cooler conditions is recommended, especially if you plan to travel to different regions of the country. What you pack will largely depend upon the kinds of activities you plan to enjoy. Outdoor-lovers will need clothing and shoes that are appropriate for the terrain and the activities they have planned; visitors to cities will need a range of casual outfits and perhaps one smarter outfit for a fine dining or theatre experience.

Generally, you should bring comfortable, casual clothing. Choose versatile shirt styles that can be layered if the weather requires such as t-shirts, flannel shirts, lightweight long-sleeve shirts or rollnecks (known as turtlenecks in the US). A daypack for walking/hiking excursions will prove useful, as would insect repellent (the higher percentage of DEET, the more effective it is against mosquitoes) and a simple travel first-aid kit containing any basic items that you feel may be needed.
BUYING ALCOHOL IN THE USA
Note that American alcohol laws vary by state, county, with some places, mainly in the south, where entire counties or towns prohibit alcohol. In all states the drinking age is set at 21 and is fairly well-enforced with ID checks by the alcohol seller. It is illegal in most states to provide a minor with alcohol even in the company of his parents. Drinking in public is usually a civil offence in most communities. Buying, possessing or consuming alcohol is illegal in some Native American reservations, including the Navajo Nation.
MEDICATIONS & VACCINATIONS FOR THE USA
There are no current health epidemics in the United States, though a visit to your local travel clinic or doctor ahead of departure is always advisable to check whether there is anything you should consider by way of booster shots or medication re-fills. Certainly, if travelling to more remote regions of the USA you may want to be made aware of any particular risks be they altitude or otherwise. The
Medical Advisory Service for Travellers Abroad (MASTA)
offers a tailor-made travel advice service dependent on your destination. Likewise, you can glean further information about health and medical services in the US from both the (American)
Center for Disease Control & Prevention
and (British)
Fit For Travel
websites.
TIPPING IN THE USA
Tipping in the USA has become notably expensive and is generally expected. Some tipping guidelines to help you are $1-5 for bellhops, doormen and parking valets; concierges never expect tips, but they are always appreciated; $2-3 per night (up to $5) for hotel housekeeping/maid service; restaurants - 15%-20%, taxi drivers - 20% of fare, based on service; tour guides - $30-$40 for half day and $60-$75 for a full day.
GET CONNECTED
ELECTRICAL SUPPLY
Electricity in USA is 120 Volts, alternating at 60 cycles per second, and there are two different plug types used.


MOBILE / INTERNET CONNECTIVITY
Cell phone service is very good in urban and suburban areas of the United States, as well as along most stretches of popular highways. Service may be more limited in rural and remote areas and may not be available in some or all portions of U.S. national parks and similar natural attractions. There are four nationwide cellular service providers - AT&T, Sprint/Nextel, T-Mobile and Verizon, as well as several regional providers.
There are no FREE incoming calls in the USA. All calls cost, whether they are outgoing or incoming. Additionally, there are no separate rates for placing calls to landlines or cell phones; both cost the same amount. And while internet access is highly functional and widespread in the US, always check what charges may be incurred before using any establishment's WiFi.
RECOMMENDED READING
United States Essays 1952-92 by Gore Vidal
Dreams of my Father by Barack Obama
Made in America by Bill Bryson
The Help by Kathryn Stockett
Penguin History of the United States of America by Hugh Brogan
1776 by David McCullough