From Big Five safaris in the renowned Kruger National Park, superior vineyards, or beautiful beaches with high quality shopping and restaurant sojourns in between, our travel specialists can advise you on the best to experience in South Africa.


WEATHER IN SOUTH AFRICA
South Africa is a subtropical location, famous for its sunshine and as a relatively dry country. While the Western Cape gets most of its rainfall in winter (June to August), the rest of the country is generally a summer-rainfall region.
Summer (mid-October to mid-February) is characterised by hot, sunny weather, often with afternoon thunderstorms that clear quickly. Autumn (mid-February to April) offers in some ways the best weather. Very little rain falls over the whole country, and it is warm but not too hot, getting cooler as the season progresses. The summer winds have died down and the east coast experiences flat and clear sea conditions.
Winter (May to July) is characterised in the higher-lying areas of the interior plateau by dry, sunny, crisp days and cold nights and early mornings. The Western Cape gets most of its rain in winter, with quite a few days of cloudy, rainy weather. However, these are always interspersed with wonderful days of sun and higher temperatures. Nowhere in South Africa is spring (August to mid-October) more spectacular than in the Cape provinces: thousands of small, otherwise insignificant plants cover the plains in an iridescent carpet of flowers.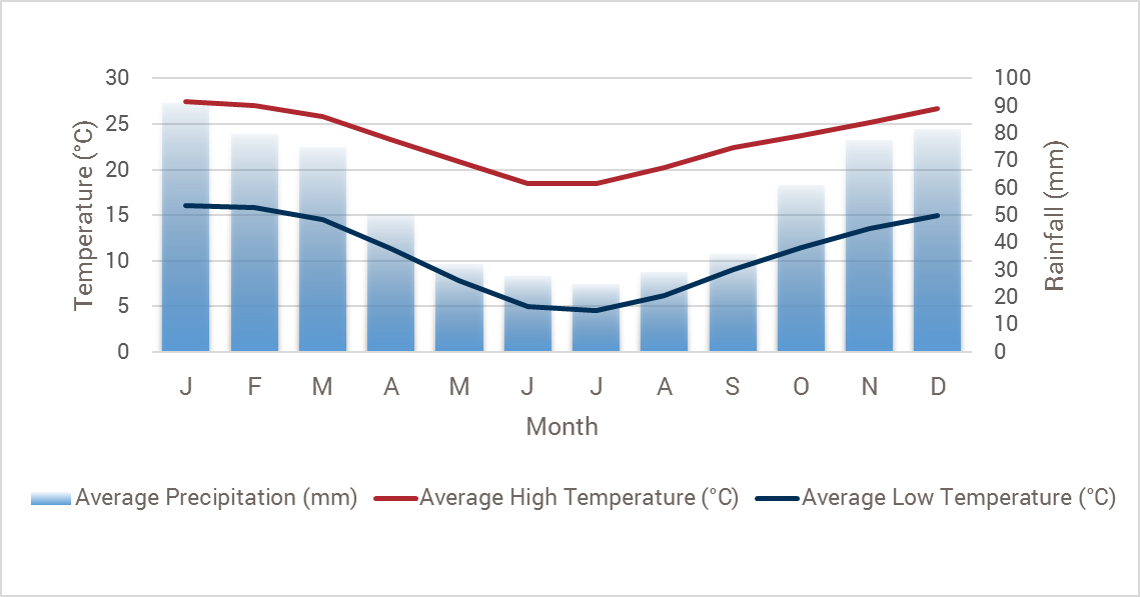 MAP OF SOUTH AFRICA
WHAT TO PACK FOR SOUTH AFRICA
Lightweight summer clothing in cottons or blends is ideal for most of the year in South Africa. In winter a jumper, fleece or jacket is also needed, especially in the mornings and evenings. Try to wear light, neutral colours like brown, beige or khaki that help to deflect the harsh sun and blend in with the background. For the evenings long-sleeved shirts and trousers are recommended to reduce the chances of mosquito bites. Avoid wearing dark/navy blue as it attracts tsetse fly.
For the most part, African safari destinations are tropical and warm in the daytime, although parts of South Africa can be extremely cold on winter game drives during the mornings and evenings. Days on safari are generally hot and you will most likely find yourself wearing shorts and a T-shirt. Should you be particularly sensitive to the sun, a loose cotton shirt is essential during the day, as is a good sunscreen. For the cooler winter mornings always remember that layering your clothing helps keep you warm and is a convenient way to ensure you are wearing what you need as the day heats up. The temperature in South Africa tends to be cooler in winter (from July to August), while summer can be hot and humid with rain.
For safari, it is best to pack hardy, durable clothing. Remember that many lodges offer a laundry service (often included in the price) so you should only need two or three changes of clothing per three or four-night safari. For footwear, we recommend sturdy walking shoes/trainers that are completely enclosed.
Toiletries such as soap, shampoo and even insect repellent are offered at all good lodges and hotels so there is no need to over-pack on these items. We recommend taking some basic medical supplies including Anthisan, Imodium, insect repellent, plasters and sun cream.
Please be aware that Africans will not wash ladies' underwear and instead provide soap powder in the room for your own use.
On safari one soft-sided bag and one smaller piece of hand luggage per person is allowed. Scheduled safari flights with carriers such as Federal Air all have a restriction. Travellers may be made to pay for an extra seat on a charter flight if their hold luggage is heavier than 20kg. There can be no exceptions, unless extra seats are booked in advance. Some small hand luggage weighing up to 5kg is also generally accepted.
MEDICATIONS & VACCINATIONS FOR SOUTH AFRICA
Although medical care in South Africa is generally good, essential medications and supplies are sometimes unavailable, especially in more remote areas. Make sure you take any medications you require with you in their original containers, clearly labelled and a signed, dated letter from your doctor describing all medical conditions. For further information on health risks or preparations to make ahead of your trip we recommend you visit the
Fit For Travel website
, a good NHS source of travel information, along with
The Center for Disease Control and Prevention.

TIPPING IN SOUTH AFRICA
Tipping is an integral part of South African life but is entirely optional and only recommended if you are satisfied with the service you have received. On safari: You will always have a professional safari guide and sometimes a tracker as well on your safari vehicle. For your guide, look at around $20 per person per day ($50 for a family), and $10 per person per day for the tracker. Some lodges will have a staff gratuity box in which you can leave any tips for general staff. Suggested is $20 total per day for all the staff.
GET CONNECTED
ELECTRICAL SUPPLY
South Africa uses 230 V 50 Hz for its domestic supply and a three round pin plug. This consists of 2 circular metal pins with a large circular grounding pin.




MOBILE / INTERNET CONNECTIVITY
Generally speaking, mobile phone coverage throughout South Africa is very good. A number of cell-phone companies provide national coverage and there are well-established landline phone networks. Internet and WiFi are easily accessible in most urban areas and the majority of hotels and even safari lodges. Always check what charges will be made before using, but in most cases WiFi will be complimentary.
RECOMMENDED READING
Twentieth-Century South Africa by William Beinart - A succinct and authoritative account
Cry, The Beloved Country by Alan Paton
Time and Time Again by Dan Jacobson - The early life of a South African-born novelist
I Write What I Like by Steve Biko - A selection of writings
Long Walk To Freedom by Nelson Mandela
South Africa by Anthony Trollope - Set during the discovery of diamonds