This country of heroic landscapes and bewitching coastlines won't fail to stir the soul, excite the imagination and inspire adventure. Explore a glacier, go whale watching, sail to hidden beaches, discover Lord of the Rings locations, enjoy Maori culture ‒ and relax with a glass of wine at a boutique vineyard.
SAIL AROUND THE BAY OF ISLANDS
Combine adventure and style on a catamaran exploring the glorious Bay of Islands. Aboard a 54ft vessel, you'll sail in comfort, with the luxury of lots of space both on and below deck. The Bay of Islands is one of the North Island's most breathtaking areas, and you'll take in eye-stretching views across the South Pacific as you glide along, stopping here and there to explore abundantly green, uninhabited islands. Take the boat's inflatable dinghy ashore, stroll along isolated sandy beaches, enjoy bush walks and clifftop views, and then swim and snorkel from easily accessible platforms. As you cross the pristine waters you may well pass pods of dolphins. Look out, too, for little blue penguins bobbing around in the waves and Australian gannets diving for fish. On the deserted shores, pied oystercatchers are a common sight, and you may see rare New Zealand dotterels, which nest on sandbars.
ENJOY WINE TASTING ON WAIHEKE ISLAND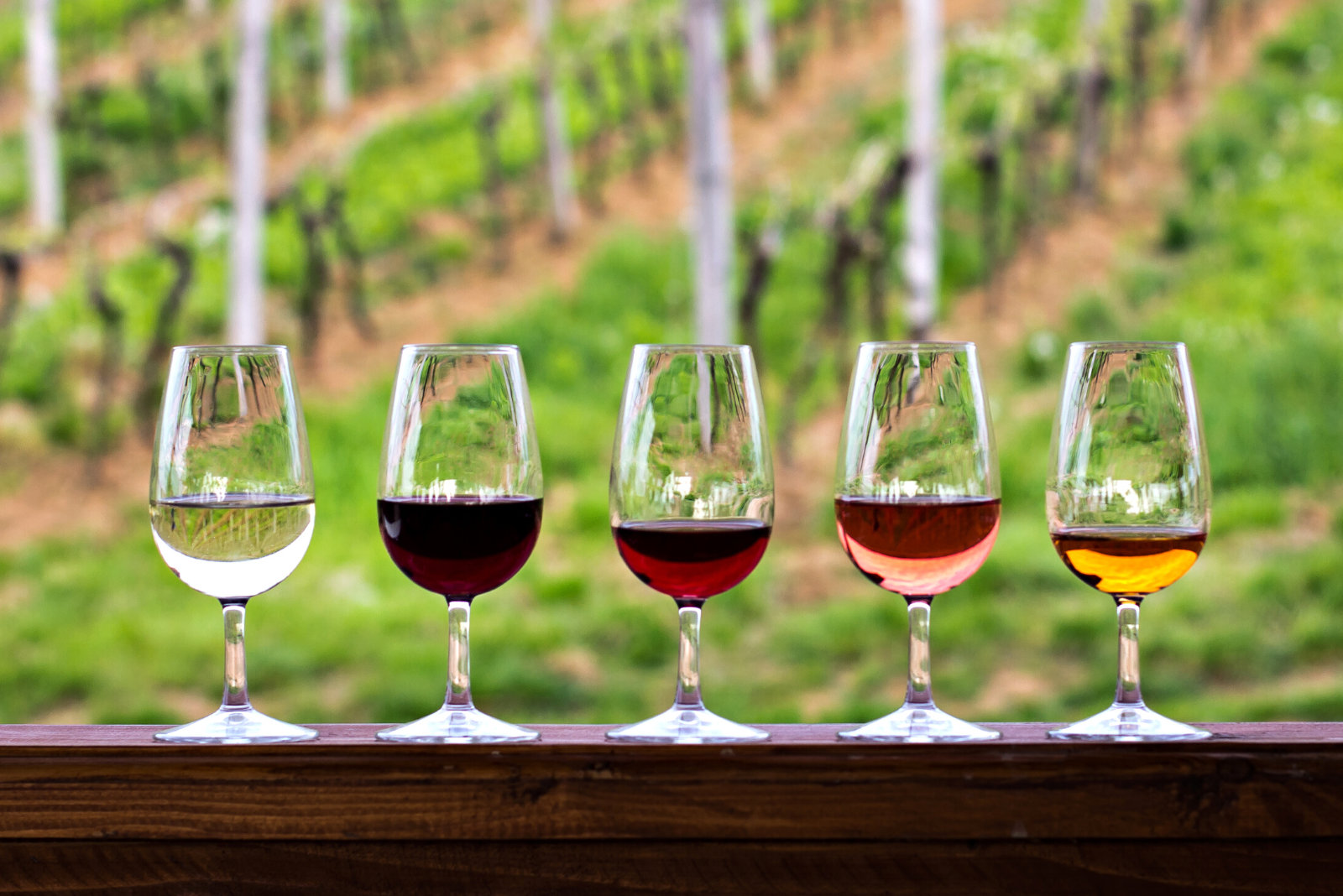 A 40-minute ferry ride from Auckland, Waiheke Island is a marvellously epicurean destination. It glories in a subtropical climate, and this, together with its mineralised soil and sheltered position in the Hauraki Gulf, makes the island an exceptional area for wine production. There are about 30 boutique wineries dotted across its 12-mile length, many of which welcome the public. Must-visit producers include Mudbrick in the west, offering tastings with the cellar masters and self-guided tours of the vineyards; Cable Bay, a mile or so further north, with daily tastings from 11 am; and Batch further east, with a number of wine experiences. All three have restaurants, and spectacular views, so take your pick for a panoramic lunch, or head to another such gourmet producer nearby.
EXPLORE ROTORUA'S VOLCANIC LANDSCAPE
With bubbling mud and clouds of vapour, Rotorua and its surroundings in the heart of the North Island present remarkable natural sights. Nowhere more so than Wai-O-Tapu, a geothermal park about a 20-minute drive south of the town. On a private guided tour of the complex, you'll be shown amazingly coloured sulphurous ponds, a huge mud pool, an enormous crater and more – with accompanying explanations about the underlying geothermal system that extends over 11 square miles. Perhaps best of all is Lady Knox Geyser (curiously named after Lady Constance Knox, daughter of New Zealand's 15th governor): it erupts daily, and punctually, at 10.15 am having been induced, with organic soap fed into its vent. The resulting jets of water can reach a height of 20 metres.
VISIT LORD OF THE RINGS SETS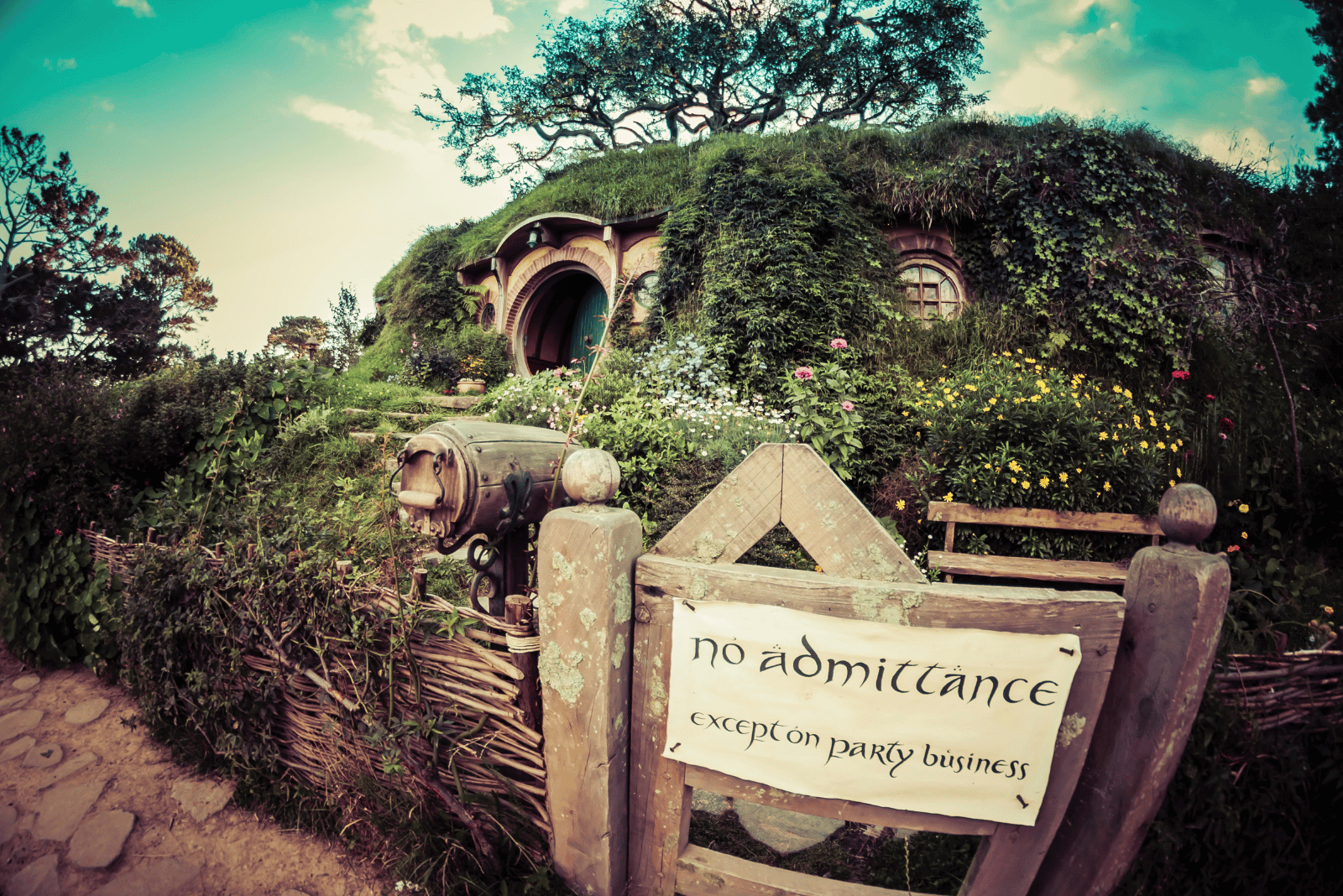 New Zealand's spectacular landscapes are unbilled stars in the Hobbit and the Lord of the Rings film series, with areas of majestic mountains, rivers and forests standing in for locations in Middle-earth. Head to North Island's Tongariro National Park for some of the most seminal scenery: this rugged area depicted the volcanic plain of Mordor, with Mount Ngauruhoe a worthy surrogate for Mount Doom. On the South Island, remote Mount Sunday stands over the vast Rangitata valley and became the atmospheric setting for Edoras, the main town of the Rohan people. On a lush farm near Matamata in the North Island's Waikato region, you can explore the film set for Hobbiton, complete with the home of Bilbo and Frodo. Perhaps best of all, head to Wellington, not only to see Hobbiton Woods – in real life a wood on Mount Victoria – but to enjoy a tour of Weta Workshop where the films were put together, and a visit to Weta Cave for photo opportunities with Gollum, Lurtz and others.
TAKE A GLACIER HELI-HIKE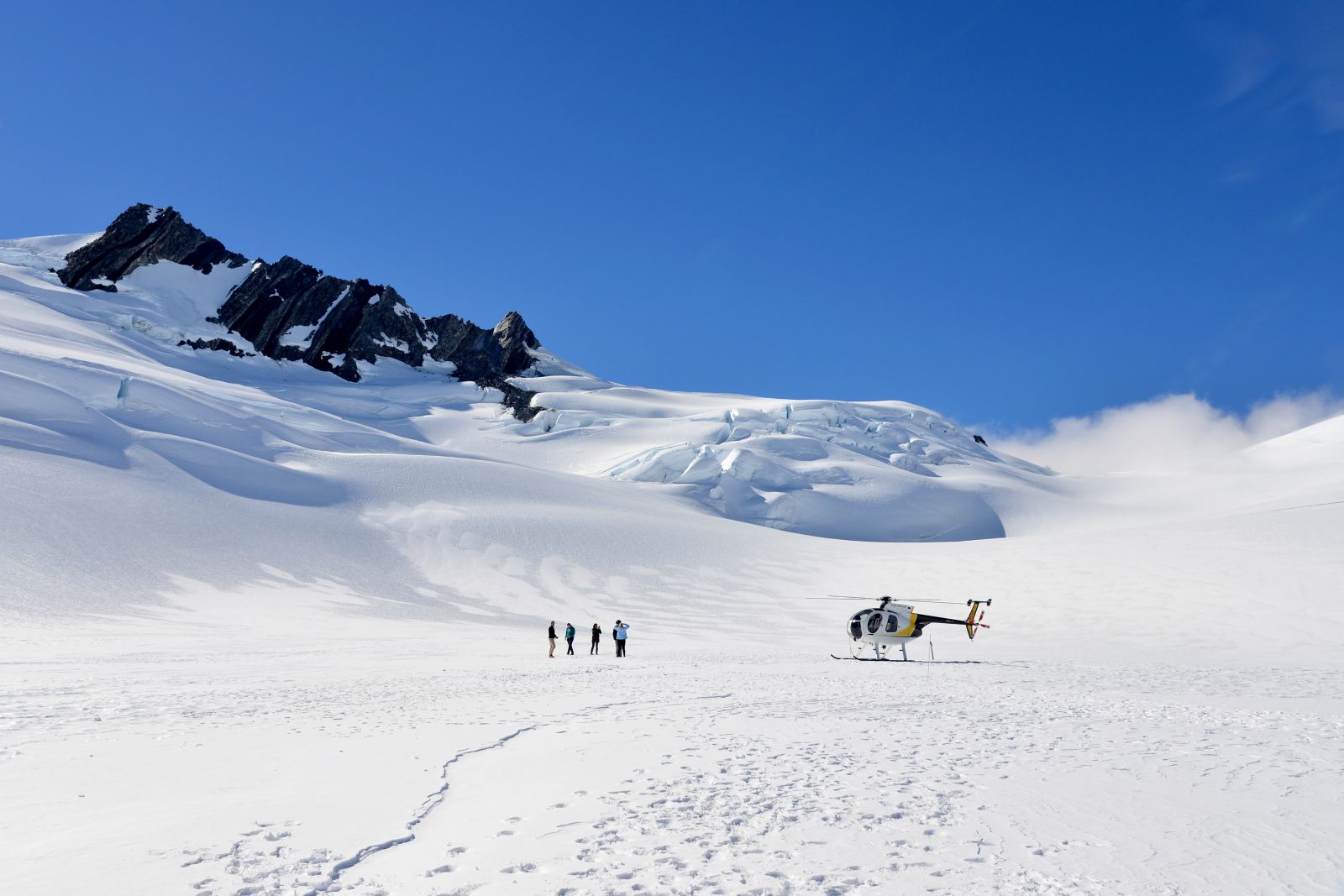 For a supreme New Zealand adventure, combine an exhilarating helicopter ride with a hike on one of the country's most dramatic glaciers. Franz Josef Glacier descends about eight miles from the Southern Alps in the South Island's Westland Tai Poutini National Park. A panoramic helicopter journey will take you to a high landing on the main ice fall where you'll prepare for an amazing walk. Wearing crampons and glacier boots you'll be taken to extraordinary ice caves and staggering ice towers in the company of an expert from a team that has been exploring this frozen region since 1990. The hike will take around an hour and a half, after which you will fly back to base.
GO FLY FISHING AT LAKE TAUPO
One of the great joys of fly fishing is that you need, in effect, to become part of the landscape in order to make a catch. So imagine standing by clear waters, rod in hand, with forests, volcanoes and mountains forming a stupendous backdrop. Set on the North Island Volcanic Plateau, Lake Taupo and its many tributaries have been an angler's paradise since trout were introduced in the late 1800s. A scenic 4X4 ride will take you to a premium fly-fishing valley where miles of pristine river will be your beat, without another angler in sight. You'll be in the company of a local guide who will help you spot and, with luck, catch brown and rainbow trout. The experience is as suitable for novices as it is for seasoned fishers – you'll learn new skills or hone existing ones in the most serene of environments.
SEE MILFORD SOUND IN STYLE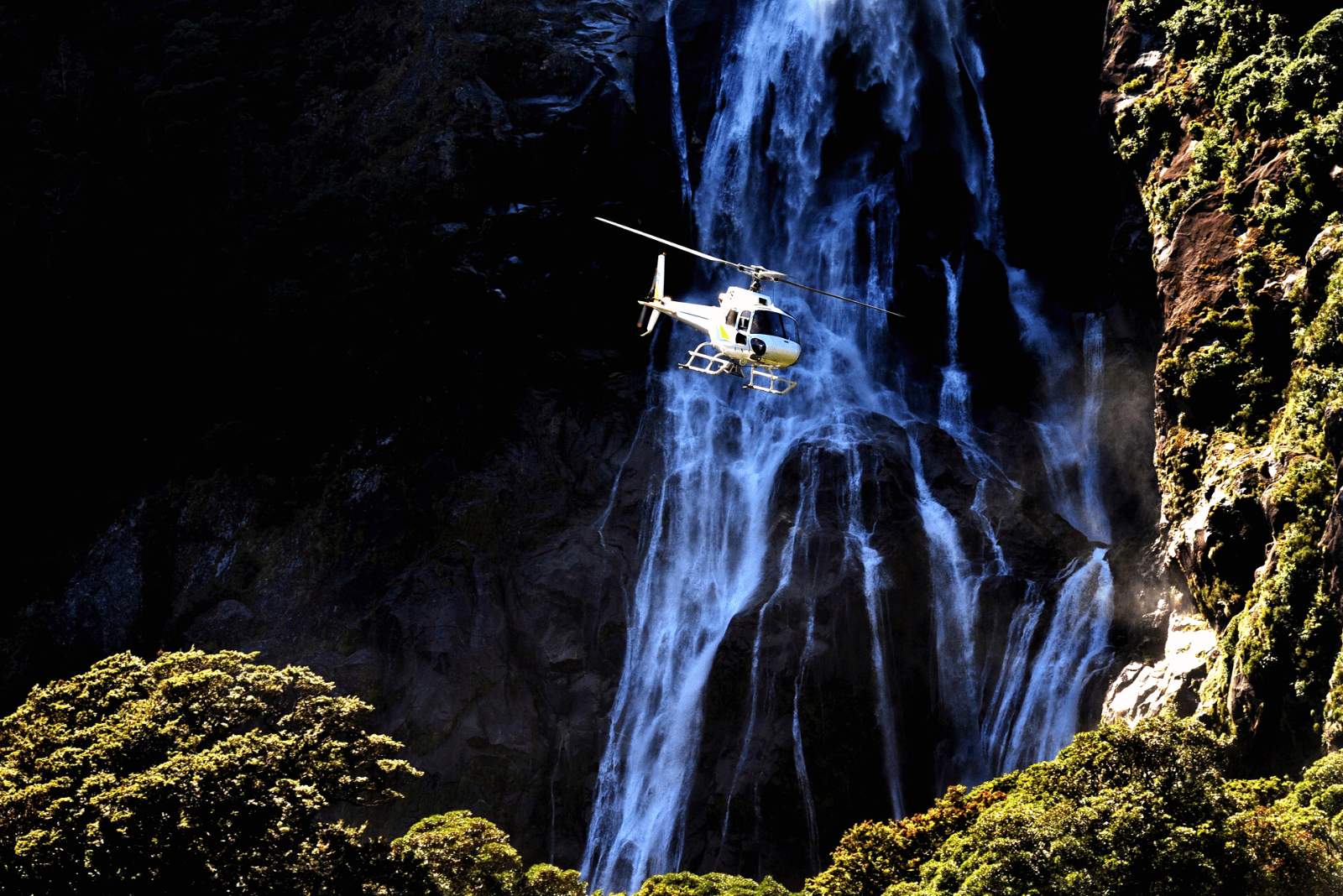 Juxtapose wondrous views over the South Island's Fiordland with a cruise through some of the country's most famously beautiful waters – ethereal Milford Sound is often deemed the eighth wonder of the world. Taking to the skies in a light aircraft is one of the best ways to appreciate the vast wilderness that is Fiordland: on a 35-minute flight to Milford Sound you'll be rewarded with outstanding views over glaciers, rivers, lakes and rainforest. On landing, you'll head to the Southern Discoveries visitor centre to board a boat and then sail the full length of this amazing 10-mile fjord, lined by towering mountains. You may well see seals and dolphins - penguins, too, from January to March, and July to November. Knowledgeable commentary enhances the experience and the wheelhouse is often open if you want to talk to the skipper.
GO WHALE WATCHING OFF THE SOUTH ISLAND
Hands down, the best place to encounter cetaceans in New Zealand is in the waters around the scenic little town of Kaikoura on the South Island's east coast. This is one of the only places in the world where you can easily see sperm whales – year-round, too. The underwater landscape near Kaikoura is particularly favourable to whales because it features a continental shelf that drops into a number of very deep undersea canyons. On this two-and-a-half-hour wildlife experience you will very probably see sperm whales and possibly fast-moving orcas (December to March) and humpbacks (June and July), plus a host of other marine creatures, including resident fur seals and resident dusky dolphins – which may well leap, flip and playfully chase the boat. In addition, look out for tiny hector dolphins and offshore birds, from petrels to great albatrosses.
SAIL AND KAYAK IN ABEL TASMAN NATIONAL PARK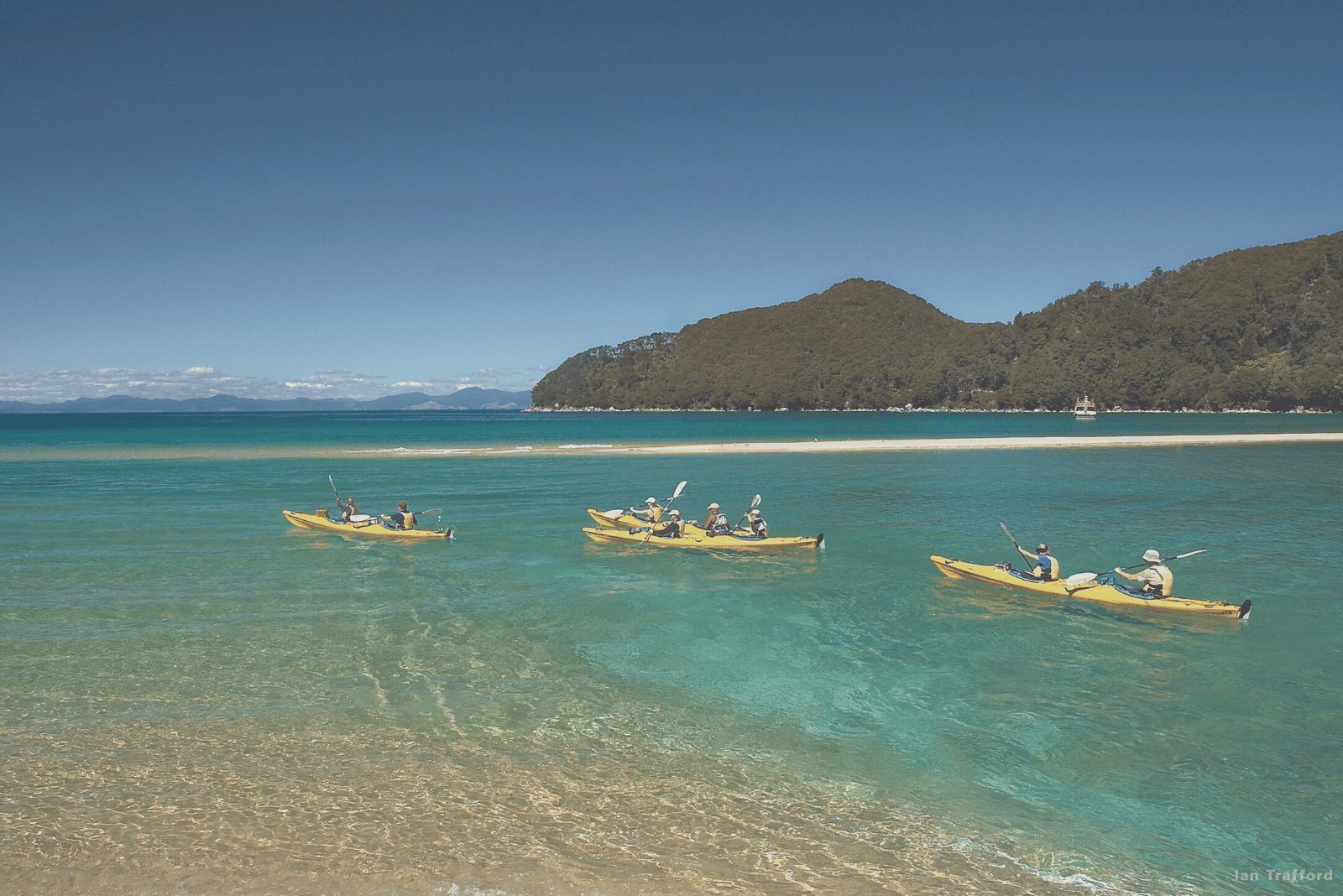 New Zealand's smallest national park is an area of extraordinary beauty, with turquoise bays, lush forests and abundant birds – kaka parrots and mellifluous bellbirds among them. Easily accessible at the north end of the South Island, it is a haven for gentle adventure. Here you will uncover some of the country's most breathtaking coastline by boat, where native bush fringes golden shores and calm waters are a playground for frisky dolphins. There are kayaks carried on board, so you can opt to paddle along some stretches. Your skipper will take you to scenic spots and deserted beaches, and point out fur seal colonies. You'll stop in a secluded cove for a delicious lunch, and afterwards perhaps make use of the snorkelling gear to explore underwater.
VISIT THE HISTORIC WAITANGI TREATY GROUNDS
Often referred to as 'the birthplace of the nation', Waitangi in the Bay of Islands is one of the country's most seminal sites. In 1840 New Zealand's founding document was signed here: an agreement between the British Crown and more than 500 Maori chiefs. The grounds where this took place now offer a wealth of absorbing attractions that celebrate Maori culture and explore the nation's early history ‒ many Māori settlements later played important roles in the development of New Zealand, such as Kororareka (or Russell), Kerikeri and Waitangi. On a guided tour you'll see magnificent Maori war canoes, take in two contemporary museums, visit a Maori carving studio, and attend a kapa haka performance of Maori chants and dance in a fabulously carved meeting house. The setting is superb: you'll be able to stroll through gardens and along woodland paths and enjoy spectacular views over one of the country's most breathtaking bays.
WALK THE QUEEN CHARLOTTE TRACK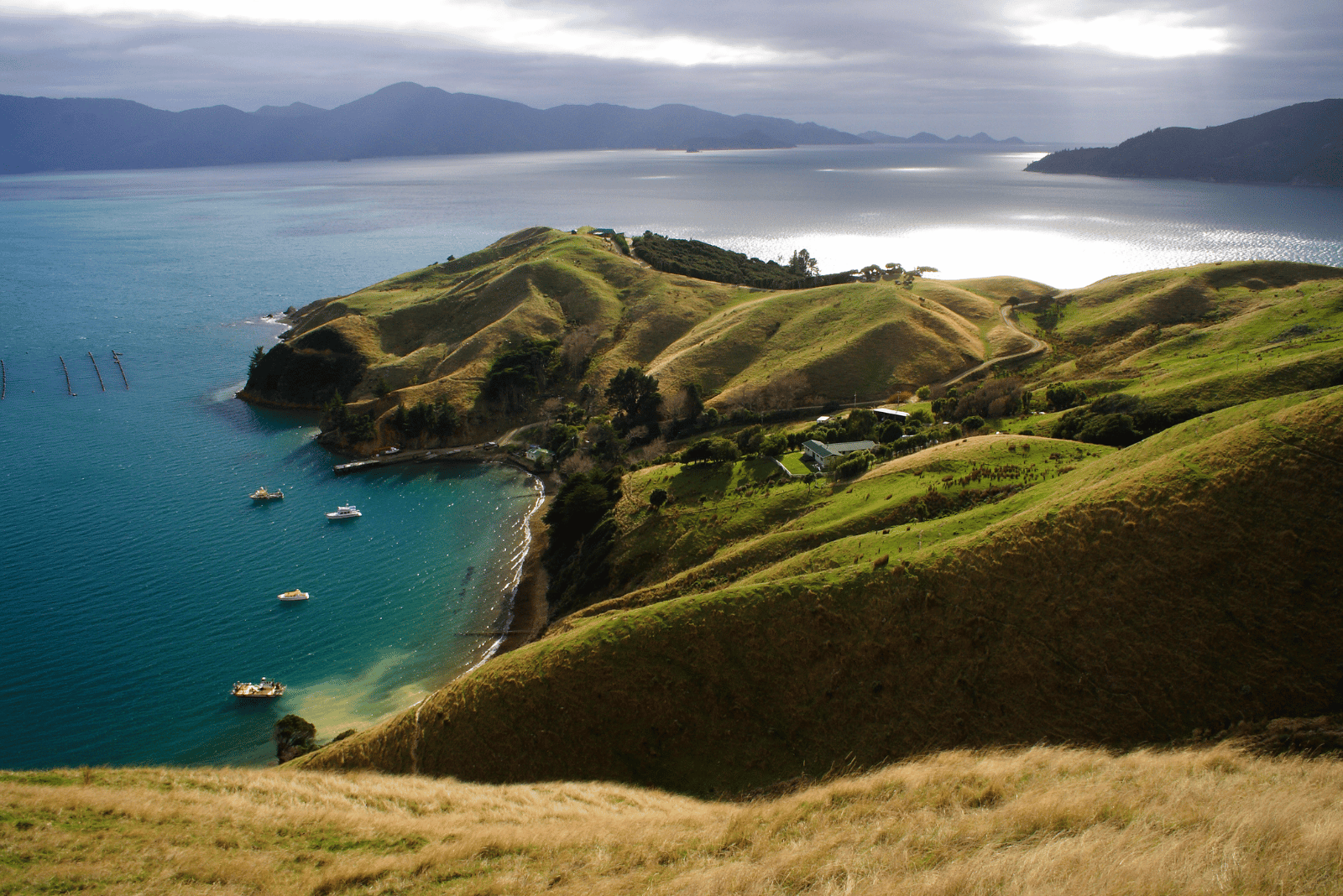 Bush-clad hills dip down to sandy bays, deserted headlands nudge into shimmering waters, calm inlets provide havens for seals and penguins – the Marlborough Sounds just might present the very best of New Zealand. At the northeastern tip of the South Island, this network of sea-drowned valleys is bordered by terrific walking country. The most glorious of the trails is the 44-mile Queen Charlotte Track, with far-reaching views from dramatic ridgelines and native forest gently resounding with birdsong. As you walk sections of this route with an expert guide, you will glean local insight and learn about the area's Maori and European history. Along the way stop at the charming cafes of Kenepuru Sound and Lochmara Bay. The strikingly varied terrain can be challenging, so a good level of fitness is required – for which our specialists can advise.