Surrounded by the Pacific Ocean and the Tasman Sea New Zealand is one of the world's most remote countries. This island nation showcases epic landscapes with towering peaks, glaciers and thundering waterfalls. There are geothermal spectacles, too, as well as serene lakes, beaches, waterside towns and cities, exceptional vineyards and a rich seam of Maori art and history. The best time to visit is in the Southern Hemisphere summer, between December and March.
NORTH ISLAND
From urban sophistication to bubbling volcanic terrain, the North Island packs in extraordinary variety. Visit scenic wine towns, enjoy the nation's two most cosmopolitan cities, explore idyllic islands, marvel at spouting geysers, learn about Maori culture and more.
AUCKLAND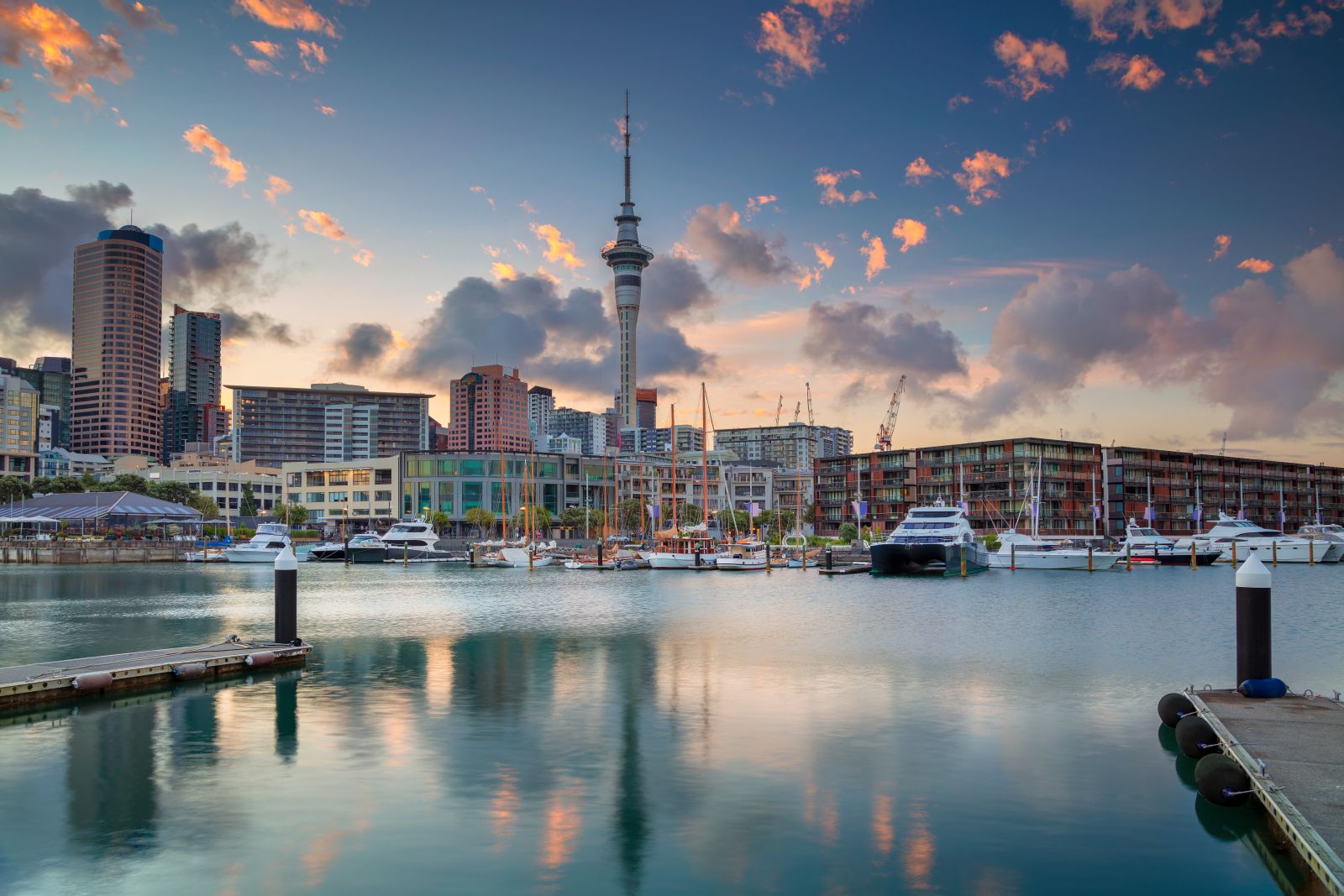 Natural beauty and urban charm make a striking combination in Auckland. This multicultural metropolis of arts, music and acclaimed restaurants is spread around two harbours that fringe an isthmus punctuated by green volcanic peaks. Its sweeping coastline is dotted with sandy beaches. Auckland was originally a Māori settlement colourfully called Tamaki Makau Rau, meaning isthmus of a thousand lovers. In 1840 it became the capital of newly colonised New Zealand - a status held until 1865. Get your bearings with a visit to SkyTower, the tallest structure in the Southern Hemisphere. Take in the poignant War Memorial Museum and the Wintergardens with spectacular rare plants. Explore Viaduct Harbour with its waterside walkways and gleaming yachts. Meander Auckland's markets ‒ Parnell, Long Bay, Catalina Bay among others.
WELLINGTON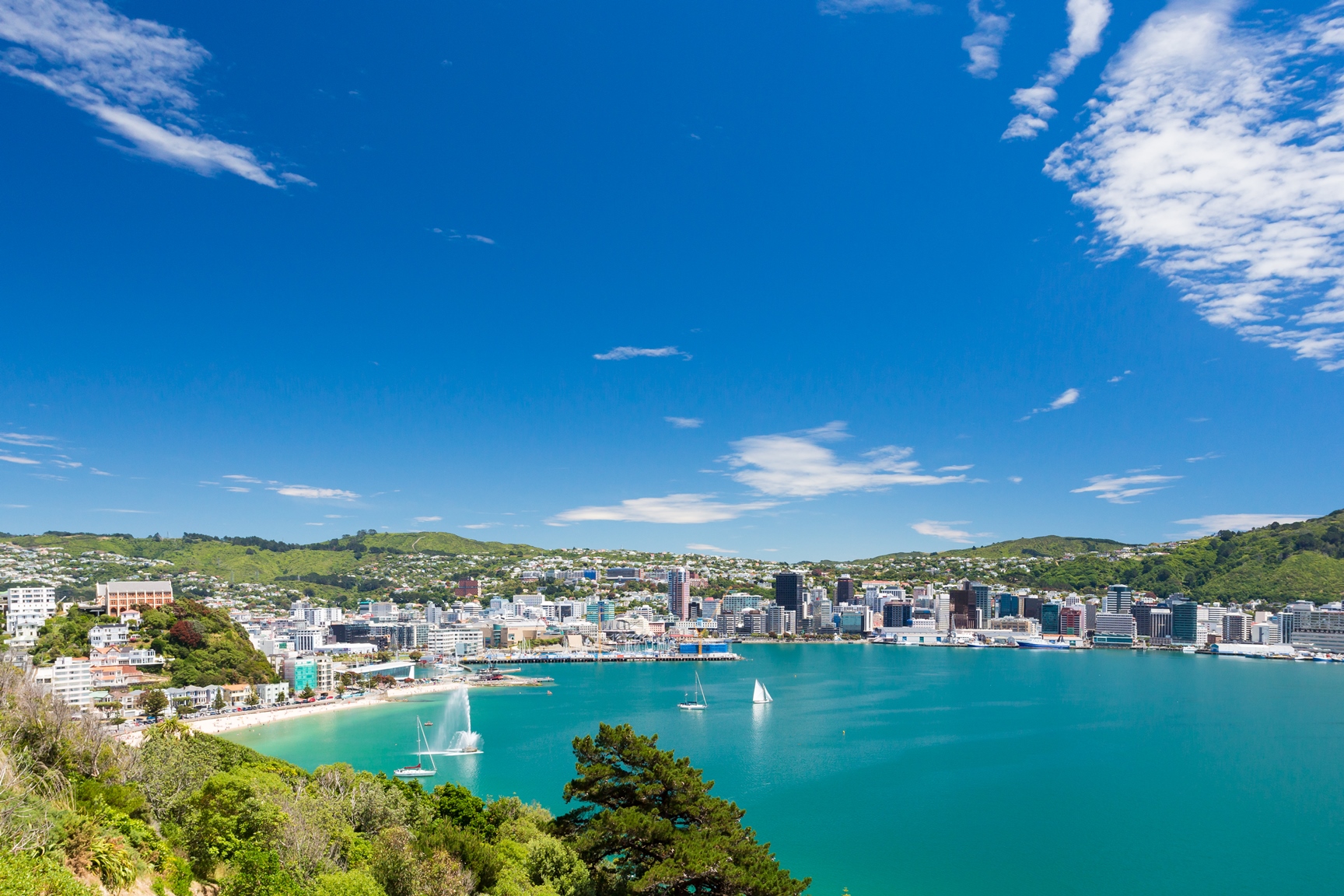 With its café culture, green hills, waterfront promenades and Victorian timber architecture, New Zealand's small capital has big appeal. Located near the North Island's southernmost point, Wellington is renowned for its award-winning restaurants and its creative energy. Much loved by locals it has various nicknames including Windy Welly, alluding to the high winds that can blow here, and Wellywood, reflecting its role as the production base for the Lord of the Rings films. Visit its lively harbour, enjoy its sandy beaches, take in its funky boutiques, and for panoramic views ride its cable car from Lambton Quay shopping area to the glorious botanic garden. Wellington is also one of the country's important transport hubs; from here you can hop on a ferry to Picton on the South Island.
HAWKE'S BAY
A utopian region of sun-drenched hills, big skies and golden beaches, Hawke's Bay is draped across a sheltered part of the North Island's east coast. It is a favourite destination for New Zealanders partly because it is beautiful, and partly because it is a top wine-producing area. It is most acclaimed for full-bodied reds and complex Chardonnays, but it delivers other epicurean delights, too, not least craft beers and excellent fresh produce ‒ for a fine flavour of which head to one of the weekend farmers' markets at Hastings, Havelock North and Napier. There's plenty to do beyond eating and drinking: climb Te Mata Peak for natural drama; tee off at Cape Kidnappers on one of the world's finest golf courses; and enjoy an evening in Hastings at its much-acclaimed Opera House.
NAPIER
Hawke's Bay's astonishing town of Napier is an Art Deco gem. In 1931 an earthquake reduced much of the town to rubble; subsequent rebuilding took place in the latest, innovative style. Today Napier's Art Deco streets remain so well-preserved parts of the town look like a 1930s film set. Wander the business district to see the most famous buildings, especially the old Daily Telegraph office and the Municipal Theatre. There are natural wonders to enjoy, too. Napier is home to the National Aquarium of New Zealand which showcases species such as sharks and stingrays in a 1.5 million-litre tunnel, and also breeds endangered kiwis and tuatara reptiles. In the evening join locals taking in the sunset from Marine Parade, then head to the Ahuriri district whose waterfront hums with bars and restaurants.
MARTINBOROUGH
Pinot Noir is the star attraction of this wine town, with its colonial-style architecture - complete with neat balconies and verandas - coming a good second. About an hour's drive from Wellington, Martinborough lies beneath the Tararua mountains, close to the southern tip of the North Island. The warm, dry summers on the plains here are ideal for grape growing, and with about 30 vineyards nearby, the town is the centre of some of the country's most acclaimed wine production. No doubt that's a far cry from the original settlement founded by Irish immigrant John Martin in 1879. Today there are plenty of scenic walking and cycling routes to enjoy from Martinborough but, of course, visitors principally come for wine tastings with some of the many producers open to the public.
ROTORUA
From spouting geysers to thermal hot pools and bubbling mud, Rotorua and its surrounds are a spectacular geothermal wonderworld – locals say even the roadsides often emit steam, pleasing some and startling others. Set in the northeastern part of the North Island's Volcanic Plateau, this dramatic area is packed with distinctive landscapes and possibilities for adventure. Art, too: Rotorua is rich in Maori culture and is home to the Maori Arts and Crafts Institute where traditional wood carving and weaving take place. A visit to the living Maori village of Whakarewarewa is very worthwhile for those interested in indigenous culture, perhaps combined with the remarkable Pohutu Geyser in the Whakarewarewa Valley: it erupts frequently every day, sometimes with blasts of hot water 30m high.
BAY OF ISLANDS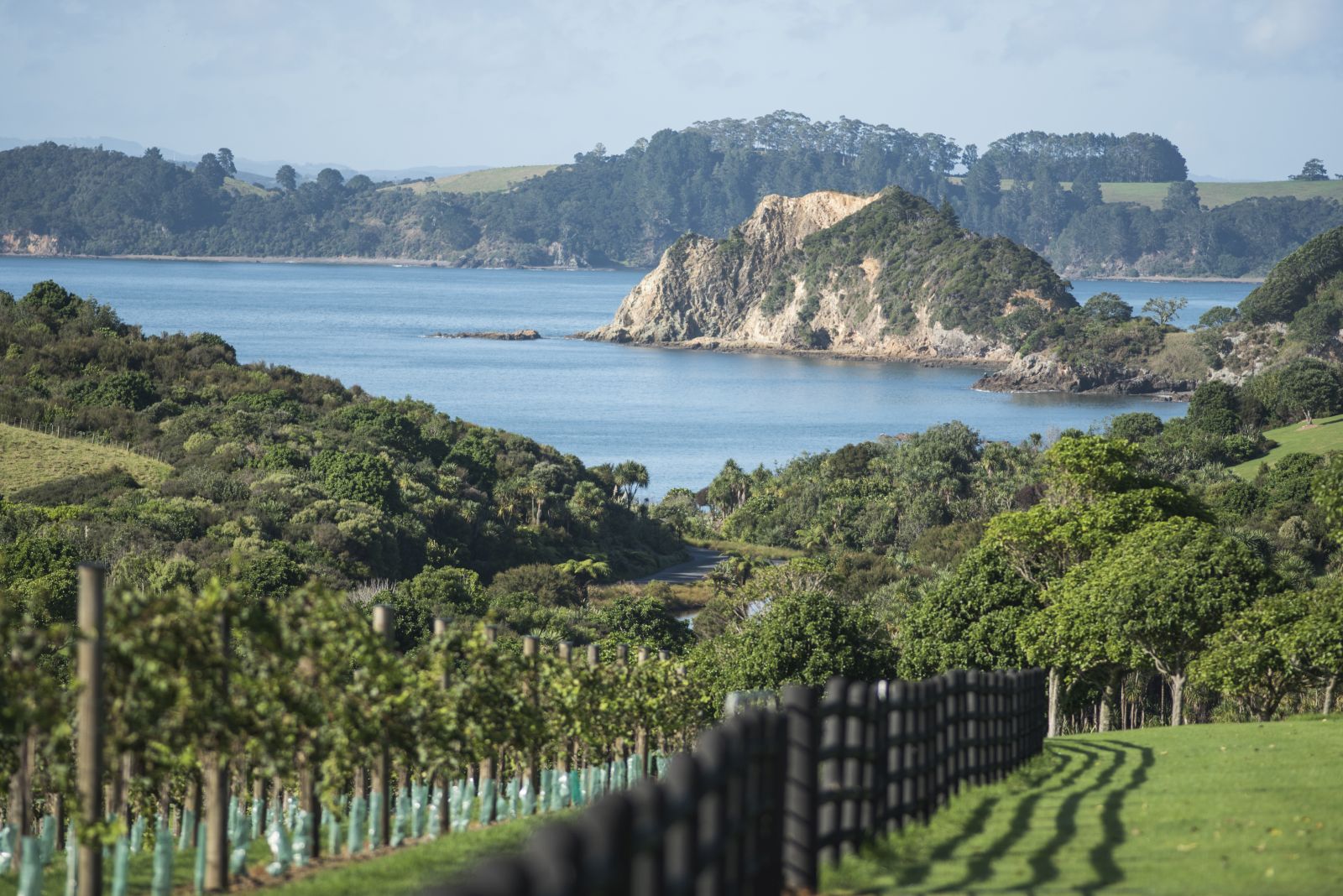 From dolphins arching out of clear waters to sharp white yachts anchoring by shores of golden sand, the Bay of Islands is a kaleidoscope of heart-stirring scenes. On the east coast near the top of New Zealand, this 10-mile-wide inlet embraces some 140 islands. It is renowned for its microclimate (allowing vineyards to thrive), its undeveloped beaches, and its big-game fishing (marlin especially). The Bay of Islands is where the first Maoris arrived in New Zealand, and the area remains the homeland of the Ngāpuhi people. The region's colonial history is also in evidence, particularly at Russell; today the waterfront of this former whaling port is still lined with historic buildings, only now they house cafes and restaurants. On the other side of the bay, some of New Zealand's finest villa accommodation sits amid vineyards. The Landing has four luxurious residences including The Boathouse on the water's edge and the sumptuous Vineyard Villa.
WAIHEKE ISLAND
White-sand shores curve around hidden coves, vineyards stretch almost down to the sea, kayakers paddle through dazzling blue waters: Waiheke Island is, in short, idyllic. A 40-minute ferry ride from Auckland, this 12-mile-long haven is a favourite escape for local urbanites and they've brought a foodie culture with them. The island also boasts a host of outdoor activities, from mountain biking to sailing, surfing and high-adrenaline zip-lining. Visit one of the many wineries – several have cafes or restaurants featuring excellent regional cuisine too. Head to Oneroa, the island's biggest village, to browse boutique art galleries. Buy freshly caught shrimps and crab to enjoy as a picnic on a serene, deserted beach.
SOUTH ISLAND
The Southern Alps form the backbone of this majestic island, whose ten national parks contain vast treasured wilderness areas. Its appealing towns are gateways to adventure, from walking in spectacular mountains, to whale watching, kayaking and driving along its dramatic West Coast.
QUEENSTOWN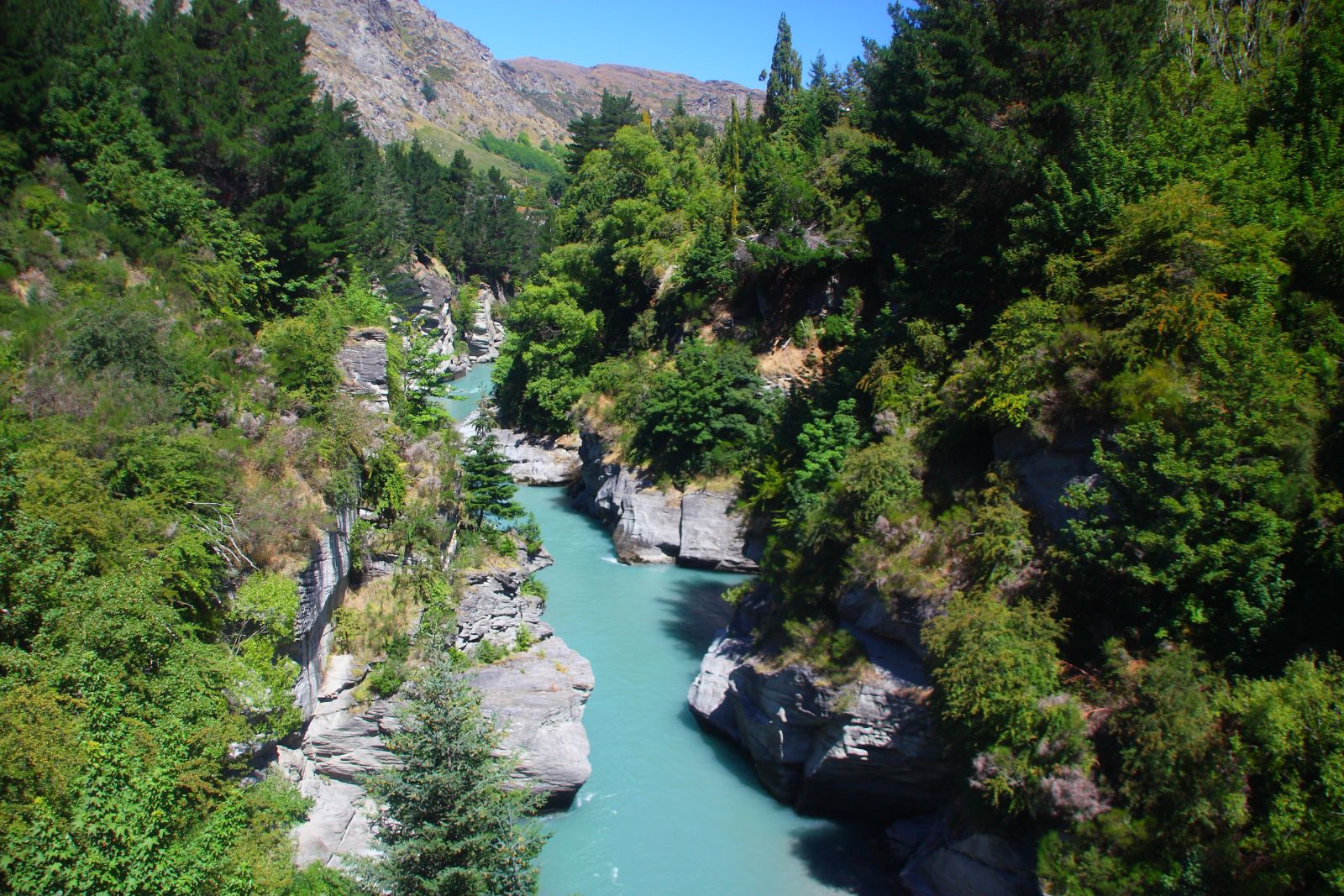 Mountains are offset by water to majestic effect around Queenstown. Known as the adventure capital of New Zealand, this compact town on Lake Wakatipu is a wonderful base for outdoor activities, from skiing and cycling to adrenalin-charged bungee jumping and canyon swinging. Ride the Skyline gondola up Bob's Peak and descend by the thrilling Queenstown Luge – effectively a downhill go-kart track. Enjoy a challenging six-hour trek to Ben Lomond Summit and back. Take an early morning walk through pine forest to see sunrise from Queenstown Hill. Enjoy the good life, too: Queenstown is not short of excellent restaurants – head to Rata for a Michelin-starred treat. For romance and luxury stay at super-chic, lakeside Eichardt's Private Hotel.
CHRISTCHURCH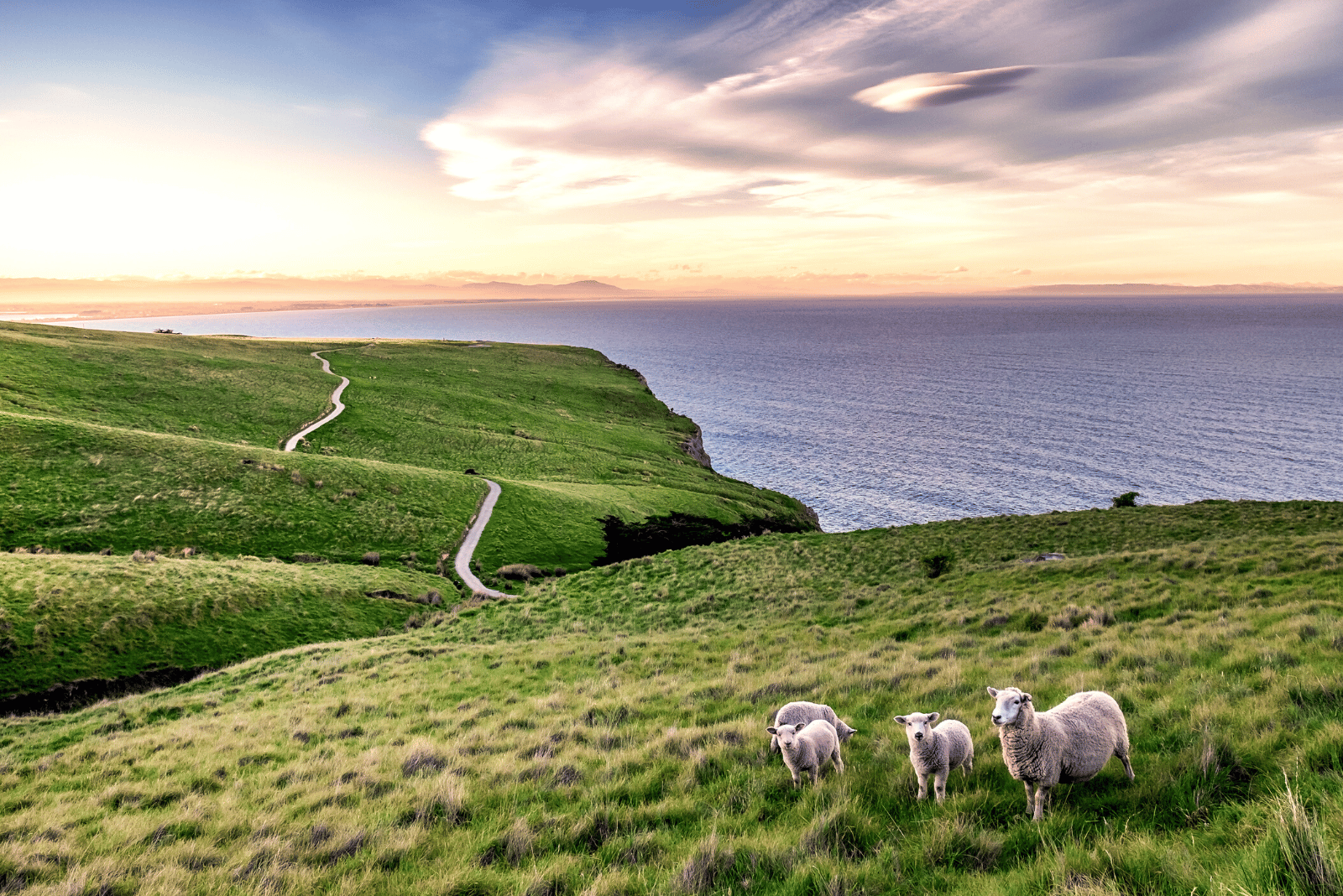 Cutting-edge architecture counterpoints some of the country's oldest buildings in this city of innovation and energy. When earthquakes destroyed much of the centre in 2010 and 2011 the resulting regeneration was inspirational, breathing life into a striking street art scene and vibrant cafes. Yet take in Christchurch's traditional character, too: punt along the River Avon and amble through the 1863 botanic garden. A popular entry point to the South Island, Christchurch is surrounded by some of the most appealing countryside of the Canterbury region, with picturesque towns and outdoor adventures within easy reach. Head about an hour and half's drive north to soak in thermal waters at Hamner Springs.
ARTHUR'S PASS
High in the Southern Alps, the village of Arthur's Pass is the gateway to some of the country's most beautiful landscape for walking and climbing. Its visitor centre is very much the go-to for checking weather conditions before setting out into the surrounding expanse of Arthur's Pass National Park, whose terrain varies from dense rainforest to mighty peaks. Numerous trails include the four-mile Arthur's Pass Walking Track, and a spectacular short route to the Devil's Punchbowl waterfall. On the way to or from the village stop at Kura Tawhiti conservation area to see weird and wonderful limestone rock formations and walk between colossal boulders.
KAIKOURA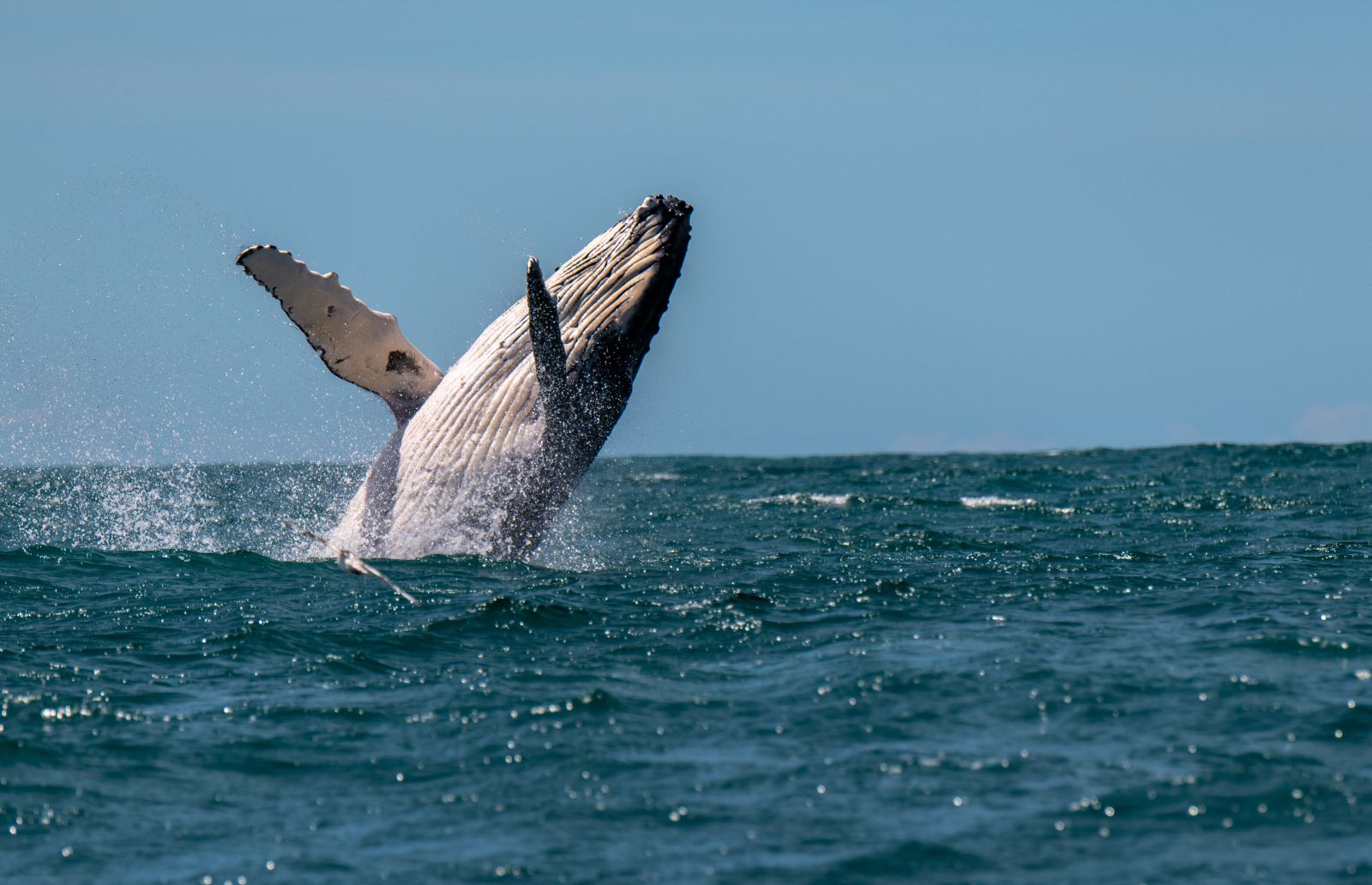 Locals maintain that when you head out on a boat from Kaikoura you have a 95 per cent chance of seeing a sperm whale – perhaps getting an iconic shot of a massive caudal fin disappearing into the sea as the cetacean makes a deep dive. Less than a three-hour drive from Christchurch, this laid-back town sits beneath the snow-capped Seaward Kaikoura range and is renowned for its sea life – fur seals and dolphins quite apart from whales. You may well see seals from the land if you follow the Kaikoura Peninsula Walkway – and you will do at the Ohau Point Colony just out of town. Kaikoura itself is an appealing base, with an easy-going surfing vibe thanks to the Pacific waves that roll in.
MOUNT COOK
With cloud-piercing peaks and at least 70 glaciers (one some six miles long), the Mount Cook National Park presents some of New Zealand's most wondrous landscape. It holds deep significance for the Ngāi Tahu people, for whom the mountains represent sacred ancestors. This dramatic region is surprisingly easy to reach, with Mount Cook village a good base for walking and climbing. To the north of the park is eponymous Mount Cook, or Aoraki, which at 3,724m high is the country's tallest mountain. It is named after cartographer and explorer Captain James Cook.
FJORDLAND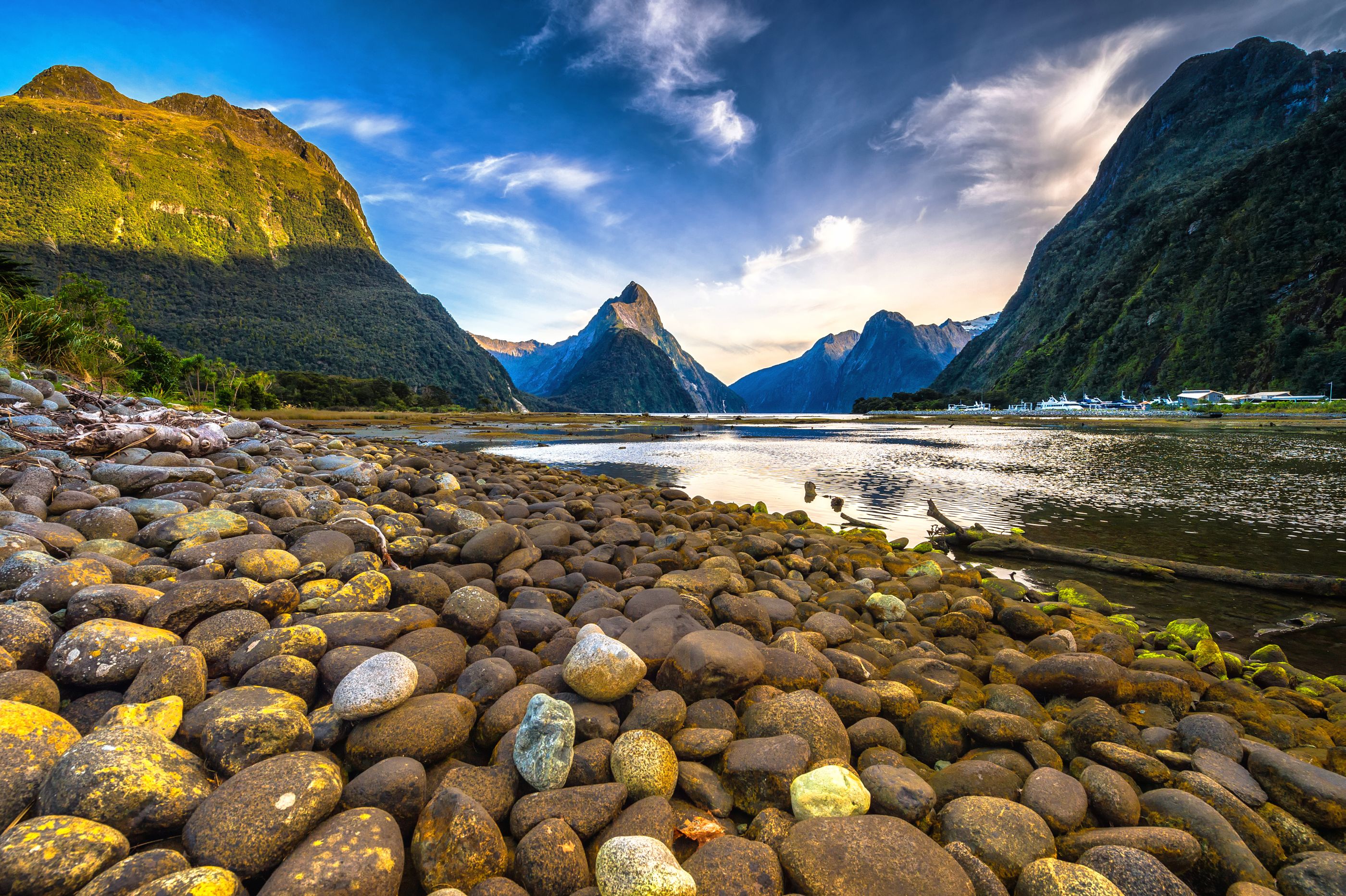 The glacier-carved wilderness of Fiordland is a UNESCO-listed site of snow-capped mountains, ancient rainforest and waterfalls forever plunging into long, deep fjords. Encompassing about 4,600 square miles of the southwestern corner of the South Island, Fiordland National Park contains some of New Zealand's most popular and exciting natural sights including Mitre Peak, Milford Sound and Doubtful Sound. It is also home to the picture-perfect towns of Te Anau and Manapouri. Walk parts of the Kepler Track (the entire loop takes three or four days). Visit Milford Sound's underwater observatory. Stay in style at Fjordland Lodge, with sublime views over epic scenery.
WANAKA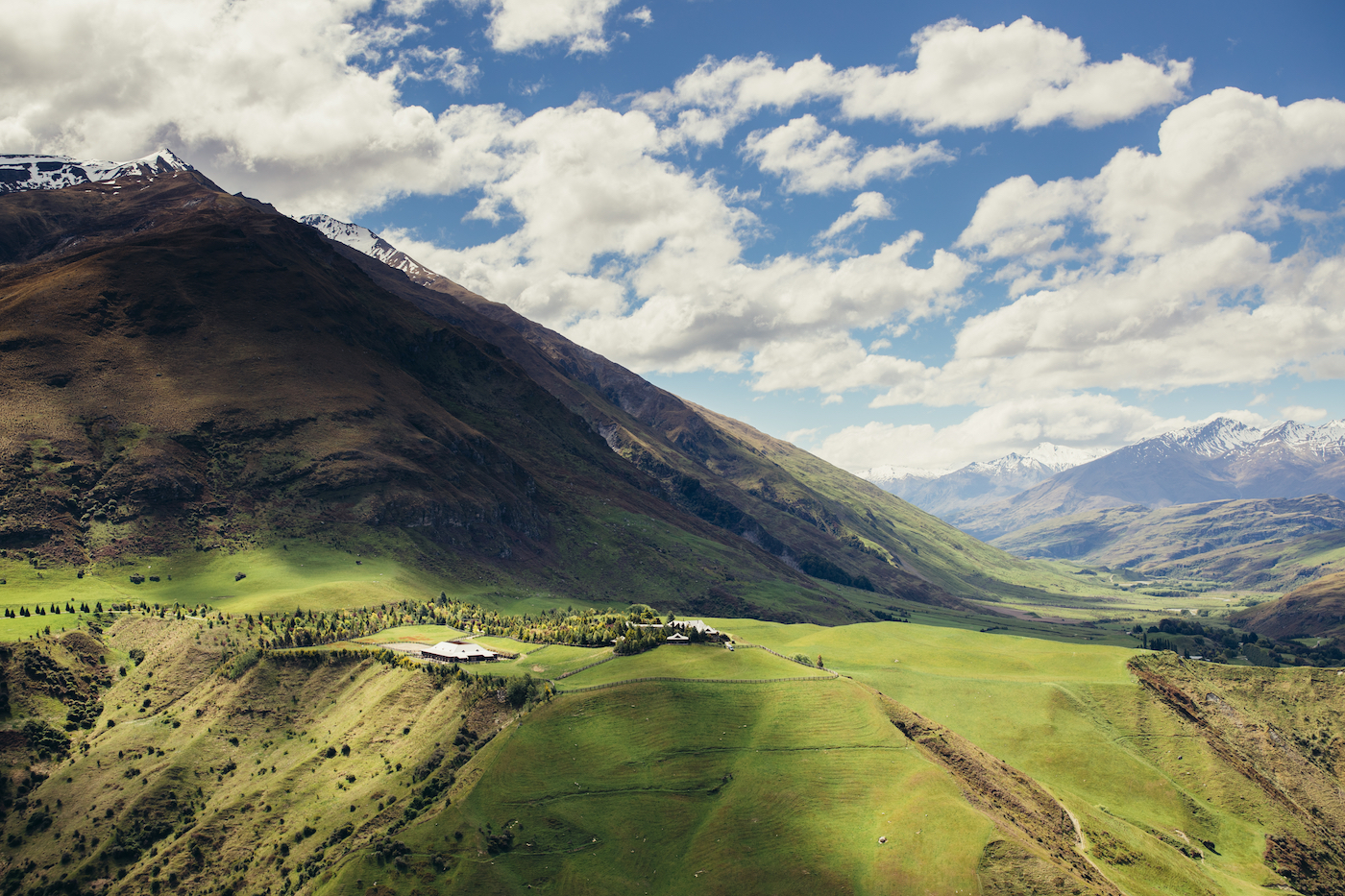 Backed by mountains and ensconced on the southern shores of a pristine lake, Wanaka enjoys an outstandingly beautiful setting. It's a perfect place for summer sailing, kayaking and walking. But that's by no means all. Wanaka is also the gateway to Mount Aspiring National Park, a wilderness of glaciers, beech forests and alpine lakes, and it lies within striking distance of Treble Cone and Cardrona ski resorts. Part of Wanka's enormous appeal also lies in its epicurean vibe, with cool cafes and stylish shops in town, and boutique wineries nearby. About a half-hour drive from Wanaka (and a 10-minute helicopter ride from Queenstown) is one of New Zealand's newest and most exclusive eco retreats; Mahu Whenua is a fabulous lodge with wonderful indulgence amid serious green credentials.
ABEL TASMAN NATIONAL PARK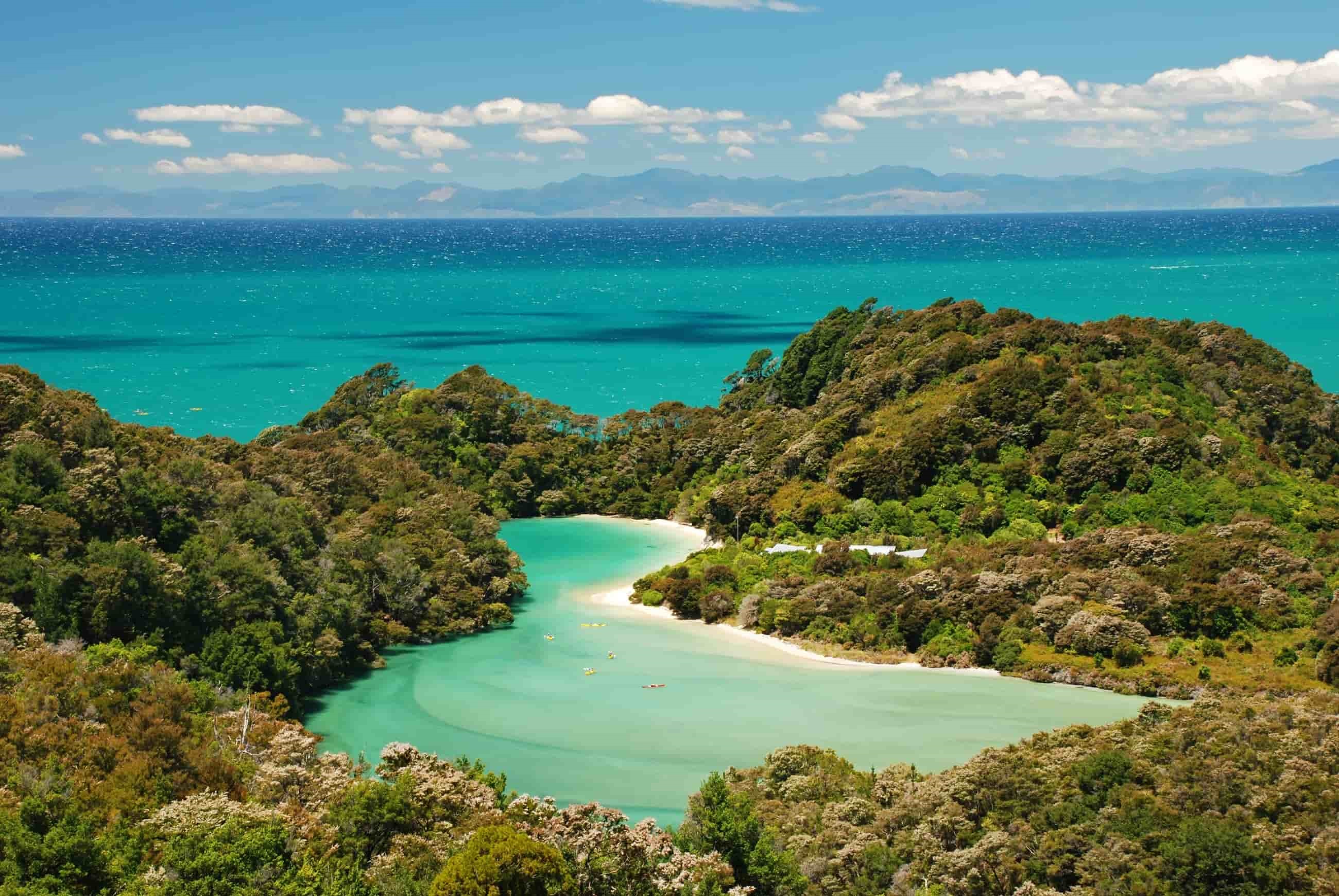 Inviting sandy beaches sweep along the western side of this wooded wilderness reserve at the north end of the South Island. Abel Tasman National Park is the smallest such protected area in New Zealand and it is both fairly readily accessible and relatively easy to get around. Walk a stretch of the 37-mile Abel Tasman Coast Track; visit Separation Point to see fur seal colonies; watch blue penguins and bottlenose dolphins at the Tonga Island Marine Reserve; marvel at granite and marble formations fringing jagged headlands; and listen to birdsong resounding in forests while you dip your toes in crystal-clear streams.
WEST COAST
A geological wonderworld of limestone cliffs, pancake rocks, greenstone boulders and more, this wild region of the South Island stretches roughly 340 miles from Kahurangi Point to Awarua Point in the south (about the distance between Auckland and Wellington on the North Island). From the unique Blue Pools, created by icy water flowing from mountains to the Makarora River, to heart-stirring waterfalls (Thunder Creek and Fantail particularly), the West Coast presents abundantly splendid scenery. A drive along its coast road is magnificent and is a worthy rival to other great road trips of the world. En route, visit Westland National Park, walking to the viewpoints of Franz Josef and Fox glaciers; marvel at the turquoise waters of Hokitika Gorge; and enjoy the panoramas from Knights Point Lookout while keeping eyes peeled for seals and dolphins.