There are few places where the Great Outdoors is on such an epic scale as it is in Norway. Plunge into its untamed landscapes with boat trips around Arctic islands, crab fishing in the remote northeast and a swim in a UNESCO-listed fjord, then replenish your strength in the country's gourmet capital.
VISIT OSLO'S FRAM POLAR EXPLORATION MUSEUM
Appreciate the rigours of an expedition to the ends of the Earth without leaving Oslo at Fram, the city's fascinating museum of polar exploration. At its heart is the eponymous wooden ship built especially for voyages through the planet's coldest waters, which saw service twice in the Arctic between 1893 and 1902 before carrying Amundsen to Antarctica for his successful trek to the South Pole. You can walk through the cabins, lounges, hold and engine room of the world's strongest wooden ship, imagining the Fram in its heyday thanks to onboard displays of personal items and essential equipment – the medical kit, in particular, is a sobering sight. On deck, a wraparound film experience provides an insight into how the crew and their dogs survived the harsh conditions; you can step into the polar simulator for a brief taste of them yourself.
RIDE THE FJELLHEISEN CABLE CAR TO THE SUMMIT OF STORSTEINEN
Head for the hills above Tromsø for panoramic views of the city and its surroundings. The Fjellheisen cable car takes just four minutes to reach the top of Storsteinen, 421 metres above sea level, from where you have a good chance of seeing the Northern Lights flickering above snow-clad mountains on clear nights from September to April. In winter, the sports-mad locals come here to snowshoe along its walking trails, especially if the Aurora Borealis has come out to play. In the endless days of summer, they return to paraglide, enjoy drinks or a meal at the café, or just exercise their dogs – which travel for free in the cable car. When it's time to descend, you can return the same way you came or take the Sherpatrappa, a 1,200-step stone staircase that leads almost to the city centre.
SURF, RIDE OR TAKE A BOAT TRIP THROUGH THE LOFOTEN ISLANDS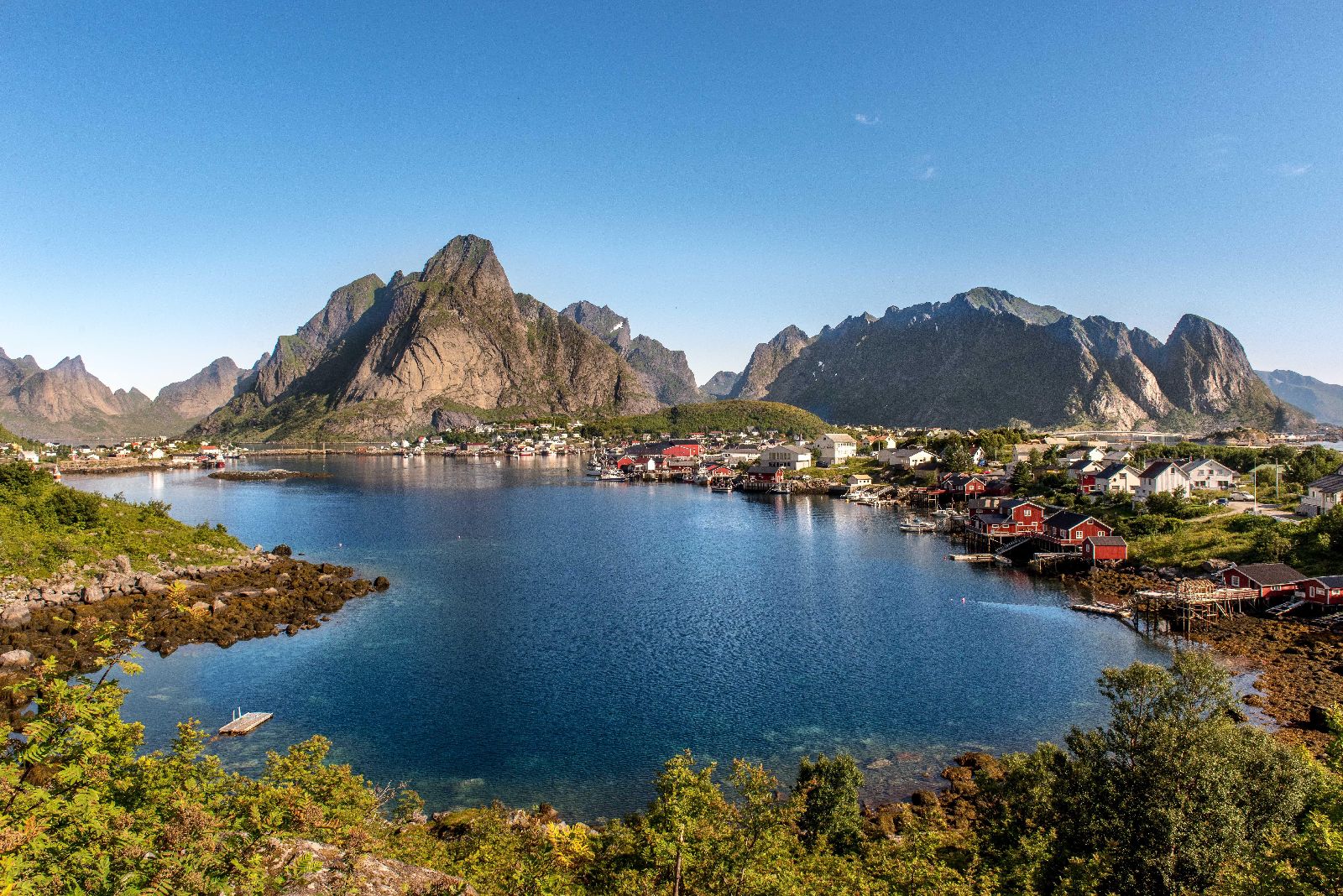 Summer in the Lofoten Islands provides countless opportunities for outdoor adventures, with 24 hours of daylight in which to explore its dramatic Arctic Circle landscapes. Unstad is known for its left-handed wave, which attracts surfers from around the world, especially during the annual Lofoten Masters, held in early autumn. Pick up the basics with a beginner's lesson, available 365 days a year if conditions allow. Back on dry land, you can see the sights of Gimsøy from the back of a sturdy Icelandic pony, riding along pristine sandy beaches and ridge trails, past reminders of Viking times and drying racks hung with fish. You don't need to be an expert equestrian to enjoy the trek, as everything from your mount to the speed will be tailored to your experience. Return to the sea with a wildlife-spotting safari by RIB through Trollfjorden; it has a large population of sea eagles, and you may also see seals, porpoises and basking sharks.
EAT YOUR WAY AROUND TRONDHEIM
There's no better way to explore 'the home of Nordic flavour' than through its food. This city on the coast of central Norway, along with its hinterland, was named the European Region of Gastronomy for 2022 and its foodie star is unlikely to fade any time soon. Drawing on exceptional local ingredients such as langoustines, reindeer, lamb and craft cheeses, the area's chefs have become known for inventive spins on traditional Nordic dishes – and that's as true in the simpler places as in Trondheim's three Michelin-starred restaurants. You could join a guided food safari for an insider's view of the culinary scene or let your nose guide you to the best bakeries, coffee shops and microbreweries in town. Another option is to head out with an expert to forage for whatever is in season, from edible flowers to cloudberries and wild mushrooms. If you're here in July, the Trøndelag Food Festival is one of Europe's largest.
DOG SLEDDING ACROSS THE ENDALEN VALLEY IN SVALBARD
Glide smoothly across a snow-drowned realm on a sled powered only by a team of Alaskan huskies. In the far-flung Svalbard archipelago in the distant reaches of the Arctic Ocean, dog sleds were once the only form of transport and they're still a magical way to travel through this almost silent world. The Dark Season from November to January is a particularly atmospheric time to be here, with the light from the moon and stars gently illuminating the snow and a high chance of seeing the Northern Lights ripple across a crystal-clear sky. Under the watchful gaze of experienced guides, you'll get an opportunity to 'mush', or drive, your own team; or you can snuggle up in the sled if you prefer. At the end, be sure to reward your furry helpers with lots of play and attention, which dog lovers will enjoy at least as much as the dogs. In summer, wheeled carts replace the sleds for trips across flower-strewn tundra.
FISH FOR KING CRABS IN VARANGER
Join the crew of a fishing boat as it heads out in the Barents Sea to capture a local delicacy: the king crab. It's actually a relatively recent arrival in these waters; originally from the north Pacific, it was introduced by the Russians in the 1960s – and has thrived ever since. Once you've reached the crab pots, you'll help to haul them in and check them, sort the catch and get an insight into the life of your quarry and what it's like to be a fisherman in these far-flung parts. From here, it's back to shore to prepare the crabs for a simple but delicious lunch that would cost a small fortune in an Oslo restaurant. Each trip varies depending on the time of year, as the crabs move to different depths as the sea warms or cools.
WALK THE WILDS OF VARANGERHALVØYA NATIONAL PARK
In the far-flung reaches of Norway's northeastern corner, on a peninsula nudging into the Barents Sea, Varangerhalvøya National Park is a glorious example of Low Arctic scenery. Its rolling open tundra, wide valleys and boulder fields, which were formed before the last Ice Age, shelter an incredible diversity of flora and fauna. In summer you can follow well-worn tracks made by reindeer – there aren't any marked trails – in search of Varanger poppies, fringed sandworts and snow cinquefoils. Above your head, you may spot white-tailed and golden eagles, catch a glimpse of an elusive snowy owl and hear the trilling of a shore lark; it's an important habitat for a wide range of birds. Other species have found a haven here, such as the Arctic fox – snowy furred in winter, but shades of brown or grey in summer – along with otters, wolverines and moose. Be aware that the weather can change rapidly and dramatically, so walkers should pack accordingly.
SNORKEL THROUGH KELP FORESTS AROUND ÅLESUND
See a side of the Norwegian wilderness that most people don't even realise exists with a snorkelling trip through the kelp forests of Skodjestraumen in the fjords around the port city of Ålesund. The area benefits from currents that are rich in nutrients, allowing the vegetation to flourish, creating an ecosystem that supports a huge variety of marine species. Float above this underwater world, insulated from the cold water by a wet or dry suit depending on the conditions, drinking in the remarkable scenes in the crystal-clear sea below you.
GO WILD SWIMMING IN THE FJORDS
Immerse yourself, literally, in the spectacular landscapes of Norway's fjords, some so impressive they've been recognised by UNESCO. Wild swimming is allowed in all but a few places throughout the country, and on a hot day in summer it's an exhilarating, if bracing, experience to plunge into sparkling blue-green water surrounded by snow-capped peaks or soaring rock faces where waterfalls trace strands of silver. Glide along taking in your unique surroundings, capture the perfect photograph for Instagram and then – if there's one to hand – make for the nearest sauna to round off your dip in local fashion. One word of caution: fjords are usually very deep even close to shore, so you'll need to be a confident swimmer.
RIDE THE SCENIC FLÅM RAILWAY AND ZIPLINE BACK DOWN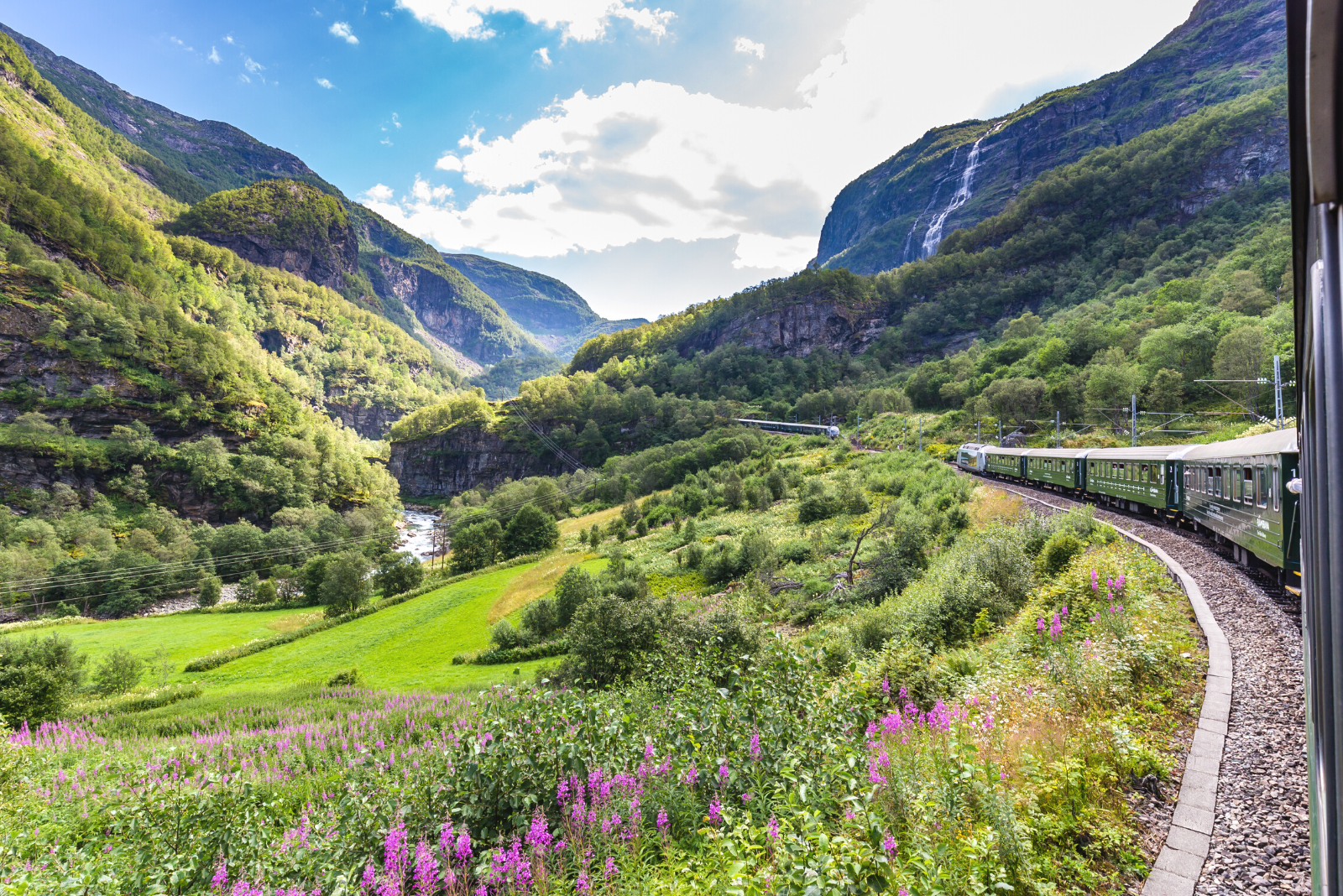 Considered one of the most beautiful train journeys in the world, the Flåm railway climbs steeply from the shores of Aurlandsfjord to the peaks at Myrdal 12.5 miles away. You'll be able to take in the stunning scenery of this part of western Norway from the comfort of a vintage carriage, and admire the engineering skill and gruelling work that went into building the railway over the course of 17 years in the 1920s and 1930s. Along the line at Vatnahalsen station is the start of the longest zipline in the Nordic region – they're something of a tradition in these parts, having formerly been used to transport timber, hay and even livestock. This one takes people on an exhilarating adventure; securely harnessed, you'll zoom back down towards the fjord with the wind in your face at speeds of up to 60 miles an hour.