Our travel specialists are able to tailor your visit to
Turkey
on land or sea and offer practical travel tips accordingly. Stay in a boutique hotel with views over the sparkling Aegean Sea or charter a luxury gulet and drop anchor at will.
WEATHER IN TURKEY
In general, the Aegean and Mediterranean coastal regions have cool, rainy winters and hot, moderately dry summers, with annual precipitation ranging from 580 to 1,300 millimetres. The Black Sea coastal region, whose temperature range is cooler than the other coastal regions, has the heaviest rainfall in Turkey, averaging 1,400 millimetres per year. Because it is blocked from the sea by Turkey's mountain ranges, the Anatolian Plateau has a severely continental climate, with extreme cold in the winter (reaching –40°c) and extreme heat in summer. Rainfall there is very sparse in summer, but snowfall in winter is heavy. Annual precipitation averages 400 millimetres. The eastern highlands have hot, dry summers and very cold winters with heavy snowfall.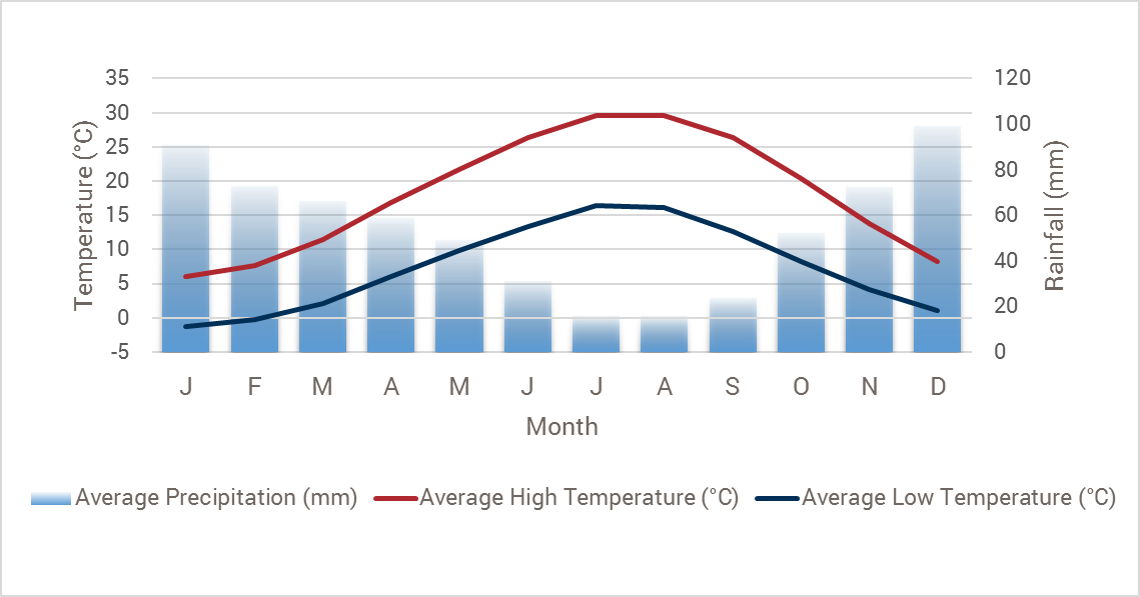 MAP OF TURKEY
WHAT TO PACK FOR TURKEY
Stylish casual dress is the perfect attire for most places in Turkey. To visit mosques, clean and modest dress is appreciated and often required. In short, don't show thighs, shoulders or tops of upper arms. We find that a pashmina scarf or light shawl is invaluable when travelling to Turkey so that you can wear sleeveless clothing and then use it to cover up your head and bare arms when you enter a holy place to show respect. Remember, shoes need to be removed prior to entering a mosque so ideally you will have a slip-on walking pair as part of your selection.
If you are a light sleeper, you might want to pack some ear plugs. In addition to typical city noises, you will hear the calls to prayer from speakers on the nearest minarets throughout Turkey. These take place five times a day; the earliest of which will likely be before you want to wake and the last after you have already gone to bed. The timing of the calls is based in part on sunrise and sunset.
MEDICATIONS & VACCINATIONS FOR TURKEY
We recommend you consult your local doctor ahead of travel to Turkey to assess whether you need a course or booster for Tetanus. Further, it may be advised you consider vaccinations against Hepatitis A & B. The risk can be weighed up with your local health practitioner as well as referring to the helpful
NHS website Fit for Travel
as well as that of
The Center for Disease Control and Prevention.
Malaria does not present a risk in the main tourist areas of Turkey, however for your comfort insect repellent is always advised if travelling to a warm weather location in Turkey.
TIPPING IN TURKEY
Gratuities are entirely discretionary in Turkey and dependent on how good you judge the service you receive to be. If you wish to leave a tip we would suggest giving your guide somewhere in the region of 40€ per day. For a driver, you might look to tip 15-20€ per day. Restaurants in Turkey have no expectations except you may well wish to at least round the bill up to its nearest figure.
GET CONNECTED
ELECTRICAL SUPPLY
You will need to take a continental travel adapter with you as all appliances in Turkey run on 220 volts. You can pick one up at the airport if you do not already possess one.

MOBILE / INTERNET CONNECTIVITY
Mobile phone coverage throughout Turkey is generally very good, but there may be some problems in remote or mountainous areas. The three main GSM operators in Turkey are Turkcell, Avea and Telsim and all GSM operators have roaming agreements with international operators, but remember to check with your provider regarding the actual roaming costs as you can run up a huge bill unintentionally if you are not careful.
It is also worth remembering that even though you are dialling a local number from one of the local GSM Networks, the number you dial must be in the full international dialling format, i.e. the number should be prefixed by 00 90 for Turkey and you should drop the first 0 from the area code of the number you are dialling.
If you intend to make a significant number of calls whilst in Turkey you may consider purchasing a local prepaid line to use during your stay. These can be purchased from one of the many mobile phone shops and "topped up" as required by purchasing credits (Kontor Kart) from newspaper booths, grocery stores and many other outlets. By doing this you could make a significant saving.
Most hotels and, in recent years, a number of cafes and shopping centres, have Wi-Fi internet access. Always check what charges will be made before using, but in most cases Wi-Fi will be complimentary.
RECOMMENDED READING
Innocents Abroad by Mark Twain
Istanbul – Memories and the City by Orhan Pamuk
Turkey: A Short History by Norman Stone
Constantinople: City of the World's Desire, 1453-1924 by Philip Mansel
My Name is Red by Orhan Pamuk
The Flea Palace by Elia Shafak