Belize's unspoiled rainforest and extraordinary underwater kingdoms offer enthralling adventure from scuba diving in the bottomless Great Blue Hole to exploring Mayan caves once used for human sacrifice.
SCUBA DIVING IN THE BLUE HOLE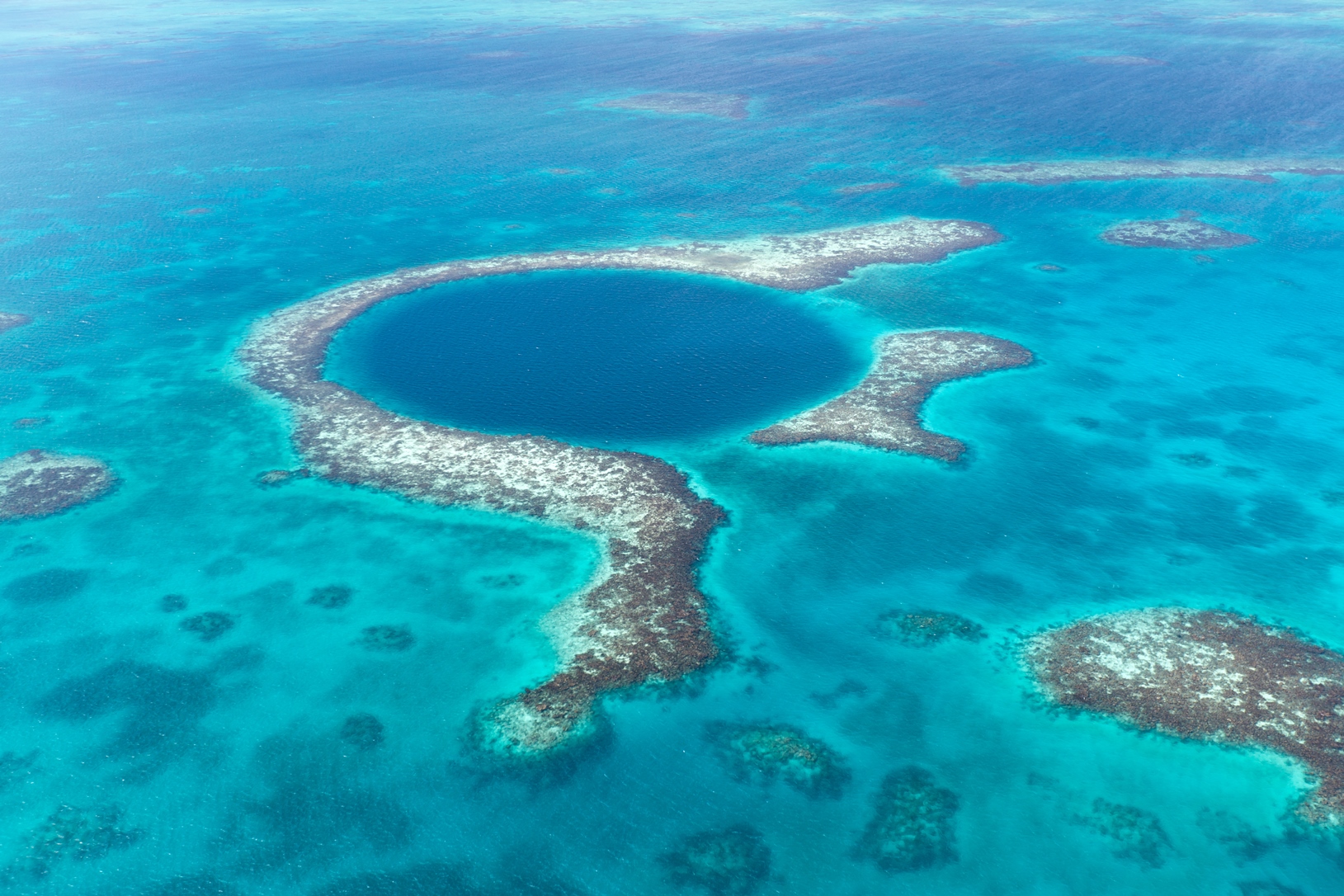 With a bottomless blue hue visible from space and marine life that first enraptured explorer, Jacques Cousteau, scuba diving in the Great Blue Hole is undoubtedly one of the best experiences in Belize. Plunging one hundred and twenty-four metres below the waves, this giant marine sinkhole boasts a vertical reef supporting staggering underwater species including butterfly fish, grouper and Caribbean reef shark. Take a private boat out to drop further and further into the water where aside from marine life you can closely investigate stalactites in submerged caves that were formed above sea level over 150,000 years ago. Lunch back on board can remedy the excitement.
EXPLORE THE LOST CITIES OF BELIZE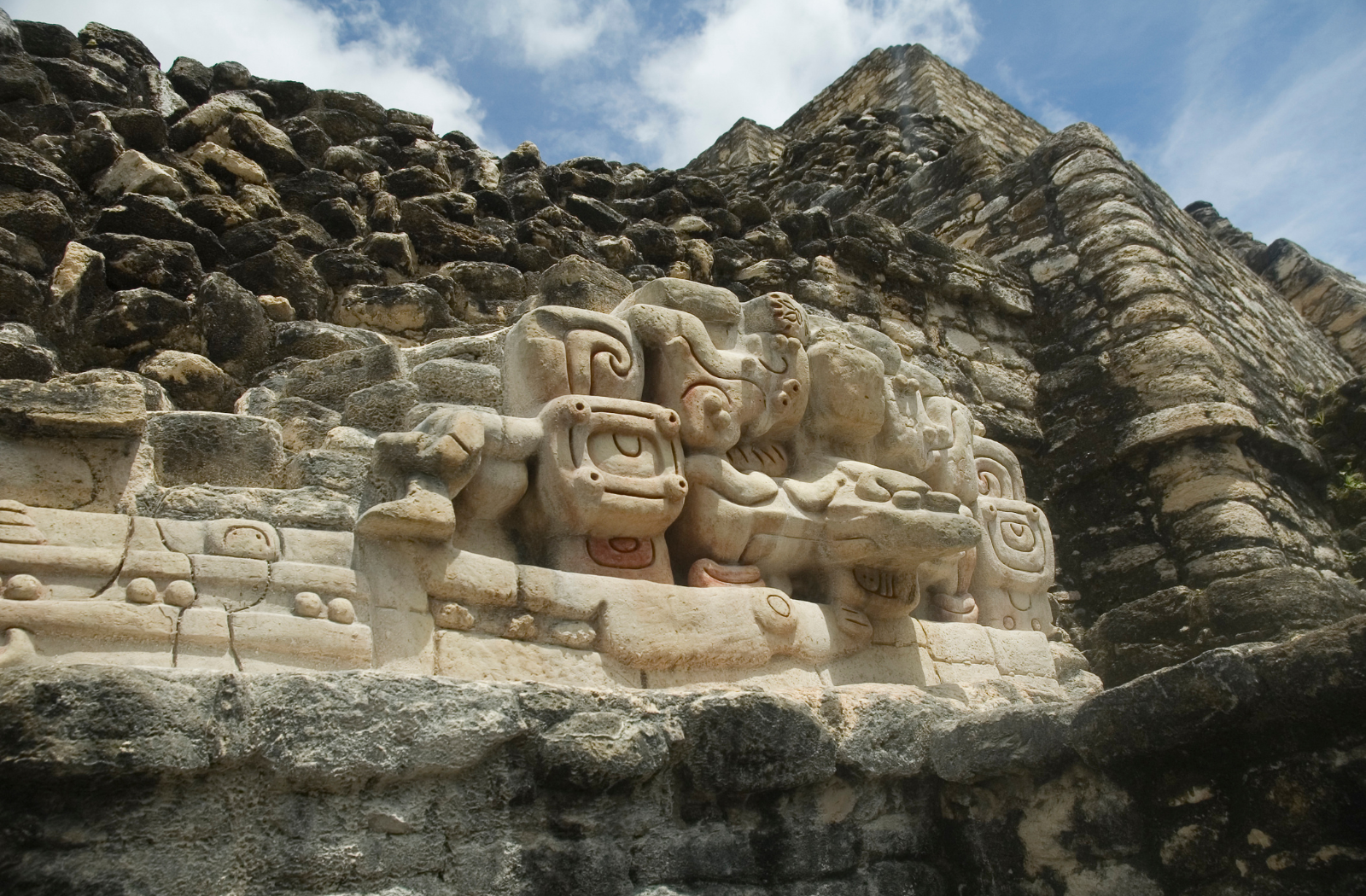 Discover the lost cities of Belize's Mayan historical past that feel half alive upon exploration. First stop, Caracol, hidden in the Chiquibul Forest where back in its day, the monumental city was once home to 140,000 inhabitants. The Sky Palace, the most fascinating of the complex's many temples reaches 44 metres in height and is said to have been built in an attempt to communicate with the gods. Further north, the crumbling ruins of Xunantunich served as a Mayan ceremonial site now accessible only by cable ferry crossing. El Castrillo is one of its most impressive structures with stone stairs ascending a 40-metre pyramid, a landmark that would have overlooked its thriving population over 3,000 years ago.
EXPLORE THE ACTUN TUNICHIL MUKNAL CAVES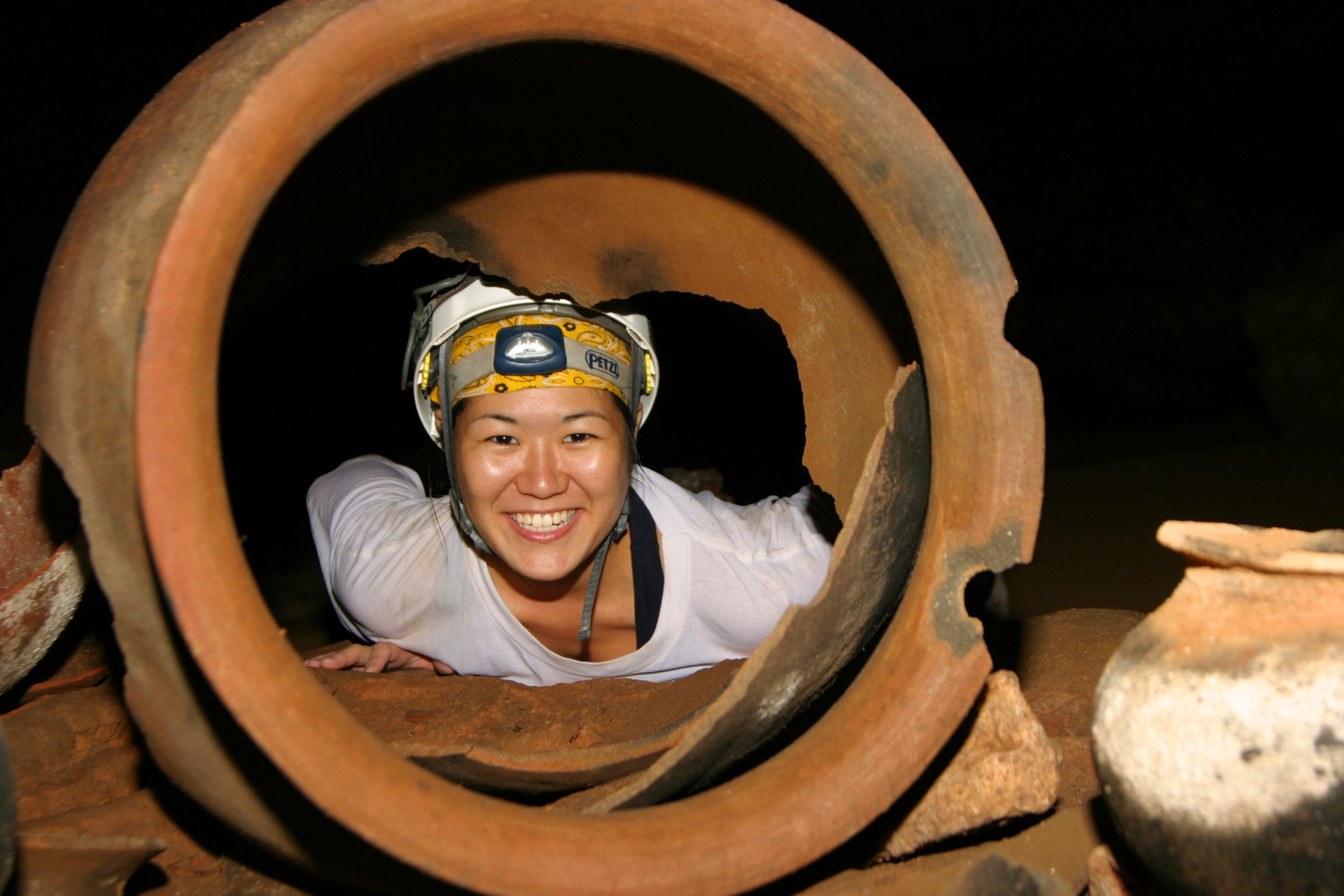 In the western Cayo district accessed by a trek through the protected Tapir Mountain Nature Reserve, a colossal cave system once used by Mayans for sacred ceremonies lies hidden under the moss and jungle vine. Sporting a helmet and a head torch, follow a trail that takes you swimming subterranean rivers, climbing rockfaces and walking in awe through carbonite caves sprinkled with ancient artifacts. Explore the Cathedral Chamber, a towering cavern where over a thousand years ago priests would conduct human sacrifices. You'll stumble across remains such as the Monkey Pot used for important ceremonies and Crystal Maiden, a calcified skeleton of an adolescent boy.
SNORKEL THE BELIZE BARRIER REEF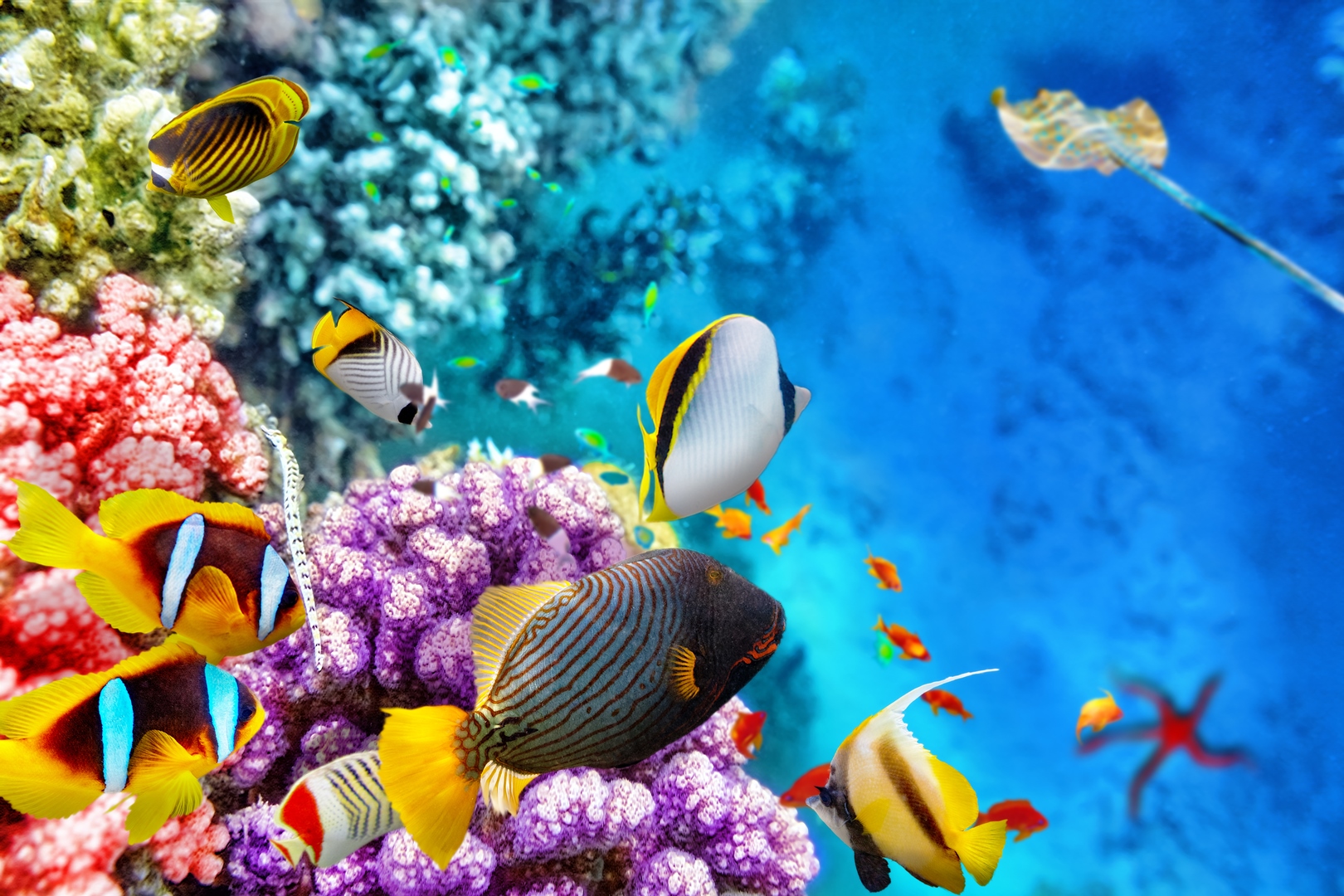 Less than a mile away from the white-sand coast, the underwater kingdom of the Belize barrier reef, the second largest reef in the world, extends over 185 miles of Caribbean Coast sprinkled with hundreds of sandy caves. Coral sprouts in the surrounding turquoise shallow lagoons making it easy to enjoy close encounters with its exquisite marine life. This includes an array of kaleidoscopic coloured fish as well as threatened species like hawksbill turtles and West Indian manatees all contributing to its UNESCO accreditation in 1996. After days spent on and under the water, refuel on a deserted caye for a Robinson-Crusoe style picnic.
STAY IN A TREETOP VILLA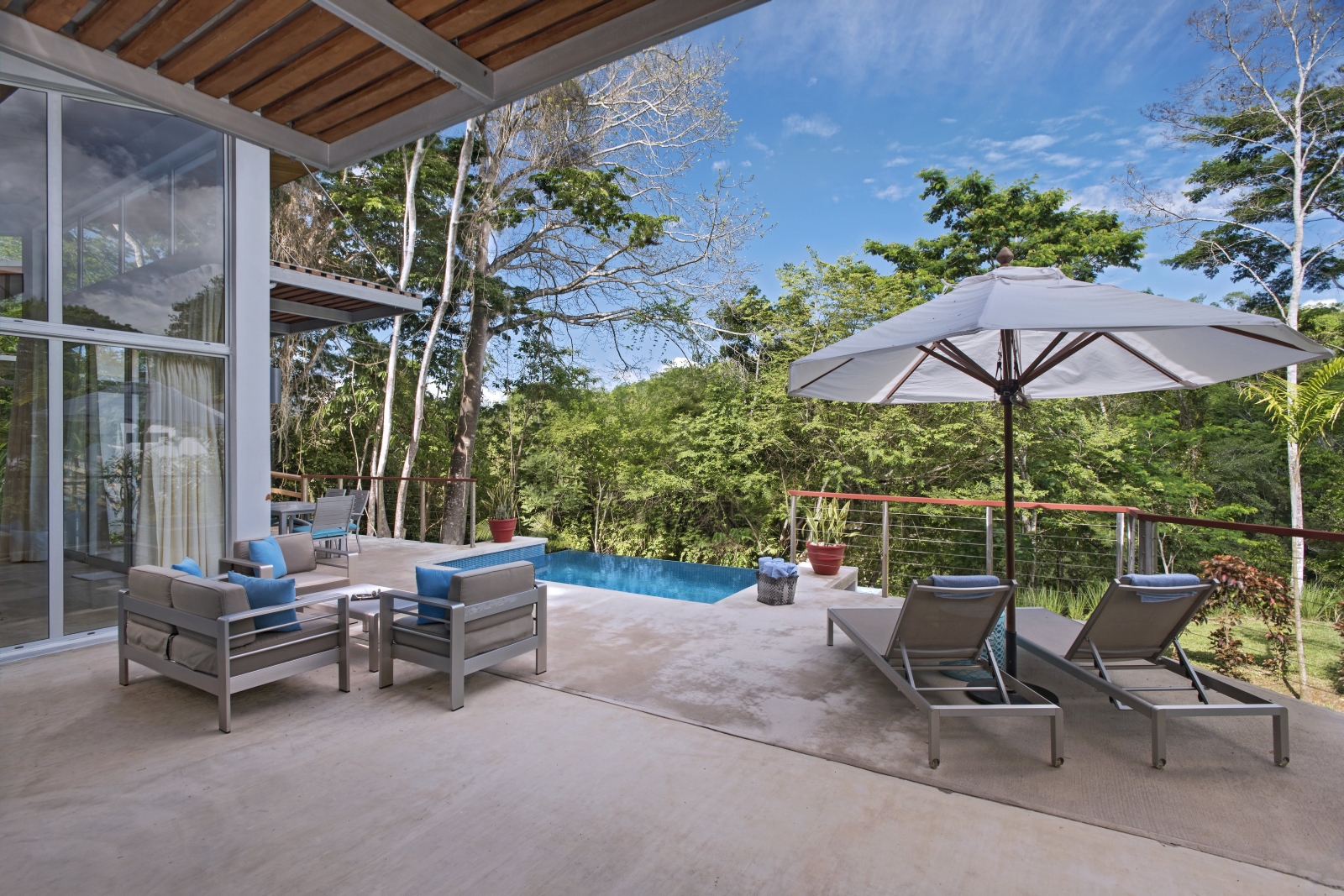 Rest your head in a treetop villa with glass walls for prime wildlife viewing and a private plunge pool embraced by a rainforest setting. This is no ordinary eco-friendly lodge featuring a hilltop spa, infinity pool and the option to land in a private plane. You may want to simply relax to the sound of birdsong but a 400-acre nature reserve beckons and may only be explored by guests of the lodge. Enjoy horseback riding in the rolling forest and open meadows spotting spider monkeys and toucans, as well as canoeing expeditions down the Macal River flanked with verdant limestone karsts.
TUBING AT JAGUAR PAW
Experience unique adventure in Jaguar Paw, an area of outstanding natural beauty and a hotspot for adventure. A 45-minute walk through the rainforest leads you upstream to a cave entrance hidden in the unhampered vegetation. Sink back in a floating tube that will carry you over a subterranean river through a series of caves once used by the Mayans for sacrifices and collecting sacred water. Under the dramatic light of headtorches you'll see roofs of stalactites and stalagmites that open every few minutes to shards of sunlight, vine and encroaching jungle. At the end, you can reflect peacefully over lunch on the riverbank.