The desert country of
Namibia
, on southwest Africa's Atlantic coast, is home to diverse wildlife and spectacular scenery. Namibia travel advice is available from our destination specialists who have travelled extensively and can share practical travel advice on when to go, what to pack and any necessary precautions you may like to consider.
NAMIBIA TRAVEL ADVICE: WEATHER
Namibia has more than 300 days of sunshine per year. The winter (June – August) is generally dry. Both of Namibia's rainy seasons occur in summer, the short rainy season between September and November, the long one between February and April. Humidity is low, and average rainfall varies from almost zero in the coastal desert to more than 600 mm in the Caprivi Strip. Rainfall is however highly variable and droughts are common. Weather and climate in the coastal area of Namibia is dominated by the cold, north-flowing Benguela current of the Atlantic Ocean which accounts for very low precipitation, frequent dense fog, and overall lower temperatures than in the rest of the country.
In winter, occasionally a condition known as Bergwind (German meaning mountain breeze) or Oosweer (Afrikaans meaning east weather) occurs; a hot dry wind blowing from the inland to the Namibian coast. As the area behind the coast is a desert, these winds can develop into sand storms with sand deposits in the Atlantic Ocean visible on satellite images.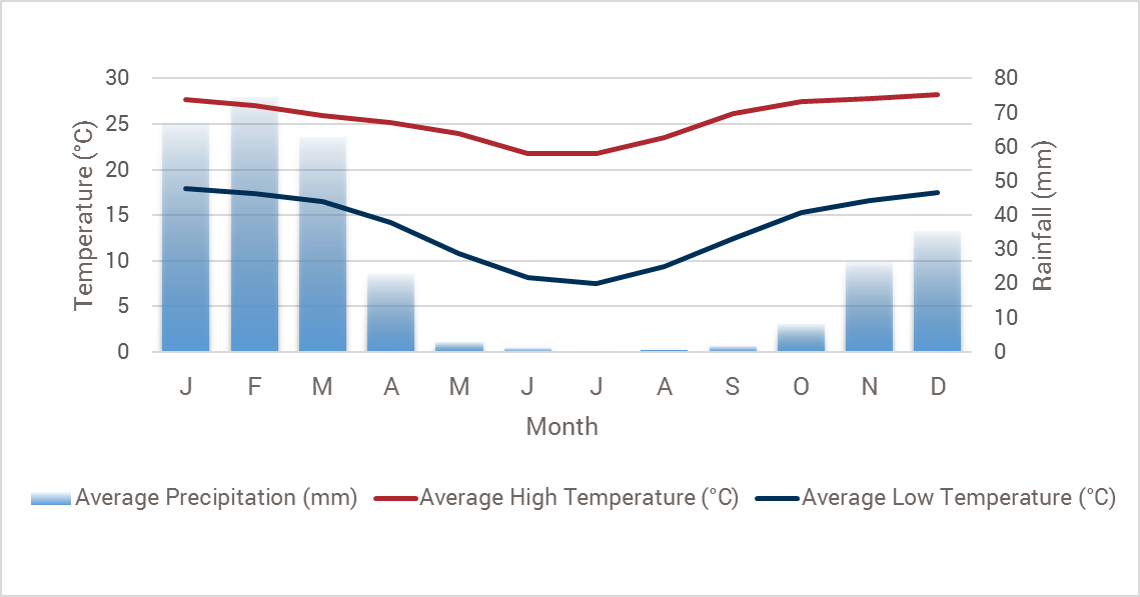 MAP OF NAMIBIA
WHAT TO PACK FOR NAMIBIA
Lightweight summer clothing in cotton or blends is ideal for most of the year in Namibia. Light, neutral coloured clothes are generally the order of the day on safari – they help to deflect the harsh sun, are less likely to attract mosquitoes and also are less conspicuous in the African bush. Avoid wearing dark/navy blue as this colour attracts tsetse fly.

For the most part, African safari destinations are tropical and warm in the day time, however parts of Southern Africa – including Namibia, Botswana and South Africa – can be extremely cold on winter game drives during the mornings and evenings. Days on safari are generally hot and you will most likely find yourself wearing shorts and a t-shirt. In the early mornings and evenings long-sleeved shirts and trousers are recommended, both to take the bite out of the chilly air and to protect you from mosquitoes. Should you be particularly sensitive to the sun, a loose cotton shirt is essential during the day, as it is a good sunscreen. For those colder winter mornings always remember that layering your clothing helps keep you warm and is a convenient way to ensure you are wearing what you need as the day heats up and you discard warm outer layers.

For safari, it is best to pack hardy, durable clothing and you should be aware that the availability of laundry services in Namibia is erratic.
Baggage on Namibian safari should be carefully considered. One soft-sided bag and one smaller piece of hand luggage per person is recommended. Light aircraft flights in Namibia and Botswana all have a restriction of 20kg (44 pounds), all in soft bags. Travellers may be made to pay for an extra seat on a charter flight if the luggage is heavier than 20kgs. This allowance includes camera equipment.

Toiletries such as soap, shampoo and even insect repellent are offered at all good lodges and hotels so there is no need to over pack on these items. We recommend taking some basic medical supplies including Anthisan, Imodium, insect repellent, plasters and sun screen.


MEDICATIONS & VACCINATIONS FOR NAMIBIA
We always recommend that you see your doctor or a travel clinic before travelling to make sure that you have taken all the necessary health precautions. You can also contact the
Medical Advisory Service for Travellers Abroad (MASTA)
to obtain a 'Health Brief' specifically tailored to your trip to Namibia. Additional information can also be found on the
Fit For Travel website
and
The Center of Disease Control & Prevention.

If you are travelling to a malarial area, which parts of Namibia can be in certain seasons, it is essential that you take professional advice regarding a course of anti-malarial prophylactics. In our experience, Malarone is the most commonly-prescribed anti-malarial, but we say that only in the spirit of helpfulness and not as a substitute for professional medical advice. It is the responsibility of every traveller to consult their own GP or a recognised travel clinic for the latest up-to-date advice. Please note that atovaquone/proguanil is the generic tablet form of Malarone and is therefore exactly the same but cheaper. These tablets are available from leading pharmacies.
If you are travelling to Namibia from countries with risk of yellow fever transmission, you may be required to produce a yellow fever vaccination certificate upon your arrival to Namibia. Again, this should be confirmed with the medical bodies recommended above or with your local travel clinic. It is also important to note that the health risks of travelling to countries such as Namibia do extend beyond vaccination protection, such as sun exposure, insect bites, and contaminated food and water.
TIPPING IN NAMIBIA
Tipping is an integral part of life in Namibia and tips are expected for services that you might take for granted at home. However tipping is only recommended if you are satisfied with the service you have received and is entirely at your own discretion. When on safari, you will always have a professional guide and sometimes a tracker as well on your safari vehicle. For your guide, look at around $20 per person per day ($50 per family), and $5-$10 per person per day for the tracker (if you have one). Some lodges will have a staff gratuity box in which you can leave any tips for general staff, such as chamber maids and waiters. We suggest US$15 per day for all the staff. Tips can be included on your credit card at the lodge and do not need to be handed over as cash.
GET CONNECTED
ELECTRICAL SUPPLY
Namibia uses 220/240 V AC for its domestic supply. Outlets are of the three pin, 13 amp type, which are not catered for by international adaptors. Camps situated in remote areas have to generate their own electricity, usually via solar power. This charges batteries located at each tent/room, which provide good 12v lights at night. There are no electrical plug power points in the rooms so it is not possible to use appliances such as hairdryers or electric shavers. It is usually possible to charge camera batteries and phones at reception but not in rooms. Most lodges can offer an adaptor.

MOBILE / INTERNET CONNECTIVITY
Roaming agreements do not exist in Namibia although there is a telephone signal in most places. Hotels in main towns and cities have WiFi access and most lodges have some form of WiFi access but please be aware that this is usually slow and occasionally unworkable. In remote camps there is unlikely to be any Wi-Fi or guest internet access.
RECOMMENDED READING
This is Namibia by Gerald Cubitt & Peter Joyce
Namibia: The Beautiful Land by David Bristow
Travel Map & Travel Guide to Namibia by Globetrotter
Namibia - The Bradt Travel Guide by Chris McIntyre
Birds of Namibia, a Photographic Guide by Ian and Jackie Sinclair
Namibia: African Adventurers Guide by Olivier and Oliver