Uganda is famous for its beautiful national parks and fascinating primate tracking opportunities, but there so much more to explore. Brilliant bird-life and some of the most stunning walks in Africa can be found in in Uganda. Find out more about where to go to explore your wild side.
QUEEN ELIZABETH NATIONAL PARK
Known for its plentiful wildlife – 95 species of mammal and 600 species of birds – the Queen Elizabeth National Park (named after Queen Elizabeth following her visit in 1954) in west Uganda stretches out across 764 sq miles. It's the best place in the country to see lions; other animals you're likely to spot include African elephant, African buffalo, Ugandan kob, leopard and warthog. There's excellent hiking around the crater lakes; don't miss the Kazinga Channel, a natural water channel connecting Lakes Albert and George, which is home to a large number of hippos.
KYAMBURA GORGE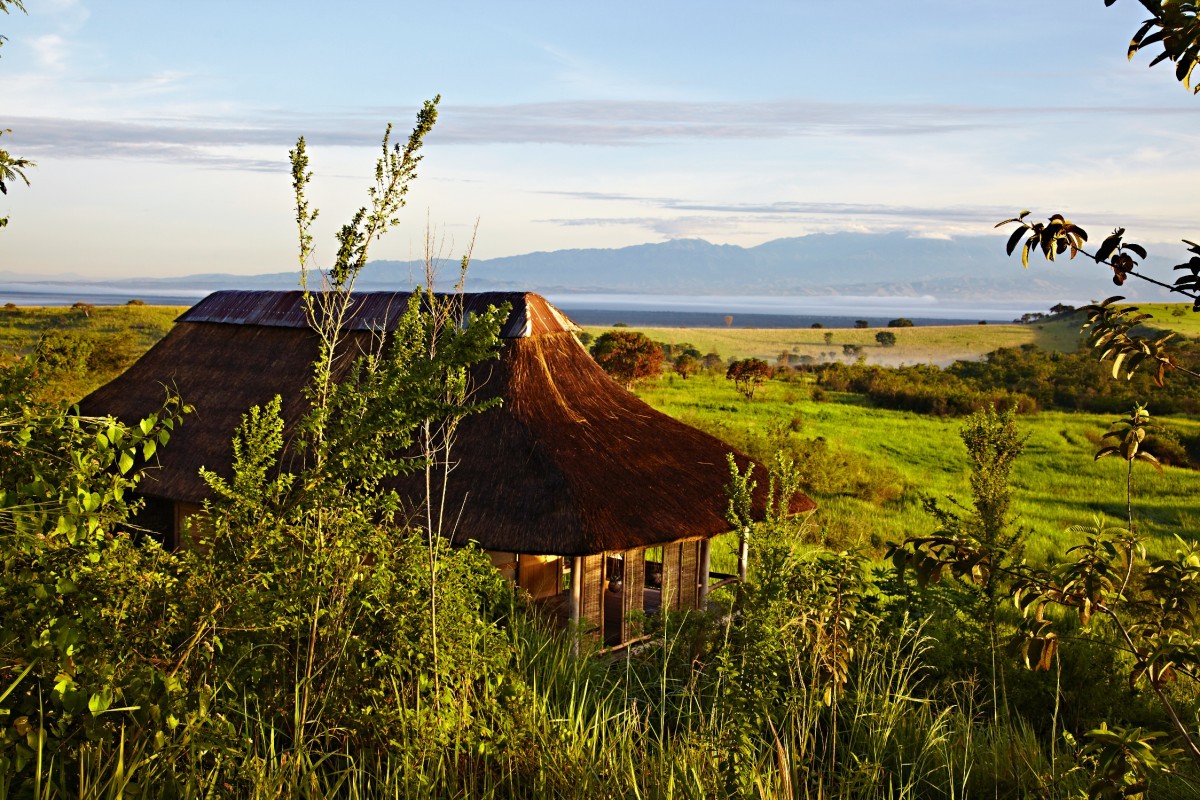 In the eastern corner of the Queen Elizabeth National Park, the stunning Kyambura Gorge (also known as Valley of the Apes) is the go-to zone for seeing primates, including red-tailed monkeys, olive baboons, colobus monkeys, and chimpanzees. Spanning seven miles and linking to the Kazinga Channel, it is sheltered by dense riverine forests. Flamingos rest on the steep slopes and, during the dry season, animals stop for a drink water. For keen walkers, a Kyambura Gorge hike is a must.
BWINDI IMPENETRABLE NATIONAL PARK
Bordering the Virunga National Park and on the edge of the Albertine Rift, the Bwindi Impenetrable National Park is renowned as being home to 400 Bwindi gorillas – half of the world's population of endangered mountain gorillas. A UNESCO World Heritage Site because of its ecological importance, it's also a sanctuary for colobus monkeys, chimpanzees and birds such as hornbills and turacos. Stay at the Volcanoes Bwindi Lodge which has eight cottages, each named after a gorilla. It's perfectly positioned for gorilla tracking and, for downtime, there's a terrace for birdwatching.
MURCHISON FALLS NATIONAL PARK
Set on the shores of Lake Albert in northwest Uganda, the Murchison Falls National Park (also known as the Kabalega National Park) is home to the most powerful waterfall in the world (water from the Victoria Nile pushes through a seven-metre-wide gorge before plunging 43 metres). Other highlights are chimpanzee trekking in the Budongo Forest; seeing white rhino at the Ziwa Rhino Sanctuary; and spotting some of the 70 species of mammals including lions, leopards, elephants and buffaloes found here. The park also has one of the largest populations of Roskilde Giraffes in Africa. The most popular time to visit is between June to September but December to February is also a great time to go.
KIBALE NATIONAL PARK
Formerly established in 1993 to protect a large area of forest, Kibale National Park borders the Queen Elizabeth National Park, creating a 180km wildlife corridor. It has a range of habitats over different altitude zones: the tropical forest on the Fort Portal plateau shifts to savannah in the Albertine Valley floor in the south. The chimpanzee trekking in Kibale National Park is excellent (the park has habituated communities) and there are twelve other species of primates you might spot too.
LAKE MBURO NATIONAL PARK
Located in the Kiruhura District of west Uganda, Lake Mburo National Park is home to predators including leopard, civets, hyena, and serval cats. It's brilliant for birding – probable sightings include rare shoebill, stork, African fin foot, pelican and heron – and you can also see hippos and crocodiles on a boat trip on the lake. An excellent option for a safari fix if you're in Kampala, which is 150 miles away.
KIDEPO VALLEY NATIONAL PARK
With nearly 900 sq miles of sprawling semi-arid savannah landscape, the Kidepo Valley National Park accommodates animals including wild dogs, jackals and cheetahs, as well as rare birds such as the black-breasted barbet and Karamoja apalis. Look up for tree-climbing lions, often seen in sausage trees. Visitors can go hiking around the Morungole Mountain or, for those who prefer something more relaxing, bathe in the Kanangorok hot springs which are said to have healing powers.
RWENZORI MOUNTAINS
On the border between Uganda and the Democratic Republic of the Congo, the Rwenzori Mountains (often called the 'Mountains of the Moon' because the upper regions of the range are snow-capped year-round). The highest non-volcanic mountains in the world – its tallest peak reaches 5,109 metres – they are renowned as being home to one of four remaining tropical ice fields outside the Andes. One of Africa's most beautiful alpine areas.