Chianti's rich history and geographical position has bequeathed a landscape of beautiful rolling hills, imposing castellated villages and a climate conducive to the production of the finest Old World wines. Popular today as a villa holiday destination for its superb views and pretty villages such as Rada, Greve, Castellina and Gaiole, Chianti is a land once fought over by feudal Florentine and Sienese families. Its heritage is evident in the proud displays of pageantry such as the Palio which takes place twice-annually in Siena's Piazza del Campo.
You don't need to travel far for incredible photo opportunities or to find a charming village or small town with quaint streets and piazzas worth exploring. Here are just a few suggestions from our Italy experts:
CHIANTI REGIONS TO EXPLORE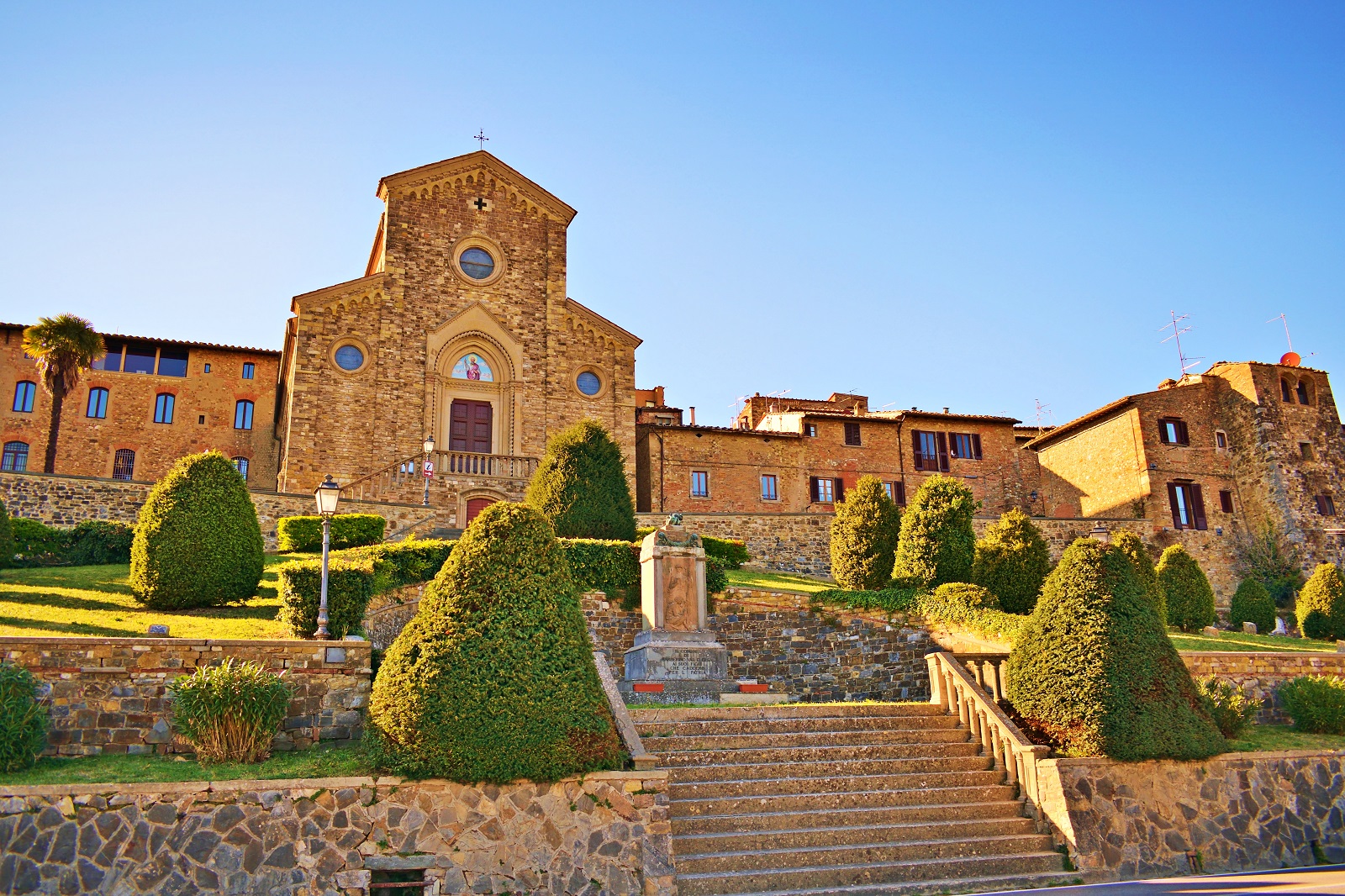 Greve in Chianti: About 20 miles south of Florence, Greve hosts the Chianti Classico Expo Wine Festival every September, where all the producers of 'Black Rooster' wine present their wines in the main square. It is a small town full of charming shops and cafes, and home to a regular Saturday market. The local butcher's shop, Antica Macelleria Falorni, is a veritable treasure trove of Italian delicacies. Come here for traditional Tuscan cold cuts or steaks to grill back at your villa.
Montefioralle: Situated on a nearby hill, Montefioralle is worth the walk from Greve just for the views alone and is an ideal spot for a picnic. If you are lucky enough to be there in March, go along to the Festa di Fritelle for rice frittelles (small fried dumplings) eaten to celebrate St. Joseph's Day.
Panzano: Home to a beautiful castle and a prominent 11th century church, Panzano has a main square full of excellent restaurants, cafes and shops. One of the most famous restaurants in the region, Osteria della Bistecca, owned and run by one of Tuscany's most lauded butchers, is an great spot for dining. On the first Sunday of every month, there is a feeling of fiesta at the Aprilante Market, where regional artisans and farmers offer locally made honey, cheese, ceramics and handmade items.
Impruneta: This lively town just outside of Florence, is centre stage for an impressive event - La Festa Dell'Uva - which takes place on the last Sunday in September. It encompasses a marvellous tradition of cart building, costume making and cooking to celebrate the grape harvest.
Castellina in Chianti: A very pretty medieval town full of ancient churches and cobbled roads. The alleys in the centre of the town are home to a variety of charming shops and cafes and the famous Fonterutoli winery is just a few minutes away.
Gaiole in Chianti: A town famous for L'Eroica, an internationally popular cycling event on vintage bikes that takes place in early October. However, the locals would say that the real attraction is the historic castles and beautiful churches.
Barberino Val d'Elsa: A beautiful fortified medieval village with incredible views over the rolling hills. Here, there is an observatory and botanic garden with stargazing events taking place throughout the summer months.
EATING OUT IN CHIANTI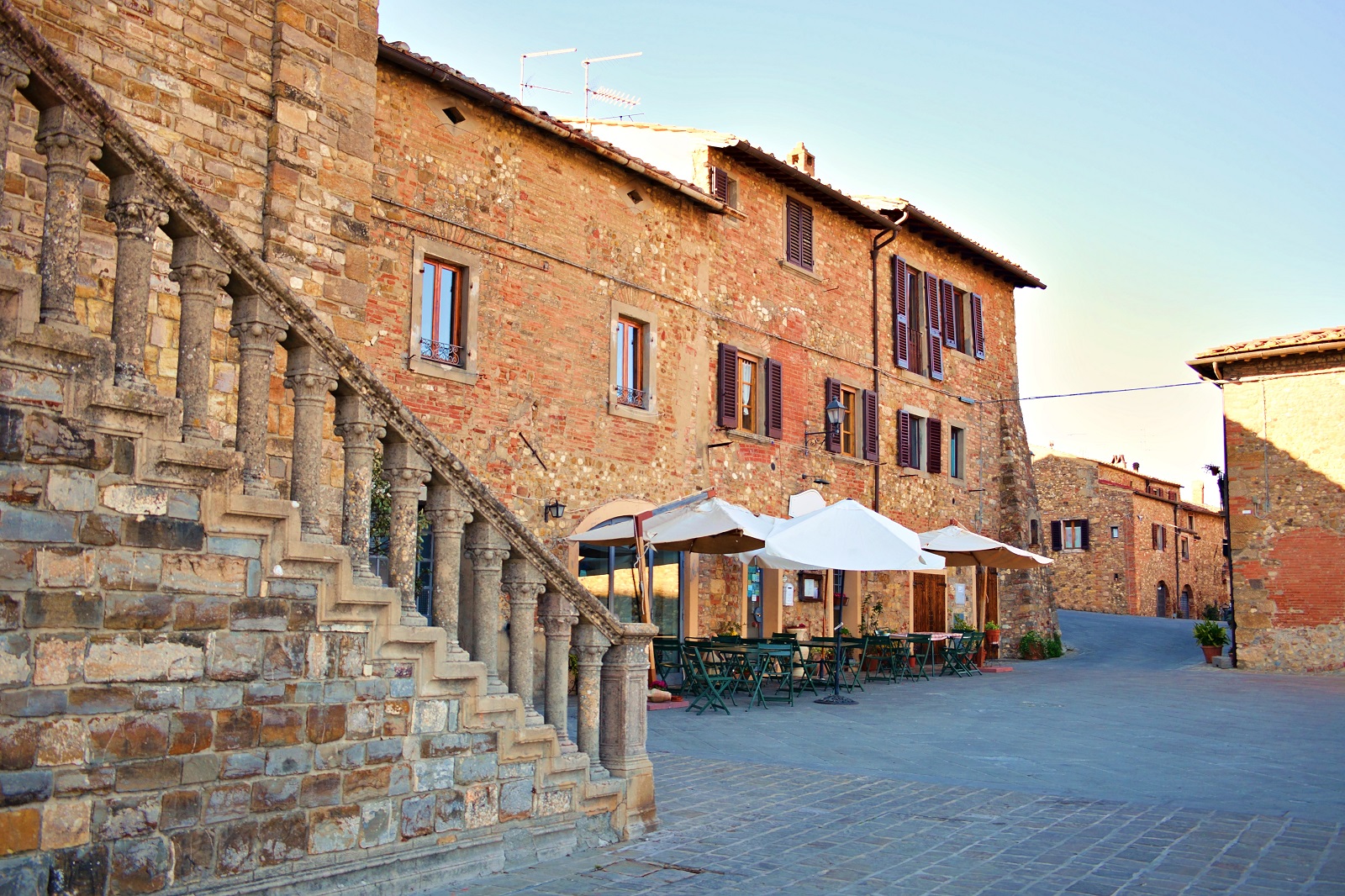 Chianti is a delight for foodies. Aside from rare white truffles, this region of Italy is renowned for pasta, olives and gelato. Here are some of our favourite places to eat:
La Taverna della Berardenga - Castelnuovo: The menu has a strong links to the area and dishes that change according to the availability of fresh ingredients. Adriana Dragoni will take good care of you, and his daughters, Francesca and Stefania, will prepare delicious dishes flavoured with fresh porcini mushrooms and truffles.
Villa Bodoni - near Greve: A treat for all the senses. Located on a hill above Greve, the views are truly magnificent from your table under the trees in the beautiful garden, and the food is equally rewarding.
Ristoro di Lamole - near Greve: This excellent restaurant competes for the title of best view from your table, with a dining terrace that overlooks the medieval towers of San Gimignano. The owners, Paolo and Filippo, offer a truly Tuscan menu with dishes that reflect the delicacies of the region.
Uscio e Bottega - Castellina: Italian rustic charm and a relaxed, friendly atmosphere. Italian classics, such as crostini, spaghetti with truffles and panna cotta are staples on the menu here.
Dining out is usually a vibrant, fun affair in Italy, but should you wish to dine in, our villa specialists can arrange for a chef to prepare delicious Tuscan food for any size of group or occasion.
THE BEST VINEYARDS IN CHIANTI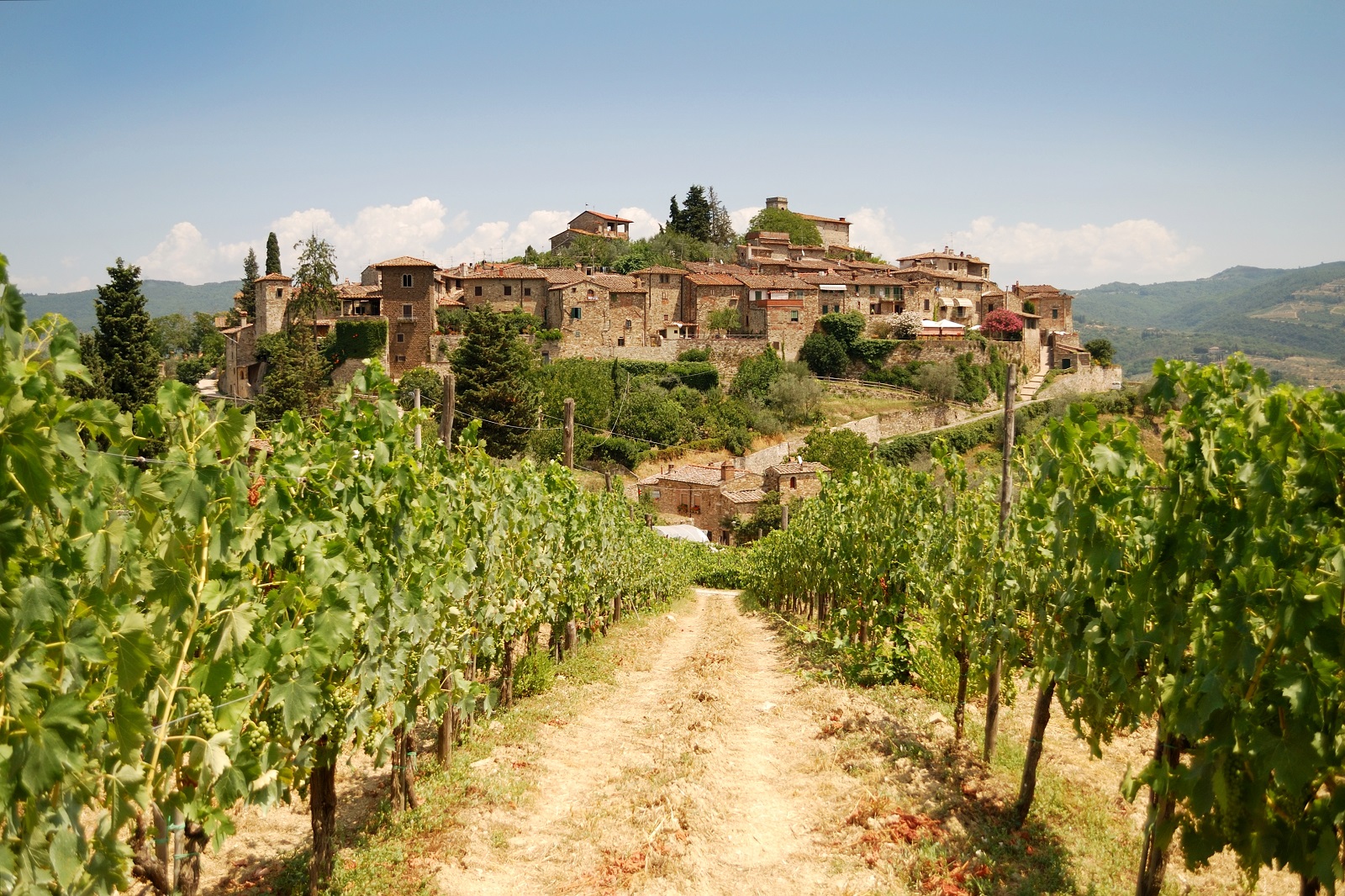 Chianti is a mecca for wine lovers, with some of Italy's finest wine produced here. Three hundred years ago Cosimo III, Grand Duke of Tuscany, officially marked out the boundaries for Chianti Classico wine production. Strict guidelines on where it may be produced and how long it must be aged remain in place today, governing the right to place the lauded Black Rooster Logo on the label. A wine tasting in one of the local vineyards, where you will learn the secrets of the region's artisan and wine-making tradition, will reward you with a true appreciation of how wines are produced and aged. Guests are welcome to visit the following:
Castello Vicchiomaggio: Located on a hill overlooking Greve. Visits to tour the cellars typically last an hour and a half and can be followed by wine tasting and lunch in the restaurant.
Castello di Verrazzano: Situated between Florence and Siena, Castello di Verrazzano has remained fundamentally unchanged for 1,000 years and the wine harvest on this historic estate is still done exclusively by hand.
Montefioralle Winery: A small family-run Chianti Classico winery situated in the shadows of a fortified monastery, run by the Sieni family.
Accademia del Buon Gusto: Located in Panzano, Accademia del Buon Gusto is a delightful winery where the patron, Stefano extends a warm welcome from the patron. He will entertain you with his vast knowledge of wine making and ply you with samples of wine, olive oil and chocolate.
Antinori nel Chianti Classico: South of San Casciano in Val di Pesa, this is possibly Chianti's most spectacular winery. The contemporary structure was designed to deliver maximum efficiency and low environmental impact. Lunch in the restaurant on the roof will leave an imprint of Tuscan landscapes imprinted in your mind.
THE BEST TIME TO VISIT CHIANTI
Springtime - in April and May - with comfortable temperatures is a delightful time for a holiday. The summer months are lovely, though expect to have to book ahead for the best restaurants. Alternatively, the grape harvesting season in September and October is possibly the best time to visit, a period that coincides with various local festivals taking place in small towns and villages.The Palio di Siena takes place on the 2nd July and 16th August each year.
To discuss your requirements and get advice on where to go on holiday in Tuscany, contact our Italian villa experts on +44 (0)1242 787800.