See Greece's natural and archaeological glories from a different angle for a richer, more rewarding experience. Dive to sunken ancient cities, kayak along deserted coastlines and visit palaces of legend, before drinking a toast at an award-winning boutique winery.
VISIT THE BIRTHPLACE OF APOLLO
Once one of Greece's most sacred places, the diminutive Cycladic island of Delos is now a fascinating UNESCO-listed archaeological site a short boat ride from Mykonos. According to mythology, this was the birthplace of Apollo, and the sanctuary devoted to him was a magnet for visitors from around Greece for a thousand years. However, the excavations that began in 1872 and still continue have revealed traces of a succession of civilisations from the 3rd millennium BC to the early Christian era. As you walk through the extensive ruins – not only the sanctuary but a thriving Hellenistic port town as well – you'll see sights such as the Sacred Precinct with its temples and altars, the amphitheatre and the avenue of lion statues dating from the 7th century BC. Delos's small archaeological museum holds a number of finds from the island, while others are on display in the Museum of Cycladic Art in Athens.
TASTE LOCAL WINES AT AN AWARD-WINNING VINEYARD
Though Kos was celebrated for its wines in classical times, the art had all but died out when Nikolas Hatziemmanouil decided to revive it in 1929. Almost a century later, with a fourth generation at the helm, the Hatziemmanouil winery in Asfendiou is thriving, with 60 acres of vineyards that are helpfully kept at the perfect temperature by breezes from the sea and the nearby mountain. It's fascinating to walk among the rows of vines – a mixture of Greek varieties such as Malagouzia and Assyrtiko, along with more familiar names including Cabernet Sauvignon, Grenache Rouge and Syrah. After a visit to the cellars, there's the chance to taste some of the signature wines: the much-garlanded Syrah, the distinctive dry white Assyrtiko and perhaps the sweet Third Generation, a modern iteration of the very first wine made here.
ISLAND HOP AROUND THE SARONIC GULF
Charter a private boat to visit an enchanting trio of islands in the Saronic Gulf, between Athens and the Peloponnese. Peaceful Aegina, just 17 miles from the Greek capital, is famous for its pistachio orchards; drop anchor for a dip on a pristine beach, a gentle stroll through Aegina Town's narrow streets and a pause at the ruins of a Doric temple or a waterfront taverna. The next stop is car-free Hydra, with its elegant Neoclassical mansions and cosmopolitan feel; it's easy to see why Sophia Loren fell in love with it while filming here. It has some excellent beaches that can only be reached by boat, so you can enjoy a tranquil afternoon swim. On Poros, the last of the trio, you can see exhibits from the island's Temple of Poseidon in the archaeological museum, cross the narrow channel to the pastoral Lemon Forest and round off the adventure with a sunset drink at one of the quaint harbourside bars.
TAKE A PRIVATE TOUR OF ANCIENT KNOSSOS
Discover the intriguing history of Knossos – one of Europe's earliest cities and the largest Bronze Age site on Crete – in the company of your own private guide. The birthplace of Minoan civilisation was known only from Greek legends until English journalist Arthur Evans stumbled across traces of it in 1894. Excavations began six years later and continued until 1932, by which time a vast palace complex had been revealed. As you explore the ruins, you'll come upon elaborate frescoes and regal courtyards; hear about the mythical Minotaur that lived in an underground labyrinth until Theseus defeated it; and learn about the controversies surrounding some of Evans's restoration methods. Among the many artefacts recovered from the area, the most notable is a finely worked rhyton, or drinking cup, shaped like a bull's head. Made from black soapstone, jasper and mother-of-pearl with gilded wooden horns, it's now one of the centrepieces of the nearby archaeological museum in Heraklion.
DIVE THROUGH THE SUNKEN PELOPONNESE CITY OF PAVLOPETRI
Hidden below the waves for 3,000 years, Pavlopetri is one of Greece's most remarkable historical sites. This underwater city off the southeast coast of the Peloponnese was first spotted by a British oceanographer in the late 1960s, though it took further investigations between 2009 and 2013 to reveal its cultural importance. Escorted by an expert dive guide, you can explore it for yourself, gliding above the remains of streets originally laid out in about 3500 BC in the Chalcolithic Era, predating the Bronze Age. You'll be able to make out the ruins of the harbour with its warehouses, residential areas with gardens and a cluster of stone chamber tombs – all the signs, in fact, of a once-thriving urban culture. Artefacts such as loom weights and giant Cretan jars found on the seabed suggest that it was a textile-making centre and major trading hub until a series of earthquakes and rising sea levels eventually led to its demise.
EXPLORE THE ARCHAEOLOGICAL SITE OF AKROTIRI IN SANTORINI
Santorini's extraordinary beauty is matched by an equally extraordinary history. Delve into the island's distant past at Akrotiri, which began as a small fishing village in the fifth millennium BC. Some 2,000 years later, it had developed into a thriving Minoan town and a hub of the Aegean copper trade with its own processing centre. It continued to prosper for about 500 years until the natural disaster that destroyed it – but which also helped to save it for posterity. In around 1,600 BC, Santorini was devastated by a volcanic eruption, thought to be one of the largest in human history, which buried the city under a thick layer of ash. There it lay until excavations began in 1967, revealing three-storey buildings, a sophisticated drainage system and perfectly preserved frescoes, ceramics and furniture. Once you have walked Akrotiri's ancient streets, stop at the Museum of Prehistoric Thera in Fira to see some of these remarkable artefacts.
DIVE AND KAYAK AROUND A DESERTED ISLAND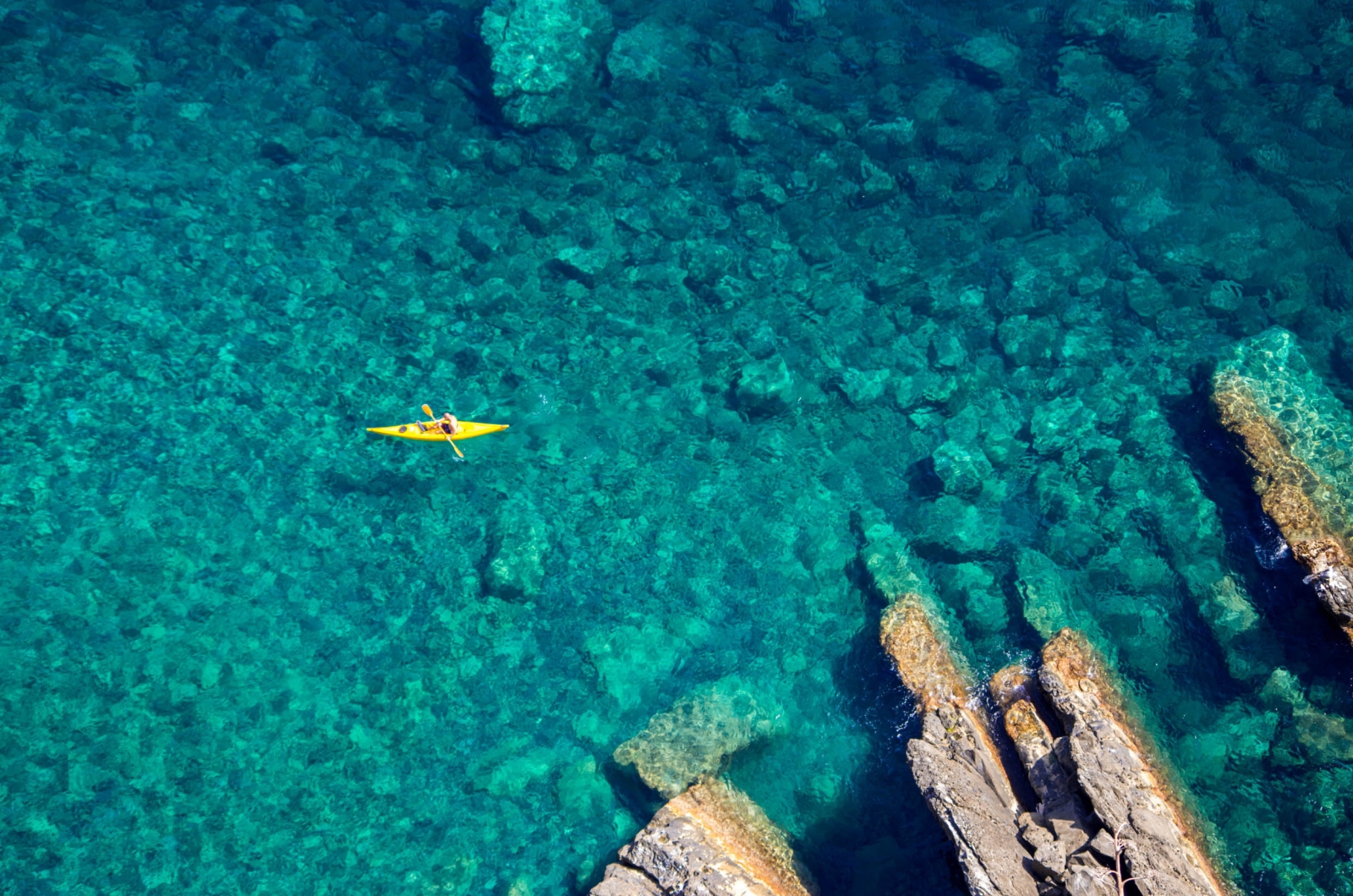 Head off-grid on an adventure to the uninhabited islet of Despotiko, less than half a mile from the coast of Antiparos. It wasn't always deserted; in ancient Greek times, its sanctuary to Apollo attracted pilgrims from across the Aegean. Nowadays, its undisturbed limpid waters are home to a colony of endangered Mediterranean monk seals. You can explore this protected area by kayak, nudging your way along the rugged southern coast to tiny coves and sea caves, stopping to swim in sheltered bays. There's more to discover underwater, with seagrass meadows teeming with marine life where divers will be delighted by the excellent visibility. Off the northeast coast, in the strait between Despotiko and Antiparos, the water is barely waist-deep, suggesting the two islands may once have been one – a theory backed up by the presence of early Bronze Age cist graves on the seabed.