Italy offers extraordinary riches, from vibrant, historic towns to beautiful lakes and a fabulous coast, not to mention the wonderful cuisine and host of superlative art galleries. July and August can be very hot; May to June and September to October are generally considered the best time to go.
TUSCANY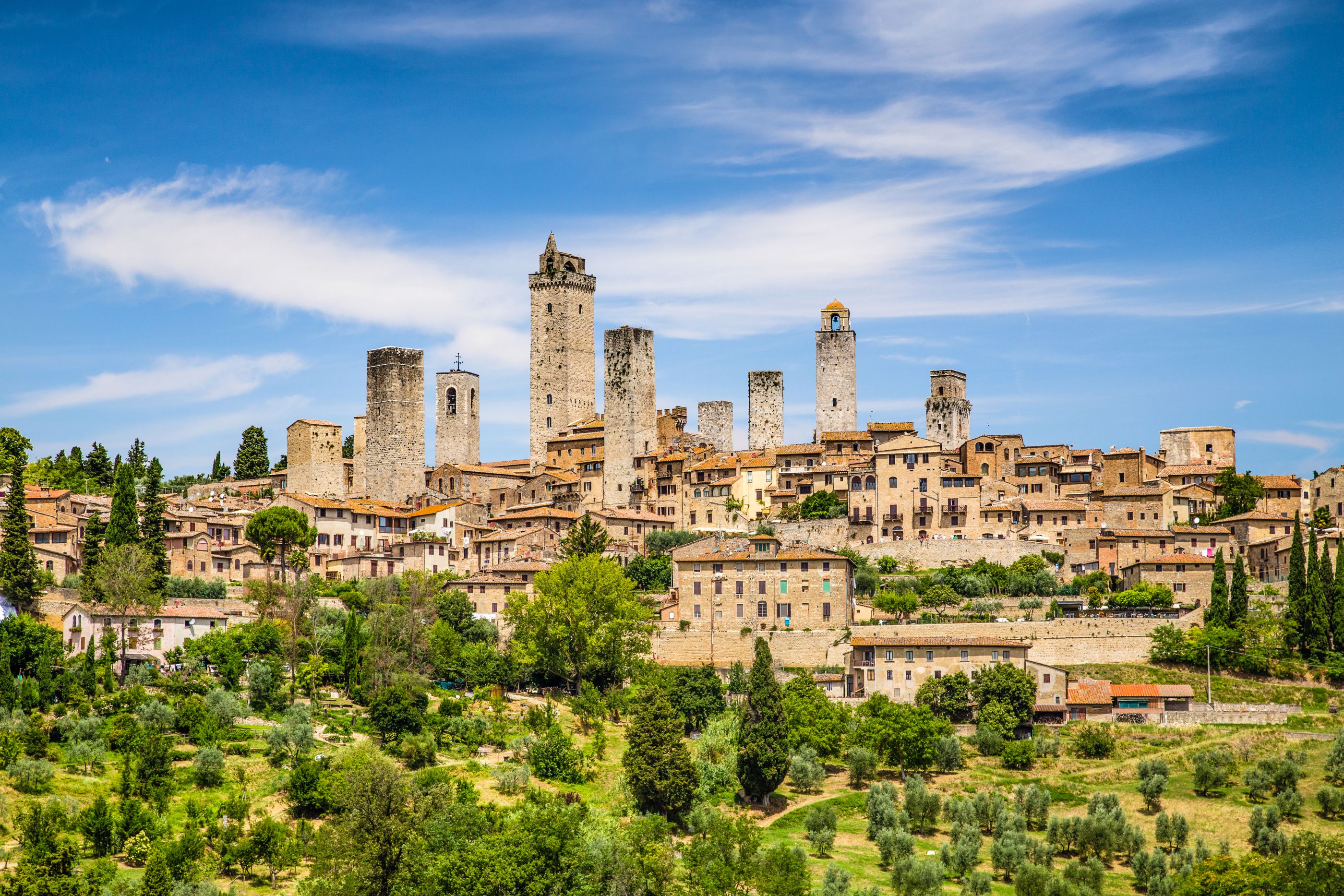 This endlessly charismatic region of central Italy is an idyll of vineyards, hilltop villages and medieval towns. Its tapestry of landscapes ranges from the angular peaks of the Apennines in the north and the hills of wine-producing Chianti in the centre, to the low-lying pastures of Maremma to the south. There's a long coast, too, dotted with beaches, such as northern Forte dei Marmi and Maremma's southern Scarlino. The star of the show is, of course, Florence, birthplace of the Renaissance and a treasure trove of outstanding art - including Michelangelo's David. The city is endowed with remarkable galleries, from the Uffizi to the Bargello and the Accademia; its architectural masterpieces are breathtaking, not least the cathedral and its majestic dome. Among a roll call of Tuscany's other great art towns are Lucca, Siena, Pisa, Cortona, San Gimignano and Pienza. Options for where to stay are equally impressive. Rent a country retreat - Villa San Barberino and Villa dell Angelo are two of the most stylish, complete with their own pools. Or check into a top-notch hotel, such as Florence's Hotel Lungarno on the banks of the River Arno.
AMALFI COAST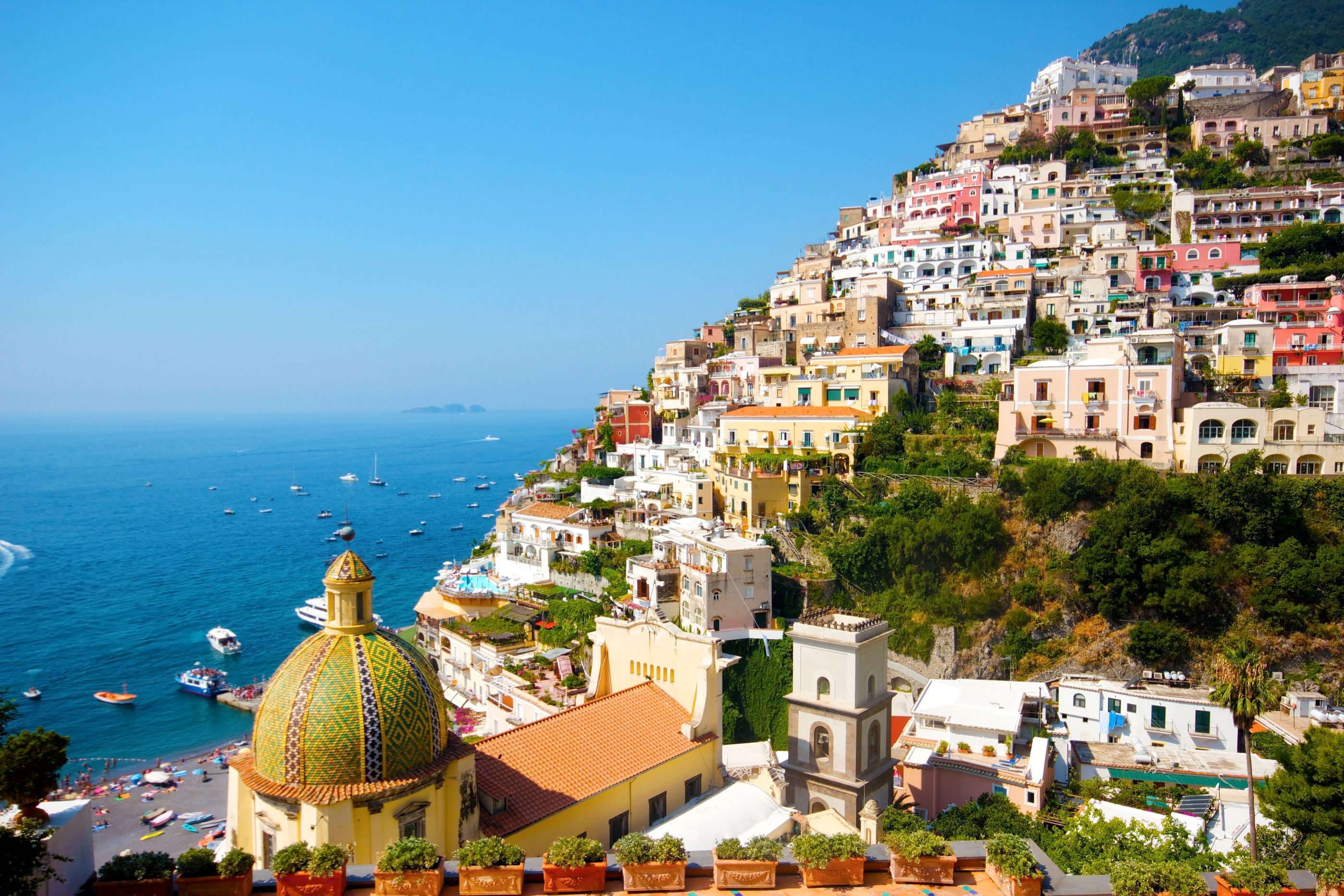 The Amalfi Coast encapsulates Italian glamour and beauty. With its dazzlingly blue sea, dramatically craggy terrain and glorious towns, it is nicknamed 'the Divine Coast' – and has had World Heritage status since 1997. Its near-legendary coastal road runs about 34 miles along the Sorrentine Peninsula, from the port of Salerno in the east to clifftop Sorrento in the west. It is a stunning, gravity-defying corniche, winding along a rugged seaboard dotted with small beaches, and past pastel-coloured villages clinging to rock faces. Among the most captivating towns are debonair Ravello, famous for its annual Wagner Festival and exquisite gardens; ancient Amalfi, with the wonderful Duomo Sant'Andrea; and A-lister Positano with its stylish Fornillo Beach. If you can tear yourself away, you could hop on a ferry to Capri, too. There's plenty to keep you on the Amalfi Coast, though, not least the epicurean treats, including creamy buffalo mozzarella and deliciously tangy Limoncello liqueur. Among the pleasing choices of where to stay is luxury boutique hotel Le Sirenuse in the heart of Positano, or opt for a splendid place of your own, such as Villa di Praiano which is within walking distance of Praiano.
VENICE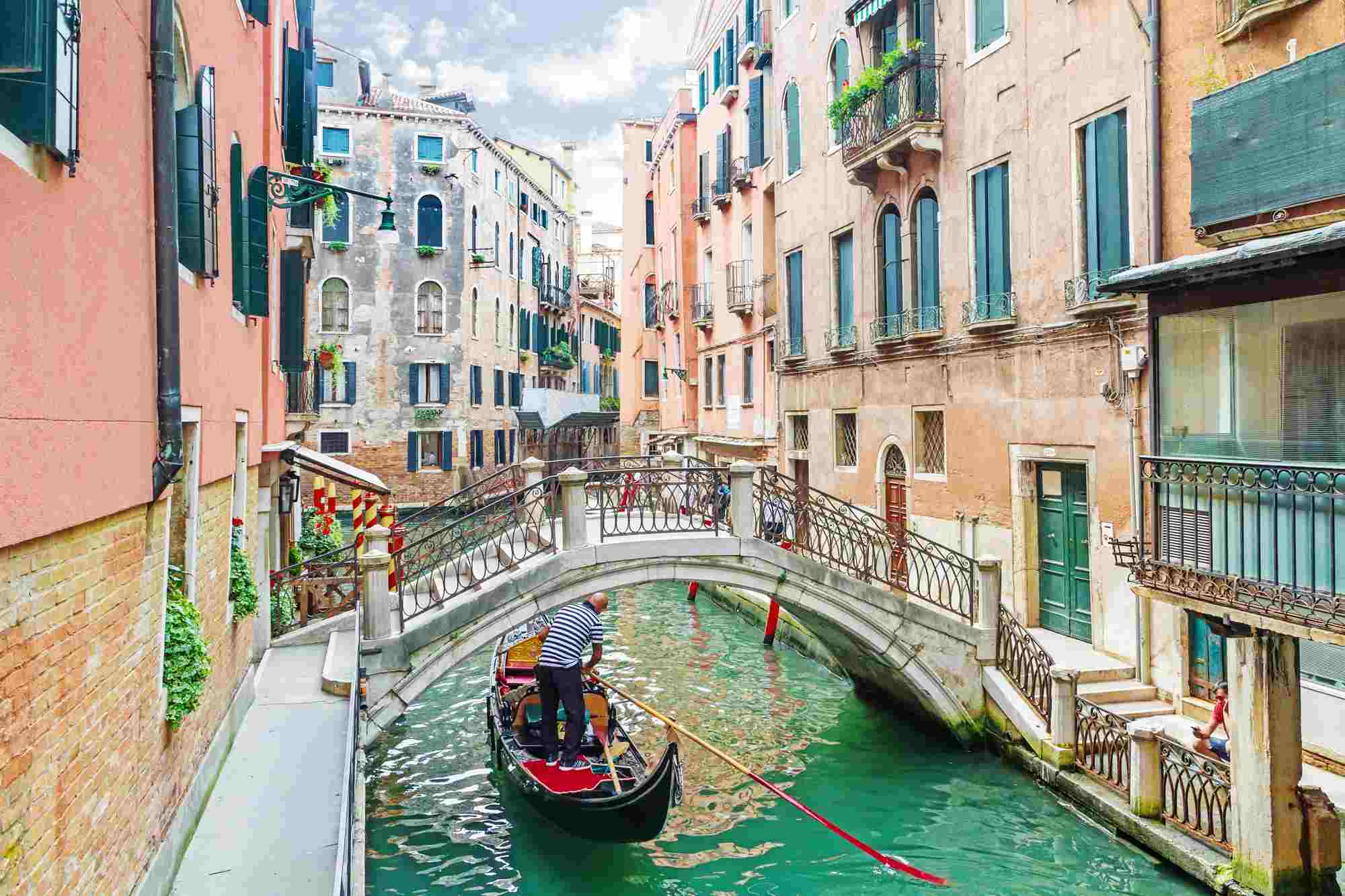 Venice is a jewel box of a city, filled with entrancing palazzos and squares - including magnificent St Mark's Square whose belltower presents superlative watery views. Built on 100 or so islands, this is, of course, a city of waterways (no scooters, cars or even bicycles allowed) and the 2.5-mile Grand Canal is effectively its main road. For the ultimate picturesque experience take a gondola ride, gliding under ornate bridges, of which there are about 400 including the Bridge of Sighs. Founded in 697, Venice developed its own intriguing culture - the flamboyant Venice Carnival every February/March is thought to date back to 1162. By the 13th century and the time of Venetian explorer Marco Polo, it was a significant republic. Thanks to its position on a trading route to Asia it became very wealthy, which is reflected in its majestic buildings, from the military buildings of the Arsenale district to the palaces of the Ca'Dario and Ca'Rezzonico merchant families. For a take on contemporary style check into the Cipriani hidden away on Guidecca island yet close to St Mark's Square and offering excellent food, gardens and a stunning pool.
ROME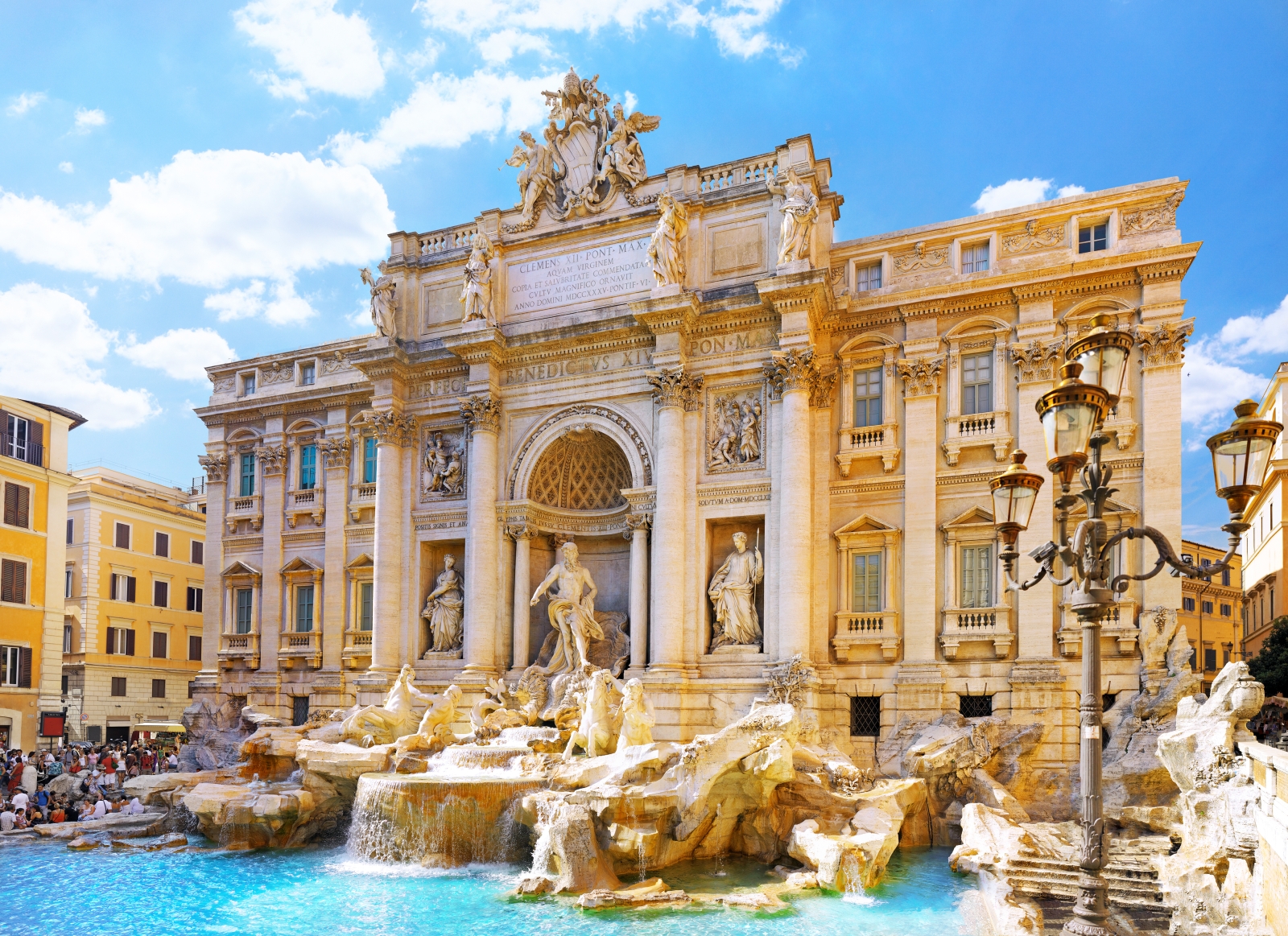 The ancient Romans called their capital 'the Eternal City' because they deemed it indestructible. About 3,000 years on, there it still is, now a fabulous mix of classical ruins, Baroque churches and 21st-century life. Its compelling ancient sites range from the Colosseum to the Forum and the wonderfully intact Pantheon. This is also a city of pretty squares and theatrical fountains - the Trevi Fountain is particularly spectacular – throw a coin into it, for legend holds this will guarantee your return to Rome (you'll also be supporting local charity Caritas). Enjoy the panache here, too; the fashion houses along Via Condotti, Via del Corso and Piazza di Spagna; the cityscapes familiar from movies such as Roman Holiday and La Dolce Vita. In the heart of Rome, take in the city-state of the Vatican, headquarters of the Roman Catholic Church and home to the Sistine Chapel. Meantime Rome offers a fine line in places to stay. Check into centrally located Inn at the Spanish Steps and enjoy views from the rooftop terrace. Or retreat to a private villa - in the exclusive Parioli neighbourhood Villa Clara is a haven of Art Deco furnishings and also offers a Roman-style bath and spa.
MILAN & THE ITALIAN LAKES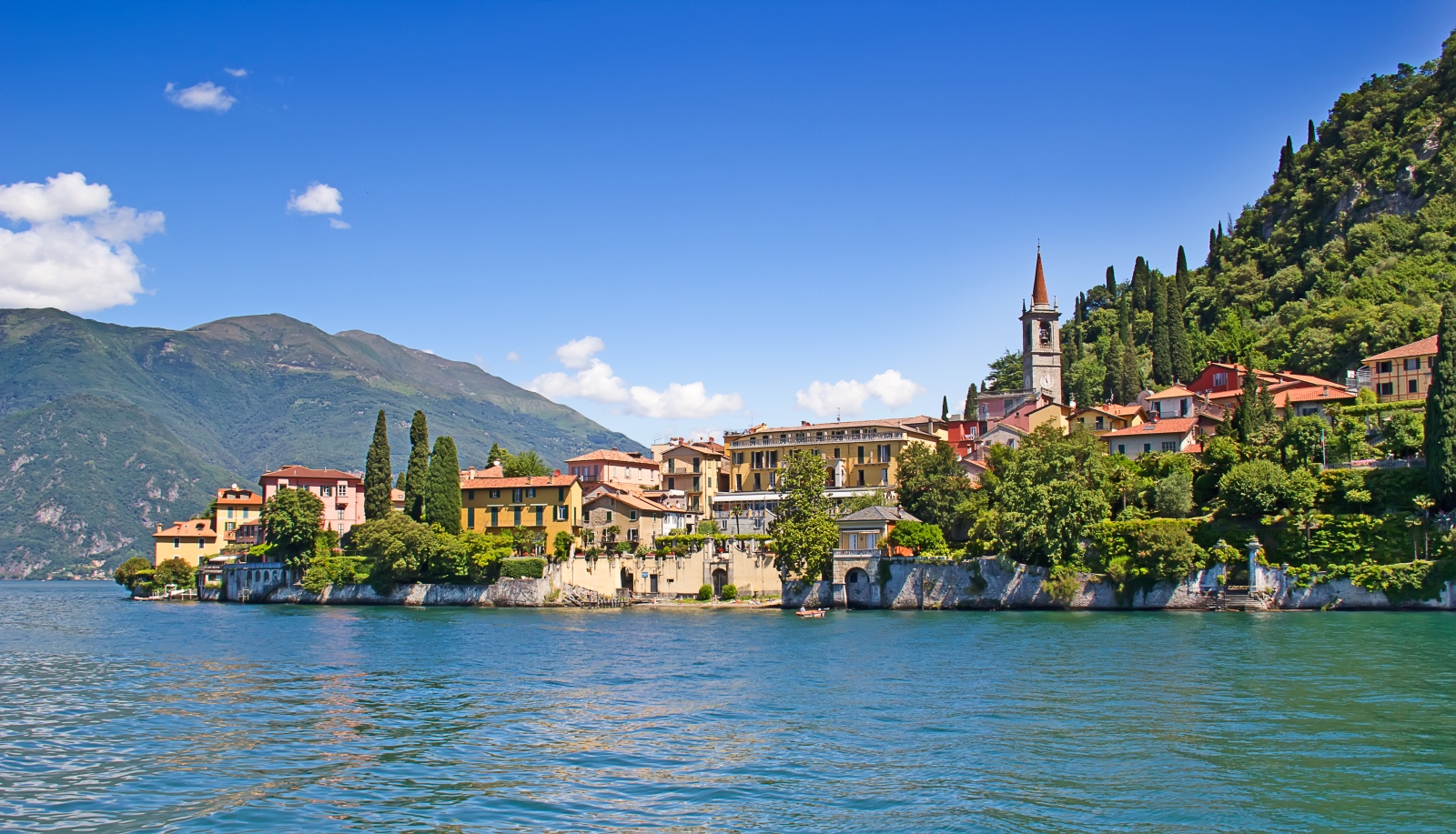 At the forefront of Italy's design and fashion worlds, Milan is a go-to for chic shops, culture and cosmopolitan flair. It's a place of historic quarters and bold skyscrapers – including one of the country's first, the 1958 Pirelli Tower. Take in the buzz as you cross this ancient-yet-modern metropolis by its excellent tram system. Highlights include the church of Santa Maria delle Grazie which contains Leonardo da Vinci's world-famous Last Supper; the elaborate cathedral, its exterior adorned with more than 3,000 statues; and handsome Palazzo Brera, a monastery turned 17th-century Jesuit college and now a remarkable venue with an art gallery filled with masterpieces. Marvel at the Galleria Vittorio Emanuele II - an 1877 glass-vaulted shopping arcade an a mecca for fashion aficionados - and visit Teatro alla Scala for a night at the opera. One of the best places to stay is Four Seasons Milan, set in a former convent in what is now the city's Fashion District. The hotel has a beautiful cloistered garden and an outstanding spa in what was once the wine cellar.
Milan is an excellent gateway to the Italian Lakes, particularly Lake Como, which is less than an hour from the city by train. Backed by mountains and fringed with almost implausibly pretty villages and splendid villas, this is one of Italy's most glamorous regions. The resort town of Bellagio is often called the Pearl of Lake Como thanks to its lush setting and magical outlook. For excellent shopping, particularly leather goods and perfume, take a stroll down Via Giuseppe Garibaldi. Then explore the lake on a classic tour in a wooden Riva boat. Make time, too, to visit renowned beauty spots including Varenna, Menaggio, Cernobbio and Como – and from Como catch the vertiginous funicular to the mountain village of Brunate. For great views and gorgeous gardens check into Grand Hotel Tremezzo, or stay in a private villa such as Villa di Torno complete with a lovely lakefront terrace and pool.
SICILY
Ebullient, beautiful Sicily is the largest island in the Mediterranean. Its varied landscapes include Mount Etna which dominates the east, at times snow-capped, at times billowing smoke. Its 900 miles of coast are studded with beaches: San Vito lo Capo has particularly golden sands; Lungomare di Cefalù is a great place to relax after exploring the pretty town of Cefalu. There's history by the bucketful, too - some of the world's great civilizations have left their mark here. Archaeological wonders include the Greek Valley of the Temples at Agrigento, the Roman mosaics at Villa Romana del Casale, the Greek theatre at Taormina, and ancient Syracuse. Visit Palermo for its venerable Norman palace and royal chapel and also its neoclassical Teatro Massimo. See Sicily's distinctive Baroque architecture: in 1693 an earthquake devastated many southeastern towns which were rebuilt in flamboyant style, especially in the Val di Noto. Enjoy the good life, too - Sicily is famous for its wine and sweet treats, especially cassata Siciliana cake and cannoli pastries. One of the most stylish places to stay is Monaci delle Terre Nere, a boutique hotel on a working wine estate.
PUGLIA & BASILICATA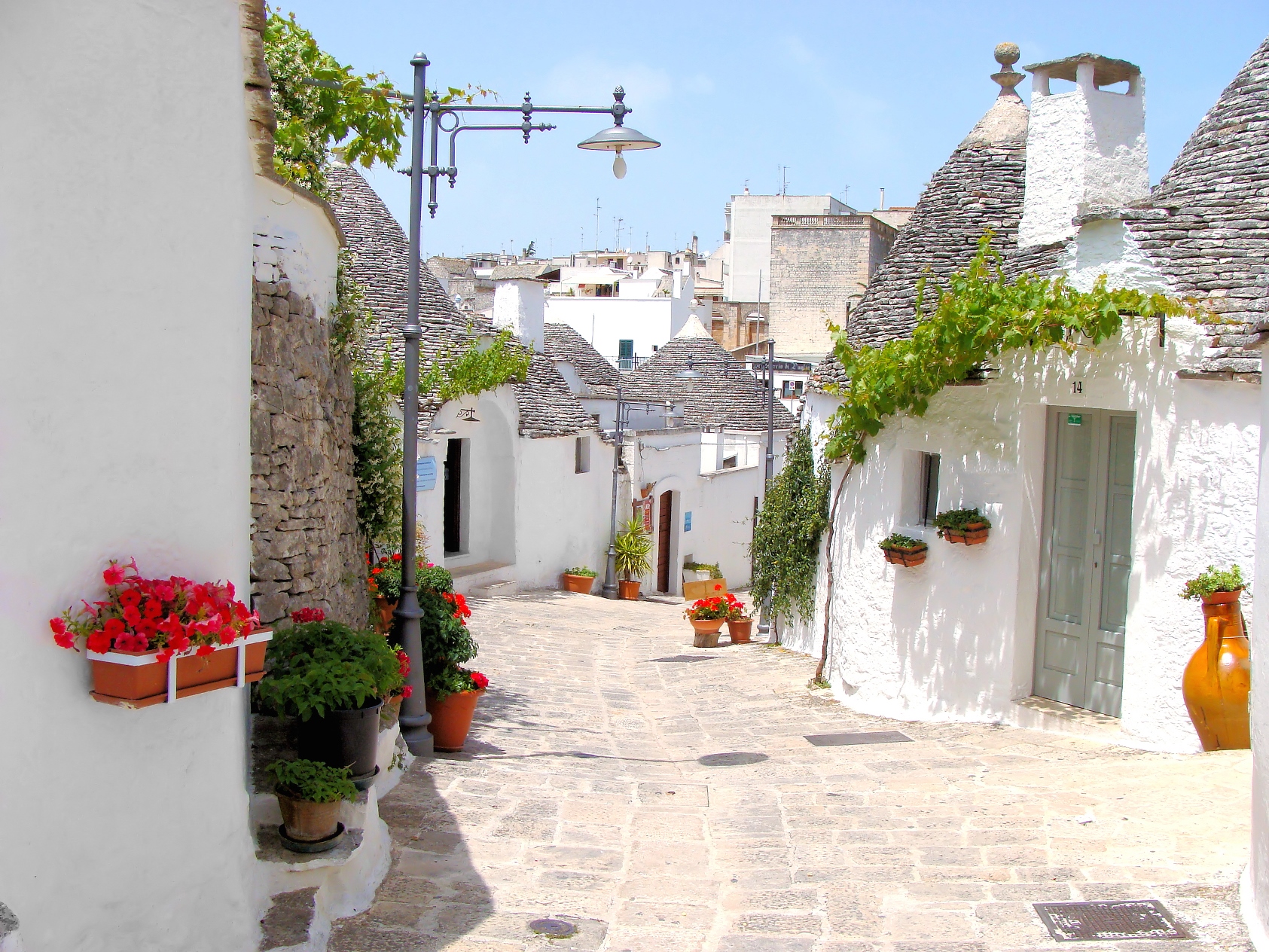 For some of Italy's most unspoilt towns and remote countryside head to the southeast. The regions of Puglia and Basilicata respectively stretch over the heel and instep of Italy's boot shape and are acclaimed for olive oil production. Explore Bari, with its maze-like old town, port and promenade; at Monopoli visit medieval churches as well as extraordinary karst caves; make for the Matera area in Basilicata to see the Crypt of the Original Sin and its 8th-century wall paintings. Matera is also famous for its sassi - rock dwellings carved into the hillsides. Today these have World Heritage status - hip appeal, too, especially since featuring in the Bond movie No Time to Die. The villages of Alberobello and Martina Franca in the Itria Valley are also must-sees, complete with traditional local trulli - whitewashed conical houses. You could even stay here in a luxury trullo, at eponymous Trulli Lucia, or book into gracious Borgo Egnazia hotel, steps from the Adriatic Coast.
THE DOLOMITES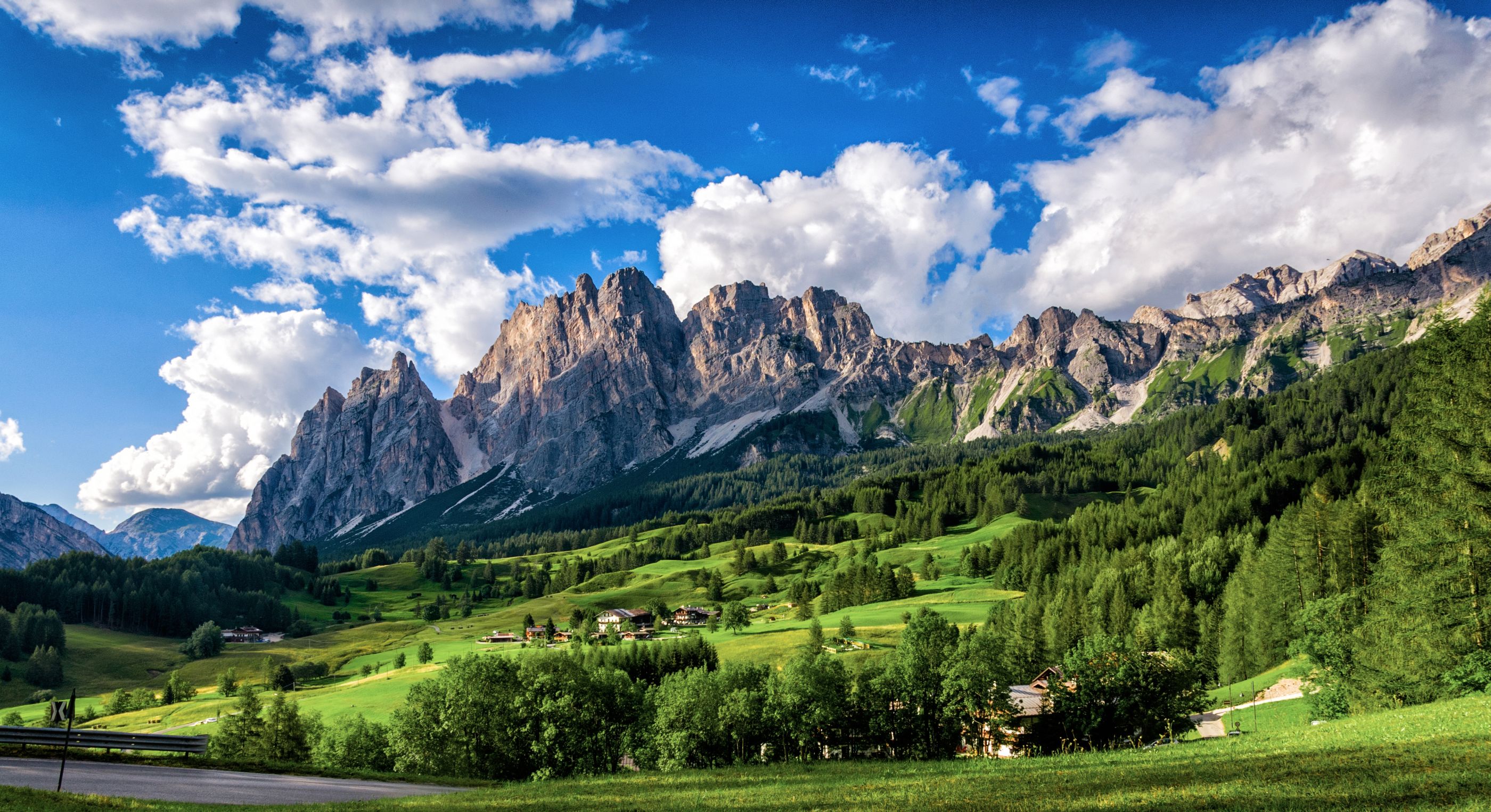 With sharp peaks, rock steeples and sheer ridges, the Dolomites in northeastern Italy present one of the world's most spectacular mountain landscapes. Composed of dolomitic limestone, this dramatically craggy range has been listed as a World Heritage Site since 2009. In summer, the region is a haven for walkers and cyclists, its slopes laced with trails through meadows and forests and past villages and deep-blue glacial lakes. Most paths open from mid-May. Those with a head for heights, and steely nerve, will enjoy the region's vie ferrate – routes with vertiginous ladders that were fixed to the sides of rocks by soldiers fighting in the mountains during the world wars. Those wanting a beautiful base could head to the resort town Cortina d'Amprezzo, complete with cafes and cobbled streets.
UMBRIA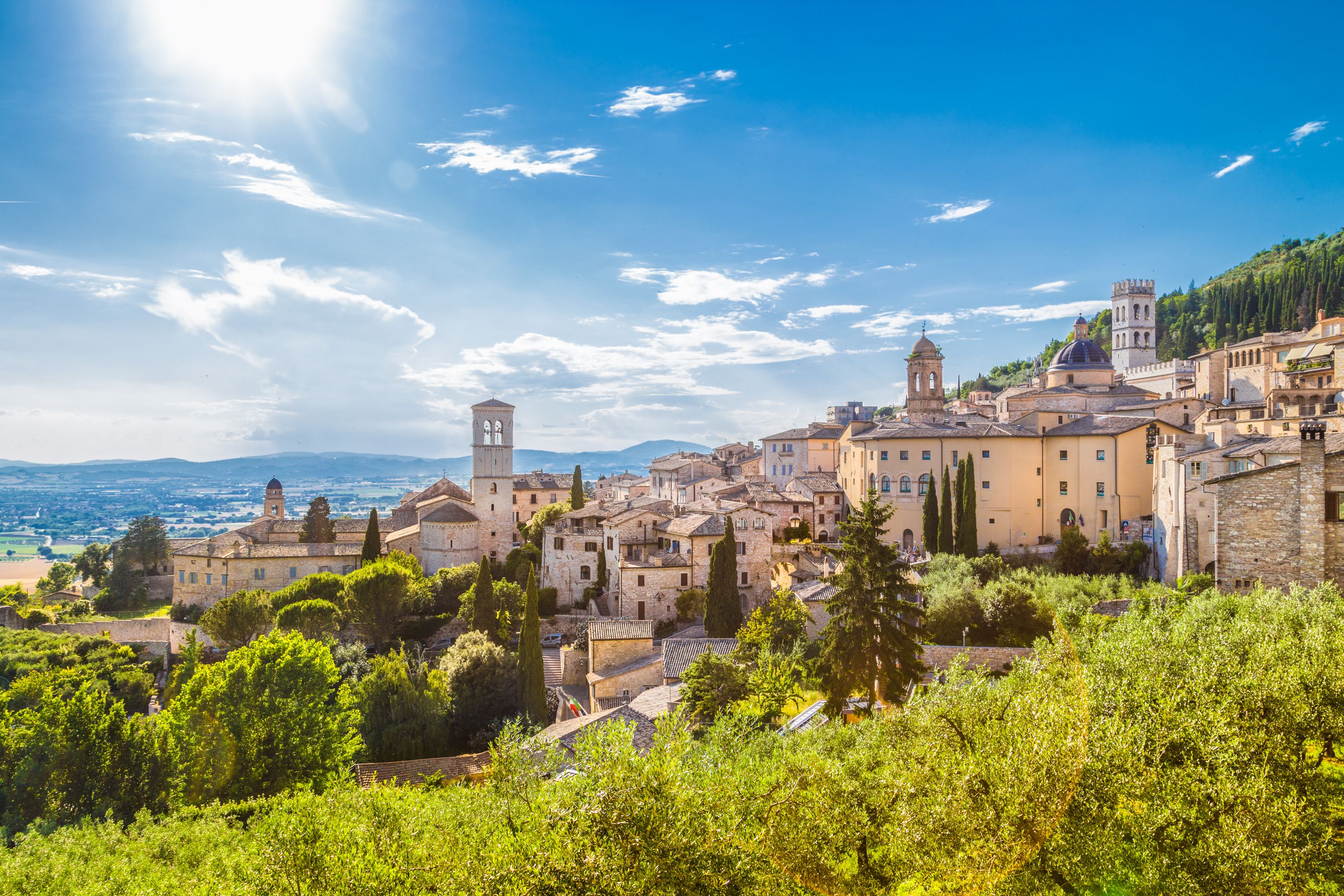 Known as the Green Heart of Italy, Umbria is an intensely pretty region of rolling hills, medieval towns and cultural treasures. Its dense forests are acclaimed territory for truffle hunting, its large lake, Trasimeno, has a microclimate that supports vineyards producing unique wines. Bordering Tuscany, Lazio and Le Marche, Umbria is packed with arty interest. Visit glorious Perugia with its amazing gallery, and explore intriguing Orvieto with its underground tunnels dating back to the Etruscan civilization (9th to 3rd-century BC). See World Heritage sites – Umbria has several, from the small city of Assisi and the nearby church of San Damiano and Sanctuary of Rivotorto to the 4th-century basilica of San Salvatore in Spoleto. Stay at Eremito Hotelito del Alma for a remarkable wellbeing break in a serene location. Or book a private villa – Villa Pizzicato has been wonderfully devised from an old Umbrian church and is ideally located for exploring the region.